Traveling with kids requires lots of gear. The ultimate dream? Getting the kiddos to lug some of their own stuff around. To turn that dream into reality, kids luggage needs to be lightweight and easy to maneuver so there are no struggles or tears. It needs to be durable, since kids aren't known for being especially gentle with their stuff, and have plenty of space for must-have blankets, stuffed animals, or favorite hoodies. And if the suitcase or bag features some of their favorite characters or a fun print that strikes their fancy, they'll probably be more excited to pull it around—and maybe even help with packing!
Best Kids Luggage Brands
We've rounded up some top kids luggage brands that offer durability, functionality, and plenty of kid-friendly style. Using ratings and reviews, we've picked some great kids luggage options to help inspire toddlers to teens to pitch in on family trips and carry their own load.
WALK OR RUN: 10 Best Kids Sneakers for School, Travel, and Play
1. American Tourister
Best overall kids luggage brand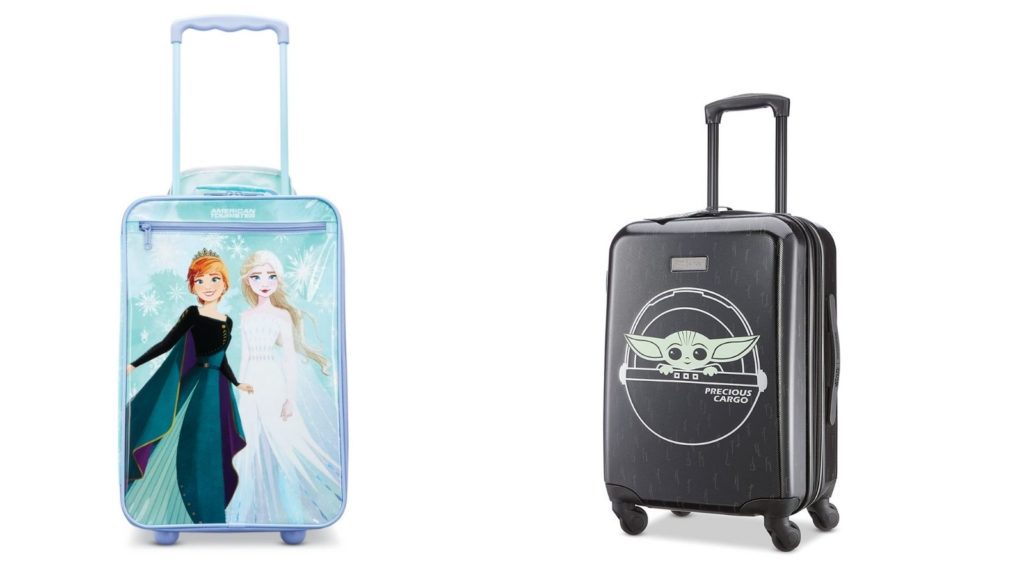 Venerable luggage brand American Tourister offers a slew of kids luggage options, most emblazoned with beloved Disney and Star Wars characters. There are 18-inch wheeled hard-side and soft-side carry-on bags for little travelers featuring favorites like Mickey Mouse or the Disney Princesses, hard-side spinner bags in a variety of sizes with Disney and Star Wars prints ranging from subtle to die-hard-fan level, and two-piece, soft-side spinner sets for longer trips or sharing between siblings.
DITCH THE OVERHEAD BIN: 12 Best Underseat Carry-On Bags
While kids love the look of the suitcases, parents appreciate the luggage's quality and ease of maneuverability, which will ideally make it a favorite for many trips to come and something that can be passed down to a younger sibling. American Tourister also offers coordinating luggage tags and backpacks so kids can go all in with their love of Baby Yoda or Minnie Mouse. It's all, of course, perfect for a family theme park trip, but kids will love the luggage no matter where they're going.
Where to Buy: American Tourister, Amazon (softside, hardside, hardside Star Wars)
2. Target Crckt Kids Luggage
Best budget kids luggage brand
This affordable kids luggage line from Target includes a 21-inch hard-side spinner suitcase available in a range of fun prints with a telescoping handle and interior straps to keep everything in place. It's got lots of room for any kid's travel necessities, and the colorful print options will help the bag stand out at the airport or on the baggage carousel.
WHAT TO WEAR: 10 Most Comfortable Travel Clothes Brands for the Whole Family
There's also a soft-side carry-on option with loads of pockets, an exterior bungee cord for holding stuffed animals, and a removable hanging plush that coordinates with prints like dinosaurs and donuts. Round things out with a coordinating backpack to hold more must-haves like water bottles and books.
Where to Buy: Target
3. JetKids by Stokke
Best splurge kids luggage brand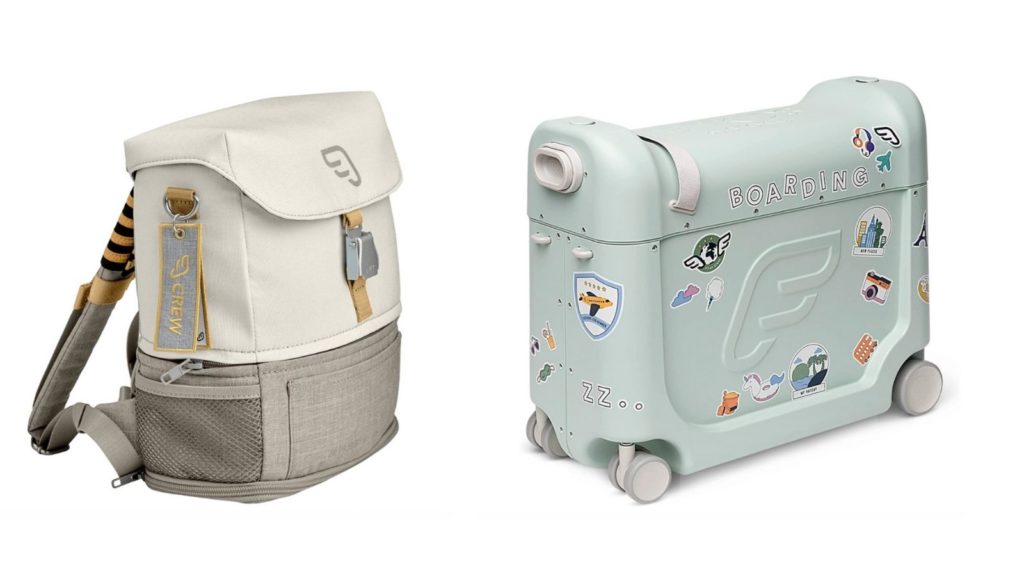 Little ones can travel in comfort and style thanks to the small JetKids by Stokke kids luggage collection. A ride-on suitcase helps little legs navigate big airports with ease, with the option for parents to pull kiddos while they sit or for kids to pull the suitcase themselves if they feel like walking. Swivel wheels make it easy to maneuver, a top opening allows easy access to gear stored inside, and included stickers let kids personalize their bags. Plus it can serve as a footrest inflight to help kids sit and maybe even doze comfortably during a flight.
FUTURE FAVORITE: 11 Stylish Luggage Brands Built to Last
Fun for the kiddos plus convenience for the parents makes this kids luggage an investment worth making, especially for long flights or travel days. There's also an expandable backpack just the right size for two- to seven-year-olds made of water-repellent fabrics for easy cleaning. It includes plenty of pockets, adjustable padded shoulder straps, a chest strap, and a pull-out seat pad for comfortable sitting no matter where you are.
Where to Buy: BedBox Suitcase (Stokke and Amazon), Crew Backpack (Stokke and Amazon)
4. BÉIS Kids
Best new kids luggage line
The popular luggage brand known for its simple good looks and celebrity cachet (it was founded by Pretty Little Liars actress Shay Mitchell) recently introduced a kids line of luggage with the same kind of pleasing aesthetics for the younger set. With bright colors inspired by BÉIS's popular Sherbet Collection, the kids gear blends function with fashion in a fun way.
TRAVEL TECH: 10 Kid-Friendly Smartwatches with GPS, Text, or Voice Call Technology
The Kids Roller features 360-degree smooth-rolling wheels and an adjustable trolley handle with a cushioned silicone grip to make moving through the airport as comfortable as possible. A soft front pocket helps keep tablets, coloring books, and other items within easy reach. A coordinating Kids Backpack includes a water bottle pocket, trolley sleeve, and a removable fanny pack for maximum versatility, and a matching lunchbox is ideal for stashing road trip snacks. Complete the set with a colorful neck pillow and travel buddy and the kids will be ready for whatever adventure awaits.
Where to Buy: BÉIS
5. Kiddietotes
Best scooter luggage for kids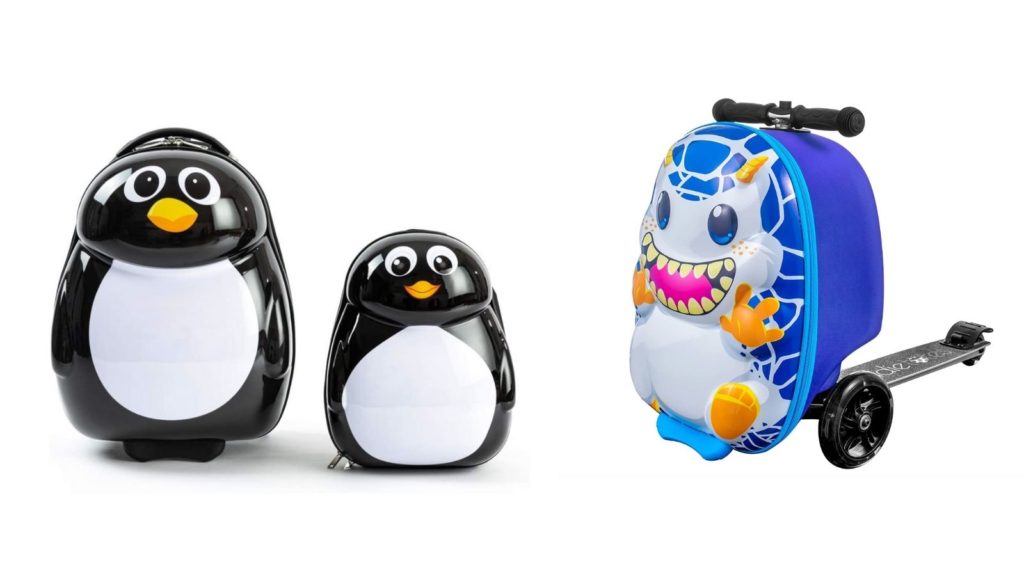 What kid wouldn't love a piece of scooter luggage from this fun brand? Kids can pack all their gear in the roomy interior, then scoot through the airport or hotel (they can also just pull the bag if so inclined). Light-up wheels add flair, while a slip-proof standing deck helps keep little ones safe. The lightweight but sturdy bags bring some fun to the practical need of packing for a trip and then transporting that bag around, and the kids will likely get some admiring and even envious looks as they're rolling around the terminal.
ROAD TRIP READS: 33 Books Like Harry Potter to Binge on Your Next Vacation
Kiddietotes also makes eye-catching backpacks in the shape of things like a donut, football, or penguin that will bring some joy to your travels. Or opt for one of the coordinating luggage and backpack sets featuring fanciful designs sure to make anyone smile.
Where to Buy: Kiddietotes, Amazon
6. Wildkin
Best luggage brand for kids who like to coordinate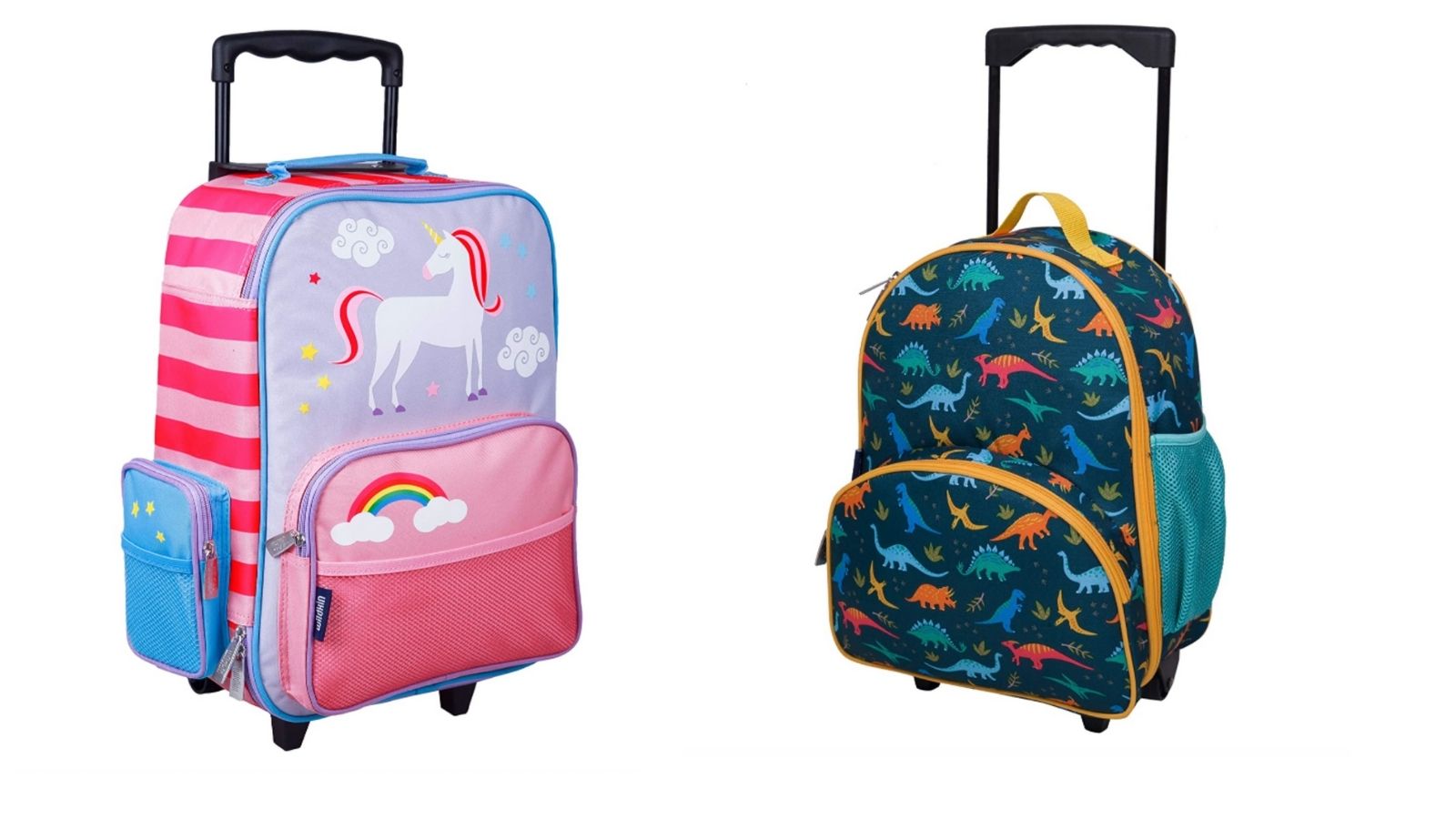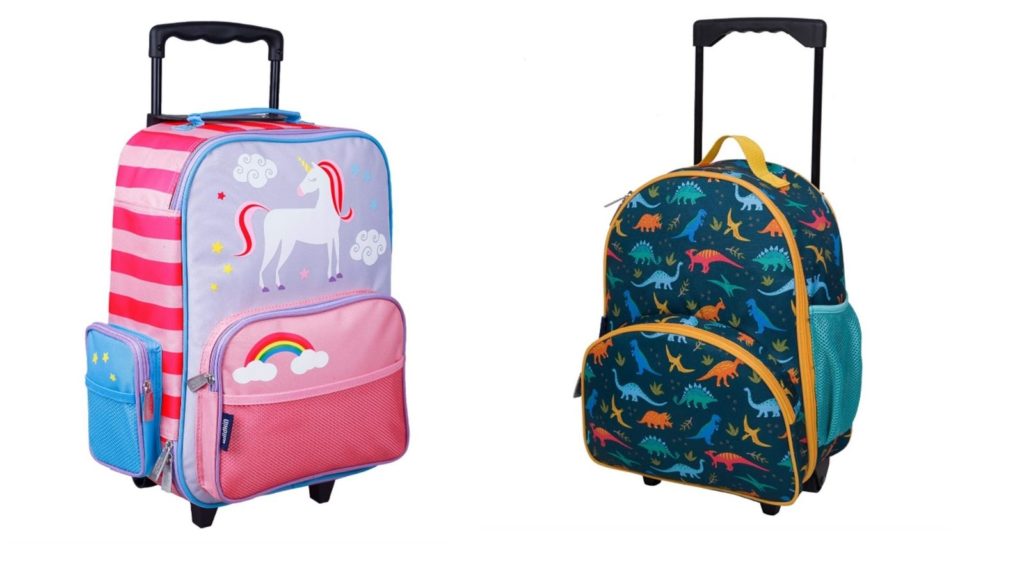 Wildkin offers rolling luggage for kids in both a backpack and suitcase style. Prints include unicorns, dinosaurs, and trucks, and the bags offer features like telescopic handles and zippered exterior pockets. Even little kids can maneuver them easily, and they're roomy enough for both necessities (like clothing) and extras (like toys and stuffed animals).
MAGICAL BAGS: The Best Disney Luggage for Kids and Adults
The company also offers coordinating duffle bags with attached carrying handles and a removable padded shoulder strap that are perfect for weekend trips. Complete the look with matching sleeping bags, umbrellas, luggage tags, and toiletry bags.
Where to Buy: Wildkin, Amazon (Suitcase, Backpack, Duffle Bag)
7. L.L.Bean
Best durable kids luggage brand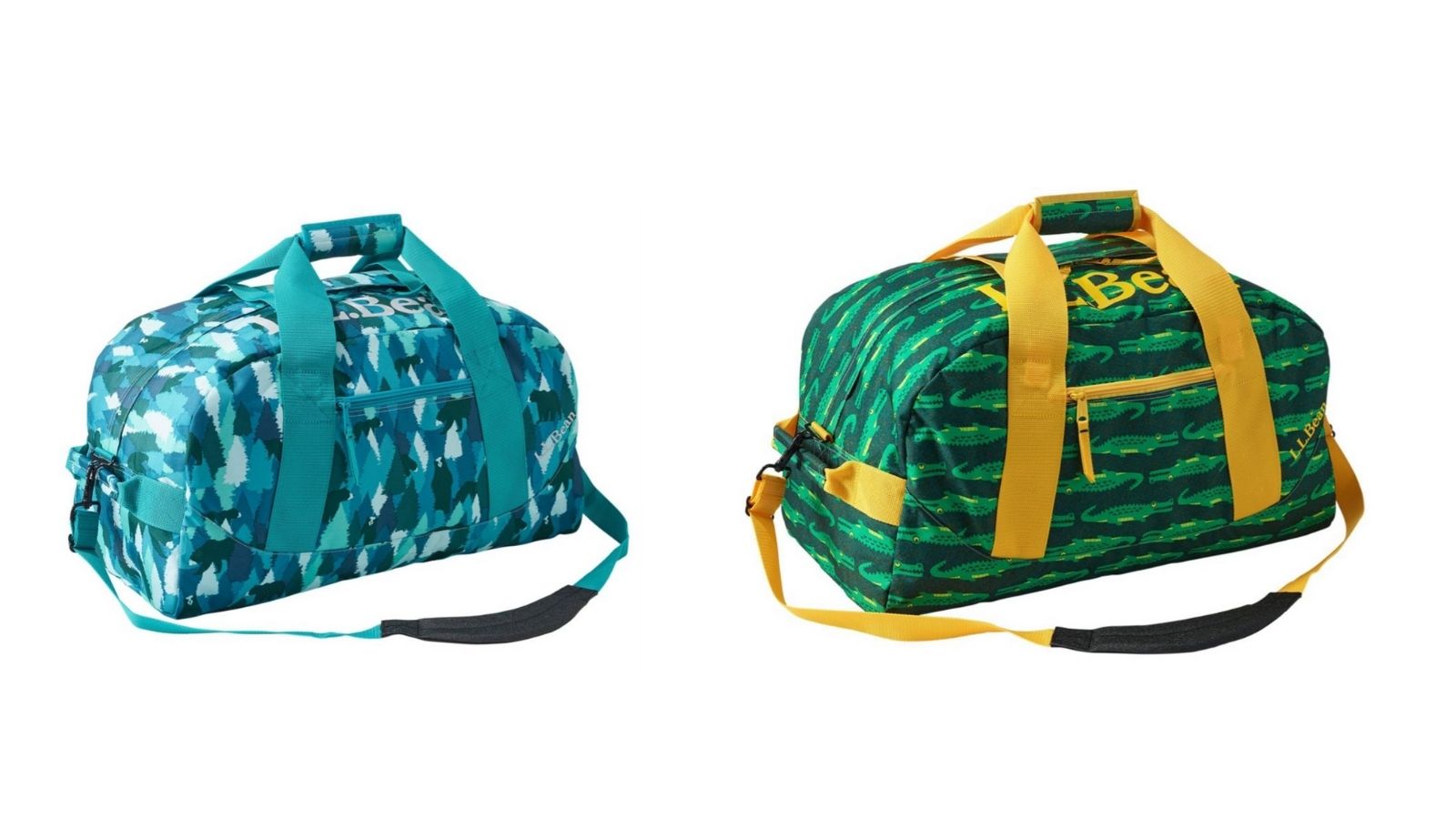 Longtime outdoors brand L.L.Bean offers lots of durable luggage options that can stand up to anything kids throw their way, everything from backpacks to spinner suitcases. The Kids Adventure Duffle comes in small and medium sizes and is made from water- and abrasion-resistant polyester with a polyurethane backing. A removable padded shoulder strap and padded handle wrap make for convenient carrying, while a selection of fun prints and option for monogramming help kids personalize their bags.
BEACH TRIPS: 25 Beach Essentials You Need for Every Sun-Soaked Vacation
L.L.Bean bags are much loved for their quality, roominess, and ability to withstand not-so-gentle treatment. And the brand stands behind that with a guarantee that allows buyers who aren't 100 percent satisfied with an item to return it within one year of purchase for a refund.
Where to Buy: L.L.Bean
8. Stephen Joseph
Best luggage brand for little kids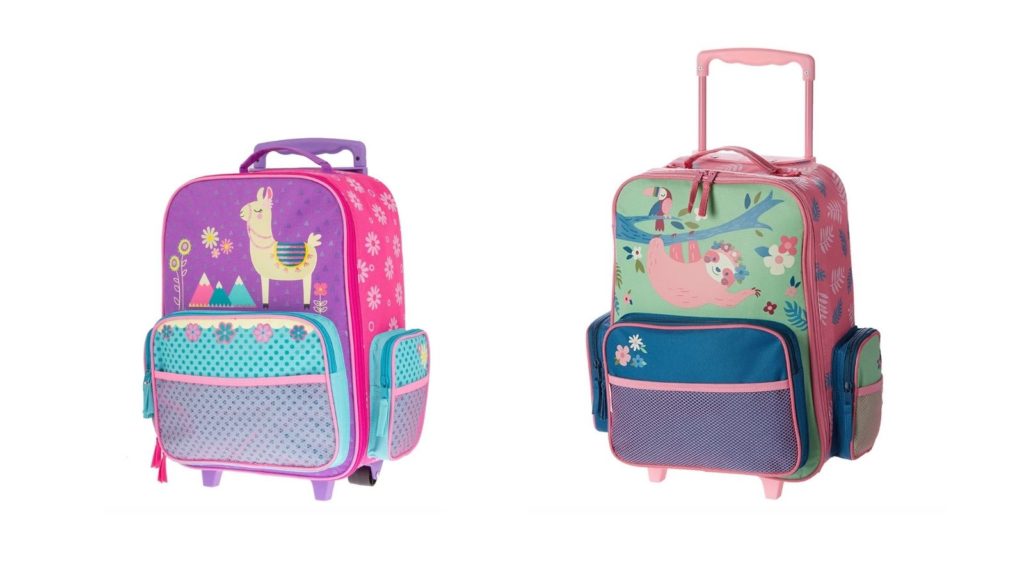 Available in cute kid-friendly prints (think mermaids, sharks, and rainbows), Stephen Joseph's rolling luggage features an extendable handle with two locking heights, a large outer pocket, and an option for personalization. Durable wheels and a size that's just right for little ones make the sturdy and dependable bags a smart choice for families on the go.
READY FOR FUN: 10 Best Kids Backpacks for School, Travel, and Sports
For longer trips, the company offers coordinating toiletry bags, backpacks, and duffle bags in matching prints for packing even more gear. The duffles have an inner zipper pocket, outer Velcro pocket, and removable and adjustable shoulder strap, and the bags can also be personalized to give young travelers that custom look
Where to Buy: Stephen Joseph, Amazon
9. Heys Luggage
Best luggage brand for older kids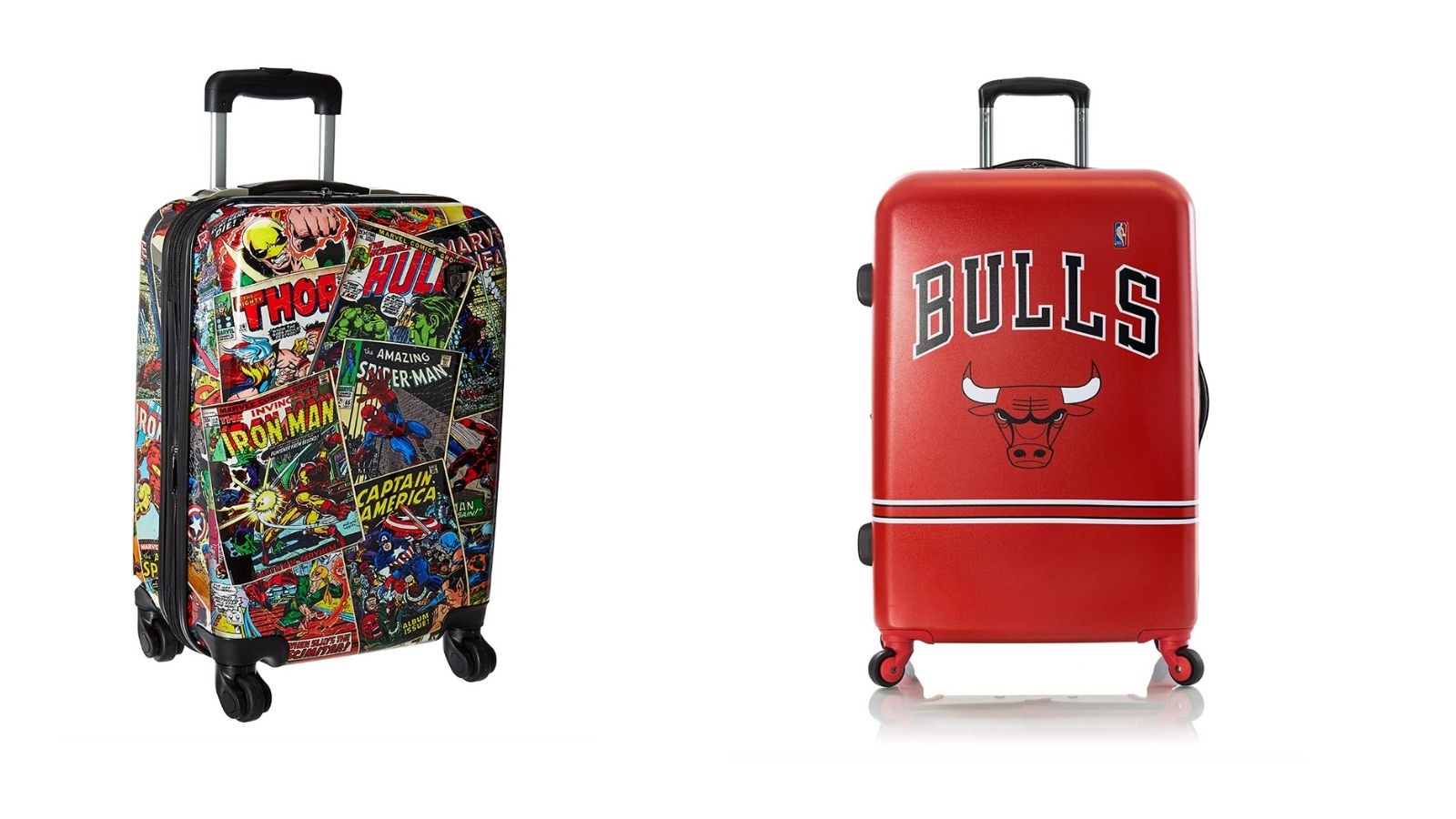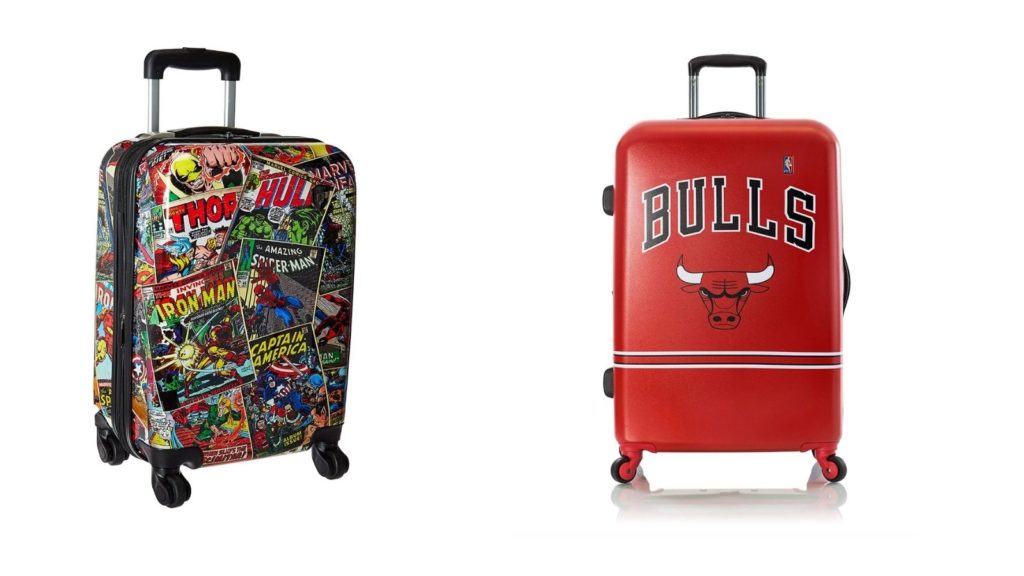 Luggage company Heys offers lots of tween- and teen-friendly options. Superhero fans will love the lightweight Marvel Young Adult 21″ Luggage, featuring 360-degree spinner wheels and a zipper-release expansion system that can add up to 20 percent more packing space. Heys also offers luggage decked out in the logos of MLB and NHL teams and tie-dye and camo prints. The bags are anything but boring, and they will definitely be easy to find on the baggage carousel.
VACATION READY: 10 Best Snorkel Sets and Snorkeling Gear for Kids
For little ones who want to be just like their older siblings, Heys has a whole collection of kid-sized luggage with similar superhero, sports team, and fashion prints. The lightweight 18-inch spinner bags and roller bags with inline skate wheels still have plenty of room for essentials but are easier for smaller travelers to handle. The company also has kids bags featuring popular characters from Paw Patrol and My Little Pony.
10. Rockland
Best luggage brand for creative kids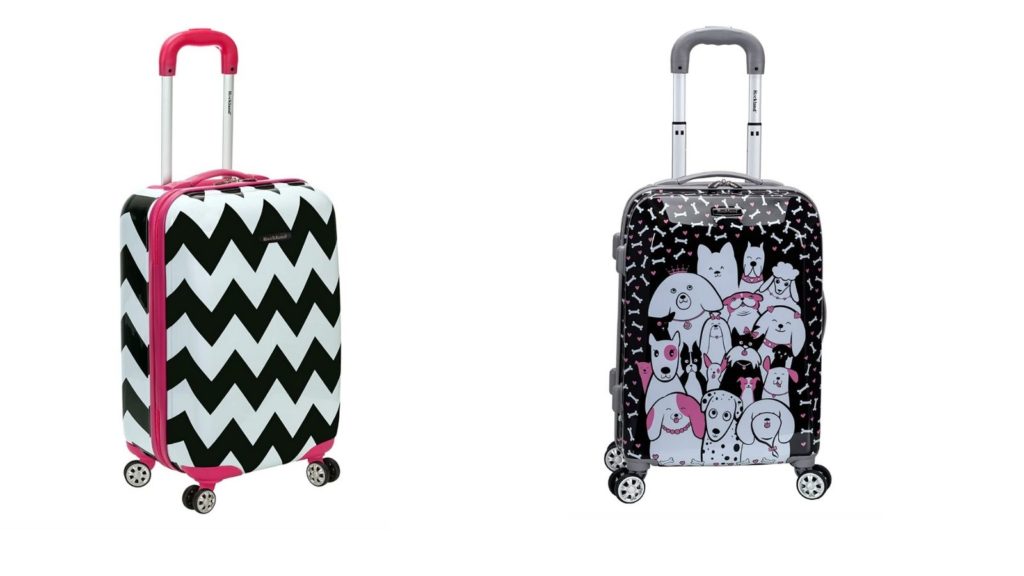 Peace signs, polka dots, camouflage, animal prints—kids luggage brand Rockland offers a range of patterns and colors for kids who are anything but basic. For younger travelers, Rockland Jr. Kids' My First Hard-Side Spinner Luggage comes in adorable animal shapes like a shark, frog, and owl, and features an adjustable-height pull handle and 360-degree spinner wheels for easy mobility. Fun zipper details and matching luggage tags up the cuteness factor.
ON THE GO: 10 Wildly Adaptable Crossbody Bags That Are Perfect for Travel
Older kids might gravitate to the brand's hard-side spinners in an artsy city-themed print or punchy polka dots. Made of a durable polycarbonate material, the bags have multidirectional double spinner wheels and sturdy telescoping handles. Sets of soft-side luggage are also available in lots of attention-grabbing prints and can be split up between younger and older kids based on bag size.
Where to Buy: Amazon
11. Younglingz
Best ride-on kids luggage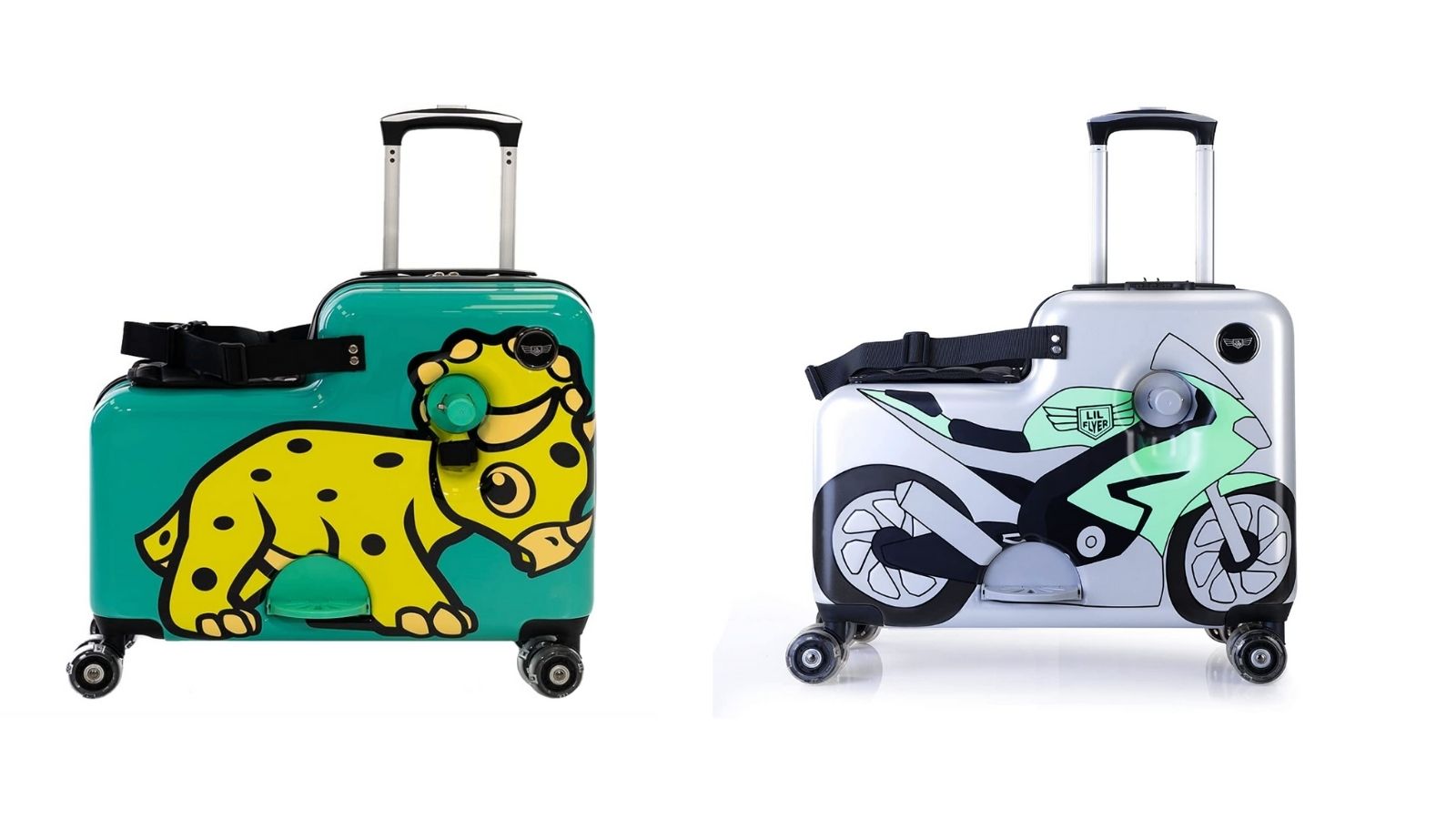 Kids can travel through airports with ease with a Younglingz ride-on suitcase. Suitable for little ones ages two and older and up to 50 pounds, the multitasking luggage lets kids imagine they're riding a fire truck, unicorn, or space ship, complete with foldable foot pedals and handlebars. An adjustable safety belt and padded seat cushion keep kids safe and comfortable while riding, and 360-degree spinner wheels make it easy for their grownups to maneuver the suitcase.
DO'S AND DON'TS: What Not to Wear to a Theme Park (and What to Put on Instead)
It's not only cute, but it's also ideal for those moments when little legs just can't handle a long walk between airport gates or when searching for your room at a big hotel. The wheels can handle most surfaces, and the bag offers 47 linear inches of storage space for holding necessary gear.
Where to Buy: Younglingz, Amazon
More from FamilyVacationist: