Traveling with kids requires lots of gear. The ultimate dream? Getting the kiddos to lug some of their own stuff around. To turn that dream into reality, kids' luggage needs to be lightweight and easy to maneuver so there are no struggles or tears. It needs to be durable, since kids aren't known for being especially gentle with their stuff, and have plenty of space for must-have blankets, stuffed animals, or favorite hoodies. And if the suitcase or bag features some of their favorite characters or a fun print that strikes their fancy, they'll probably be more excited to pull it around—and maybe even help with packing!
Best Kids Luggage
We've rounded up some top kids luggage brands that offer durability, functionality, and plenty of kid-friendly style. Using ratings and reviews, we've picked some great kids luggage options to help inspire toddlers to teens to pitch in on family trips and carry their own load.
Best Overall Kids Luggage Brand
American Tourister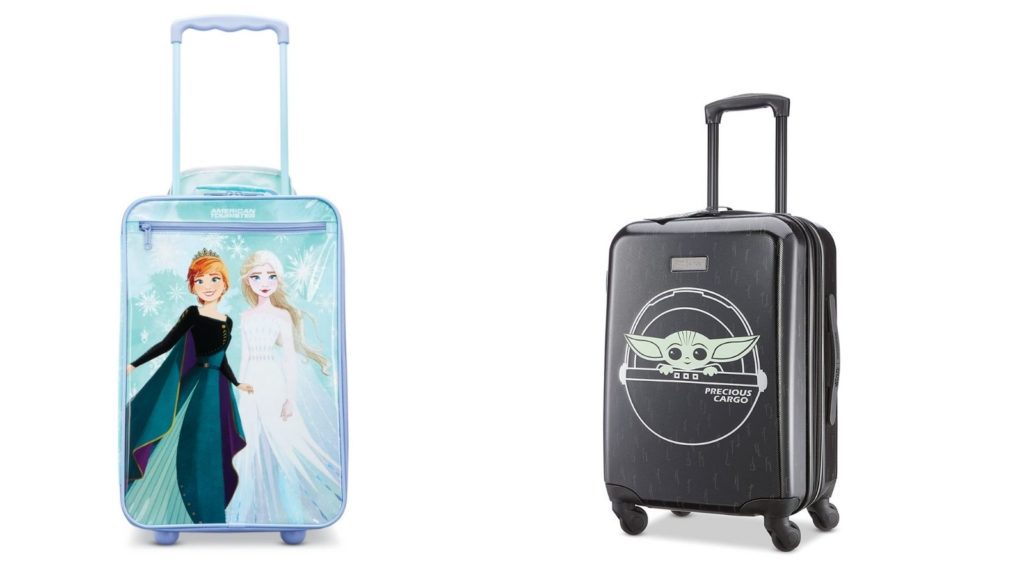 Venerable luggage brand American Tourister offers a slew of kids' luggage options, most emblazoned with favorite Disney and Star Wars characters. There are 18-inch wheeled hard-side and soft-side carry-on bags for little travelers featuring favorites like Mickey Mouse or the Disney Princesses, hard-side spinner bags in a variety of sizes with Disney and Star Wars prints ranging from subtle to die-hard-fan level, and two-piece, soft-side spinner sets for longer trips or sharing between siblings.
American Tourister also offers coordinating luggage tags, backpacks, and stickers so kids can go all in with their love of Baby Yoda or Minnie Mouse. It's all, of course, perfect for a family theme park trip, but kids will love the luggage no matter where they're going.
DITCH THE OVERHEAD BIN: 13 Best Underseat Carry-Ons
Buyers praise the luggage's quality and looks, calling it an "excellent purchase," "way too cute," and "worth every penny!" One reviewer says they know their purchase "will last through the years," while another says it was "the best luggage purchase I have ever made!!! They are built to last and beyond easy to move around in the airport!!!"
Where to Buy: American Tourister, Amazon (softside, hardside, hardside Star Wars)
Best Budget Kids Luggage Brand
Target Crckt Kids' Luggage
This affordable kids' luggage line from Target includes a 21-inch hard-side spinner suitcase available in a range of fun prints with a telescoping handle and interior straps to keep everything in place. Buyers have called the bag "adorable," a "great little suitcase," and "so cute and spacious for a small child."
There's also a soft-side carry-on option with loads of pockets, an exterior bungee cord for holding stuffed animals, and a removable hanging plush that coordinates with print options like dinosaurs and donuts. Reviewers call the bag "perfect for young children," "cute and functional," and a "perfect staple for family trips."
Round things out with a coordinating backpack to hold more must-haves like water bottles and books. Reviewers call it "super adorable" and "the perfect size."
Where to Buy: Target
Best Splurge Kids' Luggage Brand
JetKids by Stokke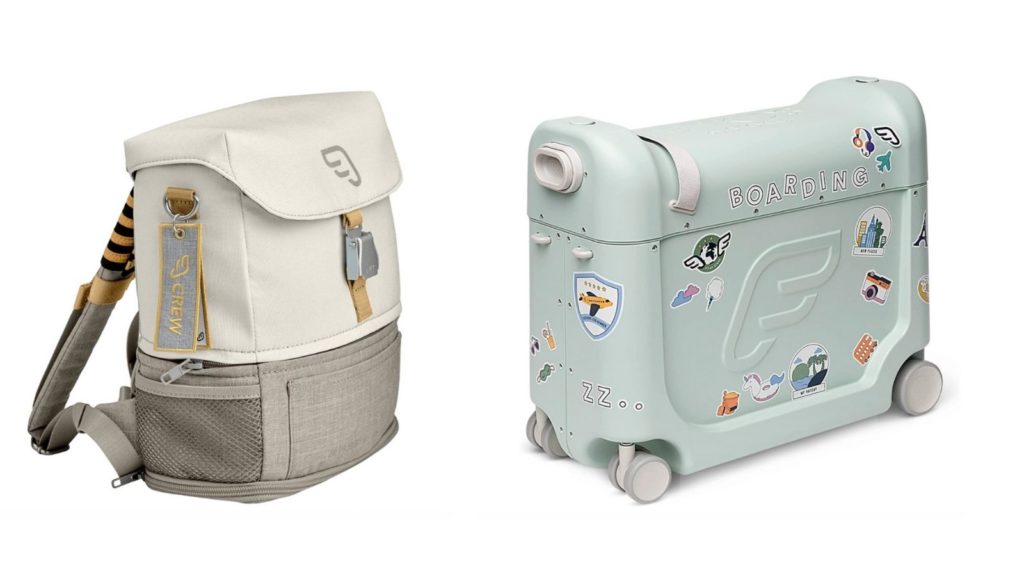 Little ones can travel in comfort and style thanks to the small JetKids by Stokke kids luggage collection. A ride-on suitcase helps little legs navigate big airports with ease, with the option for parents to pull kiddos while they sit or for kids to pull the suitcase themselves if they feel like walking. Swivel wheels make it easy to maneuver, a top opening allows easy access to gear stored inside, and included stickers let kids personalize their bags. Plus it can serve as a footrest inflight to help kids sit and maybe even doze comfortably during a flight.
There's also an expandable backpack just the right size for two- to seven-year-olds made of water-repellent fabrics for easy cleaning. It includes plenty of pockets, adjustable padded shoulder straps, a chest strap, a storage bag for dirty shoes or clothing, and a pull-out seat pad for comfortable sitting no matter where you are.
FUTURE FAVORITE: 10 Stylish Luggage Brands Built to Last
Buyers love the ease and fun the ride-on suitcase adds to their trips, calling it "a game changer for our travel with little ones," "the easiest way to help your young child deal with travel," and "so helpful to busy parents juggling baggage at the airport." One reviewer notes, "My kids love riding on this through the airports," while another says, "This was an amazing piece of kit for a long haul flight I recently took my son on! Riding on it kept him entertained during waits at the airport and the functionality on board was impressive."
Where to Buy: BedBox Suitcase (Stokke and Amazon), Crew Backpack (Stokke and Amazon)
Kiddietotes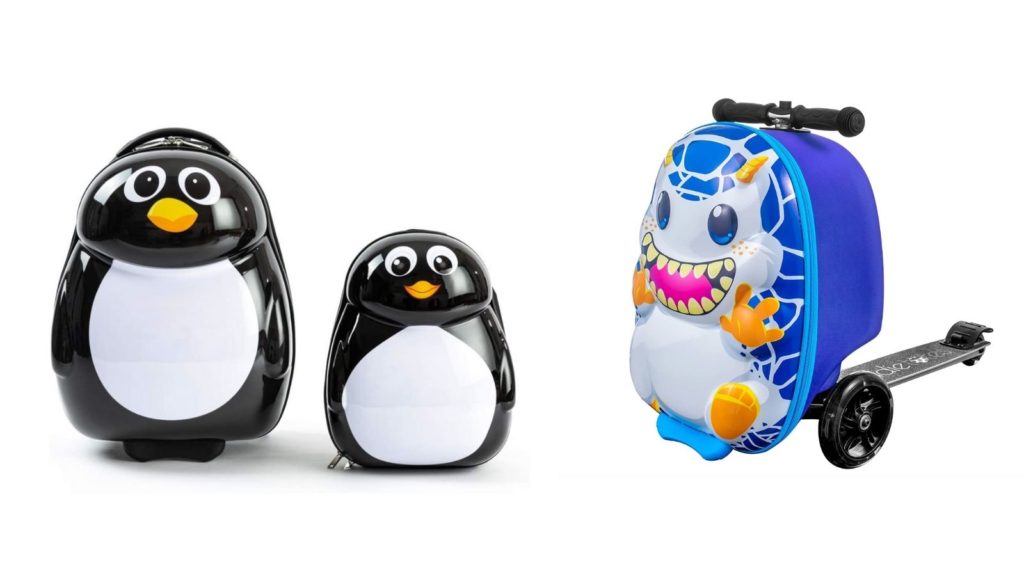 What kid wouldn't love a piece of scooter luggage from this fun brand? Kids can pack all their gear in the roomy interior, then scoot through the airport or hotel. (They can also just pull the bag if so inclined.) Reviewers say the bags are "very lightweight yet very sturdy" and "a great traveling investment." One buyer says they "made our trips wonderfully fun," and another reviewer notes that "other kids AND adults were jealous!"
The company also makes fun backpacks in the shape of things like a donut, football, or penguin that reviewers call "super cute" and an "eye catcher." Or opt for one of the coordinating luggage and backpack sets featuring fanciful designs sure to make anyone smile.
Where to Buy: Kiddietotes, Amazon
Wildkin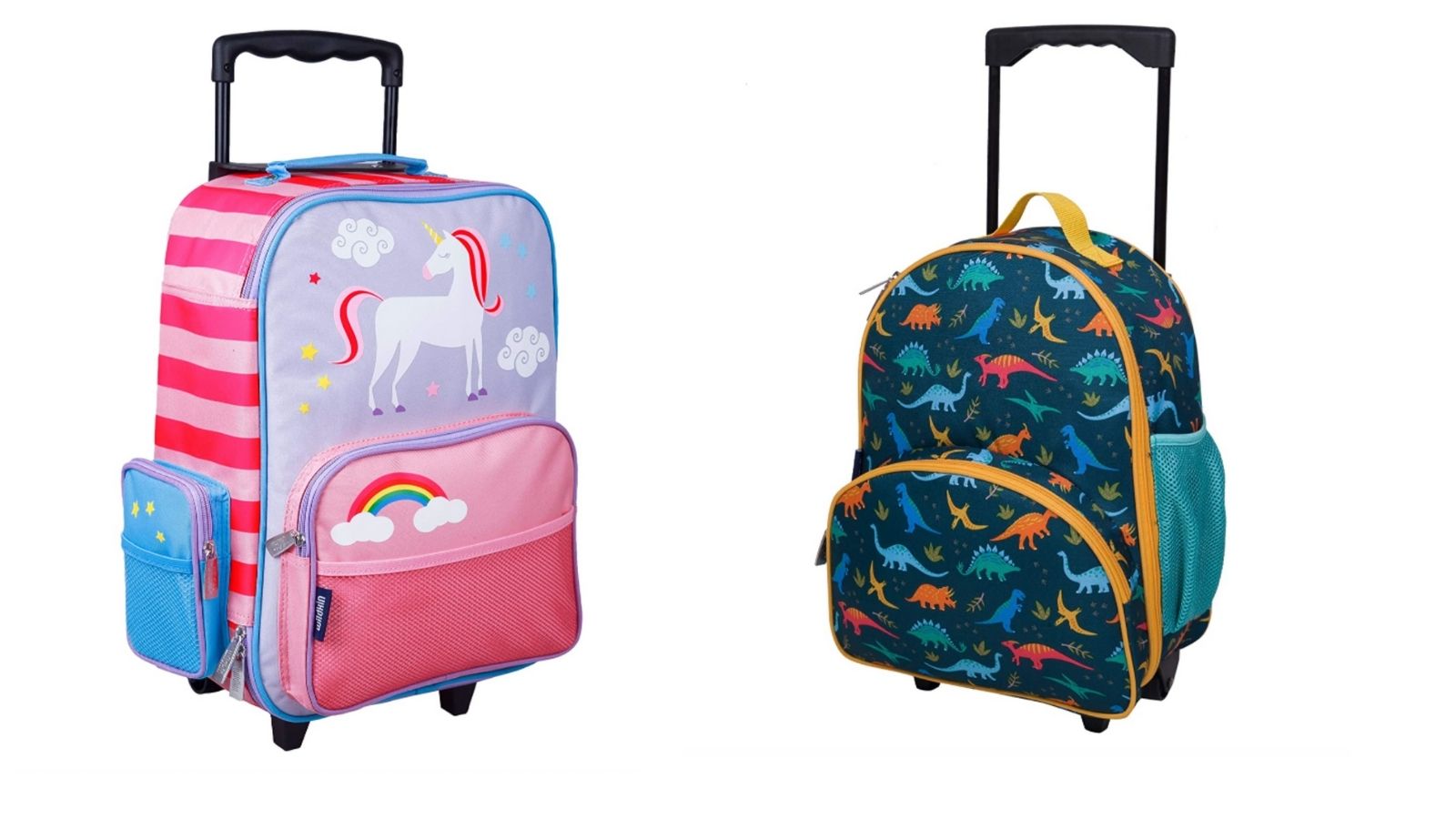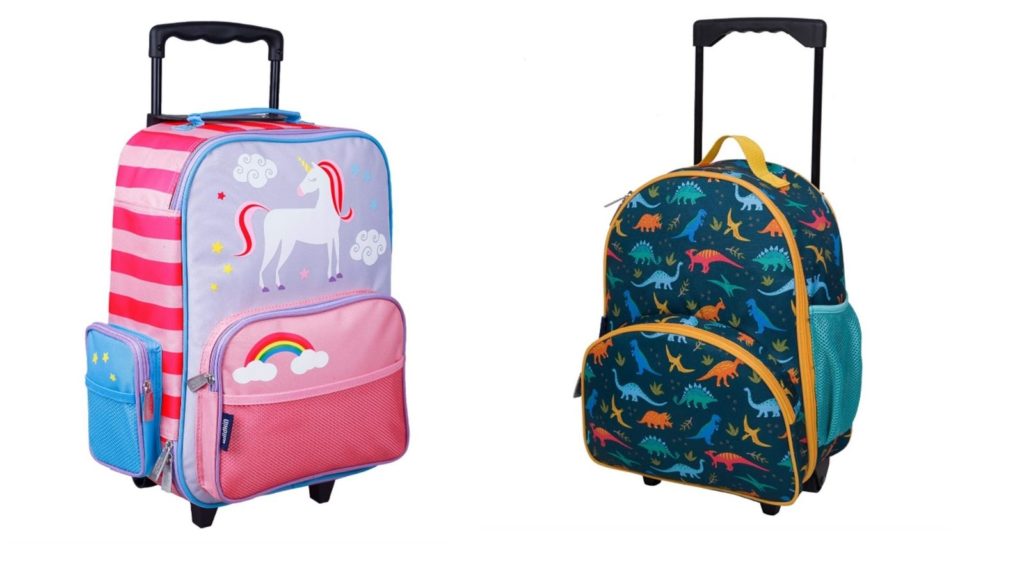 Wildkin offers rolling luggage for kids in both a backpack and suitcase style. Prints include unicorns, dinosaurs, and trucks, and the bags offer features like telescopic handles and zippered exterior pockets. Buyers call the luggage "easy for the little ones to handle, "great quality," and "just perfect." One reviewer says it's "lightweight enough for a toddler to handle and spacious enough for all their clothes and a couple small toys."
MAGICAL BAGS: The Best Disney Luggage for Kids and Adults
The company also offers coordinating duffle bags with attached carrying handles and a removable, padded shoulder strap that buyers call "perfect for packing for a weekend trip or sleepover" and "very functional." Complete the look with matching luggage tags and toiletry bags.
Where to Buy: Wildkin, Amazon (Suitcase, Backpack, Duffle Bag)
L.L.Bean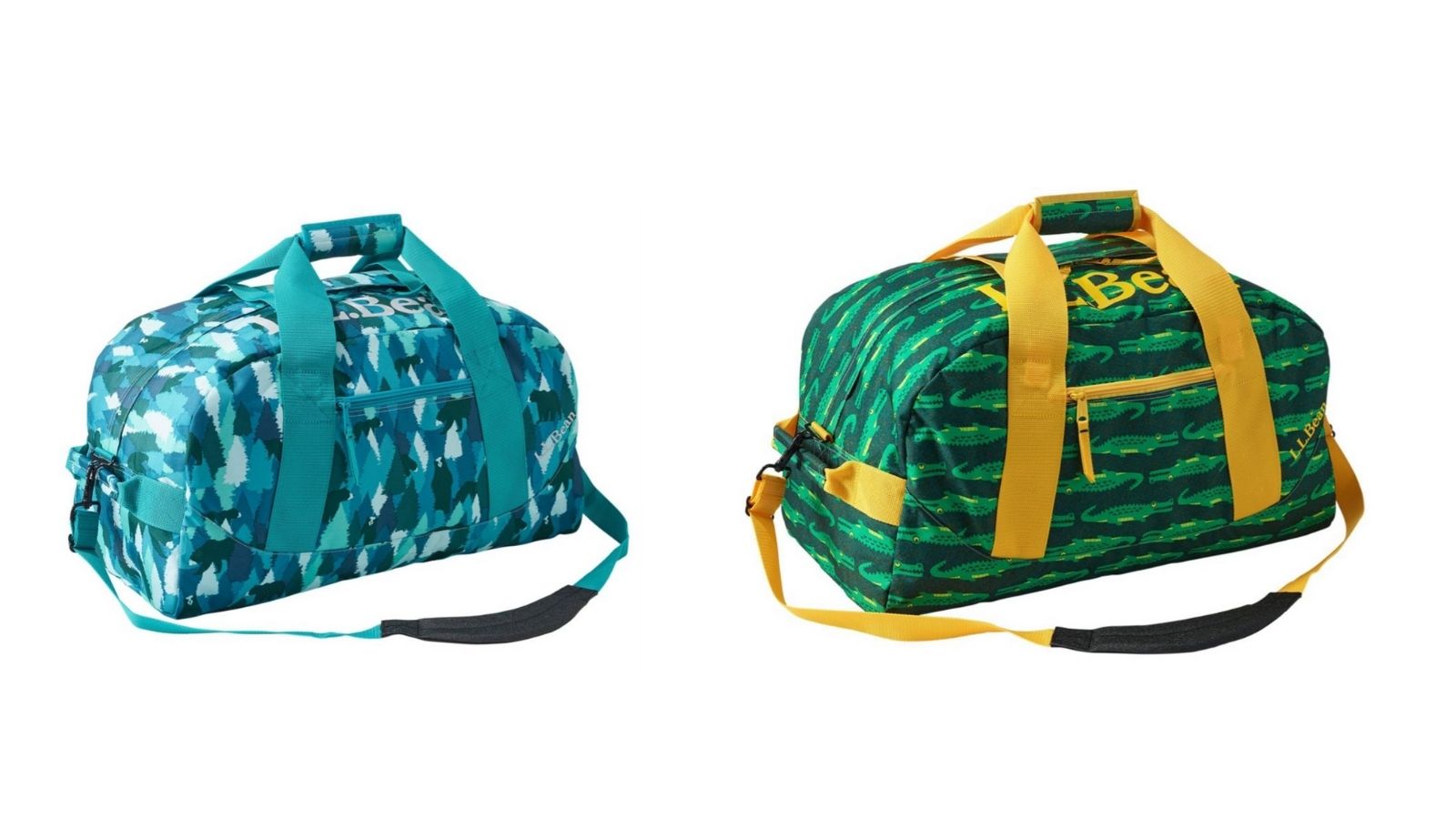 Longtime outdoors brand L.L.Bean offers lots of durable luggage options that can stand up to anything kids throw their way, everything from backpacks to spinner suitcases. The Kids' Adventure Duffle comes in small and medium sizes and is made from water- and abrasion-resistant polyester with a polyurethane backing. A removable padded shoulder strap and padded handle wrap make for convenient carrying, while a selection of fun prints and option for monogramming help kids personalize their bags.
Buyers call the bag a "good sturdy duffle" and "great travel bag." One reviewer says the bags are "durable and easy for the kiddos to carry them," while another says it's a "very roomy and sturdy bag that's perfect for my kids to throw their stuff into for travel."
Where to Buy: L.L.Bean
Stephen Joseph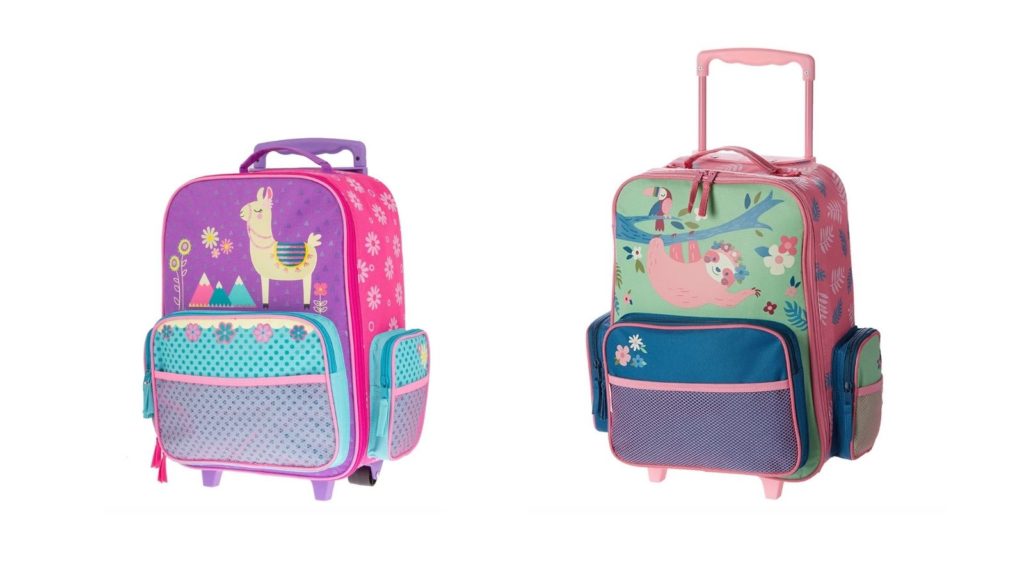 Available in cute kid-friendly prints (think mermaids, sharks, and rainbows), Stephen Joseph's rolling luggage features an extendable handle with two locking heights, a large outer pocket, and an option for personalization. Shoppers call it "cute, study, and roomy" and "great for the price." One reviewer says, "This luggage is perfect for little ones," while another comments, "My son has used his since he was two years old. He is eight and a half now and the suitcase looks great, zipper still works, mesh is perfectly intact."
READY FOR FUN: The Best Kids Backpacks
The company also makes coordinating toiletry bags and duffle bags in matching prints. The duffles have an inner zipper pocket, outer Velcro pocket, and removable and adjustable shoulder strap. One reviewer says, "This bag is so roomy, the material is great, and the design is so cute."
Where to Buy: Stephen Joseph, Amazon
Heys Luggage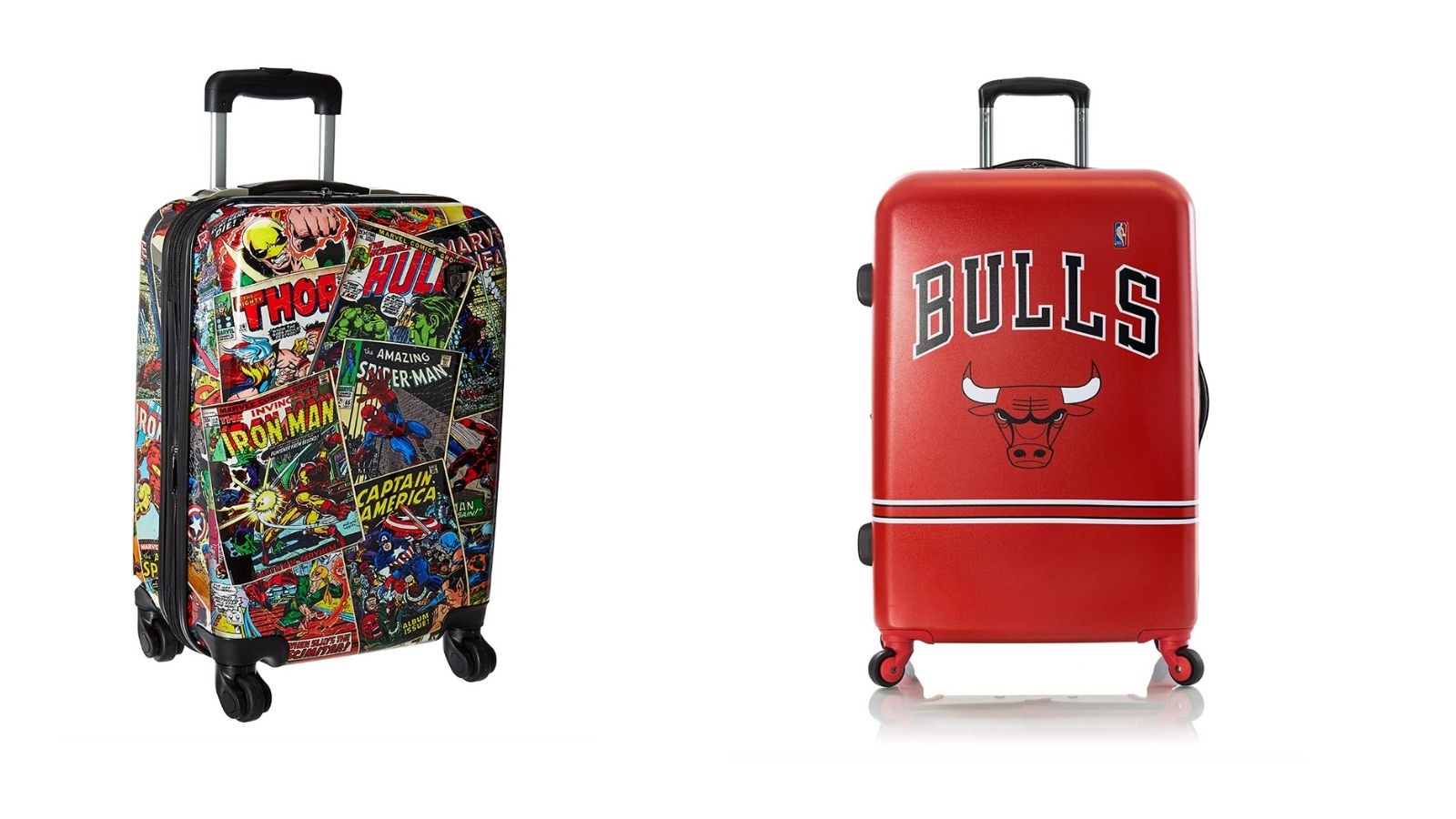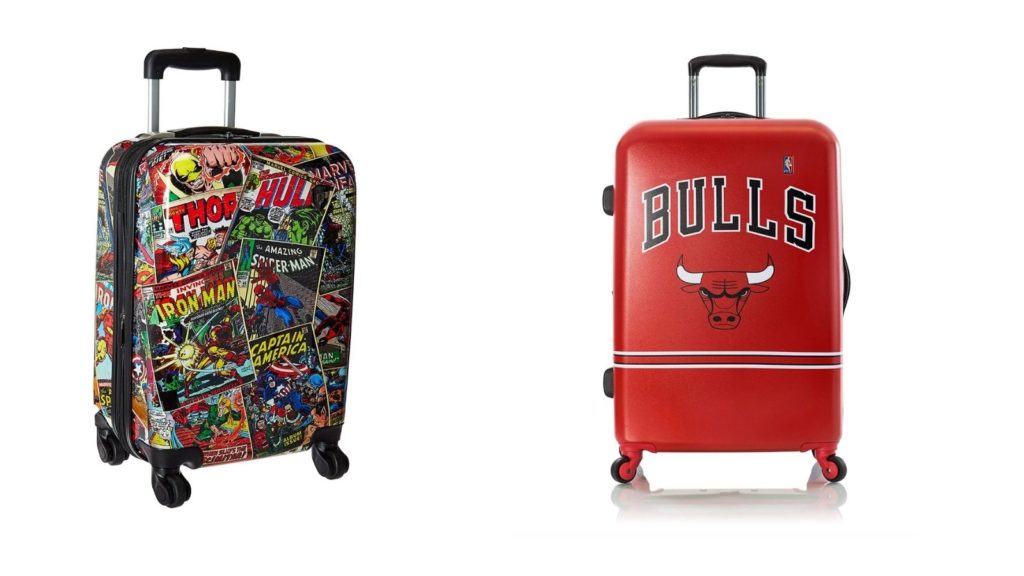 Luggage company Heys offers options for the whole family, from little kids all the way to teenagers. For the younger set, the company's e-Motion Kids Luggage Rainbow features inline skate wheels for maneuverability, a retractable aluminum trolley handle system with quick-release button, and a zippered internal divider to go with its playful design. Buyers say it's a "great value" and "perfect for all the stuff they need on board." The company also makes backpacks and rolling luggage featuring popular characters from Paw Patrol, Trolls, and My Little Pony.
Older kids will love options like the Marvel Young Adult 21" Luggage, featuring 360-degree spinner wheels and a zipper-release expansion system that can add up to 20% more packing space. Reviewers say the bag is "sturdy and cool-looking," "a perfect carry-on," and "easy to spot among all the other boring bags." Heys also offers luggage decked out in the logos of NBA, MLB, and NHL teams.
Rockland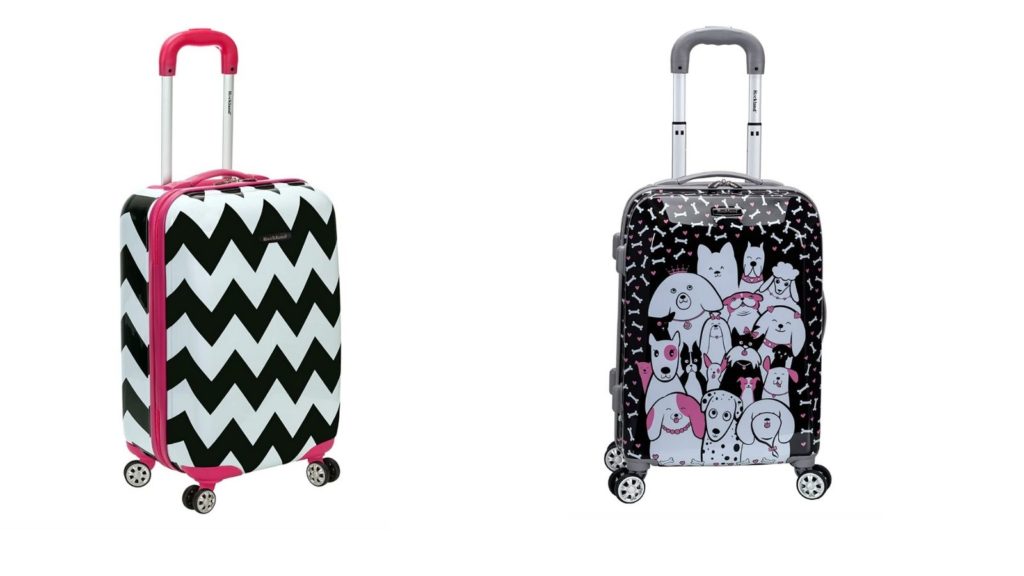 The luggage brand Rockland has options for kids of all ages. For younger travelers, there's Rockland Jr. Kids' My First Hard-Side Spinner Luggage, which comes in fun animal shapes like a shark, frog, and owl and features an adjustable-height pull handle and 360-degree spinner wheels for easy mobility. Buyers call it "super cute" and "good quality," with one reviewer saying, "My 3-year-old found it easy to push and pull throughout the airport. Cute design and was able to pack 6 sets of clothes, 2 bathing suits, and 5 sets of pajamas and underwear."
Older kids might gravitate to the Rockland Vision Hard-Side Spinner 20-Inch Carry-On. Available in a range of colorful, eye-catching prints, it includes a telescoping handle and interior mesh zip pocket. One reviewer says, "It's super adorable, very lightweight, and has a lot of space," while another says, "Whether it's going to grandparents' house or out of town on an airplane, this little suitcase goes with my daughter." There's also a hard-side option in safari prints and soft-side luggage sets in designs like polka dots, hearts, and florals.
Where to Buy: Amazon (My First Hard-Side Spinner, 20-Inch Hard-Side Spinner, Safari-Print Hard-Side Spinner)
Younglingz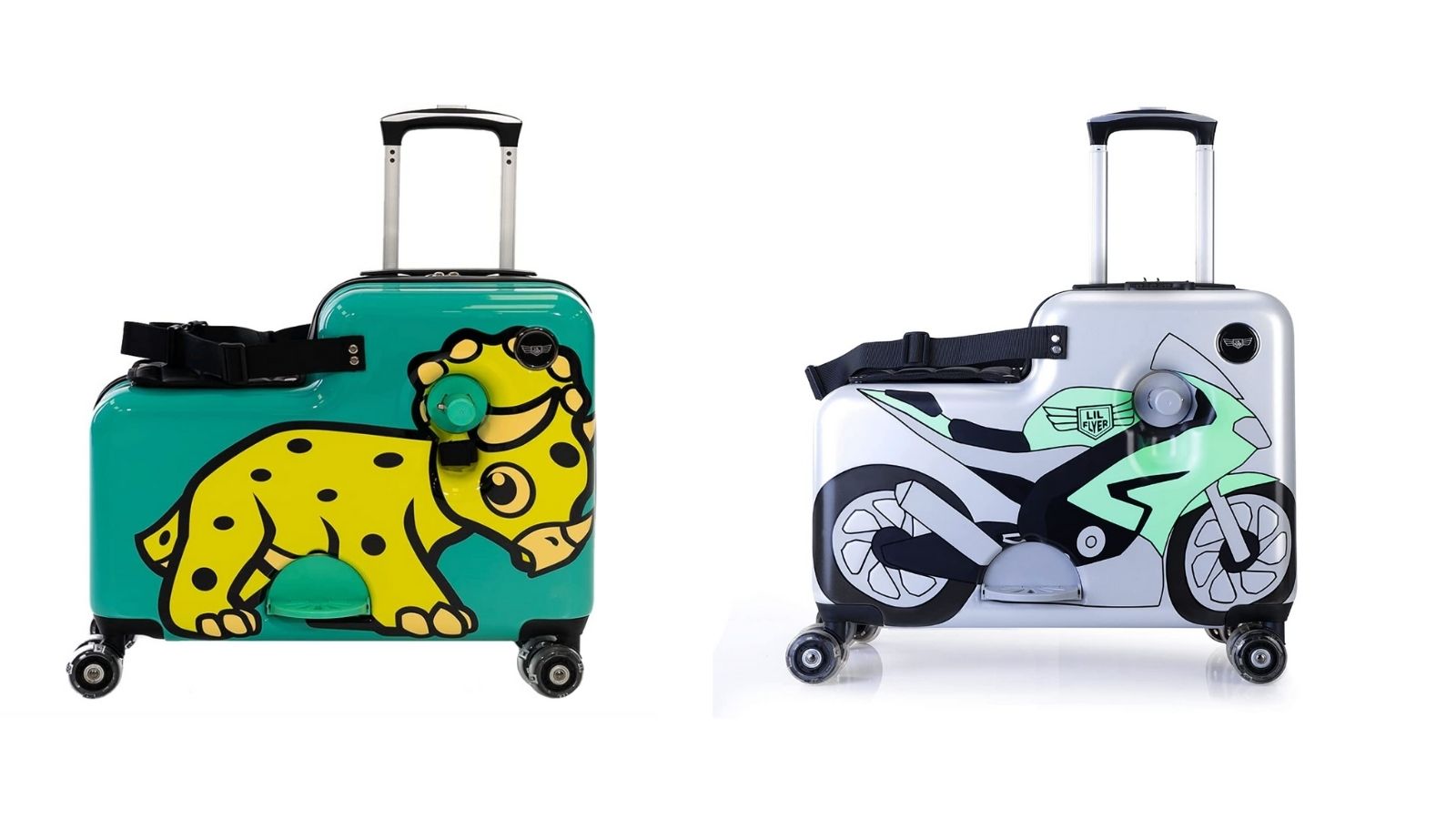 Kids can travel through airports with ease with a Younglingz ride-on suitcase. Suitable for little ones ages two and older and up to 50 pounds, the multitasking luggage lets kids imagine they're riding a motorcycle, fire truck, unicorn, or dinosaur, complete with foldable foot pedals and handlebars. An adjustable safety belt and padded seat cushion keep kids safe and comfortable while riding, and 360-degree spinner wheels make it easy for their grownups to maneuver the suitcase.
Buyers call it the "best purchase ever," an "amazing find," and "worth every penny." One reviewer says, "We got so many oohs and aahs from other travelers at the airport," while another notes, "We were able to pack a lot of stuff in there!"
Where to Buy: Younglingz, Amazon
More from FamilyVacationist: