Smartwatches for kids can be an amazing tool for encouraging independence on vacation. Features like GPS, text and voice messaging, and voice calling can keep kids close while allowing them to explore a new place on their own. Smart watches for kids come at a wide range of price points and with a lot of different features, so finding one that's a good fit for your family won't be hard.
How to Choose the Best Smartwatch for Kids
Finding the best smartwatch for younger kids means looking for features like durability, alarm clock functionality, cameras, and parental controls. For older kids, tweens, and teens, GPS, extended battery life, and the ability to make phone calls and send texts are key features when you're looking for the best smartwatches.
Many of these watches require parents to download an app to access all of the features. When adding in voice calling and texting, the grown-up in charge must also sign up for a monthly service or add a line to a family plan. Here are the top smartwatches for kids that combine useful features and durable construction.
TRAVEL ESSENTIALS: 10 Comfortable Travel Shoes That Can Handle a Whole Day of Walking
1. TickTalk 4
Best overall smartwatch for kids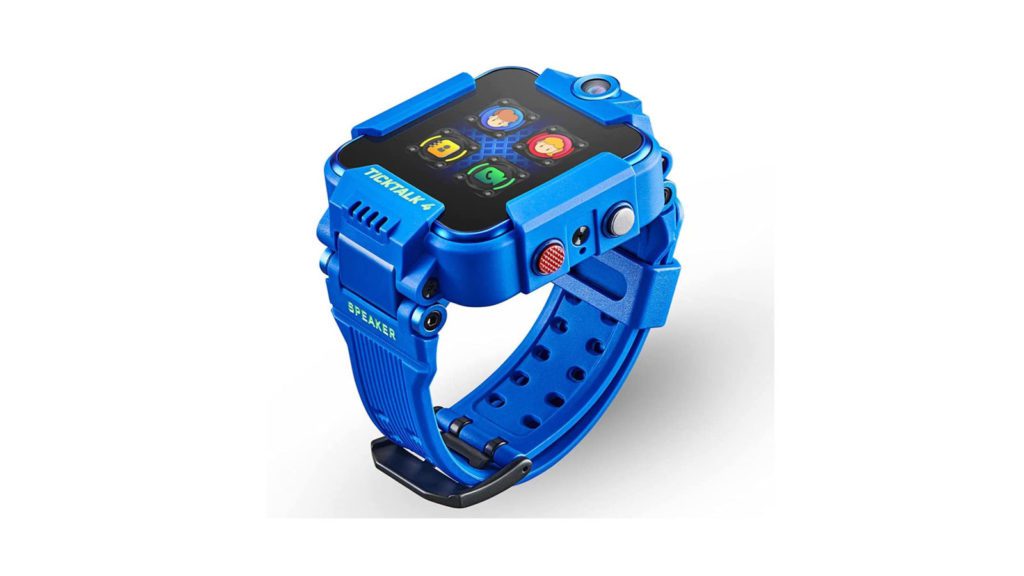 The TickTalk 4 is one of the pricier kids smartwatches, but it makes a great precursor to a cell phone. The watch offers voice and video calling and text messaging, and parents can add up to 53 approved contacts. All communication takes place within the TickTalk app, making it easy for parents to monitor call logs, block unknown numbers, and set reminders for their kids.
HEADPHONES FOR KIDS: The Best Travel Headphones for Kids, Tweens, and Teens
The watch also offers fast and accurate GPS tracking, an activity tracker, cameras for photos and videos, and free, unlimited streaming music powered by iHeartRadio Family. But just as notable is what the watch doesn't have: There's no Internet access, no games, and no access to social media.
The TickTalk 4 comes with an included SIM card; parents can choose between AT&T or T-Mobile's networks with pay-as-you-go plans that start around $10 a month. This smartwatch for kids is also compatible with GSM cellular carriers for international use. The durable watch comes in a variety of colors, is water-resistant, and has a 60-plus-hour battery life.
2. Apple Watch SE (GPS + Cellular)
Best overall smartwatch for older kids and teens
Edging in as only slightly more expensive than some of the higher-end kids smartwatches, the Apple Watch SE is a great choice for older kids and teens. Using the Family Setup function, kids without their own iPhone can use their smartwatch to make phone calls, send messages, set-up emergency SOS and emergency contacts, share their location with parents, see photos, and play music.
TEEN-FRIENDLY FUN: 10 All-Inclusive Family Resorts Even Teenagers Will Love
The Apple Watch SE is water-resistant, includes an activity and health tracker, and can be customized with different bands and watch faces. Parents can manage some of the watch's capabilities from their phone. With access to Apple Cash Family, kids are able to make approved app purchases and make purchases via Apple Pay.
3. VTech KidiZoom Smartwatch DX3
Best smartwatch for creative kids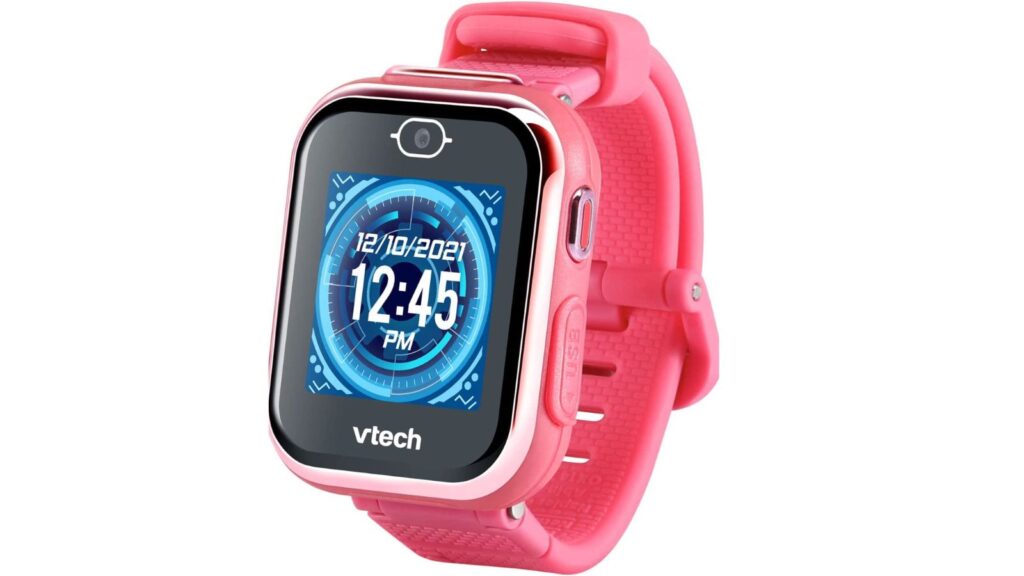 The VTech KidiZoom Smartwatch DX3 features dual cameras that help kids take photos and videos and then get creative with photo effects, frames, and filters. They can even turn one of their photos into their watchface (or choose from more than 50 digital and analog animated faces). A built-in LED light can be used as both a flash for photos and videos and a flashlight for a little bedtime reading or hunting for missing shoes in their closet.
BEACH DAYS: This Summer's 10 Best Beach Towels for Kids and Teens
It's a great smartwatch option thanks to its educational games, ease of use, durability, and features that help kids practice telling time and get daily reminders from their parents. It's also splash-proof (but shouldn't be submerged in water) and comes in several kid-friendly colors.
4. COSMO JrTrack 2 SE Kids Smartwatch
Best smartwatch for parents focused on safety
The COSMO JrTrack 2 SE Kids Smartwatch is packed with parent-approved features and is one of the only smartwatches for kids with an integrated SIM card and 4G connectivity. Standout components of this watch include two-way calling and text messaging, GPS tracking, and a voice recorder.
BACKYARD DRIVE-IN: 10 Best Outdoor Movie Screens + DIY Tips
Safety features include an SOS function, geo-fencing to let parents know when a child has gone out of bounds, a secure phonebook with room for up to 10 parent-approved contacts, and no access to the Internet or social media. Parents can block unknown numbers and set reminders via the watch's "Mission Control" app. The sleek design and user interface keep it cool for older kids, and the comfortable wrist band and water resistance make it durable for all kids.
5. Garmin Bounce
Best smartwatch for active kids
Parents and kids can stay connected with the help of the Garmin Bounce. After parents set up a subscription plan through Garmin, download the Garmin Jr. app, and input up to 20 approved contacts, kids can send and receive text and voice messages and check in from their location.
VACATION READS: 33 Books Like Harry Potter to Binge on Your Next Vacation
Parents can also get real-time location information whenever needed and use the app to turn on school mode and do-not-disturb mode. When they're not studying, kids can use their watch to track their steps and athletic activities (it's swim-friendly, too), get weather updates, set alarms and timers, and play games. Daily activity can unlock fun extras, and kids can even engage in some friendly competition with friends and family.
6. Fitbit Versa 2
Best smartwatch for sporty tweens and teens
The Fitbit Versa 2 is a great smartwatch choice for on-the-go tweens and teens who already have a cell phone. The water-resistant watch tracks daily steps and activity and provides health and fitness insight throughout the day. It also helps track sleep and stress levels and can even offer guided breathing sessions when needed.
TOUGH AND DURABLE: 11 Stylish Luggage Brands That Are Built to Last
It's got built-in Alexa access, Fitbit pay capabilities, and a six-day battery life. When used in conjunction with a smartphone, the watch can also display call and text notifications and help tweens and teens find their phone if they've happened to misplace it.
7. Little Tikes Tobi Robot Smartwatch
Best smartwatch for little kids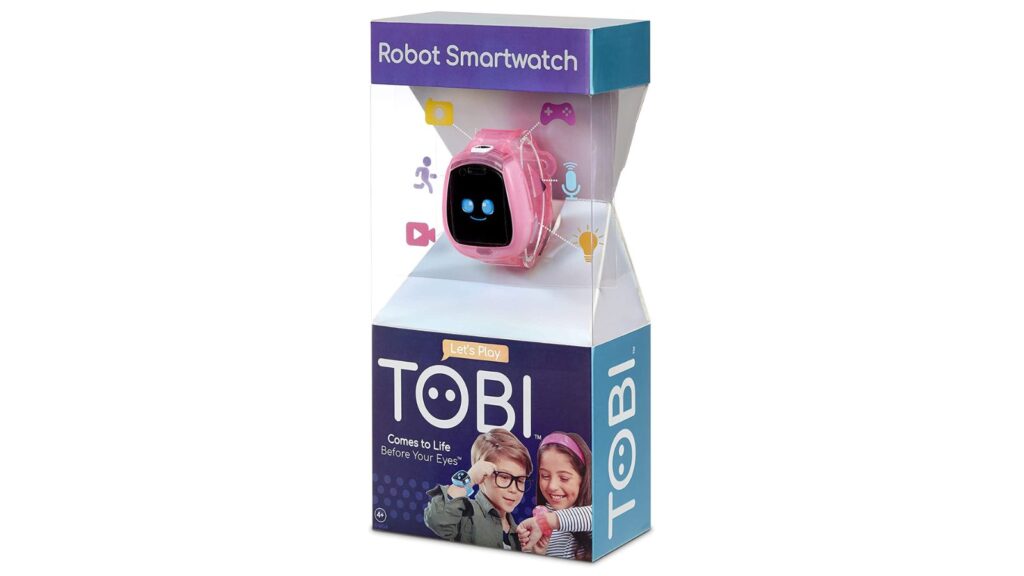 The Little Tikes Tobi Robot Smartwatch is a terrific entry-level smartwatch for young kids—and a fun one, too, with its moving "robot arms and legs," sound effects, and "facial" expressions. More than 50 analog and digital watch faces help kids master the art of telling time, while cameras for selfies and videos allow for creative expression and memory making.
STAYCATION BASICS: 10 Best Inflatable Swimming Pools for Backyard Family Fun
A built-in pedometer plus interactive learning and dancing games get kids moving while playing, and the durable, splash-proof watch can be worn on the wrist or clipped onto a child's clothing. This budget-friendly pick can even be paired with nearby Tobi Robot Smartwatch devices so kids can send voice or emoji messages back and forth.
8. Verizon Gizmo Watch 3
Best smartwatch for families with a Verizon phone plan
If you already have a Verizon phone plan, it's easy to add on a Verizon Gizmo Watch 3 for your child. Through the GizmoHub app, parents can input up to 20 approved contacts that kids can call and text through the watch, as well as make short video calls. Parents can also track the child's location through the app and set alerts if they travel outside of approved areas.
TINY TRAVELERS: 10 Kids Luggage Brands That Make Traveling with Kids Easier
Kids can't install any outside apps on the smartwatch, but they can take photos, track their steps, play games, and get the weather forecast. Parents can create a task list in the app to remind kids about homework and chores and link up friends and siblings with Gizmo Watches as buddies.
9. PROGRACE Kids Smartwatch
Best smartwatch for young kids who want lots of just-like-the-grownups features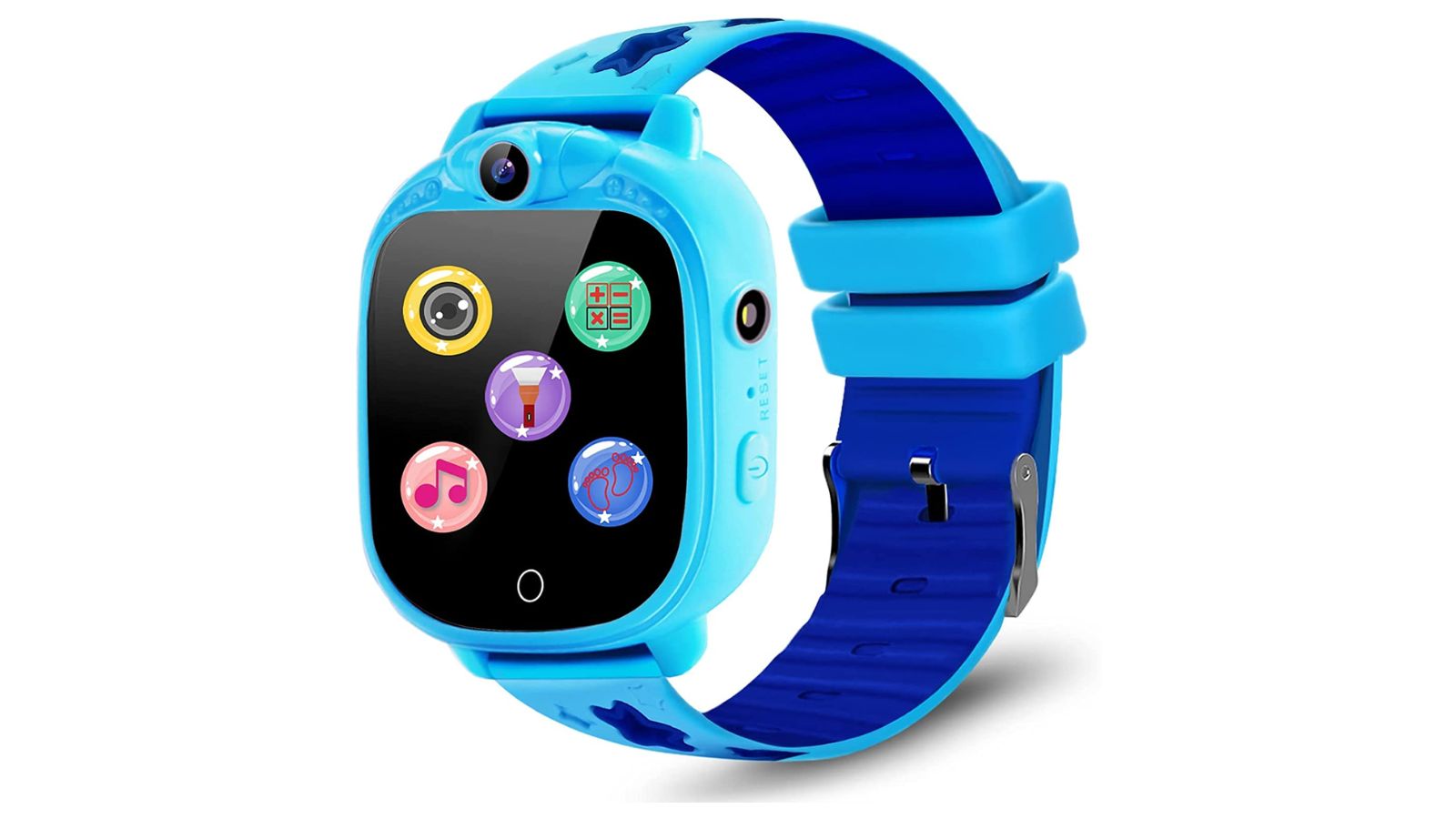 The PROGRACE Kids Smartwatch will make little ones feel like a grownup with features like a pedometer, flashlight, calendar, calculator, stopwatch, and alarm clock. A rotating camera lets wearers take pictures and selfies, and parents can download music onto the watch's memory card.
SPACE SAVERS: 13 Best Underseat Carry-On Bags
A touchscreen makes it easy to play the watch's built-in puzzle games, and kids can also have fun with the sound recorder. A breathable silicone wristband makes the smartwatch comfortable for kids to wear.
10. Original Casio Calculator Watch
Best smartwatch for teens who love all things retro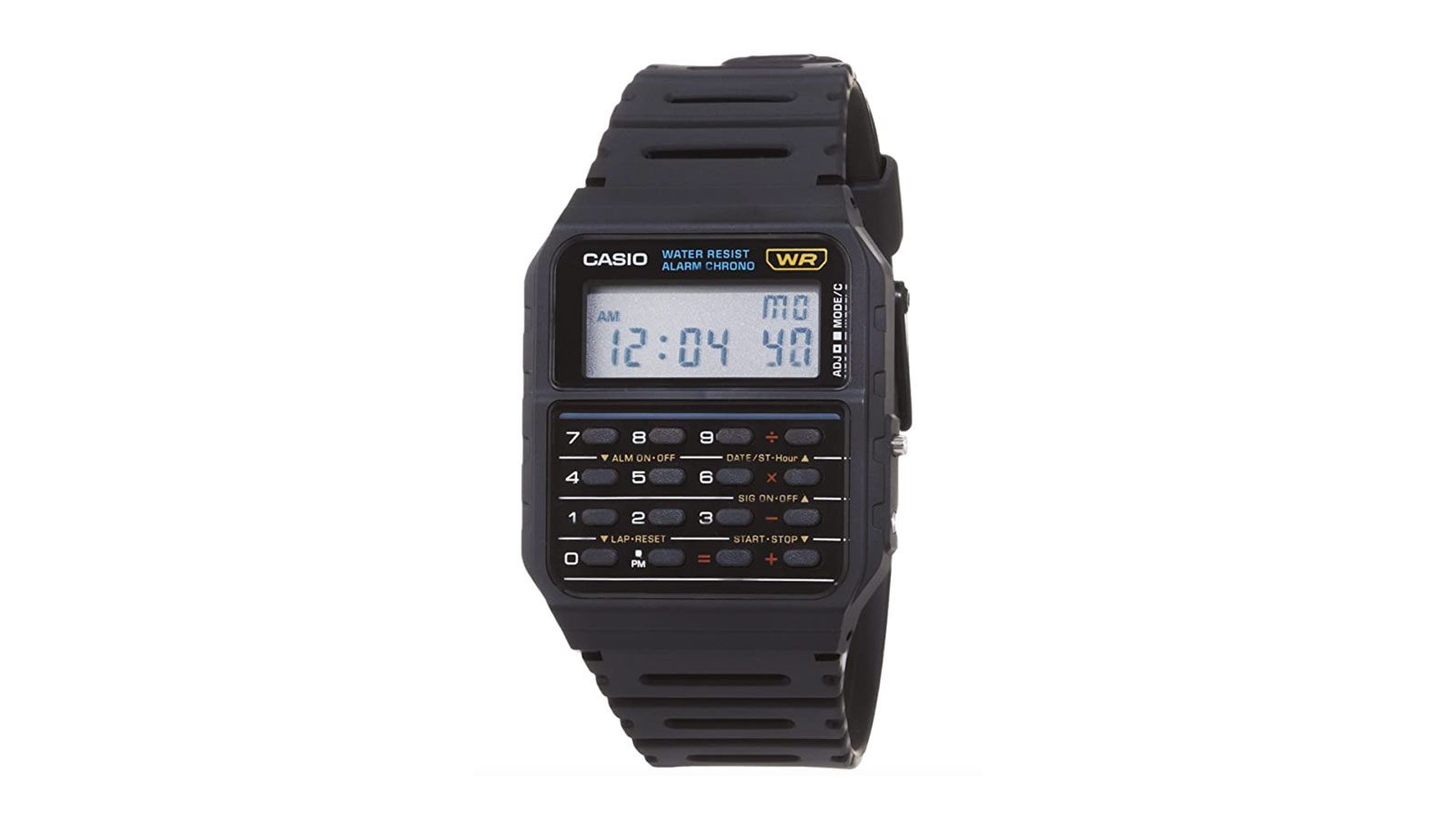 Not to be missed for vintage-loving teens (or the nostalgic "big kid" of the family), behold the Casio Calculator Watch, a.k.a. the original smart watch. Not only does this watch have time, date (pre-programmed until 2079), and stopwatch features, it also has an eight-digit calculator and constants for addition, subtraction, multiplication, and division.
FAVORITE FITS: The Most Comfortable Travel Clothes Brands for the Whole Family
No currency conversion or meal tab is too hard for this nifty smartwatch. The Original Casio Calculator Watch also features a durable waterproof design, making it the perfect companion for all adventures, even if you can't text from it.
More from FamilyVacationist: