With its vibrant mix of beaches, volcanoes, and rainforests teeming with wildlife, Costa Rica ranks near the top of many family vacation ideas wishlists. But this small Central American nation's gorgeous landscape is just one of many reason to visit. Activity options on a Costa Rica family vacation range from lazy seaside days to exciting excursions like zip lining over waterfalls and nature walks through the clouds. The weather is warm and sunny, and the national philosophy ("pura vida," which translates to "pure life") means it's inevitable that the country's happy vibes will rub off on you—especially if you visit Las Catalinas, a charmingly self-contained and secluded beach town on the Pacific coast.
Founded in 2009 in Costa Rica's Guanacaste province, the car-free cobblestone streets of Las Catalinas make an ideal seaside escape for families. A purposefully designed resort-like town with boutique hotels and vacation rental properties, there's a beach, pools, restaurants, and shops all within easy walking distance from anywhere in town. Tropical dry forest cradles Las Catalinas with hiking and biking trails. And tourist services are just a call away via WhatsApp, allowing you to easily book excursions and make reservations.
ALL-INCLUSIVE VACATIONS: 10 Best All-Inclusive Costa Rica Beach Resorts and Rainforest Resorts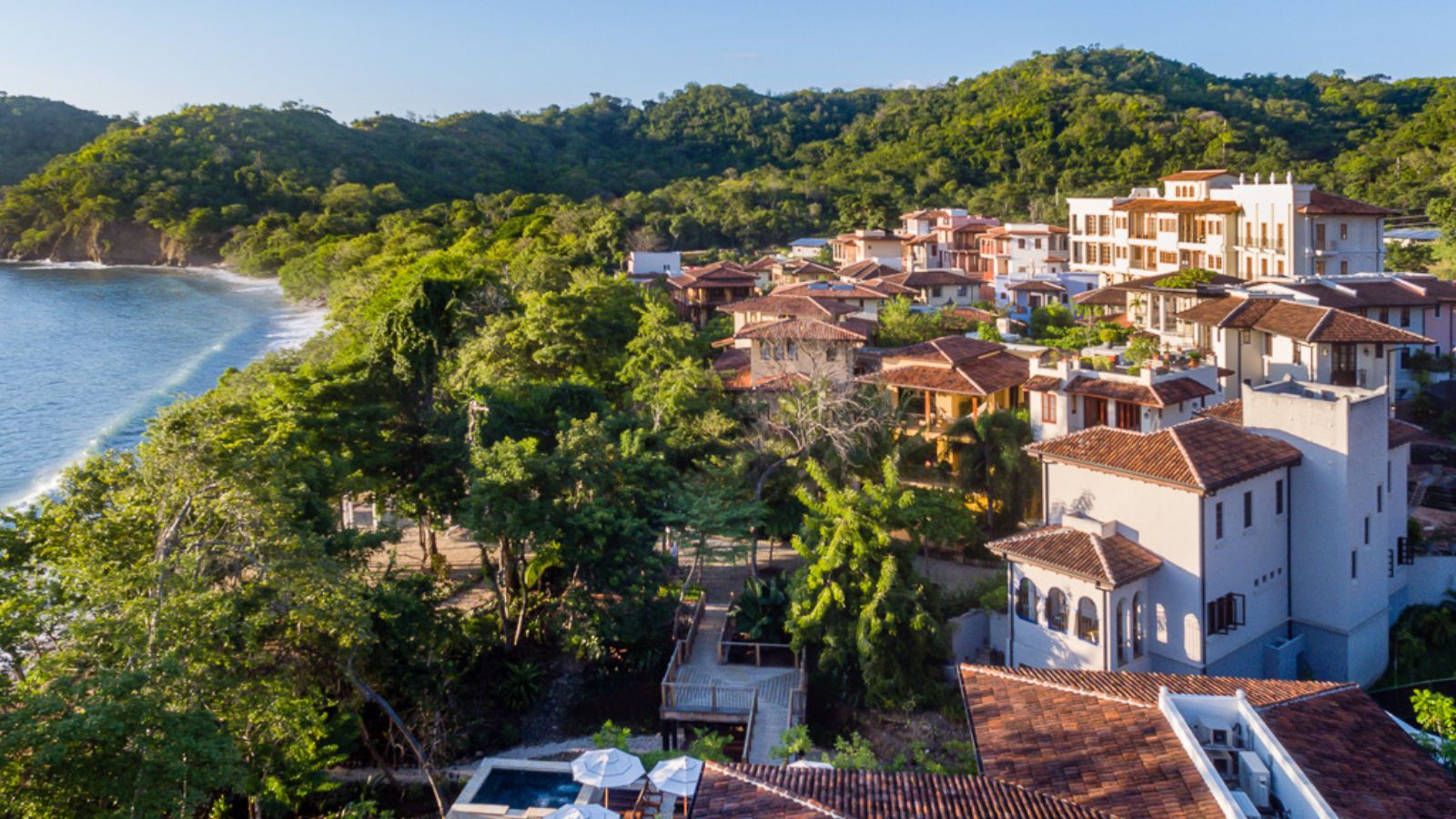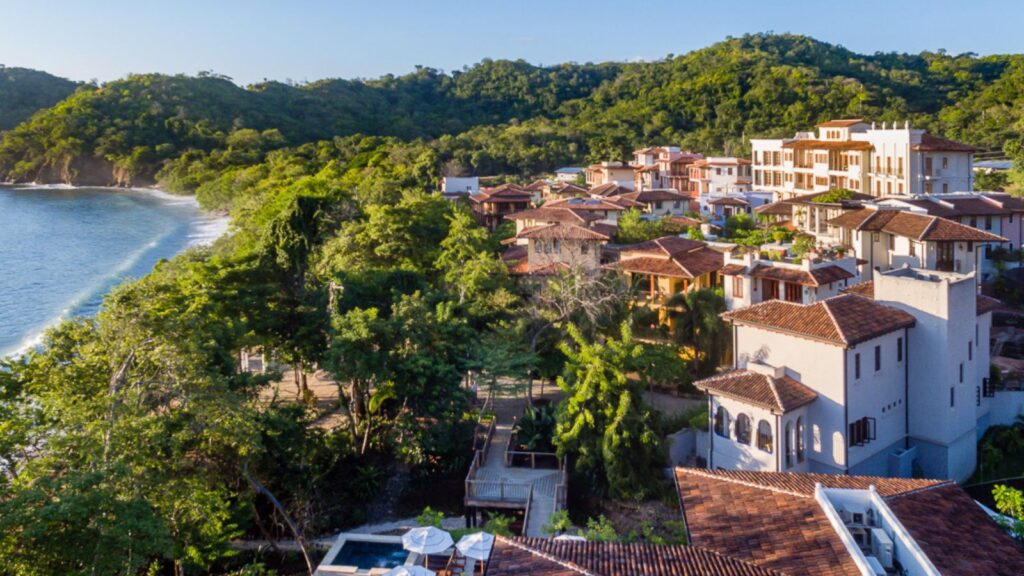 Things to Know about Las Catalinas
Las Catalinas is a car-free beach town in Costa Rica's northwestern province of Guanacaste. Visitors typically fly into Liberia Airport and book a driver for a one hour ride to the coast. You can rent a car, but be aware that that roads can be challenging to navigate.
Costa Rica boasts warm weather year-round, but it has distinct dry and rainy seasons. Dry season is November through May on the Pacific coast, with temperatures ranging between 70 to 95 degrees Fahrenheit. The rainy season is late May through November, when you can typically expect showers in the afternoons.
In Las Catalinas, the restaurants, shops, pools, beach, and spas are within short walking distance. A concierge can make reservations and book excursions for you via WhatsApp (free to download and use).
The vibe at Las Catalinas is upscale luxury with health and well-being at its core.
Spanish is the national language of Costa Rica, but almost everyone I met in Las Catalinas also spoke English.
The local Elif Academy Montessori preschool offers day care services to short-term visitors for kids ages two to eight.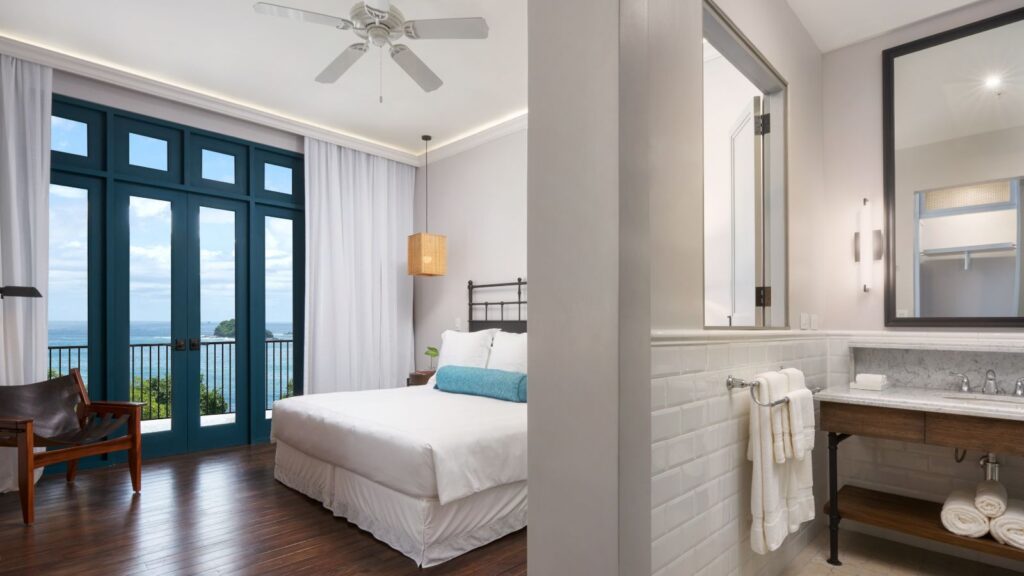 What Families Need to Know about Las Catalinas
Las Catalinas is a serene beach town where you can rent a vacation home or condo unit with multiple bedrooms, kitchens, living rooms, and washer/dryers. The town's Beach Club features an infinity pool with ocean views, a deeper lap pool, an adult-only pool and Jacuzzi, and a poolside restaurant and bar.
The beach is picturesque, natural, and relatively untouched. While you must bring your own towels, chairs, and toys, other things like loungers and food and drink service are offered by the pool overlooking the ocean. My family was delighted to see howler monkeys swinging in the trees above the Pacific Ocean with their babies.
TRIP REVIEW: National Geographic's Costa Rica Wildlife and Conservation Tour Is a Walk on the Wild Side
Strolling the cobblestone streets, you can visit cafes, pick up juices or coffees, eat ice cream, rent a paddle board, or take a yoga class. We ate every meal outside with the sound of the ocean waves lapping the shore and enjoyed bouncing around the various restaurants while trying our Spanish with the friendly wait staff. My kids loved the ice cream, waffles, and milkshakes. I appreciated the fresh fruit, juices, empanadas, salads, and Casado (which is a Costa Rican meal of rice, beans, meat and plantains).
The hiking and biking the trails surrounding Las Catalinas are popular activities for older children and teens. My kids soaked up the day's rays swimming in the pool and jumping waves in the ocean. You can rent paddle boards, kayaks, boogie boards, and snorkel gear. You can also book experiences like a chef dinner or cocktail class at your home, or plan offsite excursions such as horseback riding, zip lining, surfing, or sailing. Adults can also partake in workout classes and spa services like massages and acupuncture. Special events like movie nights and cooking demonstrations often pop up on the calendar as well.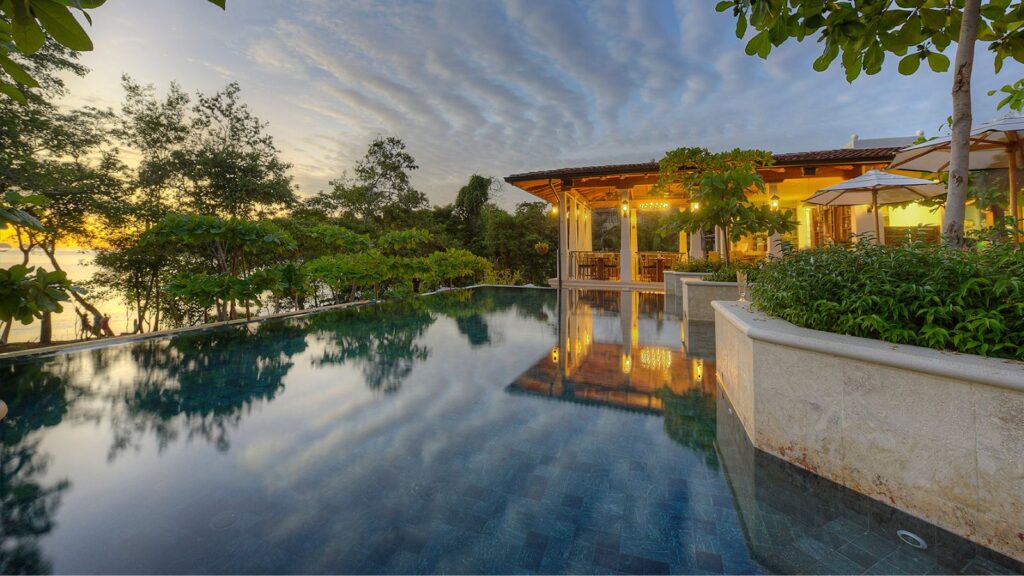 Important Details about Las Catalinas
Location
Las Catalinas is a car-free town overlooking the Pacific Ocean with cobblestone streets, bubbling fountains, and plazas reminiscent of a Mediterranean seaside village. To get there, you must drive about an hour from Liberia Airport, also called Guanacaste Airport.
CLOSER TO HOME: 12 Best Beach Resorts in the U.S. for Families
My family chose to have Las Catalinas arrange rides for us so we wouldn't have to worry about navigating the winding roads. We visited during the dry season and all of our drivers chose the Monkey Trail Road, which was wild because it literally crosses a river. There is a longer way to go if you aren't feeling as adventurous.
The Beach Town
Las Catalinas is the opposite of a crowded resort. Construction began in 2009 and continues as more residences with ocean views are added, as well as new restaurants, shops, and offices. Twenty of the planned 80 acres are currently complete. There are 150 full-time residents in Las Catalinas, more than half of which are school-age children.
SUN AND SAND: 11 Best Family Beach Vacations in the U.S.
Rental properties are a short walk from the beach, pool, hotel, cafes, and boutiques. Kids can gain a sense of freedom as they explore the charming community. Parents can slow down, pamper themselves, and feel their stress evaporate. The beach town staff is super friendly and happy to help make your vacation as memorable as possible.
Vacation Rentals and Hotel Rooms
Vacation rental properties range from impressive homes with pools and dedicated house moms who help with cleaning and snacks to more basic condos that offer room for families to spread out. Prices range from $180 per night to $7,000 per night (yes, that's quite a range!) depending on how big and lavish you want to go. Most accommodations offer ocean views, are artistically decorated, and include everything you need to feel at home—think kitchens, living rooms, and washers and dryers.
PLAN A TRIP: 17 Best Vacation Rental Sites for Groups and Families
My family split time between two flats: Plaza Carlota 26, which includes a courtyard with a trickling fountain, and Plaza Carlota 32, which features a beautiful blue kitchen with ocean views. The on-site Copper and Stone Market sells groceries, toiletries, coffee, sunblock, and wine.
The luxury Santarena Hotel is located near the restaurants, spas, shops, and outdoor gym. It's a bright white building with private balconies, a lovely patio restaurant, courtyard, and rooftop with pool. Each room sleeps up to two people, so families would need to book multiple rooms. If you're looking to plan a couples-only retreat, Casa Chameleon is a high-end adults only hotel perched high on the hilltop with a breathtaking zero-edge infinity pool lit by torches at night. Watch the sun sink below the horizon while enjoying cocktails, appetizers, or a meal at the open-air restaurant.
Dining at Las Catalinas
There were eight on-site eateries in Las Catalinas at the time we visited. My family's favorite was Ponciana, the Santarena Hotel's signature restaurant. Our kids enjoyed pasta and pizza on the patio while learning new Spanish words from the kind wait staff. My husband and I thoroughly enjoyed the crispy artichokes with basil aioli and arugula salad with Camembert, blueberries, caramelized pecans, and pears.
Pots and Bowls is a wonderful healthy choice for breakfast, lunch, or dinner. We appreciated the numerous gluten-free options like coconut pancakes, peanut butter brownies, and banana bread. Cold pressed juices such as the Spicy Sandia were refreshing with watermelon, beet, green apple, jalapeño, lime, and mint. Casado with rice, beans, and sweet plantains became a meal we savored so much we've started to cook it at home.
Pascual's pork rib pintxos, which are sous vide with pineapple, mustard, and cinnamon, were my absolute favorite dish and even earned a "mad good" review from our teenager. This tapas, cocktail, and wine bar features Spanish dishes like paella, gazpacho and croquettes.
WHAT TO PACK: 25 Beach Essentials You Need for Every Sun-Soaked Vacation
La Taqueria is the poolside taco restaurant where our son devoured shrimp quesadillas and our daughter sipped aqua frescas with strawberries and mango. Cuatro Calle la Ronda is a coffee shop and bakery with an outstanding tres leches cake.
Coquelicot serves homemade Belgian waffles and ice cream with fresh local ingredients. The caramelized banana ice cream does a joyfully indulgent dance on your lips and definitely doesn't last long.
The Deli at Copper and Stone is a great place to grab a salad, sandwich, or smoothie for a picnic at the beach. Papagayo Brewhouse is a new brewery with swings for visitors to perch on as they sip local brews. Sentido Norte is a stunning restaurant at the adults-only Casa Chameleon boutique hotel atop the hill. Catch a ride in a golf cart to the top for a beautiful open-air sunset dinner with views of the ocean in every direction.
Spas and Gyms at Las Catalinas
Center of Joy offers classes and well-being services like acupuncture, energy healing massage, and yoga. Visit WAKE Day Spa for rejuvenating treatments like facials and nail services. CoreGym offers TRX, dance classes, and Bosu core workouts. You'll also find a weight room with machines, trails to ride and hike, and a shop to rent paddle boards, kayaks and boogie boards.
Excursions from Las Catalinas
You can book surf lessons, cooking classes, private sailing trips, and a host of other cultural and adventurous experiences from Las Catalinas.
We chose a horseback, zip line, and hot springs experience. That sunny day was our best example of pura vida in Costa Rica. A joyful guide picked us up for a full day of adventure. We rode horseback under vast blue skies, zip lined amongst the lush green canopy over a gushing waterfall, lunched while listening to toucans, then took a mud bath and lounged in hot springs.
We also took a Rio Celeste and Sloth Reserve excursion where we hiked through a rainforest to see the most gorgeous turquoise waterfall. The highlight was oohing and ahhing as white-faced monkeys scampered above us in the trees. These and other experiences were easily arranged online.
More from FamilyVacationist: