A good night's sleep is a vital part of a happy vacation for kids and adults alike. But too often, kids (and sometimes even the adults) are relegated to uncomfortable air mattresses, sub-standard hotel folding mattresses, or simply a sleeping bag on the guest room floor. Here's the good news: Portable travel beds have gotten miles better in the last decade.
Comfortable options range from traditional air mattresses to luxe folding mattresses to individual tent cots, portable bunk beds, and inflatable mattresses with toddler-friendly bumpers. It turns out you can pack a good night's sleep for the whole family no matter where you're headed on vacation.
The Best Portable Travel Beds for Families
The best travel beds for families offer flexibility, comfort, and portability. Whether you're looking for a portable bed that's sized specifically for kids or one that can be used by any member of the family, there's a perfect option for you. Here are our favorite well-reviewed and durable air mattresses, beds in a bag, camping cots, travel beds, camping mats, folding mattresses, and portable toddler beds.
PACK WELL: 11 Best Luggage Brands for Style and Durability
1. Coleman Camping Cot, Air Mattress, and Pump Combo
Best overall travel bed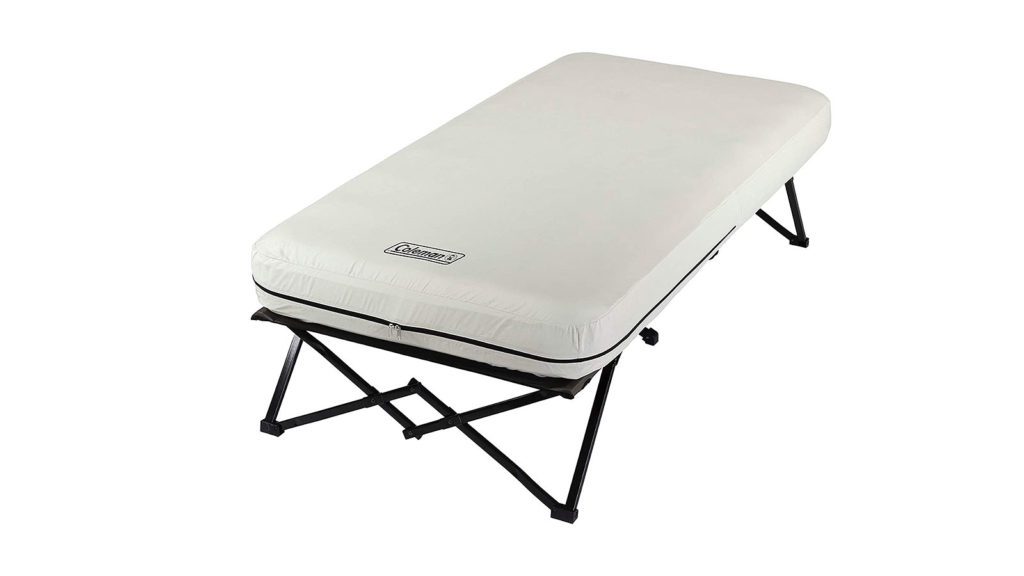 People who want a little height and a lot of comfort love the Coleman Camping Cot, Air Mattress, and Pump Combo. With thousands of glowing reviews from buyers, this cot-inflatable-mattress hybrid is a little like bringing an actual bed with you wherever you go.
CAMPING IDEAS: 10 Best Campgrounds and RV Parks for Families
Kids who crave the normalcy of cuddling up in a regular bed will love this, and it's also great for adults. A bed height of almost 24 inches makes it easier to get in and out of bed than with a mattress on the floor, and it even comes with built-in side tables. Use it at home or on vacation; either way, the bed is tall enough that you can tuck things like suitcases under it to maximize floor space. It's available in twin and queen sizes, and when not in use, the steel frame folding bed packs up into a wheeled case for easy transport or storage.
2. King Koil Luxury Air Mattress
Best traditional air mattress
Available in three different mattress heights and in twin, queen, and even California king sizes, the King Koil Luxury Air Mattress offers a sleeping experience that feels more like home than your usual blow-up bed. A built-in, plug-in pump makes setup a breeze, with the bed reaching full inflation in 90 seconds, and a carrying bag means it's travel ready when you are.
ON THE GO: 10 Comfortable Travel Shoes that Can Handle a Full Day of Walking
The thick, waterproof quilt top and the bed's internal coil technology provide comfort and spinal support, plus help keep the bed's shape and firmness intact. The twin size measures 76 inches long by 38 inches wide, with height options of 13 inches, 16 inches, and 20 inches. So your kiddo (or anyone else who uses the air mattress) should be off to dreamland in no time.
3. Maxyoyo Japanese Floor Futon Mattress
Best roll-up travel bed
The Maxyoyo Japanese floor futon mattress comes in twin, full, queen, or king sizes and rolls up for easy portability. Though it doesn't fold down as small as a typical inflatable mattress, it does offer a comfortable layered construction of brushed cotton and microfiber cotton with a memory foam core.
COMFORT CARRY-ALLS: 13 Best Travel Backpacks for Everyone in the Family
In its carrying case, the twin portable bed is 37 inches long and 18 inches wide, making it a feasible option for family road trips, camping, and when you need a roll-up mattress for a guest, child, or adult. The mattress is available in multiple solid colors and prints, so there are options for every taste and style.
4. The Shrunks Toddler Travel Bed Portable Inflatable Air Mattress
Best toddler travel bed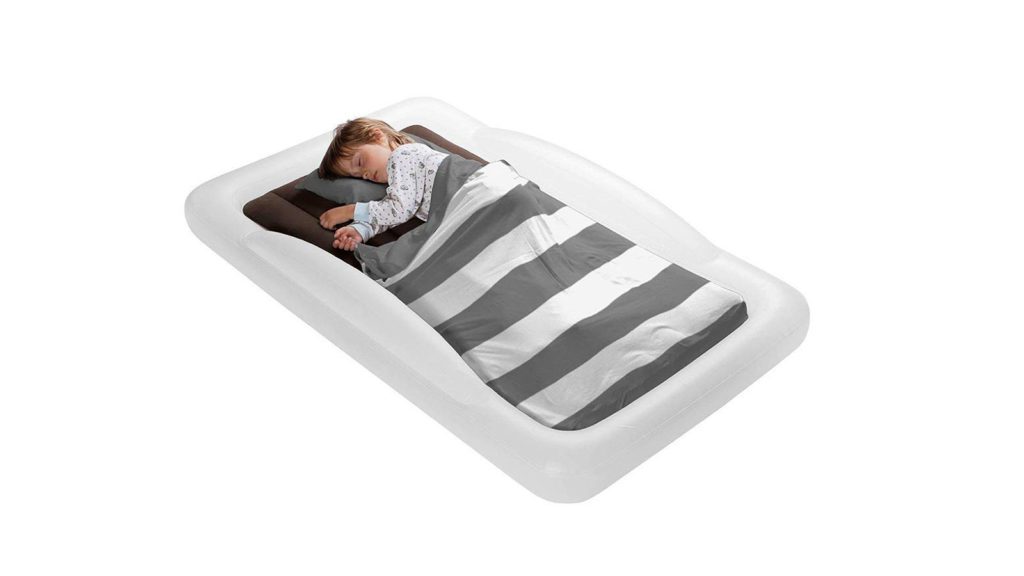 When little ones are old enough to no longer need a portable crib on vacation, but you still worry about them rolling off the bed while they're asleep, it's time to recruit the help of an air mattress with bumpers. The Shrunks Toddler Travel Bed was designed to be a just-right option for toddlers ready to graduate out of a travel crib.
BABY PACKING LIST: What to Pack for Babies on Vacation
Cozy, comfortable, and squeak-free, this inflatable toddler bed has gentle guard rails to keep kids in place, and blankets and standard crib sheets can be tucked into the sides for additional security. This cute portable bed comes with its own electric pump and quickly inflates to 60 by 37 by 9 inches. Constructed of materials free from phthalates, BPA, and lead, it's a healthier choice than many inflatable beds.
5. Disc-o-Bed Portable Bunk Bed
Best travel bed to sleep multiple kids
Need a little more room in a little less space? I've been using the Disc-o-Bed portable bunk bed on vacation with my kids for years, with great results. Though the bottom bunk doesn't offer much room to sit up and hang out, the cots (which can be separated and used individually as well as stacked in the bunk-bed formation) are comfortable enough to promote deep sleep—and good moods. Just add a comfortable kid-sized sleeping bag and you're ready to go.
BEACH BOUND: 10 Beach Bags with Special Features and Style
Each camping cot has a pocket that's perfect for a water bottle and a book, and the whole thing packs up into a zippered carry bag that can fit under a bed for easy storage when you're not using it.
6. Cushy Form Folding Mattress
Best folding travel bed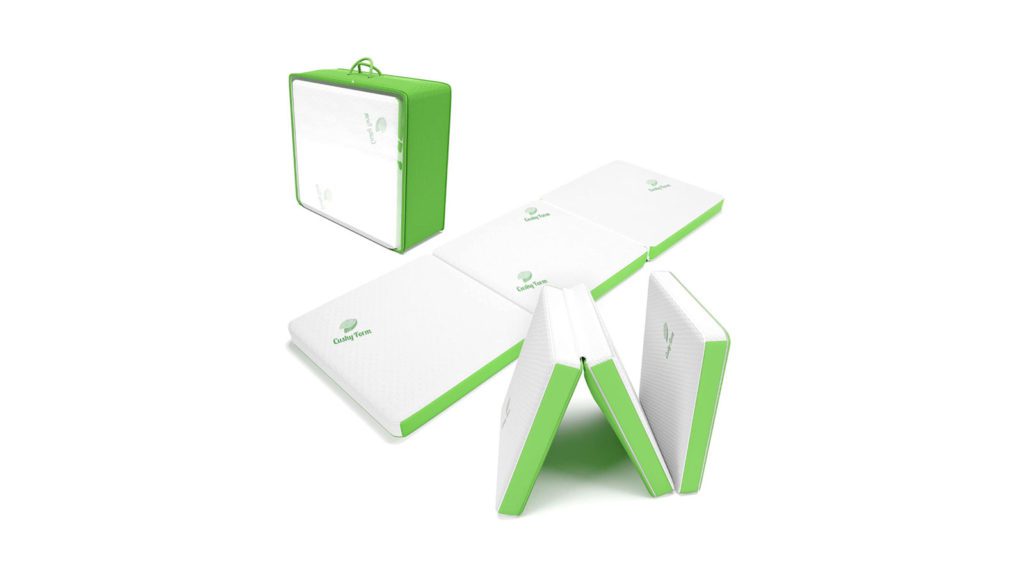 This twi-fold floor bed from Cushy Form offers four inches of high-density-foam comfort and is large enough for both kids and adults. The highly adaptable folding mattress is a true bed in a bag—it comes with its own handled carrying case and is thin enough to fit under most standard beds when folded.
BUCKET LIST HOTEL ROOMS: Kid-Themed Hotel Rooms That Will Delight the Whole Family
This portable bed has a washable soft cover (a key feature for travel beds for kids) and is made without harmful chemicals like PBDEs, TDCPP, or TCEP flame retardants. It's comfy, quicker to set up than an inflatable bed, and there's no squeaking when you turn over like with many air mattresses.
7. Outsunny Multifunctional Folding Camping Cot
Best travel bed/tent combo
It's a folding tent cot that comes with its own personal tent—in other words, it's a kid's dream come true. Turn any sleep over into a cozy camping trip (or head to nature for actual camping) with the Outsunny Multifunctional Folding Camping Cot. It offers privacy, a subtle sound barrier that can help when you're sharing a room on vacation with kids, and the novelty of a personal-sized tent. Chances are, there won't be any fighting over bedtime.
BRING THE LITTLE ONES: 10 Toddler-Friendly Vacations That Are Just as Much Fun for Parents
This portable bed stands 16.5 inches off the ground and has mesh windows plus a domed top for additional headroom. The camping cot comes with an air mattress with a foot pump and matching covers, pillow, and sleeping bag plus a carrying bag for taking it on the go.
8. Regalo My Cot Extra Long Portable Bed
Best cot-style travel bed for little kids
The Regalo My Cot Extra Long portable toddler bed prolongs its functional life with extra inches and a weight capacity of 80 pounds, so you'll be able to use it for older kids too. The cot comes with a washable fitted sheet with a removable pillow and makes a great next step after kids outgrow Pack 'n' Plays and other travel cribs.
ORGANIZATION ON THE GO: The Best Packing Cubes for Families
When fully set up, the Regalo My Cot offers a sleeping surface of 54 inches long by 28 inches wide. Folded up, the cot is just 6 inches by 8 inches by 29 inches. Whether you're using it in a tent on camping trips or trying to fit it on the floor next to a guest bed, it's small enough to do the job and offer a good night's sleep to your little one.
9. Milliard Folding Floor Sleeper Cot
Best travel bed that also stores kids' sleep necessities
Ideal for kids ages three to six, the Milliard Folding Floor Sleeper Cot is ready to go as soon as you open it up. Plus, you can store your kiddo's must-have stuffed animals and blankets right inside of it so everything they need for a good night's sleep is at their fingertips. It's not as compact as other travel bed options when folded up and not in use, but the convenience factor makes up for that.
DON'T OVERPAY: 11 Budget-Friendly Family Vacations That Are Super Fun
A velour interior keeps kids cozy, while the outer mat cover and included fitted sheet are both machine washable for easy cleaning. The travel bed measures 54 by 25 by 7 inches when opened up, and with its soft mattress and firmer sides it keeps kids comfy and content while dozing.
10. WELLAX UltraThick FlexFoam Sleeping Pad
Best no-frills travel bed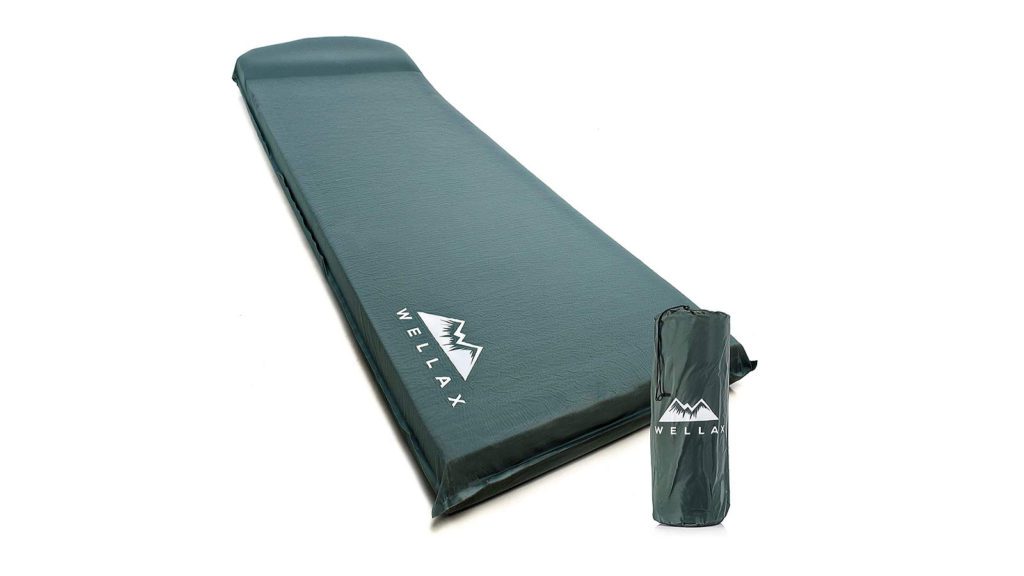 When you just want to keep things simple, the minimalist WELLAX UltraThick FlexFoam inflatable sleeping pad is a great choice for traveling. This slim but comfortable inflatable mattress offers three inches of padding that delivers serious comfort and a good night's sleep.
AMUSEMENT PARK ETIQUETTE: What to Wear at Disney World (and What to Leave at Home)
The self-inflating mattress expands in just minutes and is long enough for an adult or a kid. It's waterproof and tear-resistant, making it ideal for camping but also kid-friendly for lots of other travel situations. Lightweight and compact when stowed in its carrying case, it's easy for kids to carry and doesn't take much room to store.
More from FamilyVacationist: