Maybe it's all the white sand Caribbean beaches, turquoise waters, and vibrant flora, or maybe it's the rainforests and mountains and, yes, the rum punch. Whatever the reason, the island of Jamaica is truly a lover's paradise—and home to some of the Caribbean's most romantic couples resorts.
The Best Jamaica Couples Resorts for Romance
Choosing Jamaica for your romantic rendezvous is only the first step, though. You also need a place to stay that's tailor-made for romance. And that's where these couples resorts in Jamaica come in. Here's where the magic happens on this bewitching island.
NO KIDS ALLOWED: 11 Best Adults-Only All-Inclusive Caribbean Resorts for Couples
1. Couples Tower Isle
Ocho Rios, Jamaica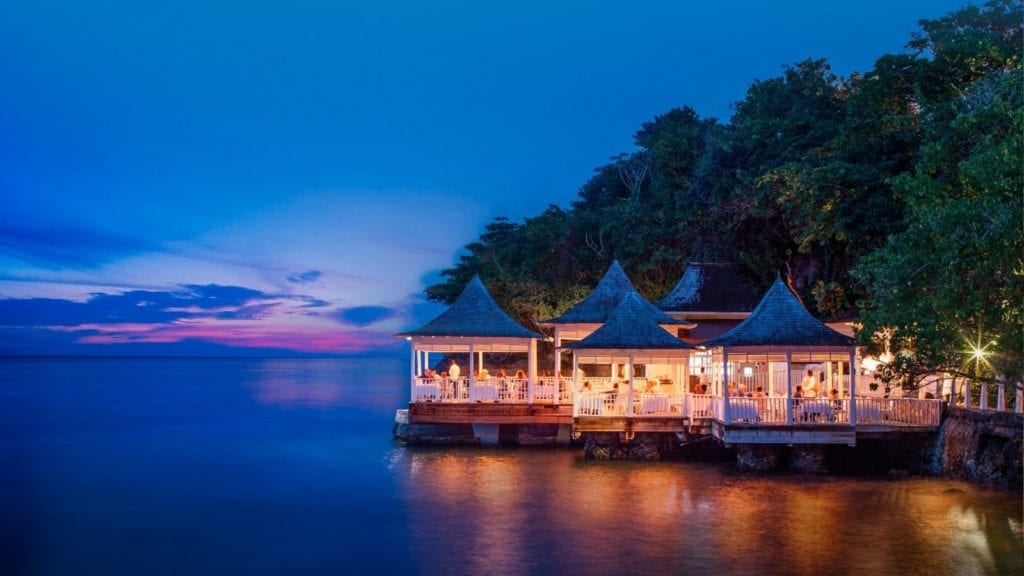 When "couples" is built right into the resort's name, you know you've come to the right place for some special time together. Love is in the air at the all-inclusive Couples Tower Isle resort just five miles from Ocho Rios, where couple after couple are full of smiles and laughs.
If you dare, venture to the resort's private island for some nude sunbathing. And if you're more of the "for your eyes only" type, you can get naked for a couples massage at the spa. Top it off with a dip in the sea, one of the resort's four pools, or a little quiet time in a Jacuzzi hot tub.
BON VOYAGE: 7 Best Cruise Lines for Couples (and Their Most Romantic Voyages)
Active couples can also enjoy unlimited golf and tennis, plus scuba diving and water sports like water skiing and windsurfing. Afraid kayaking challenges will dissolve into an argument? At Couples Tower Isle, there's always the chance to make up and cuddle during a catamaran cruise.
The dining options are something special at Couples Tower Isle, too. You can have the concierge coordinate a private dinner on the white sand beach. Or take in a meal at Bayside, where guests can dine by candlelight with ocean views of the Caribbean Sea. And Eight Rivers is where you're likely to have some of the best food of your life in an intimate candlelit setting cozied up next to each other.
Appetizers include ackee and ricotta ravioli, broad bean and callaloo ragout, herb chimichurri, and crumbled feta. For the main course, try ginger papaya glazed duck breast, pan seared red snapper fillet, or shrimp and scallop skewer paired with a fine wine from an impressive list. The ambience is sweeter still with a serenade on the soprano saxophone from the musician roaming the room.
SUNSHINE STATE: 10 Most Romantic Hotels in Florida for Couples Getaways
For a romantic splurge, opt for the Oasis Spa Villas that include unlimited spa treatments. When you're ready to venture beyond the resort, you can enjoy rafting on the Martha Brae River, go horseback riding, and find all manner of fun to strengthen the ties that bind.
2. Eclipse at Half Moon
Montego Bay, Jamaica
Though not exclusively for couples, you'll still be smitten with the all-inclusive Eclipse at Half Moon. The elevated lobby offers unobstructed views of the sea, and you can take your pick of luxury with a stay in the Great House, Estate Homes, or Cottages. 
FAMILY TIME: 12 Best All-Inclusive Resorts in Jamaica for Families
For dinner, you'll feast at Delmare, this Jamaica couples resort's signature Italian seafood restaurant. And when you want to just stare into each other's eyes without interruption, take a private dinner at the overwater Sunset Gazebo, or arrange for a candlelit dinner on your private balcony or patio.
The romance (and pampering) continues at the 68,000-square-foot Fern Tree Spa, beloved for its overwater bungalows and ideal for a couples' massage. Don't miss the lagoon pool, whirlpool, or Fern Tree falls, which has three separate pools for cooling off between hot steam and sauna rooms.
3. Kanopi House
Blue Lagoon, Port Antonio, Jamaica
Even though Kanopi House isn't adults-only or a strictly couples resort, there's still plenty of love in the air at this secluded treehouse resort overlooking Jamaica's famous Blue Lagoon. Located on a hillside amidst century-old Banyans, Kanopi House's eight treehouses are connected via stairs and winding bamboo pathways with ginger-lilies and an array of flora and fauna. It's downright dreamy, just like your treehouse, and the beds are so comfortable you'll never want to leave them. (Certainly a bonus for couples.)
EXPECTING PARENTS: 22 Romantic Babymoon Ideas for Expecting Couples
Dining options include the open-air Living Room restaurant and bar (and all-around chill-out spot for guests). Even after you've finished your meal of authentic Jamaican dishes like coconut curry chicken, ginger scallion fish, ackee, green banana and callaloo, you'll find reasons to linger—like the sweeping ocean views from on high.
When you want a taste of the outside world, consider rafting down the Rio Grande or jumping off a waterfall at Reach Falls, all of which can be arranged by the resort. And Port Antonio has plenty of lively nightlife to offer as well.
4. Sandals South Coast
White House, Jamaica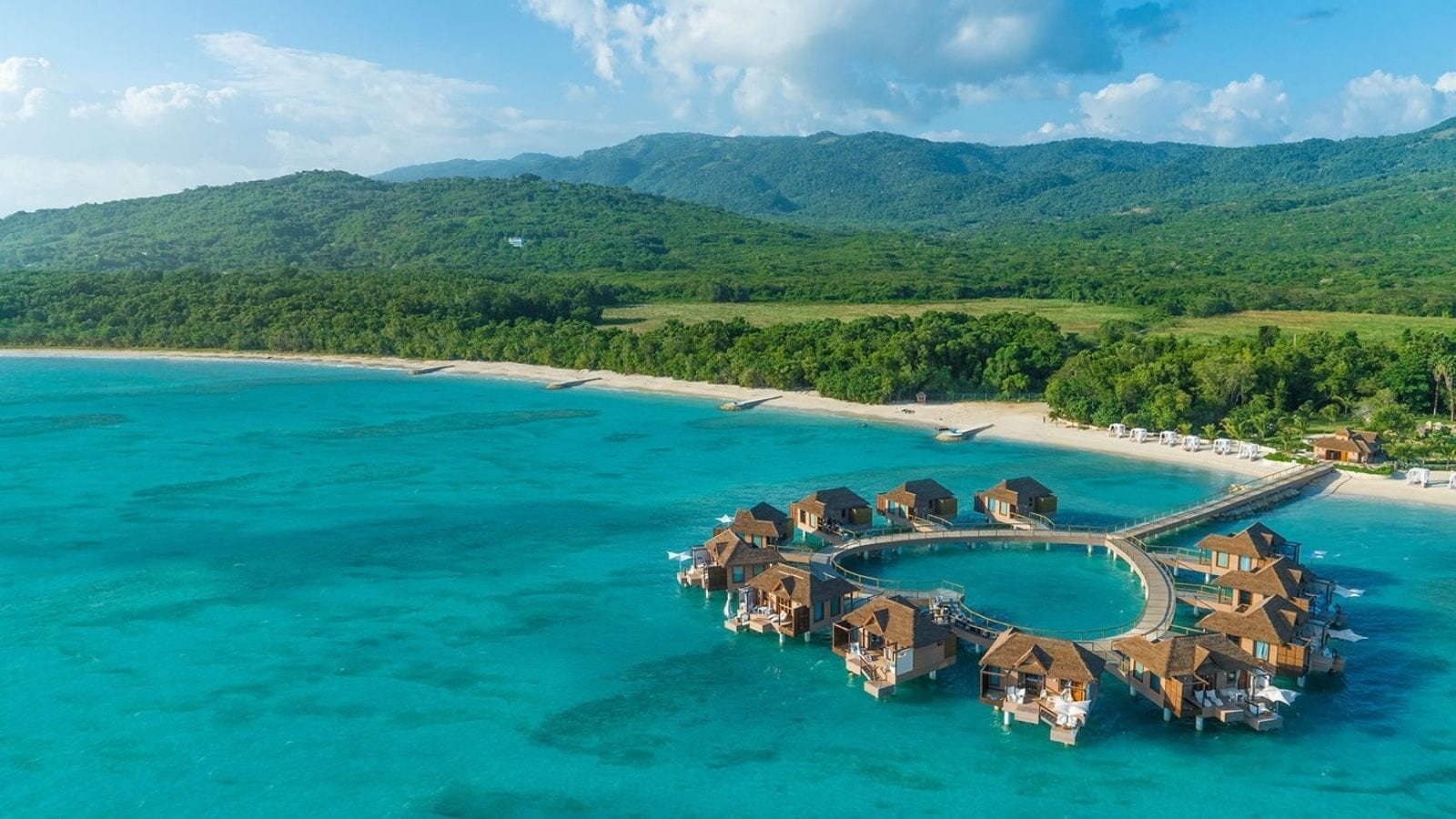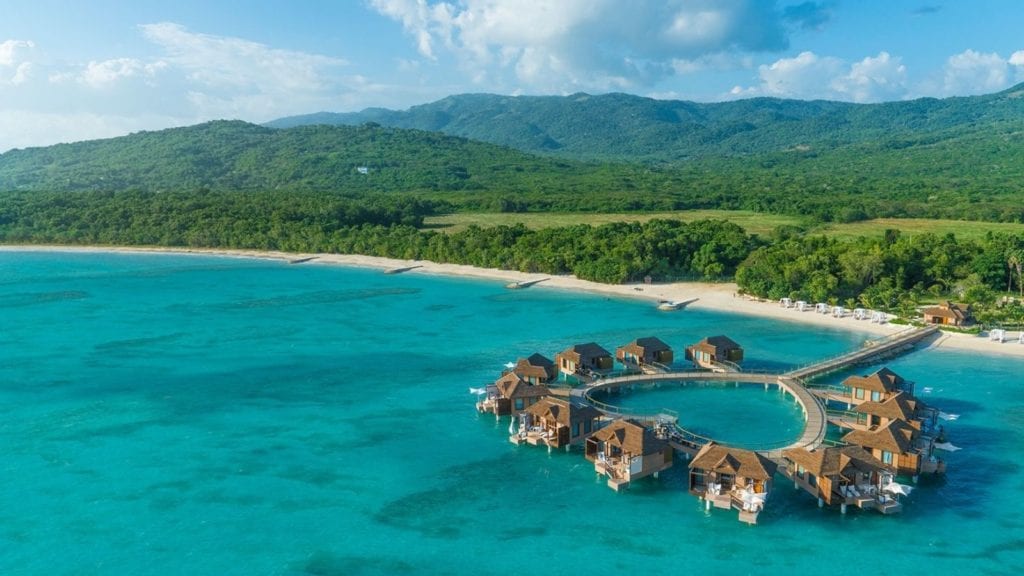 About two hours from the well-known Sandals Montego Bay, the all-inclusive adults-only Sandals South Coast resort is all about the over-water experiences. Think over-the-water bungalows, an overwater bar, and an over-the-water wedding chapel (because who knows, your Jamaica couples resort vacation might just turn into an elopement). 
WELCOMING DESTINATIONS: 10 Best U.S. Vacation Destinations for LGBTQ+ Families
Located on a two-mile beach and within a 500-acre nature preserve, Sandals South Coast makes the most of its secluded location with nightly entertainment that includes after-dark bonfires and fire pits to light the skies. And because variety is the spice of life, dining options for guests include not one, not two, but nine restaurants.
Pack your beach essentials, because all the rooms are beachfront, too. But the buzz at this couples resort is all about the swim-up Rondoval suites, nestled around the resort's unique zero-entry pool. These suites are the first of its kind in the world. Your personal butler service will meet your every need.
5. Hedonism II
Negril, Jamaica
Of all the adults-only Jamaica couples resorts, Hedonism II is the one that truly lives up to its name. This resort is all about naughty decadence, and although there is a "prude" section for the timid, most people don't come to a clothing-option resort on the legendary 7 Mile Beach to only go half-way. 
MADE FOR ROMANCE: 12 Best Vacation Spots in North America for Couples
Adventurous couples are in for a wild time at Hedonism II, where costume parties and theme nights are just the beginning. But it's not all romantic decadence. At the spa, opt for treatments like Serenity Village, which includes an herbal scrub, Swedish massage, and oxygen facial.
Daytime activities include scuba diving, sunfish sailing, snorkeling, kayaking, and windsurfing, along with more relaxing pursuits like soothing your muscles in a hot tub, swimming in one of the resort's private pools, exploring a waterfall lagoon, or simply lounging on Seven Mile Beach.
6. The Caves
Negril, Jamaica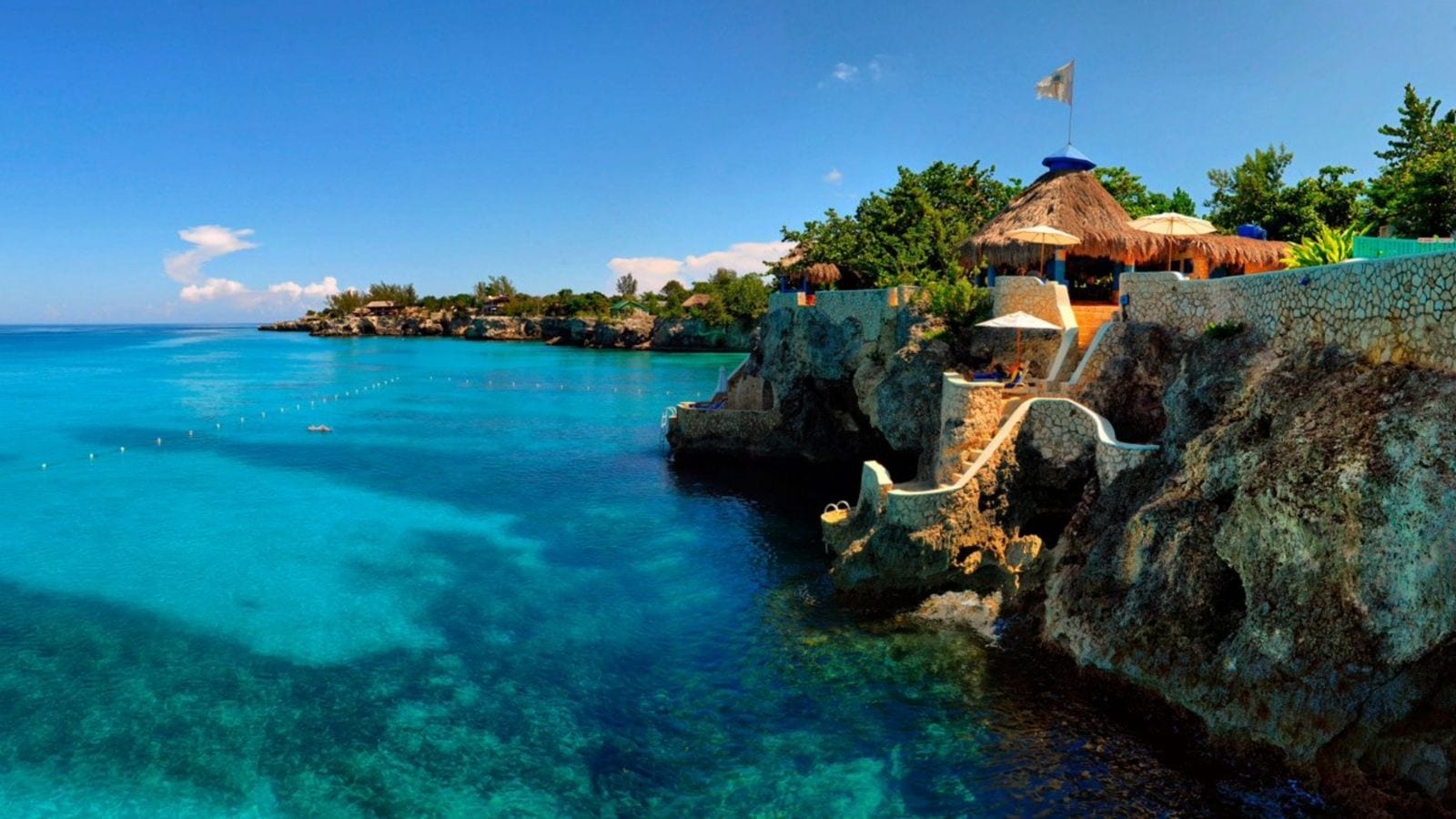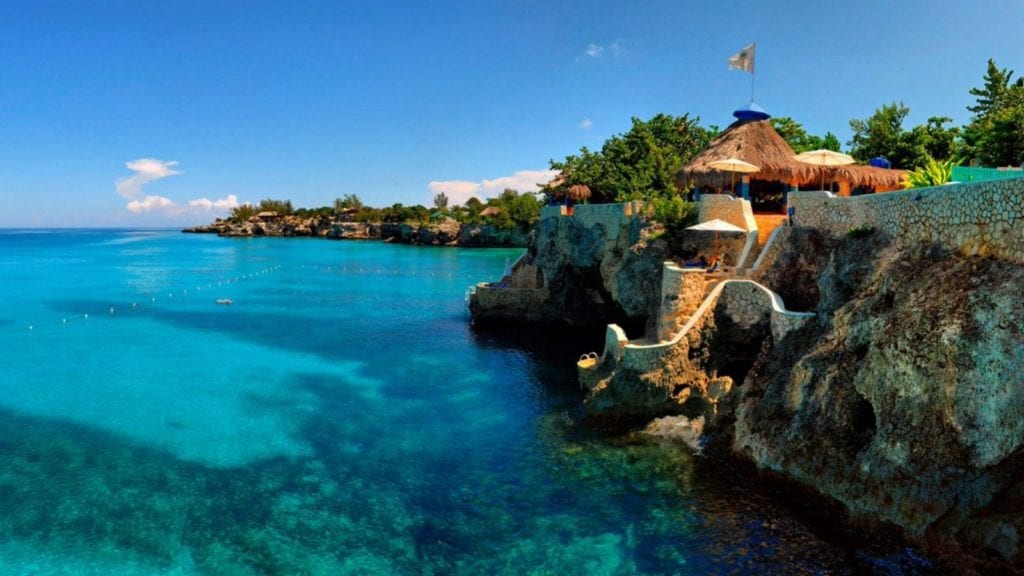 A luxurious and all-inclusive resort in Negril, The Caves boasts 12 cliffside cottages with absolutely to-die-for views (and no two are alike). The vibe at this Jamaica couples resort is artsy and Bohemian. It's the kind of place where you can relax and let your hair down, whiling your days away at the beach or pool, or arranging a spa treatment in a cabana, candle-lit cave, or outdoors in the sunshine.
ONE-OF-A-KIND VACATION: 6 Luxurious Cave Hotels Where You Can Spend the Night Underground
When you've head enough pampering for one day, surprise your sweetheart with a five-course meal in a private cave decked out with candles and petals from pink bougainvillea. Then keep the magic going and make your way to The Caves' Blackwell Rum Bar for food and drinks—just take the coral staircase down to the water's edge, cross the wooden footbridge and voila, you've arrived at a swoon-worthy location for a cocktail. The volcanic rock walls are studded with candles amidst all the nooks and crannies.
7. Jewel Paradise Cove Adult Beach Resort and Spa
Runaway Bay, Jamaica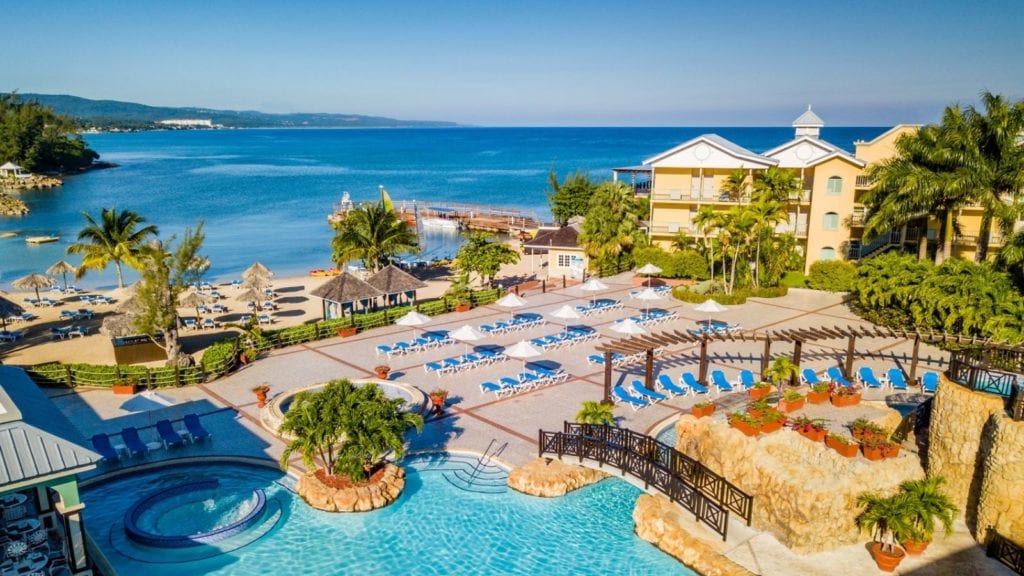 You may not have heard of Runaway Bay—it's a quiet spot between Ocho Rios and Montego Bay—but that's part of the appeal at Jewel Paradise Cove Adult Beach Resort. An all-inclusive adults-only retreat, the vibe in Runaway Bay is relaxed without hordes of tourists. 
BEACH BLISS: 10 Best All-Inclusive Beach Resorts in the World
Spend your time worshipping the sun at the white sand beach or one of the pools. Of, if you're the active type, try a kayak, go for a hobie cat ride, or take in a day of sailing. For land lovers, there's basketball, hiking, a fitness center, tennis courts, and a fit-trail and para-course. Or, or sit back and enjoy an outdoor movie screen by the pool.
If you and your partner have dreaming of learning to Scuba dive, try the resort's three-part Discover Scuba course that allows beginners, amateurs, and non-certified divers to experience the sport with expert supervision. Then wind down after all that exhilaration at Radiant Spa, where you can opt for treatments a Jamaican Body Scrub. Choose from Blue Mountain Coffee, Golden Brown Sugar, Cane Sugar, or Sea Salt for your scrub. Or indulge in Illuminated Love, a melted soy candle couples massage. You can even keep the candle as a memento of your time at this Jamaica couples resort.
More from FamilyVacationist: