Something magical happens when you stay in a treehouse, sleeping among the leaves and branches. Life slows down. From your perch in a treehouse hotel or rental, you notice the squirrels at play and hear the songs of crickets and frogs. Your kids discover the wonder of nature.
The U.S. has several unique tree houses you can stay in or rent, and the best ones for families have fun bunk beds, suspension bridges, fire pits for s'mores, arcade games, pools, farm animals, pony rides, ziplines, and plenty of activities nearby.
10 Best Treehouse Hotels in the U.S.
These 11 treehouse hotels, rentals and resorts are a great place for a family vacation in any season—whether for leaf peeping, snowy adventures, watching spring emerge, or enjoying summer at the lake.
1. Canopy Blue Treehouse
Blue Ridge, Georgia
Perched on four acres with stunning views of the Blue Ridge Mountains, this tree house rental is a family favorite. Relax and take it all in from the rocking chairs or hot tub on the deck, built around several towering trees. Kids love the wooden bunk bed alcove and the loft's daybed/swing. Hike the national forest trails on the property and enjoy family game night around the gorgeous live-edge table with a trunk pedestal base. The firepit is another ideal spot for family bonding as you roast hot dogs or make s'mores.
Nearby: Blue Ridge Scenic Railway, Falls Branch trail and waterfall, and historic town of Blue Ridge
2. Tree House on the Farm
Ashe County, North Carolina
Combine a tree house vacation, mountain getaway and a farm stay on the 72-acre North Carolina property Tree House on the Farm. There are friendly goats, horses, donkeys, and ducks to pet and farm-fresh eggs you can gather from the chickens in the gypsy wagon. One of the lovable farm dogs will lead you across the bridge to your treehouse rental, a beautiful post-and-beam bungalow. The wood stove, sink made from an apple tree stump, stained glass windows, and porch swings create a cozy ambiance. Relax and enjoy floor-to-ceiling window views of the forest.
UNDERGROUND LUXURY: 6 Cave Hotels Where You Can Spend the Night Underground
Nearby: Burnt Hill Stables' family horseback rides or New River canoeing, kayaking, tubing or fishing
3. Doe Bay Resort and Retreat
San Juan Islands, Washington
For a treehouse resort experience, head to the islands of the Pacific Northwest. On Orcas Island at Doe Bay Resort & Retreat book the treehouse cabin and access the resort's cafe and spa with private hot tubs. The treehouse, designed and built to be featured on the DIY Network's The TreeHouse Guys show, is anchored among the branches of four trees. You'll need to navigate around the trunks, and that's part of the fun. Watch for whales in the bay from your perch on the wrap-around deck.
Nearby: Sea kayaking and whale watching tours, Orcas Island Golf Course & Mini Golf, Once in a Blue Moon petting farm, and Buck Bay Shellfish Farm
4. The Lion's Lair Treehouse
Stanton, Kentucky
About a 45-minute drive from Lexington, this treehouse sits on private land in a national forest amid the soaring cliffs and majestic arches of the Red River Gorge. It's a cozy lair for small families. With natural wood finishes inside and plenty of deck and porch space outside, you're never far from nature. Set out on a morning hike starting at the trailhead across the street and return for a rest on the porch swing. Relax around the fire pit and gather on the top deck for counting shooting stars before bedtime.
FAMILY MUST-SEES: 7 Iconic U.S. Attractions Kids Should See Before They Grow Up
Nearby: The Nada Tunnel, Natural Bridge State Park, and Red River Gorge's underground kayaking tour.
5. Tranquil Treehouse on Table Rock Lake
Eagle Rock, Missouri
This treehouse rental property on Table Rock Lake, about an hour drive from Branson, is a fun spot for water-loving families. A 60-foot cable bridge with twinkle lights connects the parking area and treehouse. Walk down to the shore on the property for a swim or fishing. There are also two kayaks on carts you can use. Make memories together playing the treehouse's vintage arcade game or Victrola record player. After an evening around the fire pit, turn on the electric fireplace or climb into the hammered copper six-foot Japanese soaking tub.
Nearby: Roaring River State Park's trout hatchery, Big M Marina boat rentals, Promised Land Animal Safari Park, and Beebe's Roaring River Water Slide.
6. Out'n'About Treehouse Treesort
Cave Junction, Oregon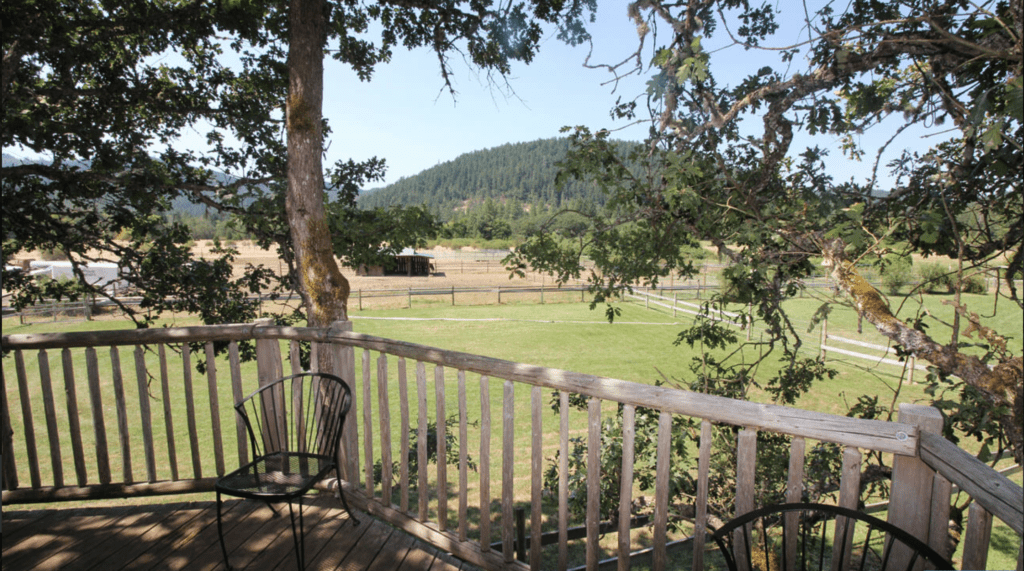 In the foothills of Oregon's Siskiyou Mountains is this treehouse resort with 16 treehouses and plenty for families to do on the 36-acre property. Kids love the riding stables with trail and pony rides, ziplines, Tarzan swing, and other activities. Treehouses range from those with no toilet or windows to the "Majestree," which has a full bathroom and small kitchenette. To reach the Majestree you cross two suspension bridges and climb four flights of stairs to the perch 47 feet above the ground.
Nearby: Family rafting excursions on the Klamath River, Oregon Caves National Monument tours, Illinois River Trail hikes, and Rogue Creamery Dairy tours.
7. White Oak Treehouse at The Mohicans Treehouse Resort
Glenmont, Ohio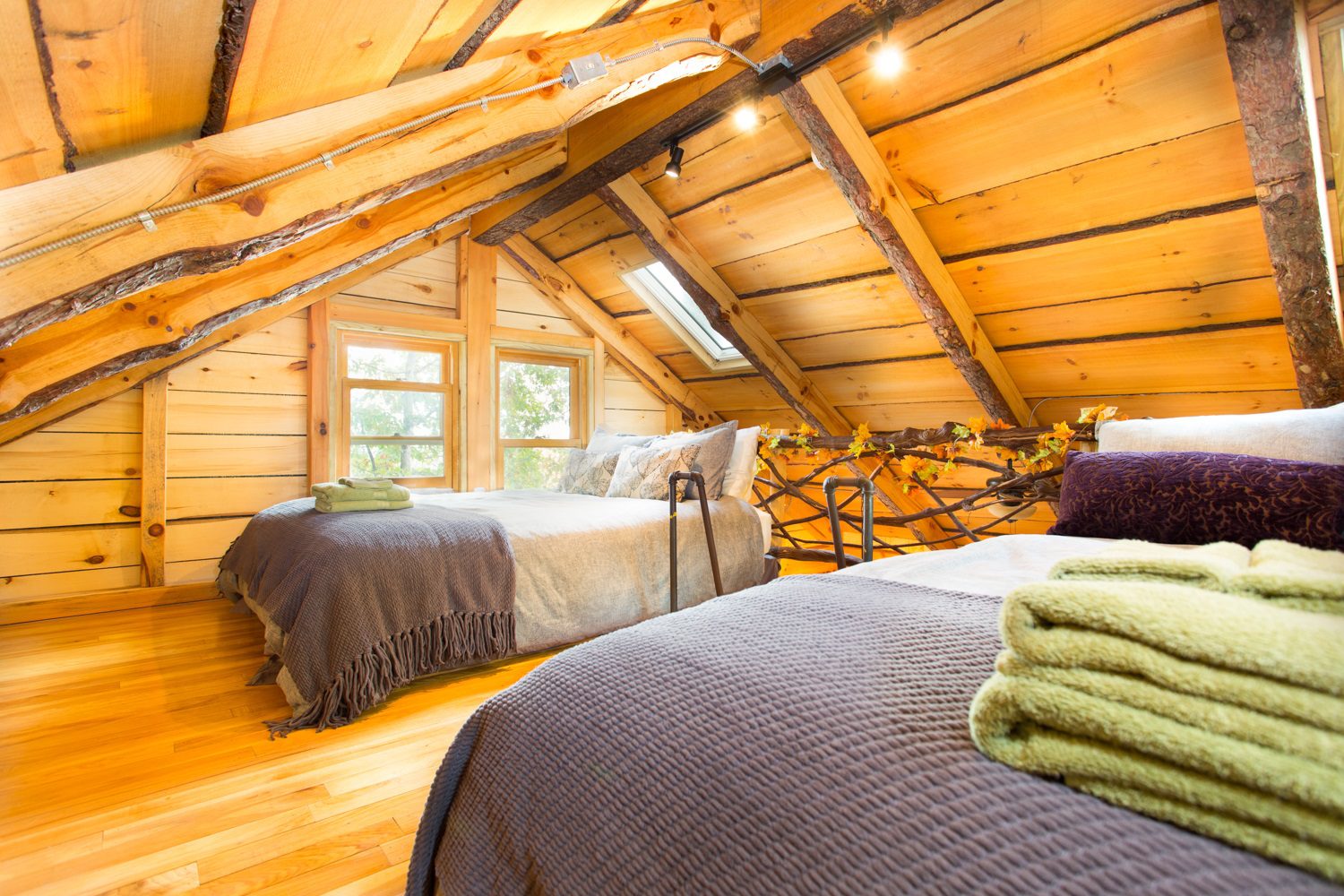 Designed and built by Pete Nelson of the Discovery Channel's series Treehouse Masters, White Oak Treehouse overlooks Ohio's Mohican Valley. It's one of nine treehouses and four cabins on The Mohicans Treehouse Resort's 77-acre property. Suspended from white oak and hickory trees, this treehouse has room for families to spread out with a queen bed on the first floor and two queen beds in the loft. Kids love the bridge to the treehouse and the outdoor shower.
EXPLORE MORE: 12 Midwest Family Vacations Packed with Fun
Nearby: Tree Frog Canopy Tours ziplines, covered bridges on the Mohican Valley Trail, Amish Country Scenic Byway, River Run Canoe Livery, and Mohican Adventures go-karts and mini golf.
8. Treehouse at Winvian Farm
Litchfield Hills, Connecticut
Yes, a luxury treehouse resort experience is a thing, and you'll find it among the 18 cottages at Connecticut's Winvian Farm. Think king-sized bed, gas fireplace, steam shower, jetted soaking tub and a full bar. This treehouse vacation is geared for couples as a romantic getaway but also suits a small family looking for a splurge 35 feet above the forest floor. Stroll the organic gardens, splash in the pool, or ride the resort's cruiser bikes into town. Don't miss the resort's spa treatments and dinner at the five-diamond restaurant.
SUN AND SAND: 20 Best New England Beaches for Families
Nearby: Lake Waramaug for leaf peeping, Kent Falls, Appalachian Trail hiking, and ice cream at Arethusa Dairy Farm.
9. The Woods Treehouse
Norway, Maine
For a Maine woods family getaway that truly is straight out of a home design magazine, this luxurious treehouse checks all the boxes. Designed by Pete Nelson, the two-bedroom, two-bathroom Woods Treehouse features high-end kitchen appliances, quartz countertops, gold fixtures and cozy spaces for relaxing. From the deck's Adirondack chairs, sip your morning coffee among the tree trunks and leaves. A short trail on the property leads to the beautiful Lake Pennesseewassee.
Nearby: Shawnee Peak ski resort, Norway Brewing Company, and boutiques, cafes and restaurants in the town of Norway.
10. Treehouse Village
Dundee, Ohio
Planning a treehouse getaway with another family or want to bring along the family dog? All five treehouses in the Treehouse Village in Ohio's Amish Country are pet-friendly. One treehouse is large enough (with six queen beds and a full kitchen) to accommodate two families. After a day exploring nature, relax around the wood stove, fireplace or fire pit. Each treehouse also has its own outdoor shower and outdoor soaking tub with a special blend of bath salts mixed by the owner.
HIT THE ROAD: 6 Scenic Midwest Road Trips for Outdoorsy Families
Nearby: Dundee Falls, Amish Country back roads, Wilderness Center hiking trails, Hershberger's Farm & Bakery petting zoo, and Hillcrest Orchard.
11. BONUS: Mont-Tremblant Treehouses at Refuges Perchés, Quebec, Canada
Across the border in Canada, this treehouse eco-resort in Quebec's scenic Mont-Tremblant region is an authentic back-country experience with no power or running water. The 20 off-the-grid treehouses on Lake Cordon are about a 15-minute walk from the reception/parking lot. You'll need to transport your luggage by cart, canoe, or toboggan then start a fire in the wood stove and cook meals on a camp stove. Some treehouses are located on the waterfront while others are set in the forest with easy access to swimming, fishing, or boating.
Nearby: Canoe, kayak or rabaska (12 passenger canoe) rentals at resort reception; snowshoeing, cross-country skiing and dog sledding tours in Parc Eco des Laurentides.
More from FamilyVacationist: