Whether you're in a long-term relationship or just getting to know one another, spending time as a couple away from the hassles of daily life can deepen emotional connections and rekindle your romance. When you vacation at one of the best all-inclusive resorts for couples in the U.S., you get the added bonus of stress-free all-inclusive pricing with your accommodations, meals, and activities included—not to mention pampering spa treatments, soothing hot tubs and pools, and top-notch cuisine.
2024's Best All-Inclusive U.S. Couples Resorts
There's no need to stress about getting your passport, either, because many of the world's most romantic all-inclusive resorts are located right here in the United States. With Instagram-worthy scenery, wide-open spaces, and plenty of private nooks for some alone time, you can't go wrong with any of 2024's best all-inclusive U.S. resorts for couples.
TOGETHER TIME: 12 Best Vacation Spots for Couples in North America for 2024 
1. Castle Hot Springs
Morristown, Arizona
Set against the striking silhouette of the Bradshaw Mountains, Castle Hot Springs is a boutique all-inclusive U.S. resort for couples that looks like a Sonoran Desert mirage. Spacious bungalows and cabins dot the property, each with outdoor stone tubs plumbed with hot springs water, and all accommodations encourage romantic getaways by being screen-free.
SOUTH OF THE BORDER: 10 Best Mexico Resorts for Couples in 2024 
With its geothermal hot springs and first-class stargazing, the sense of serenity you get here is a kind of tonic. And you can enjoy a plethora of outdoor adventures, too. Channel your inner daredevil on a sky-high Via Ferrata cable climbing course, take a guided horseback ride, or hit the trails with your hiking boots or an e-bike to breathe in the salubrious desert air. At dinner, the resort's elaborate tasting menus are an ode to the on-site farm, growing hundreds of varieties of fruit, vegetables, herbs, and flowers. 
2. Alila Ventana Big Sur
Big Sur, California
Big Sur's beauty has exerted a magnetic pull over generations of artists, writers, and lovers. At Alila Ventana Big Sur, which overlooks the Pacific Ocean with a redwood forest dropped in for good measure, the stunning setting is an organic springboard for romance. Here low-key design elements blend into the rugged environment and guest accommodations all have private patios or balconies, with cozy fireplaces and tubs roomy enough for two.
GOLDEN STATE GETAWAYS: 8 Romantic California Getaways for Couples in 2024
Daily guided hikes and morning yoga classes allow you to meditate on the breathtaking scenery and each other. Delectable meals, included in the rate, are rooted in the fresh flavors of California cuisine. Dine at Sur House, where the forest, mountains, and sea converge, and finish your day with a soak in the outdoor Japanese hot baths, where you'll be surrounded by the soundtrack of Big Sur. 
3. Blackberry Mountain
Walland, Tennessee
Situated in the foothills of the Great Smoky Mountains, the unique accommodations at Blackberry Mountain (a sister property to the family-friendly Blackberry Farm) make it truly one of a kind among all-inclusive couples resorts in the U.S.A. Overnight options include cabins, stone cottages, multi-bedroom homes, and even secluded treehouses with sleek white oak interiors, marble tile, floor-to-ceiling windows, and a sliding glass door that opens onto a private three-tiered outdoor deck.
BABY ON THE WAY: 22 Romantic Babymoon Ideas for Expecting Couples in 2024
Outdoor activities like rock climbing, hiking, and pickleball take center stage at this romantic lodge and treehouse hotel, making it a perfect choice for active couples, while restorative treatments at the spa, guided meditation, and sound-bathing are among the many wellness offerings. Three daily meals prepared with Appalachian ingredients are included in the rate. Farm-to-table fruit, vegetables, and herbs grown onsite are woven into menus, and sustainable wines made at small family-run wineries are a beverage focus.
4. The Point
Saranac Lake, New York
In the late 19th century, America's industrial tycoons escaped city life by retreating to the Adirondacks for New York vacations, where they lived in extravagant estates called Great Camps. One of these spectacular locations is The Point. Built by the Rockefellers during the Great Camp heyday, today it's one of the most romantic all-inclusive U.S. resorts for couples, decorated with prestigious art and antiques and home to 11 guest rooms with one-of-a-kind furnishings for an aristocratic immersion.
LOVE BOATS: 7 Best Cruise Lines for Couples in 2024 (and Their Most Romantic Voyages) 
At The Point, you can spend the day together as a couple boating on Upper Saranac Lake, playing croquet on the lawn, or (in the winter months) cross-country skiing. Limited Wi-Fi means the outside world won't interfere with your romantic getaway. Dinner in the dining room is a high society affair that preserves Gilded Age tradition.
5. Twin Farms
Barnard, Vermont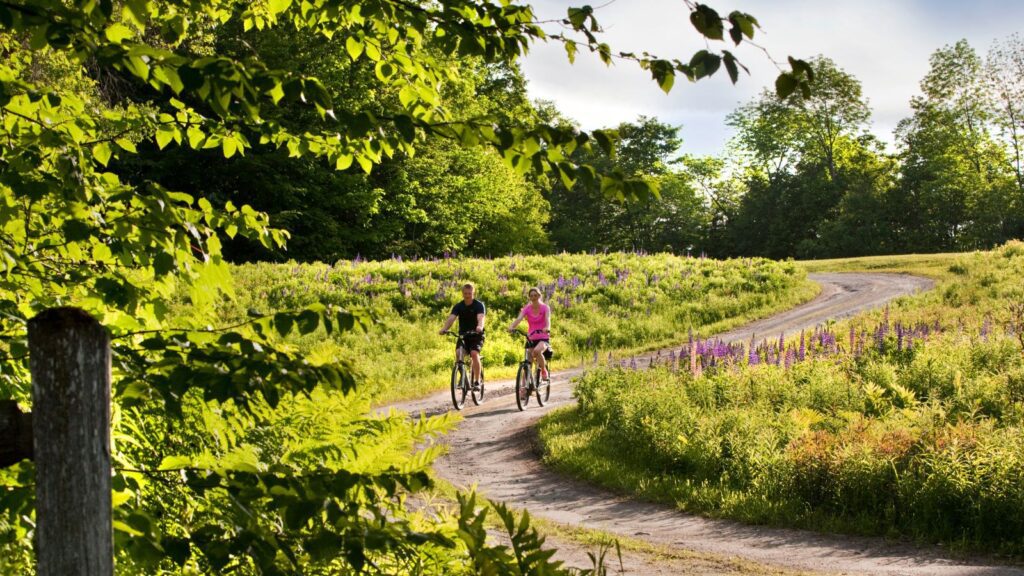 With whimsical cottages tucked away in the woods, Twin Farms is an intimate all-inclusive couples hideaway amidst the rolling meadows and verdant glades of the Vermont countryside. Hand painted murals, American folk art, and museum-quality oil paintings create a rustic fantasy, and each cottage features a king-size feather bed and sitting area with a wood-burning fireplace that opens onto a screened-in porch.
DELICIOUS DESTINATIONS: 7 All-Inclusive Resorts with the Best Food in 2024
In the warmer months, hiking trails, biking, tennis, pond swimming, and canoeing are all popular options for couples here. In winter, you can enjoy private downhill ski slopes, trails for cross-country skiing and snowshoeing, plus ice skating and sledding (with all equipment provided). And if your love language is food, pack your loftiest culinary expectations, because garden-to-table meals are courtesy of a windfall of estate-grown herbs, fruits, and vegetables. Fine local purveyors and farmers fill in the gaps, creating luscious menus that lean local.
6. The Green O
Greenough, Montana
At the sophisticated and adults-only The Green O, each of the 12 design-forward accommodations are nestled on a timbered hillside and come with hot tubs, floor-to-ceiling windows, spiral staircases, and skylights. The on-site restaurant's open kitchen concept allows you to watch the chef spin edible magic into each plate. (Nightly rates include three meals, with house wine, beer, and liquor.)
CARIBBEAN DREAM: 7 Best Couples Resorts in Jamaica for 2024
Adventure and serenity intersect seamlessly at this all-inclusive U.S. couples resort: Take a guided wildlife tour to view elk, whitetail deer, moose, bears, and golden eagles; test your aim with archery; jump in the saddle or cross-country ski in winter; or relax with yoga and forest bathing in the pine-scented woods of Montana.
7. The Lodge at Woodloch
Hawley, Pennsylvania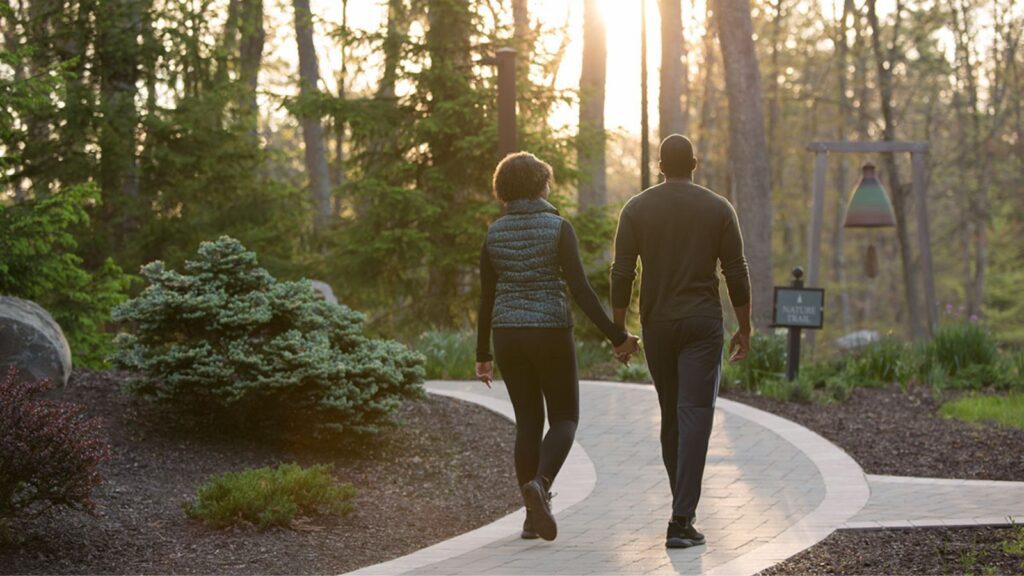 A spa-lover's paradise, The Lodge at Woodloch (a sister property to the kid-friendly Woodloch Resort) is a soothing sanctuary of therapeutic soaking tubs and eucalyptus-scented steam rooms. Treatments at this all-inclusive couples resort's spa focus on natural ingredients, and the resort itself is situated on 150 pristine acres in the Pocono Mountains enveloped by wild flowers and fern-carpeted trails with a naturally occurring cranberry bog.
WEDDED BLISS: 10 Best All-Inclusive Honeymoon Resorts in the World for 2024
Guest rooms enchant with serene views from private verandas and air-purifying Himalayan salt lamps. Each bed is a restorative nest with a pillow menu assuring customized comfort. Three daily meals are included in the rate, and each meal is a multi-course feast of perfectly-sized portions. Live music creates an evening ambience that is romantic and refined.
8. Salmon Falls Resort
Ketchikan, Alaska
The motto at Salmon Falls Resort might as well be "couples that fish together stay together." Located at the entrance to Alaska's iconic Inside Passage in Ketchikan, a bucket list destinations for anglers thanks to its epic annual King and Silver Salmon runs, this resort boats a custom fleet of boats and a team of experienced guides to assist in everything from baiting hooks to reeling in the catch. 
MAKE MEMORIES: 5 Exotic Honeymoon Destinations around the World (and 3 in the U.S.)
While the resort attracts serious fishermen, there are other enticing and romantic opportunities for couples. Board a floatplane and fly over the Misty Fjords National Monument with its alpine lakes and glacial bays, or enjoy a delicious taste of the salmon roe that many consider to be the best in the world, elevated with distinguished wine pairings. Guest rooms with sweeping views of the ocean and Ketchikan's legendary wildlife allow round-the-clock communion with nature.
More from FamilyVacationist: