The healing waters of hot mineral springs have drawn tourists to the Rocky Mountains of Colorado for centuries. Here the Rocky Mountain state, an abundance of geothermal activity has resulted in now-famous hot springs for rejuvenating the mind and body. If you want to soak in the healing waters and scenic surroundings at these natural hot springs in Colorado, here are the top ones to choose from—and where to stay while you're enjoying them.
WATER WORLDS: 13 Thrilling Outdoor Water Parks Where You Can Beat the Summer Heat
1. Glenwood Hot Springs Resort
Glenwood Springs, Colorado
Quite possibly the most famous hot springs in the U.S., Glenwood Hot Springs Resort first opened its pool in 1888 and has been continuously welcoming guests ever since. Located between Aspen and Vail, the town of Glenwood Springs is at a lower elevation than most mountain resort towns in the Western U.S., and Glenwood Hot Springs Resort makes a great day trip or multi-day trip from many major hubs, with day passes and lodge rooms available.
HIT THE ROAD: 11 Family Road Trip Ideas Every Kid Will Love
The main pool is the size of a football field, making it the largest hot springs pool in the world. And at the end of the main pool is a diving board, lap lanes, and plenty of room for water aerobics and fitness classes. During the summer vacation months, guests can rent a cabana and kids can splash around in the Sopris Splash Zone, a water play area with waterfalls and water slides, including a whitewater river open-air tube ride with twists and turns that mimic a ride down a mountain creek in Colorado.
There are also mini water slides for wee ones and a grand fountain splash pad. Both the hot springs pool and warm springs include 15 minerals that are beneficial for the human body.
2. The Springs Resort and Spa
Pagosa Springs, Colorado
The Colorado town of Pagosa Springs is the only town in its county, and its name is derived from the area's Great Pagosa Hot Springs, which is the world's deepest measured geothermal hot spring. From this Colorado hot spring The Springs Resort and Spa filters into 23 soaking pools of varying temperatures. This is a fantasy land of multiple pools of stone, situated in the river and other nooks and crannies. Families can enjoy pools of all sizes and temperatures ranging from 83 to 114 degrees Fahrenheit. There are also five VIP section, adults-only pools. 
RUSTIC ARCHITECTURE: 12 Most Iconic National Park Lodges in the U.S.
Onsite there's a cafe, restaurant, and canteen for adult beverages. The Springs Resort offers nearly 80 rooms and suites at its hotel and adjoining inn, as well as a restaurant, retail shops, and spa amenities and services. The hot springs pools are open 24 hours a day to all guests of the hotel, and all pools have views of the San Juan Mountains.
3. Sand Dunes Swimming Pool and RV Park
Hooper, Colorado
After a trek up some of the world's tallest sand dunes at Great Sand Dunes National Park, a soak in among some of Colorado's natural hot springs should be on your agenda. The San Luis Valley region is home to the family-friendly Sand Dunes Swimming Pool and RV Park in Hooper, close to the sand dunes. Open year-round, the natural, spring-fed pool is at a constant 98 degrees that makes it a good fit for all-age enjoyment. Chaise lounges and stunning scenery surround the pool. There's an onsite restaurant and gift shops for basic pool needs, as well as RV sites, tent camping, and cabin rentals.
FIND A DEAL: 10 Best Hotel Booking Sites for Cheap Prices
For the day, rent a pool cabana with outdoor lounge chairs, an indoor bar, two seating areas with chairs, and sliding glass doors that allow you to look out on to impressive views of the Great Sand Dunes National Park and the Sangre De Cristo Mountain Range.
Parents will love the adults-only soaking experience within the onsite 10,000-square-foot greenhouse, which houses three soaking tubes, a zero-entry pool with fountain, a sauna, gardens, indoor/outdoor spaces, and a bar.
4. Iron Mountain Hot Springs
Glenwood Springs, Colorado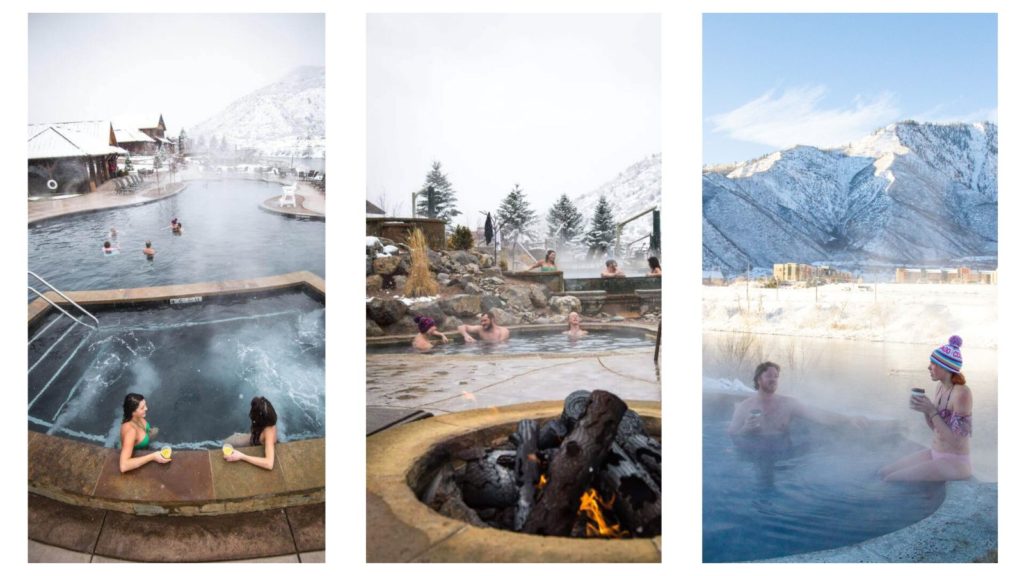 Like the famed Glenwood Hot Springs Resort, Iron Mountain Hot Springs is also located in the town of Glenwood Springs, but is much more intimate. It'a one of the newer hot springs to open in the Centennial State, and there are 16 soaking pools with varying temperatures of mineral water from 98 to 108 degrees. On the lower level is a family-friendly freshwater pool. Above you'll find an elevated jetted spa for parents to enjoy while watching their children.
FAMILY GETAWAYS: 10 Best Spring Break Destinations for Families
The pools have heated walkways between one another for warmth in the winter. The springs produce 14 different healing minerals, with the most abundant being iron, sulfate, chloride, sodium and calcium. Families can also soak in the views of Iron Mountain, Red Mountain, the Flat Tops, and the peaks of majestic Mt. Sopris to the south. Note that these Colorado hot mineral springs are not open to children under the age of five.
5. Mount Princeton Hot Springs Resort
Nathrop, Colorado
The incredible Mount Princeton Hot Springs Resort is one of the most expansive operations in all of Colorado. Its geothermal springs are filtered into manmade pools, but many guests are drawn the ever-changing temperatures of the natural hot springs pools (70 to 120 degrees) in the Chalk Creek river that flows alongside the property.
SPLASH ZONE: 14 Best Indoor Water Park Resorts in the U.S.
The resort's Historic Bath House dates back to 1868, and there's a fun staircase from the building directly into the soaking pool at 105 degrees. Across the street on the resort property are the Upper Pools. Here, there's a lazy river, large pool for fitness classes and play, a 400-foot "hot" water slide, and smaller hot pools. All are surrounded by chaise lounges and plenty of deck space.
For adults only, there is the Relaxation Pool (99 degrees) attached to the spa. Mount Princeton Hot Springs Resort has plenty of lodging options from single rooms to multiple bedroom cabins with kitchens. There's an onsite restaurant and sundry, along with many other amenities.
6. Dunton Hot Springs Resort
Dolores, Colorado
The most exclusive (and one of the most remote Colorado hot springs) is the all-inclusive Dunton Hot Springs Resort, which requires an overnight stay. Located between Telluride and Cortez, the resort is a five-star experience. The healing waters come from a nearby fault producing numerous seeps in the area. Here, Colorado's only geyser, which is also a semi-cool sulfuric spring, bubbles to the surface every 45 minutes on average.
SAVE MONEY: 17 Best Flight Booking Sites for Cheap Airfares
The resort and hot springs are located in a restored mining town turned ghost town. Families can relax in lush private log cabins and meals are served family-style in an 1800s saloon. The main soaking pool is in a refurbished 19th–century bathhouse, which now features modern amenities.
7. Indian Hot Springs
Idaho Springs, Colorado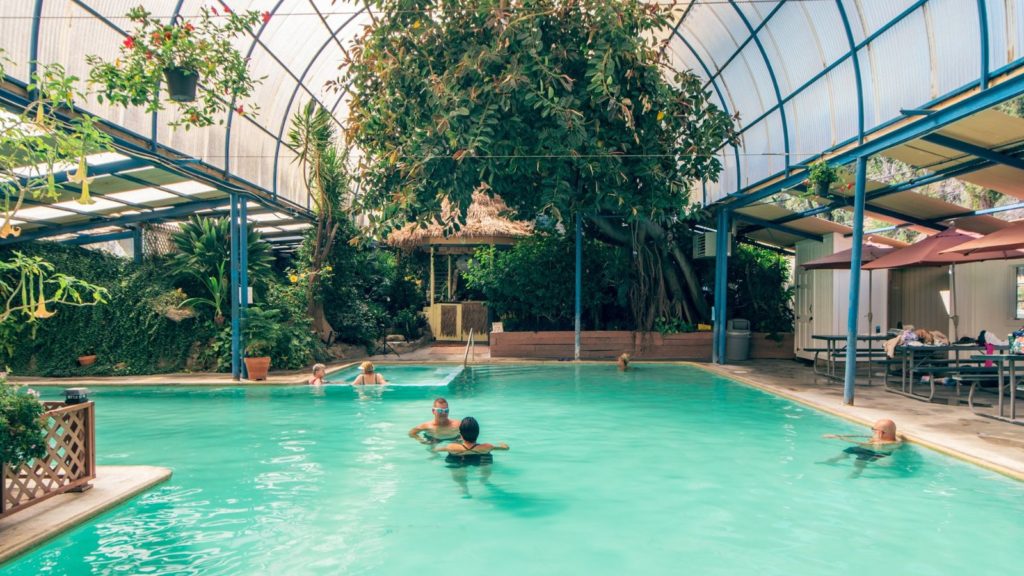 Easily accessible from Denver and located right off of I-70, Indian Hot Springs has been pumping hot mineral water for more than a century. Tucked into a translucent dome is a tropical enclave of plants, banana and palm trees, and a lush humid climate amid the dry and arid mountains. The pool is open year-round, fed by a 115-degree spring that converts to a pool with temps that range from 90 to 100 degrees. Onsite there's a large resort, restaurant, bar, and retail shops.
BEGINNERS WELCOME: 11 Best Ski Resorts in the U.S. for Families
There are private spaces for families to rent. The outdoor Jacuzzi tubs on the deck, surrounded by a privacy fence, are bubbling with 108-degree hot mineral water. Inside, there are 11 hot mineral baths at about 106 degrees. Teenagers 16 and over can experience the geothermal caves, which are gender specific (note that bathing suits are optional). The caves range in temperature from 104 to 112 degrees, and were created between 1903 and 1911. Guests can walk into the sunken hot tubs or breathe in the healthy mineral air.
8. Strawberry Park Hot Springs
Steamboat Springs, Colorado
The rustic Strawberry Park Hot Springs are located about 20 minutes from downtown Steamboat Springs. A short hike down from the parking area will lead you to the entrance and then it's a few more stairs to the multiple pools carved into the river. Most pools are between 99 and 106 degrees.
NO EXTRA FEES: 19 Best All-Inclusive Resorts in the U.S.
They vary in size and temperature and offer swimming opportunities from miniature beaches to deep waters for stretching. There are cooler waters closer to the bottom of the cascading mineral pools. The year-round attraction is famous for the area's champagne powder against the backdrop of the stones and pools.
There are restrooms and a heated area for changing onsite. While there are no dining options, food can be brought in and eaten at the picnic areas; just note that glass is not permitted. Overnight cabin rentals are available, as are campsites.
9. Old Town Hot Springs
Steamboat Springs, Colorado
The most accessible and family-friendly hot springs in the Steamboat Springs region is Old Town Hot Springs in the downtown corridor. Guests can choose from eight different mineral pools originating from Heart Spring. The pools range in temperature from 80 to 104 degrees. There are also two long waterslides, an enormous hot activity pool, and an aquatic rock climbing wall.
MAKE MEMORIES: 50 Family Vacation Ideas for the Best Trip Ever
Also included among the are many family attractions at this hot springs water park is a splash pad with slides and fountains for the wee ones, a shallow wading pool with animal features, and an obstacle course during the summer in the large pool. The actual Heart Spring pool is for children ages 15 years and older.
There are cabanas for rent and onsite food, beverage, and retail shops. Spa services and fitness and aquatics classes are all available to visitors and locals.
More from FamilyVacationist: