Inspiring landscapes, a comfy lie-flat seat, and no long security lines? In a time when flying with kids is monumental hassle, relaxed travel might sound far-fetched. But it's a reality that's both closer and more affordable than you might think. These, it turns out, are just some of the joys of train trips.
Families have a lot of flexibility when it comes to train travel. Destinations span the globe, trip lengths range from a few hours to two or more days, and there are abundant opportunities to get off and explore places enroute to your final stop. Kid-friendly train trips have the added benefit of being a sustainable travel win: Rail travel is significantly lower in carbon emissions than driving or flying, and depending on the length of trip, train journeys can reduce emissions by up to 84 percent.
Scenic Train Trips for the Whole Family
Check out these family-favorite train trips for family vacation ideas that will help you all slow down, enjoy the world, and have a multigenerational vacation that everyone—from babies and toddlers to teens ands grandparents—can join.
SCENIC TRAIN TRIPS: 10 Best Fall Foliage Train Rides in the U.S.
1. Via Rail Canada's Winnipeg to Churchill
The overland express to polar-bear country
Good for: Patient younger travelers or families with teens.
It's possible that Manitoba has never made it on to your list of must-see travel destinations. But that might change once you discover the town of Churchill, also known as the polar bear capital of the world.
BUCKET-LIST WORTHY: 27 Family Vacation Ideas for the Best Trips Ever
Via Rail's two-day, two-night train trip from Winnipeg to Churchill is the perfect way to experience the vast and majestic Manitoba wilderness—think dense boreal forests and vast arctic tundra. Churchill offers more than just polar bears too: This scientifically significant Arctic gateway is also one best places to experience Arctic activities like seasonal kayaking with beluga whales, bird watching, and marveling at aurora borealis, which is visible about 300 nights per year.
Located on the Hudson Bay, Churchill is remote, and the train ride offers both the only dry land passage to Churchill and the most climate-friendly option for getting there, a major plus if you're a fan of polar bears and other wildlife affected by climate change.The route is the northernmost route of Via Rail Canada and departs two days a week from Winnipeg.
2. Amtrak's California Zephyr from Chicago to San Francisco
All aboard from east or west
Good for: Families of all ages.
The California Zephyr route is among the most scenic train trips in the United States. Traveling from the San Francisco Bay Area to Chicago, passengers will enjoy the beauty of the Sierra Nevada and Rocky Mountain ranges, cross the Colorado River, be amazed by the vivid Utah desert, and glide through the grain fields of the Great Plains.
SOAK IT UP: 9 Best Natural Hot Springs in Colorado
While the Zephyr travels from San Francisco to Chicago in just over two full days, heading to Colorado (from either starting point) offers the perfect 24-hour train ride for younger travelers. With five Colorado stops, including stations that service Denver, Aspen, and Rocky Mountain National Park, families are sure to find the perfect mix of train ride and on-the-ground activities if they only want to spend one night on a train.
Covering much of the original transcontinental railroad route—and crossing the Continental Divide—the Zephyr is perfect for American history enthusiasts of all ages.
3. Switzerland's Glacier Express
Swiss Alps sightseeing by train
Good for: Families of all ages.
Weaving through the Swiss Alps, dipping into valleys, crossing 291 bridges, and passing through 91 tunnels, the Glacier Express offers the ultimate in relaxed mountain sightseeing. Passengers will be glad not to miss a moment of scenery on this single-day train journey. The only direct train from Zermatt to St. Moritz, The Glacier Express offers nonstop scenery along the 300-kilometer, eight-hour ride through one of the best family vacation spots in Europe.
AIRFARE DEALS: 16 Best Flight Booking Sites for Cheap Flights
With views of the Matterhorn and a trip into the Rhine Gorge—known as the Grand Canyon of Switzerland—this train trip offers families ever-changing entertainment from comfortable seats in the fully sealed panoramic view cars. Families not wanting to spend the full eight hours on the train can hop off at one of the several stops along the way, making it easy to break up the trip into parts, or only travel part of the route.
4. Vietnam Railway Reunification Line: Hanoi to Ho Chi Minh City
A spectacular lesson in the joys of getting off the beaten path
Good for: Families with teens.
The Reunification Express is a 30-hour train journey running north-south through Vietnam from Hanoi to Ho Chi Minh City. The train travels through bustling urban neighborhoods, lush farmland, sleepy fishing villages, and dense jungles.
Not to be missed is the three-hour section between Hué and Danang along the Hai Van Pass. With jungle pushing in from one side of the tracks and tropical beaches lining the other, the stunning scenery gives passengers a glimpse into a Vietnam that is missed from the air. For families with teenagers old enough to enjoy the adventure, the Reunification Express offers a spectacular lesson in the joys of getting off the beaten path.
5. Alaska Railroad
A comfortable window into Alaskan splendor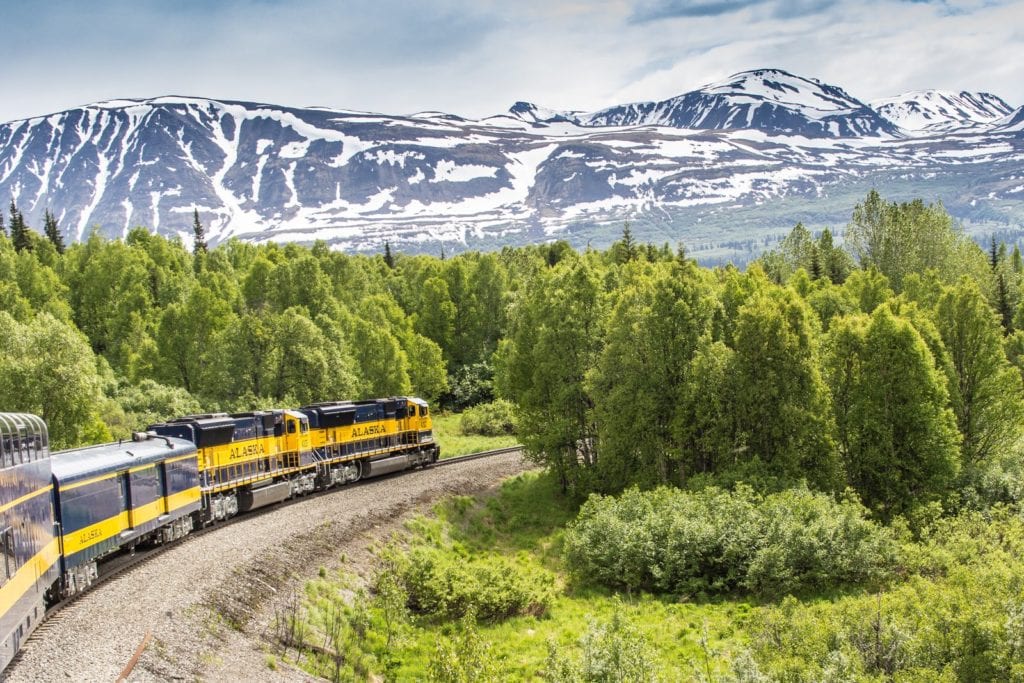 Good for: Families of all ages.
Alaska can be a daunting destination to plan for, which is what makes Alaska Railroad's offerings extra appealing. Convenient, scenic, and close to all that spectacular nature, this is a trip that can be tailored to any age and family size. Single day excursions and multi-day train trips, stops along the way or direct train journeys—however you want it, you can build it.
PACK LIKE A PRO: 9 Best Packing Cubes for Travelers
The Alaska Railroad offers service to many of Alaska's top tourist destinations, including Anchorage, Denali National Park, Kenai Fjords National Park, and Fairbanks. Additionally, the train is often the only way to get to certain places in Alaska, including the Spencer Glacier Whistle Stop in the Chugach National Forest.
Onboard narration enriches the experience by telling the stories behind the sights. Hop the train as a way to get somewhere specific, or choose a summer or winter exploration package and let Alaska unfold around you. With packages that range from two to 10 days, every family can find something that suits them.
6. Kiwirail: Great Journeys of New Zealand
New Zealand's most stunning sights by train
Good for: Families of all ages.
With the longest journey clocking in at just 12 hours and a multi-day Scenic Rail Pass option, Kiwirail's Great Journeys of New Zealand routes have something for everyone in the family. Lord of the Rings enthusiasts will want to ride the Northern Explorer line from Wellington to Auckland, and travel through the volcanic heart of New Zealand. A stop at Tongariro National Park is a must as travelers can scale an active volcano and see Mount Doom from the movies.
For the beach and nature lover, the Coastal Pacific route offers a once-in-a-lifetime opportunity to explore picturesque beach towns and the ecologically significant destination of Kaikōura, where animals outnumber people. It's the perfect spot to glimpse humpback, blue, sperm, and orca whales.
7. Eurail: Europe by Train
Introducing the next generation to Europe by train
Good for: Families of all ages.
Ready to explore Europe by train? While it's not a single route, the train trips possible with a Eurail pass are nearly endless. With a convenient booking app and one of Europe's best travel deals for families with younger kids—each paying adult can add two child passes (ages four to 11) to their ticket at no additional cost—the Eurail pass is a must for any family looking to simplify their European vacation.
BONJOUR VACATION: Here's Why Paris Is Even Better with Kids
The Eurail pass works across a variety of train systems in 33 European countries (including the previous mentioned Glacier Express) with more than 40,000 destinations. A Eurail pass gives families the flexibility to plan a train trip that is just right for their family, whether that's an overnight from Paris to Rome, tooling around Spain, or adding a Greek Island Ferry Pass as a way to explore the Greek Islands.
It's good to remember that some train trips, including high-speed and sleeper trains, do require a seat reservation and an occasional reservation fee.
8. Amtrak's Auto Train from Washington, D.C., to Orlando
The road trip, reinvented
Good for: Families with young children and anyone who want to avoid I-95.
Pack the car, small boat, or even a jetski on your next train trip. With Amtrak's Auto Train, you and your ride—packed with everything you need—can hop on board and travel from D.C. to Orlando (stations are in the cities' metro area).
The 17-hour train journey is perfect for families who want to experience the fun of overnight train trips but also want their vehicle when they get to their destination. Since the train departs at 4:00 p.m. (vehicle loading is earlier), and arrives the next morning at 9:00 a.m., your family's onboard time can focus on fun of the train, including exploring, dinner, and sleeping in a time frame that works for younger travelers.
It's a long family road trip by car that turns into a time to play and sleep when you're traveling by train. Florida-bound families have easy access to Disney and Universal theme park lands like Star Wars: Galaxy's Edge and The Wizarding World of Harry Potter. And with your car, it's easy to turn that vacation into a road trip and visit other family-favorite Florida attractions like Cape Canaveral and the Kennedy Space Center.
Whether you want to explore the best family vacation spots in the U.S. or the world, train trips can help you do it in comfort and style. The best way to decide on the right trip for your family is to start with shorter routes for younger kids and work your way up to longer train rides. Pack your sense of adventure and you'll be ready for your next vacation by train.
More from FamilyVacationist: