Travel has bounced back to pre-pandemic levels, and while a vacation may seem like an obvious stress-buster, crowds, cancellations and headaches have bounced back too. Though train travel may not be at the top of your vacation list, maybe it should be. And when it comes to rail travel, there's no more all-inclusive option than a Rocky Mountaineer train trip.
A handful Rocky Mountaineer routes offer something different for every travel style, whether you're traveling as a family, a couple or group, or solo. And all journeys blend plenty of easy sightseeing with engaging storytelling and good food.
What to Know About The Rocky Mountaineer Train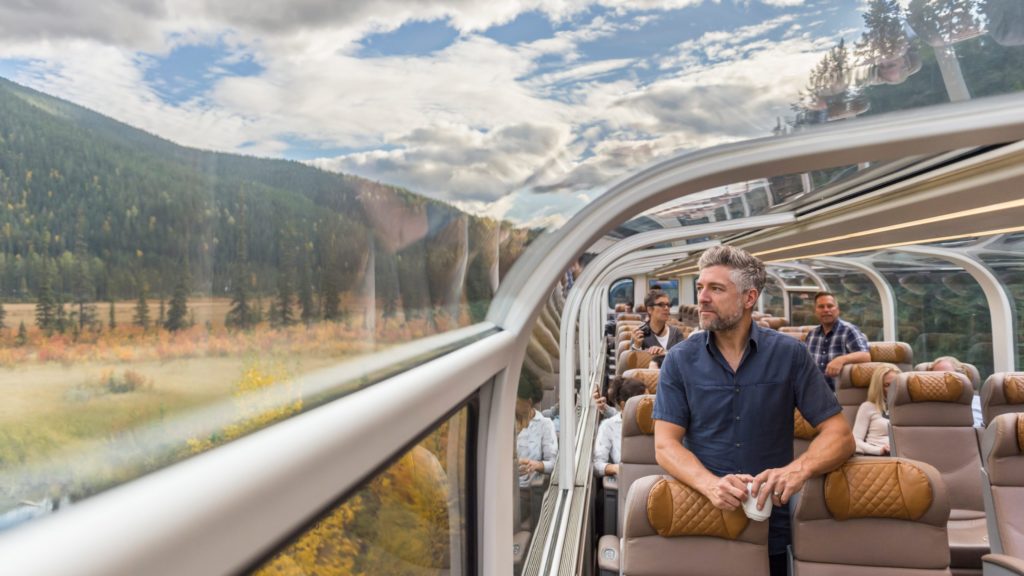 The Rocky Mountaineer is more than a seat on a train. Founded in 1990, this luxury Canadian rail company offers four itineraries, three in Western Canada and a new one in the American Southwest, all running from spring through fall. All routes go in both directions, so you decide where you'd like to start and end your trip.
RIDE THE RAILS: 11 Amazing Scenic Train Trips in the U.S.
Each route offers spectacular scenery that's easy to appreciate through custom-designed glass-domed train coaches. Reclining seats are spacious and comfortable and windows are oversized. Trains travel only during daylight hours, so you won't miss a moment of the ever-changing landscapes. In the late afternoon, passengers disembark to spend the night at a comfortable hotel.
Rocky Mountaineer's rail journeys are two and three days long. These itineraries are well suited to multi-generational groups, since the nostalgia of train travel makes this sort of trip ideal for grandparents who crave a throwback holiday. It's also good for members of you family have limited mobility, the views from the train are breathtaking and don't require any walking to enjoy.
An All-Inclusive Experience
Almost everything is included in the price, except for dinner during your overnight stops. Onboard, gourmet meals are prepared by talented chefs and artfully served. Ingredients are locally-sourced and reflect the region, adding up to an immersive dining experience. Several beer and wine selections are sourced locally, with beverages included in the rate.
Classes of Service
In Canada, passengers choose from two classes of service, SilverLeaf and GoldLeaf.
SilverLeaf passengers travel on a single-level coach and dine at their seat (large, reclining chairs) in a glass-domed coach. GoldLeaf passengers have upgraded amenities such as a bi-level glass-dome coach for unparalleled views, plus a dining area on the lower level. Heated passenger seats can turn 180 degrees to facilitate socializing with other guests.
ALL ABOARD: 8 Family Train Trips in the World's Most Beautiful Places
In the U.S., guests may book SilverLeaf or SilverLeaf Plus, which enhances the experience with access to a lounge car and additional premium beverages.
Best Rocky Mountaineer Routes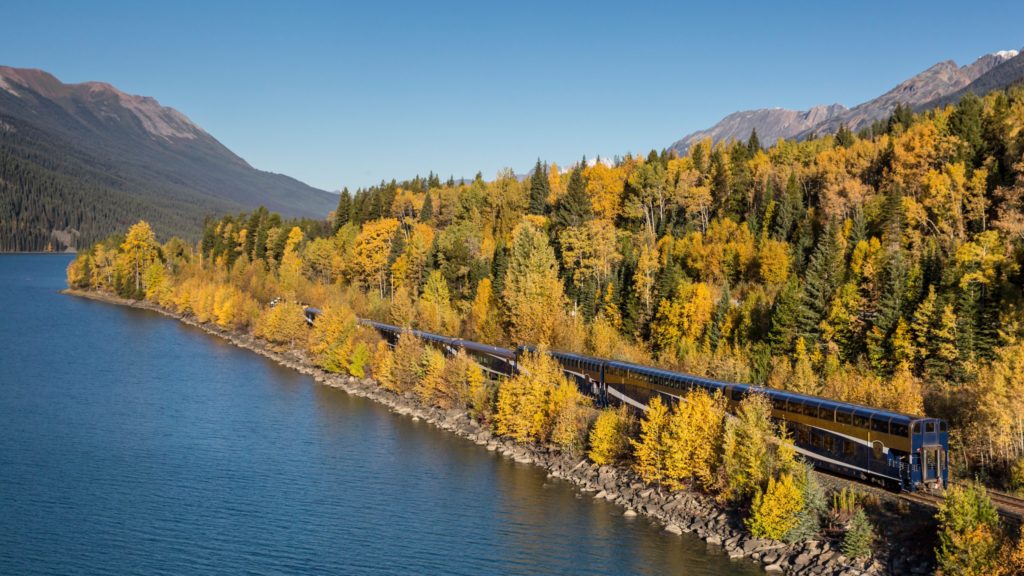 Best route for families with kids: First Passage to the West
First Passage to the West is a two-day trip from Vancouver to Banff or Banff to Vancouver. You'll travel through the legendary Spiral Tunnels, traverse the Continental Divide and wind through rolling rivers and over mountain passes. If you start in coastal Vancouver, you'll spend the first day traveling through the Fraser Valley and the raging whitewater of Hell's Gate. Spend the night in Kamloops and take a riverside stroll. The next morning, board the train for your journey to Banff, where rugged snowcapped peaks look lifted from a postcard and the hot springs are a bubbling delight.
Best route for nature lovers: Journey Through the Clouds
Journey Through the Clouds is a two-day itinerary from Vancouver to Jasper or the reverse, with an overnight in Kamloops. As you approach Jasper National Park, you'll spy Mount Robson, the tallest peak in the Canadian Rockies. With majestic mountains and abundant wildlife, Jasper's vast wilderness is unforgettable. Bundle up and book an add-on tour to Columbia Icefield, where you'll ride in an Ice Explorer and see the Glacier Skywalk for a birds-eye view of the Sunwapta Valley.
Best route for those with a little extra time: Rainforest to Gold Rush
Rainforest to Gold Rush is a three-day itinerary from Vancouver to Jasper with overnight stops in both Whistler and Quesnel, British Columbia. Along the way, witness unblemished terrain and pristine wildlife. Spend the night in Whistler, a world-famous mountain resort, where you can take a ride on the gondola for impressive panoramas. In Quesnel, cross the historic Fraser River Footbridge and soak in the town's rustic charm. Jasper's beauty should awe even jaded teenagers.
Best route for those who appreciate the American West: Rockies to the Red Rocks
The Rockies to the Red Rocks route is a new two-day trip between Denver and Moab or the reverse, Moab to Denver. It's also Rocky Mountaineer's first route in the United States. The train crosses the Continental Divide, winds past verdant mountains and carves through a series of dramatic canyons into red rock country. You'll spend the night in Glenwood Springs, where a soak in the natural hot springs and gorgeous scenery sooth body and soul.
More from FamilyVacationist: