The Rocky Mountaineer is a Canadian rail company known for its train routes in Western Canada. Its new Rockies to the Red Rocks train itinerary is a seasonal two-day journey showcasing the natural beauty of the American Southwest. It's a great choice for families with older kids, teens, adult children, and for multi-generational groups.
The Rockies to Red Rocks Train
Rocky Mountaineer's Rockies to Red Rocks train route goes between Denver and Moab or Moab to Denver, from April through October. Some passengers travel in both directions, making a complete circle. The train ride is luxurious but never feels pretentious. In addition to delicious food and attentive service, guests get the rare chance to see otherwise inaccessible landscapes as the train crosses the Continental Divide, carves through a series of dramatic canyons, and winds past the Colorado River. Sweeping scenery viewed from glass-domed coaches would otherwise be impossible to glimpse, except perhaps from the perch of a river raft.
Denver Departure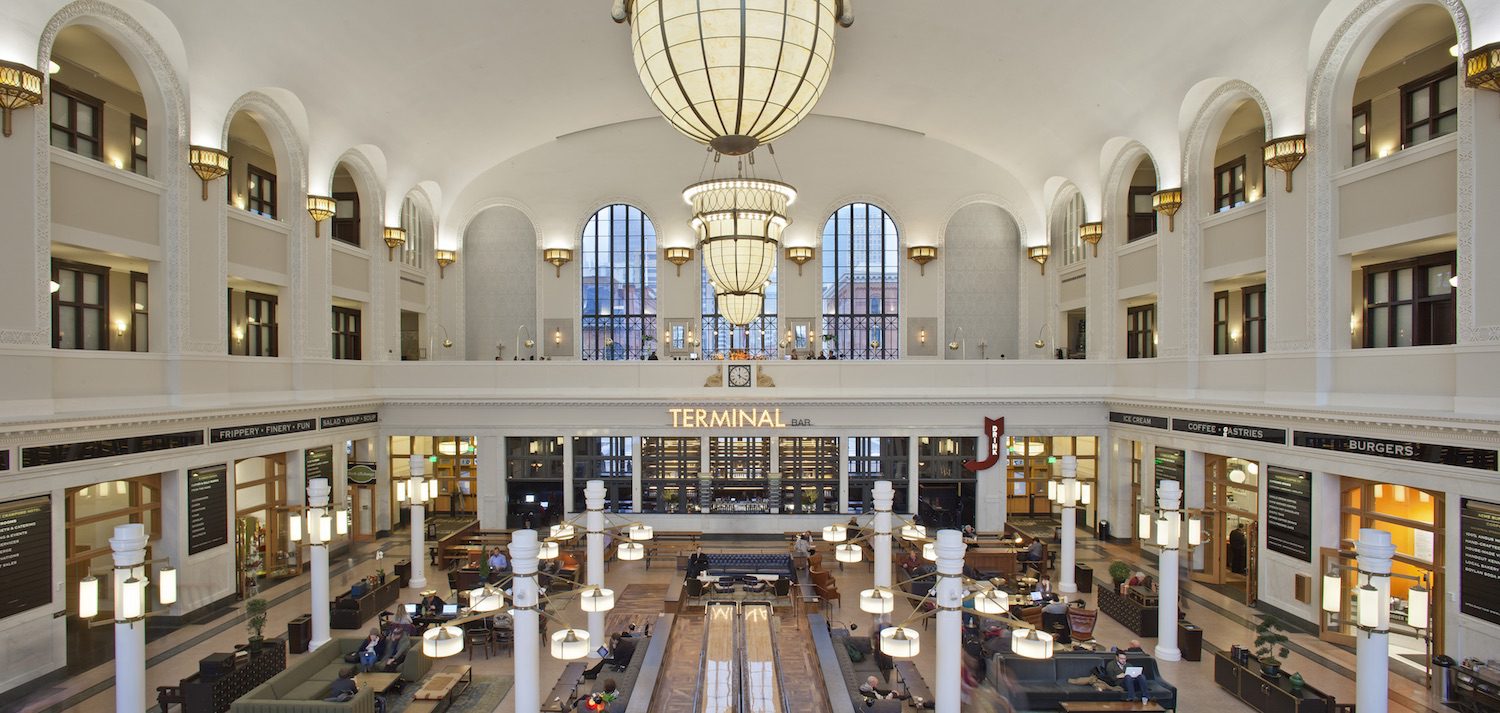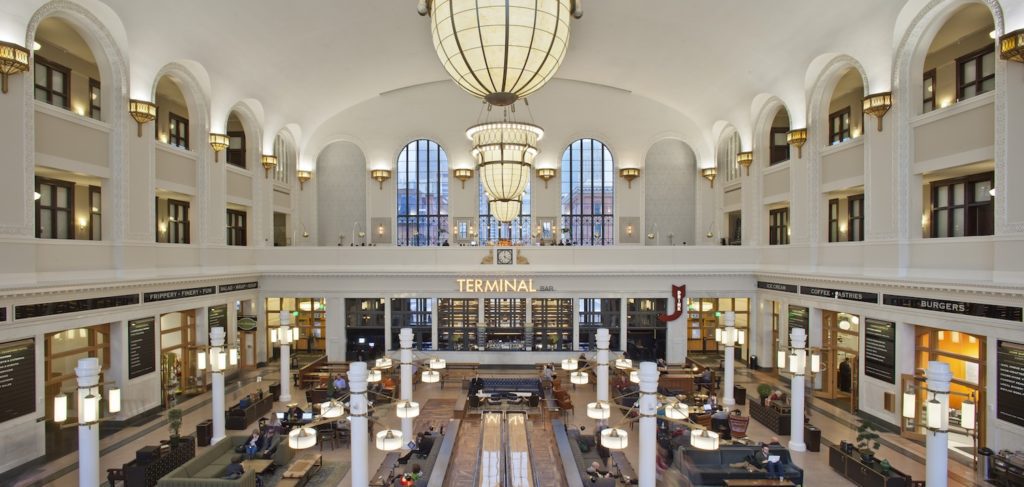 The Rockies to the Red Rocks Rocky Mountaineer journey is way more than just a seat on a train. It's an entire vacation experience that starts even before you step onboard. Most passengers spend the night before departure at one of several Denver hotels Rocky Mountaineer partners with. I flew in from NYC for an overnight at the Crawford Hotel, catching the user-friendly Denver Airport Rail to Union Station. The Crawford is actually located inside Union Station, making for an easy-as-pie arrival and a fitting start to a rail journey.
I had an afternoon to explore the Mile High City. As a baseball fan, watching the Colorado Rockies play at Coors Field was a priority. The price was right, with nosebleed seats costing a wallet-friendly $4 per ticket and an incredible $1 for kids and anyone over 55 years of age.
After the game, dinner at Tavernetta was so authentically Italian I thought my nonna was in the kitchen stirring sauce and rolling out pasta.
All Aboard for Day One
The Rocky Mountaineer departs in the early morning from a depot a short drive from Union Station. The transfer is simple; you leave your tagged luggage in your guest room and board the bus waiting outside of your hotel. Once you're welcomed on board and settled into your roomy seat, the cityscape disappears as the train moves deep into the majestic Rockies. Marvel at dense forests of blue spruce trees punctuated with delicate wildflowers. You'll be traveling for eight hours, feasting on a gourmet breakfast and lunch prepared with locally sourced ingredients and served at your oversized seat. Beverages, including beer, wine and spirits, are included.
For a different perspective, passengers who've purchased Silverleaf Plus service may head to the plush lounge car and sip a drink from the comfort of oversized padded chairs as they soak in superb vistas.
FUN FOR ALL: 9 Skip-Gen Vacations Grandparents and Grandkids Will Love
Rocky Mountaineer hosts and crew are very friendly, taking the time to get to know passengers while relaying tidbits of information pertaining to the sights out the window. The mood on board is social with plenty of mingling and chatting, making it an excellent vacation option for solo travelers.
Overnight in Glenwood Springs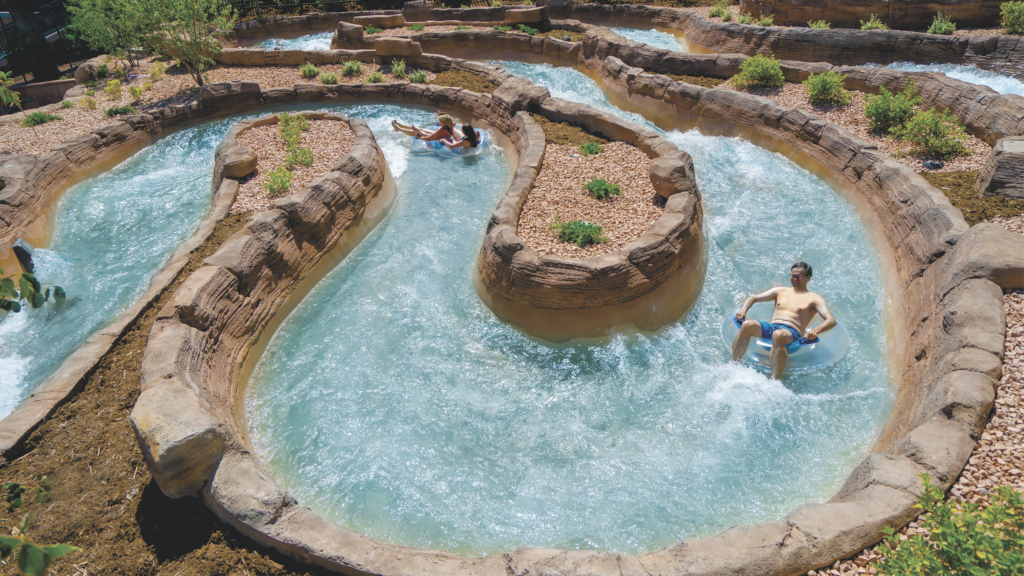 You won't spend the night on board. In the late afternoon, you'll disembark in Glenwood Springs, Colorado. I checked into the Hotel Denver, a boutique property with old-world charm across the street from the train station. My luggage was delivered right to the room.
This little frontier town packs a big punch when it comes to restaurants and you're free to dine where you'd like. I enjoyed the ribs and hearty side dishes at convivial Smoke Modern BBQ.
SPLENDID SOAKS: 9 Best Hot Springs in Colorado
Glenwood Springs' famous hot springs are said to heal a variety of ailments. Glenwood Hot Springs Resort is open until late in the evening, perfect for a post-dinner soak. It claims to have the world's largest hot springs mineral pool, so expect plenty of room to accompany the soothing water and breathtaking views. There's an aquatic playground, fountains, and river ride too.
Day 2: Red Rock Scenery and Cowboys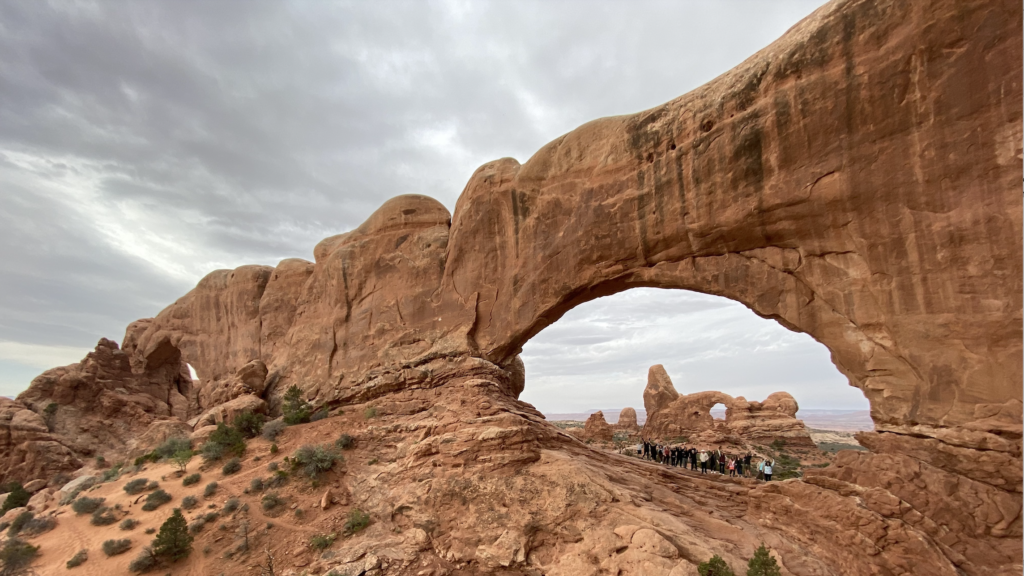 On the second day, look forward to dramatic red rock scenery, including Ruby Canyon's sandstone cliffs and Arches National Park with its 2,000 natural arches. And you can spot dusty frontier towns that look lifted from a John Wayne movie and cowboys riding alongside the train.
Moab Add-Ons
In the early afternoon, the trip comes to an end in Moab, Utah. I wanted to explore the area and Rocky Mountaineer made it simple by allowing me to book an add-on. I spent the night at the comfortable Hoodoo Moab, where my room came with red rock views. Once again, my luggage was seamlessly transferred.
With five nearby national parks, Moab is a magnet for outdoor enthusiasts. Rocky Mountaineer offers a Hummer Sunset Safari at Moab Adventure Center, an exhilarating off-road ride. Our fearless driver rolled over giant boulders and massive rocks as the sun painted a rainbow of pinks onto the twilight sky.
NO PAIN, ALL GAIN: 10 Comfortable Travel Shoes That Can Handle a Whole Day of Walking
In the morning, it was time for a guided motor coach tour and hike at magnificent Arches National Park, again booked by Rocky Mountaineer.
It had been a packed trip, but as the details were taken care of by someone else, I felt rested and relaxed. As I headed back to New York City, I knew I was hooked on train travel; I'm already planning to try one of the Rocky Mountaineer's Canadian routes next year.
More from FamilyVacationist: