What happens when you ask a class full of Berkeley second graders to write about their favorite spots to visit around Berkeley and the Bay Area? You end up with a list of outings that are sure to delight both kids and adults. It's also a sweet reminder that the places we bring kids–whether it's near or far–really make an impression.
Wondering where to take kids to play and eat on your next Bay Area outing? Here's advice from Ms. Rossi's second grade class.
In and Around Berkeley
Tilden Park
Tilden Park is a 2,079-acre regional park in the hills above Berkeley. It's home to hiking trails, a botanical garden, a golf course, kid-friendly spots like Little Farm, the Steam Train, and the Tilden Park Merry Go Round. 
Georgie loves "Tilden's fun amazing train rides that last for about 10 minutes but it feels so relaxing that in your mind you think it will last for hours." Another one of Georgie's favorites is the merry-go-round: "You should definitely make your way to Tilden's carousel, the ride will make you feel ALIVE." She also recommends Tilden's hikes. "Some of my favorite hikes to take are Wild Cat Canyon or hiking around Lake Anza."
Ari also recommends Lake Anza. "Lake Anza is a lake you cannot swim in and it looks like a field because it is covered with moss (ferns; more information here). There is a mile-long rough and rocky trail around it." 
HIDDEN DISNEY: 7 Things You Didn't Know You Could Do at Disneyland
Annabella thinks you shouldn't miss Little Farm while you're in Tilden. "Do you like cows or just animals? If you do, the Little Farm is the place you need to visit." If you bring celery or lettuce you can "not only look at the cows but feed them. And that's not all, there are a lots of other animals like goats, pigs, and my personal favorite, sheep."
Indian Rock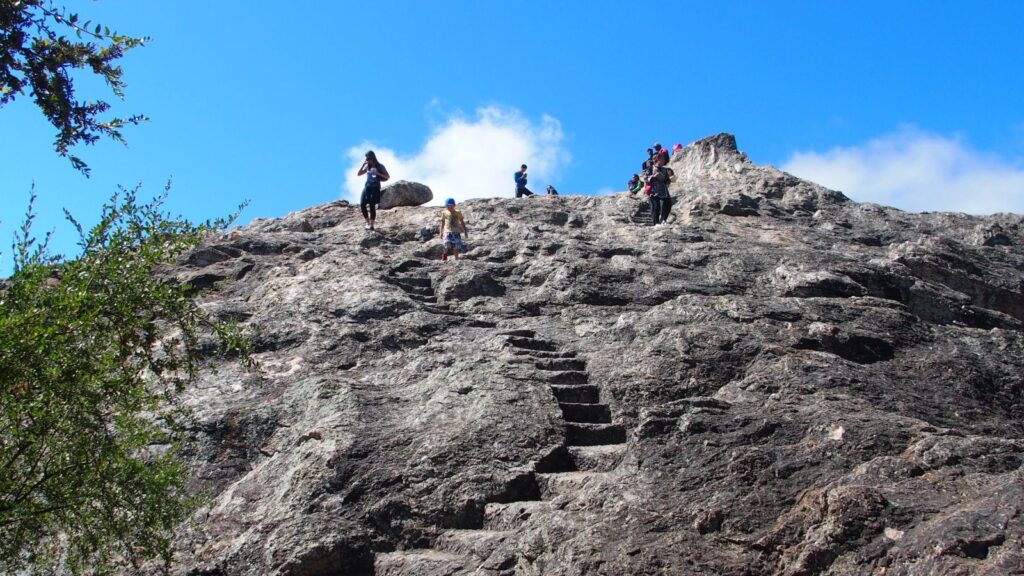 Fred wants you to go to the local landmark Indian Rock in Berkeley. He says "If you have a short attention span and love adventure, Indian Rock is the place to go." Berkeley has a number of rock parks that are popular for climbing, picnicking, and just as a place to enjoy Bay views. For the best view, Fred suggests taking "the stone staircase that leads to the top."
Lawrence Hall of Science
Bodhie invites you to imagine this with him: "3, 2, 1, blast off! Your small paper rocket fires toward the ceiling at the Lawrence Hall of Science!" This science museum on the hill is part of UC Berkeley, and is a place where science meets play. His favorite stops at the museum include "the real live animals you can see, 3-D movies, and sometimes read alouds." There's also a great view from the big area in front of the museum along with big whale and DNA sculptures kids can climb on. 
Cedar Rose Park
Drew loves Cedar Rose Park and thinks you will too. With two playgrounds (one for little kids and one for older kids), picnic areas, and a huge lawn for running around, it's a perfect place to spend a few hours. "If you like to run a lot, then Cedar Rose Park is for you." His favorites are the "tire swing and three slides." Cedar Rose Park is along the Ohlone Greenway walking and biking path, so it's a great stop as you follow the 4.5-miles trail.
Local Swimming Pools
Stella recommends the El Cerrito Swim Center in nearby El Cerrito, saying that it's nice because "the water is warm, but you can still cool off." She says the Albany Aquatic Center is another good option "if you want to get some exercise you can swim in the lanes and they have pool noodles!"
Berkeley Food Recommendations
Donuts
If you like donuts, promises Jude, "this suggestion will explode you." He says "the place that will make your mouth water the most is … Rainbow Donuts!" This favorite spot on San Pablo near University has "all the donuts you could possibly think of, and my personal favorite raised glazed, for days." So "let's get eating until our stomachs are stuffed."
Pizza
Local favorite Gioia Pizzeria has two locations: one in San Francisco and the original location on tree-lined Hopkins Street in Berkeley. Rohan is a big fan of the Berkeley location and promises that "your mouth will water when you see all the amazing flavors of Gioia, but there's also traditional flavors like cheese and pepperoni." Another kid (and adult) favorite is Benchmark Pizzeria. Here, "the crust is soft but crunching and just seeing the pizza makes you want to eat everything." At Benchmark, there's only one right way to end a meal: "The one thing you need to have is their awesome ice cream sundae." 
Indian Food
Eating at one of Berkeley's (or nearby Albany's) many great Indian restaurants is a must, says Lander. "A giant burst of happiness runs through your body and drool comes down your face, but you still want more, you keep devouring every single bite of it until it's gone." Lander suggests Delhi Diner on Solano, or Everest Kitchen (in Albany), which he says "has a nice calm setting with beautiful paintings." Vik's Chaat is another great spot, and has an attached grocery store attached. 
Sushi
Kieran asks, "Do you like tuna, salmon, eel, or squid? But even if you don't no need to worry because Asaka Sushi has every type of sushi." Another Kieran fave is Kirala: "I say where Kirala goes, sushi glows. When I go there I feel like it's raining the best seafood smells." Kirala often has a long line though, so go early or prepare to wait if you're eating at the restaurant. 
Berkeley Shopping Advice
Book Stores
Berkeley has some pretty great bookstores for kids. Elodie wants to tell you about "the one and only Mr. Mopps. Mr. Mopps has one billion books to choose from." And it doesn't stop there. "Not only is there a book store, there's more! A whole toy store!"  Elodie calls Pegasus Books (locations on Shattuck and Solano, plus another on College Avenue in Oakland) "another favorite of mine. They have tons of stuff, not just amazing books but also cool stuff like calendars to hang up and even a children's area."
Grocery Stores
Need to pick up some groceries? Adam has you covered. He suggests Sprouts on San Pablo, and says that eating food his family gets there "makes you feel like your tummy is dancing! It has every kind of food you can think of." He also likes that Whole Foods on Gilman has "more than food. It has gorgeous flowers that are perfect for dates." Thanks for the tip, Adam!
Things to Do in Oakland
Children's Fairyland
Children's Fairyland at Lake Merritt in Oakland is one of the nation's first amusement parks. Geared to younger kids, it offers 10 acres of rides, play structures, and more. Amran says it's a "fun areas for all shapes and sizes." Among her favorite things to do at Fairyland are the "animals that you can see, a puppet show, train rides, Ferris wheel, and the playground." Amran's favorite thing in Fairyland "is the merry go round. It's not fast and it's not slow." Which makes it just right.
FUN FOR ALL: 10 Kid-Friendly California Resorts That Cater to Families
Oakland Chinatown
Oakland's Chinatown is one of the country's oldest, having been settled in the 1850s. The current district spans the blocks between 6th and 12th streets and from Broadway to Fallon. Leo says "Oakland Chinatown is a busy fun place," and suggests starting with a boba tea at T4, a Taiwanese-inspired tea spot on Webster Street. He also likes Chinatown's parks including Lincoln Square Park. "The park has a field you can play on and obviously a playground. There's also a basketball area."
Oakland Zoo
Maxine wants to know if you can "hear the roar of the tiger? Or the joyful splash of playing otters? What is this magical place? It's the Oakland Zoo of course." She says "the giraffes, the pack rats, the otters, and the coyotes are so fun to see and everyone loves them (except your mom, who hates pack rats)." Maxine says "the coolest thing you can do it ride the FREE gondola up to the snack shop," (The upper area is also home to maybe-even-cooler-than-the-snack-shop the California Trail area.) Maxine also notes that "Sometimes in winter they have something called Glowfari." 
Things to do in San Francisco
Alcatraz
Caleb will now transport you to a visit to Alcatraz Island: "As you step off the ferry boat, the disgusting smell of seabirds wafts into your nose. You have arrived at Alcatraz: national park, seabird sanctuary, military fort, and federal punishment prison." What is there to see here? "If you like smashed toilets or dark jail cells, the cells are the place to see. But if old baseball fields and cannons are more your thing, the recreational yard or building 64 are good places to go."
Things to do Beyond the Bay Area
Bodega Dunes
If you're up for a trip to the coast, Leia thinks you should consider camping at Bodega Dunes in Bodega Bay. "Bodega Dunes' campsites are the absolute best because you can almost always access the sea after a quiet, soothing walk through a cement path, with sand dunes scattered about." The 99 campsites are affordably priced and have both hot showers and flush toilets. Leia says the big sandy beach is great, but so are the nearby beaches like Schoolhouse Beach that have tide pools. "I must inform you that almost all the beaches that have rocks have purple, red, and most commonly orange starfish." 
COASTAL GETAWAY: 10 Best Things to Do With Kids in Monterey
Point Reyes
Point Reyes National Seashore, about 30 miles northwest of San Francisco is a beautiful mix of beaches, rocky headlands, and rolling hills. Oliver says it's also a great day trip or vacation destination. "One of my favorite places to go on vacation is Point Reyes. It's a good place to go because there's a humongous pond to swim in and a creek." There are both small hotels and vacation rentals scattered around the communities near Point Reyes. Oliver says there's even a house you can rent that has "five bedrooms and a swing and a lot of secret paths with twists and turns and mysteries." 
More from FamilyVacationist: