2024 is set to be a big year for Disney theme parks with new attractions or lands opening at every resort.
Disney Cruise Line is ready for a landmark year with the debut of a new ship and a new private island destination.
Disney hotels will also get a big boost in 2024.
With new rides, restaurants, shows, and more all set to debut at Disney's theme parks in Orlando, Anaheim, and around the world, plus a brand new Disney Cruise Line ship and new guided tour options coming both Adventures by Disney and National Geographic Expeditions, it sure seems like 2024 is shaping up to be a monumental year for House of Mouse.
ULTIMATE GUIDE: Everything You Need to Know about Disney Genie and Genie+
If you're planning a Disney vacation in 2024, here's everything you need to know about what's coming (and what's opened the last few months of 2023) no matter which way your family wants to travel with Mickey.
What's Coming to Walt Disney World in 2024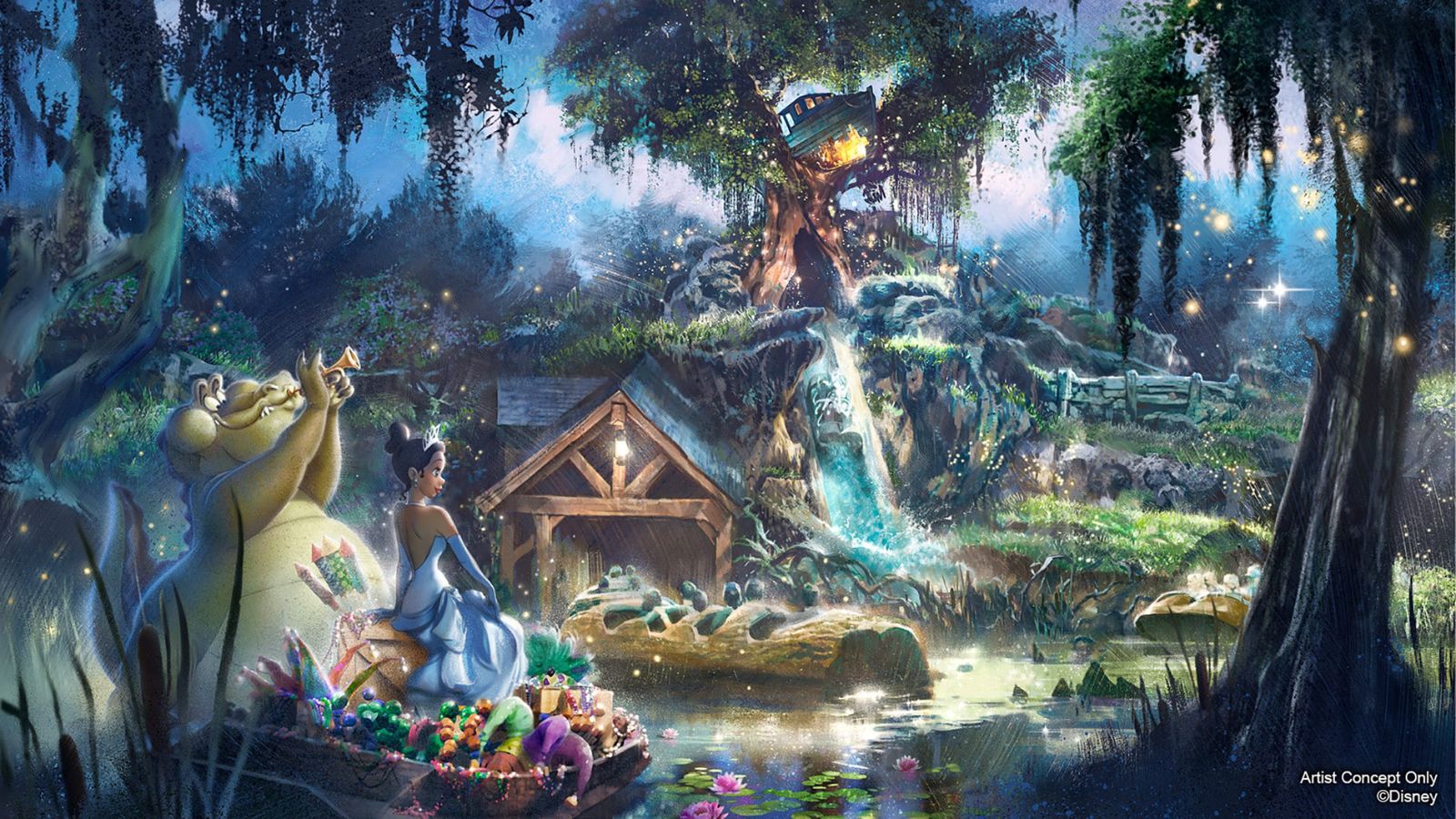 With four massive theme parks, two Disney water parks, more than two dozen Disney hotels in Orlando, and a lively dining and entertainment district, Walt Disney World is always a popular family vacation spot even when there aren't new attractions to buzz about. But in 2024, I'm looking forward to a number of new attractions, dining venues, and resorts that give me a reason to be even more excited than usual for a trip to "The Most Magical Place on Earth."
BRING EVERYONE TOGETHER: How to Plan a Multigenerational Disney World Vacation That Makes Everyone Happy
New Attractions at Magic Kingdom in 2024
When most people think about Walt Disney World, they instantly think about classic attractions and Cinderella Castle. In 2024, there's even more adventures to be had at Magic Kingdom.
1) Tiana's Bayou Adventure
One of the most highly anticipated attraction openings for 2024 at Walt Disney World is Tiana's Bayou Adventure, which replaces the now-shuttered Splash Mountain. The new Princess and the Frog-themed ride will still be a log flume like its former occupant, but now it take you into the bayou of Louisianna as you join Tiana, Naveen, Ray, and Louis on an adventure that takes place after the story of the beloved Disney animated movie. The attraction will feature new songs, too. I'm excited to go sliding down that big drop again, and see Tiana in her new outfit created just for the attraction.
2) Country Bear Musical Jamboree
At Destination D23 in September 2023, it was announced that the Country Bear Jamboree in Frontierland at Magic Kingdom would be getting a refresh. The new show will feature classic Disney songs from movies spanning the decades, all sung in various country music genres like bluegrass and rockabilly.
3) Hatbox Ghost Is Coming to The Haunted Mansion
Fans of Disneyland's Haunted Mansion attraction love the Hatbox Ghost, a ghoulish character that's seen just after the attic scene within the ride. Now the iconic ghost will make his way to the endless hallway of the Haunted Mansion at Magic Kingdom starting in November 2023.
4) Disney After Hours Is Returning
If you're a Disney fan who loves spending time inside the parks after the moon rises, you're in luck because Disney After Hours is returning. The party kicks off at Magic Kingdom on January 11, 2024, and will be available at Disney's Hollywood Studios and EPCOT on January 6 and February 2, respectively.
ROOM TO STRETCH OUT: These 11 Disney World Hotels Are Perfect for Families of 5+
One thing to know about After Hours at Magic Kingdom is that this will be your chance to see "Enchantment," the fireworks show that debuted at the park for Walt Disney World's 50th anniversary, again. I love going to Disney After Hours because the lines for attractions are short, I get to see characters quickly, and there's complimentary snacks included in the price of admission.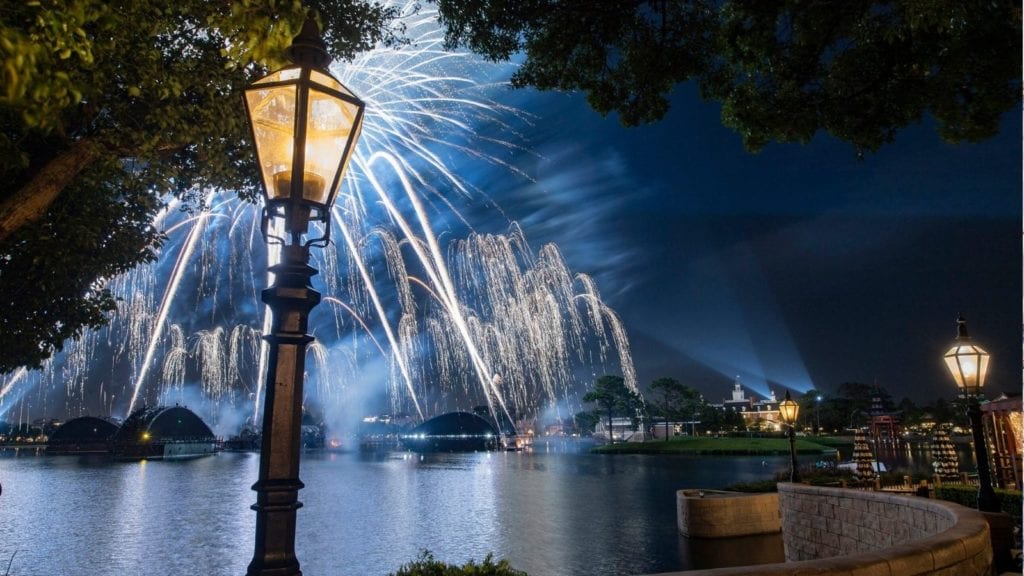 New Attractions at EPCOT in 2024
The massive transformation of EPCOT is almost complete, and in 2024 you'll finally be able to freely walk through World Celebration back to World Showcase again. Here's what you can look forward to.
1) Luminous The Symphony of Us
EPCOT's current fireworks, EPCOT Forever will end on December 4, 2023, and make way for Luminous The Symphony of Us starting December 5, 2023. The new nighttime spectacular will feature fireworks, fountains, music, and lights that are all set to a new soundtrack.
2) Festival Season Returns at EPCOT
One thing that continues to draw guests, including myself, to EPCOT is its year-round festivals. This year, there will be four festival seasons, each of which has its own distinct theme. January 12 through February 19, 2024, will be the EPCOT International Festival of the Arts. This is my favorite festival of the year, and worth taking a vacation to Walt Disney World to experience.
In the spring, EPCOT is in full bloom during the EPCOT International Flower and Garden Festival. Summer will bring EPCOT's iconic International Food and Wine Festival, which will run until the holidays, when the EPCOT International Festival of the Holidays starts. Dates for these three festivals have not been released yet.
3) Reopening of World Celebration
The center core of EPCOT has been closed for years as designers, Imagineers, and construction crews tore out and built up an all-new center plaza and walk-through for the park. Now World Celebration, one of three neighborhoods in EPCOT's former Future World concept, is set to be revealed.
FOODIE FUN: Why the Swan and Dolphin Food and Wine Classic Is the Ultimate Foodie Weekend at Walt Disney World
The new area of the park will encompass the already open Creations Shop and Connections Eatery, plus a new meet-and-greet area for Mickey Mouse and his pals, Dreamers Point where a new statue of Walt Disney can be seen, and CommuniCore Plaza and CommuniCore Hall which will be the base camp for all of the EPCOT festivals.
New Attractions at Disney's Hollywood Studios in 2024
Living out adventures from your favorite Disney movies is easy at Disney's Hollywood Studios. While the park doesn't have a huge list of new additions coming in 2024, there is one I am excited about: New adventures on Star Tours. Starting next year, Ahsoka will become part of the attraction at Disney's Hollywood Studios (as well as at Disneyland).
New Openings at Walt Disney World Resort Hotels in 2024
1) The Cake Bake Shop at Disney's BoardWalk
Opening where the shuttered ESPN Club was formerly located at Disney's BoardWalk will be a new whimsical bakery called The Cake Bake Shop. The eatery will be part bakery and part restaurant with brunch, lunch, dinner, and afternoon tea service. The bakery is a welcome addition to Disney's BoardWalk, which continues to get major upgrades. The Cake Bake Shop was originally announced for 2023, but the project was later pushed to 2024.
2) Disney's Polynesian Village Resort DVC Tower
If you've been to Walt Disney World in the back half of 2023, you've seen the speedy build-up of the new Disney Vacation Club tower at Disney's Polynesian Village Resort. The new tower sits on the edge of Seven Seas Lagoon, and some rooms will have spectacular views of Magic Kingdom. The building will also have new dining and recreation for guests to enjoy. The villas are currently set to open in late 2024.
3) DVC Villas Coming to Disney's Fort Wilderness
One of my favorite places to stay at Walt Disney World is the cabins at Disney's Fort Wilderness Resort. In 2024, the cabins are set to become a Disney Vacation Club resort with a new modern look and updated amenities. The proposed plans by Disney include swapping out the old cabins with 350 new DVC cabins.
New Openings at Disney Springs in 2024
Disney Springs always has something going on, and in late 2023 and early 2024, two new additions are going to make hungry guests very happy.
1) eet by Maneet Chauhan
Set to open before the end of 2023 is eet by Maneet Chauhan. The celebrity chef-backed restaurant will be in the location of the former Wolfgang Puck Express, and serve modern Indian dishes like a walking taco with spicy pork chili, a chicken tikka naan bread pizza, and a chopped salad topped with miniature samosas. This is one new restaurant I cannot wait to try.
2) Summer House on the Lake
Across Disney Springs, Summer House on the Lake is set to open late 2023 or early 2024. The restaurant will serve dishes inspired by the local ingredients in Florida, have a grab-and-go counter, plus a cookie bar.
What's Coming to Disneyland in 2024
The original Disney theme park in California will have a plethora of openings to celebrate in 2024, and with the recent opening of The Villas at the Disneyland Resort, there's no better time to go to Disneyland than right now.
New Attractions at Disneyland Park in 2024
Walt's original theme park is set to get some fun expansions in 2024. Be sure to plan your trip around the opening of Tiana's Bayou Adventure, which is expected to be one of the best additions to the 2024 lineup.
WHERE TO STAY: 9 Best Hotels Near Disneyland for Families on a Budget
1) The Adventureland Treehouse
The Adventureland Treehouse recently opened at Disneyland Park, so if you're heading to Walt Disney's original theme park in 2024, be sure to take time to see the updated attraction. The treehouse pays homage to the original treehouse that Walt built based on the movie The Swiss Family Robinson.
2) Tiana's Bayou Adventure
Just like at Walt Disney World, Disneyland's version of Splash Mountain is getting overhauled into Tiana's Bayou Adventure. The new attraction is set to open in 2024 and will be almost identical to its Orlando counterpart.
3) Haunted Mansion Is Expanding
One of the most popular attractions at Disneyland Park is the Haunted Mansion. In 2024, the grounds of the attraction will be expanding with a larger queue that enhances the story of the ride, plus you can shop in a new merchandise location just outside of the exit of the ride. Additionally, there will be a new elevator exit from the Haunted Mansion for those with disabilities.
4) Fantasmic! Returns
After being closed down due to a fire, the nighttime spectacular Fantasmic! is returning to Disneyland Park on May 24, 2024. You and your family can gather almost anywhere around the Rivers of America for a great view of the show. This is the one show that I can't miss when I visit Disneyland.
Festival Season at Disney California Adventure in 2024
With the opening of Avengers Campus and San Fransokyo Square in recent years, Disney California Adventure seems to be slowing down new additions, but there are still some returning fan favorites to experience in 2024.
Like EPCOT, Disney California Adventure hosts food festivals throughout the year. In 2024, the festival season kicks off with the Lunar New Year festival, which takes place in January and February. The festival celebrates all things Chinese, Korean, and Vietnamese culture through food and entertainment.
March and April bring the Disney California Adventure Food and Wine Festival to the park and feature some of the best bites of the year. Disney Festival of the Holidays will take place starting in November and run through the first part of January 2025, though specific dates have not been announced yet.
New Openings at Hotels at the Disneyland Resort in 2024
The Disneyland Resort recently opened The Villas at the Disneyland Hotel, and in 2024 it will host another hotel opening: Pixar Place Hotel. Starting January 30, 2024, Paradise Pier Hotel will officially become the Pixar Place Hotel. The newly remodeled hotel will have all-new resort room themes, a cute Finding Nemo-themed pool, a new dining option with Great Maple, and more. I can't wait to stay at this hotel, especially in one of the rooms that overlooks Pixar Pier at Disney California Adventure.
RunDisney returns to Disneyland in 2024
RunDisney races are returning to Disneyland in 2024 with the Disneyland Half Marathon Weekend and the new Disneyland Halloween Half Marathon Weekend in January and September, respectively. Each race weekend will feature distances from a 5K to half marathon, kids races, and yoga in the parks.
What's Coming to Disney Cruise Line in 2024
With five ships in its current fleet and three more on the way, Disney Cruise Line is gearing up for a major expansion of its family cruises in the next few years. In 2024, though, the cruise line has two big things to celebrate.
1) The Disney Treasure Sets Sail in 2024
The next ship to debut in the Disney Cruise Line fleet is the Disney Treasure, which will start sailing on December 21, 2024. The sister ship to the Disney Wish will feature new ways to have fun as a family, including a Coco-themed restaurant, a Moana stage show in the Walt Disney Theater, new stories on the AquaMouse, and the highly anticipated Haunted Mansion-themed bar. One area I personally can't wait to see on the ship is Skipper Society, which is a lounge themed after the iconic Disney attraction the Jungle Cruise.
DISNEY ADULTS: I've Been on 7 Disney Cruises, Here Are the Best Things for Adults to Do Onboard
2) Lookout Cay at Lighthouse Point
Disney Cruise Line fans are always happy to pull into port at Disney's private island, Castaway Cay. Well, starting June 8, 2024, your family can sail to Disney's second private island in the Bahamas, Disney Lookout Cay at Lighthouse Point. The new island destination will have a family beach and dining area, a small water play area, an adults-only beach and dining area, three bars, and a cultural pavilion that showcases the vibrant lifestyle of the Bahamas.
What's Coming to Adventures by Disney in 2024
With a sprinkle of Disney magic and the company's signature storytelling expertise, Adventures by Disney is Disney's take on family tours. The tour operator runs guided family travel adventures to all seven continents while engaging kids and parents alike on the history and culture of the destinations visited. In 2024, Adventures by Disney is adding three new tours to its lineup.
1) Adriatic Expedition Cruise
The first new adventure is an eight-day expedition cruise around the Mediterranean that starts in June 2024. The itinerary starts in Venice, Italy, where you'll board the luxurious PONANT Le Bougainville ship. Then you'll make stops in Croatia, Slovenia, and Montenegro. Highlights of the trip include visiting the Mali Ston oyster beds, exploring the Lipa Cave, and a Croatian wine tasting.
2) Colombia
If you have kids who can't get enough of the Disney animated movie Encanto, then you're going to want to book the new Colombia Adventures by Disney trip. The eight-day land-based trip will bring you right to the heart of the inspiration for Encanto, where you can learn to make arepas, visit a coffee farm, and hike the magnificent Cocora Valley.
3) Nova Scotia and Prince Edward Island
The last new trip for the 2024 season is Nova Scotia and Prince Edward Island, which is also eight days. Your family can enjoy a visit to the "Anne of Green Gables" Museum, learn about lobster fishing on a lobster boat, and even go sailing on a 130-foot schooner boat that was constructed in the 1930s.
What's Coming to National Geographic Expeditions in 2024
National Geographic Expeditions offers you the chance to get deeply immersed in a culture through education and hands-on activities. The group travel company, which is owned by Disney, has three new tours for 2024, plus new additions to its day outings.
1) Bhutan: Land of Mysticism and Mythology
If you've ever wanted to travel to Bhutan, the new 11-day trip with National Geographic Expeditions may be your best opportunity. The land-based trip will have you and your travel partners hiking to Bhutan's Taktsang Lhakhang, dining with community members and dignitaries at a special dinner, and taking in a private cultural dance performance. Your group will travel with a National Geographic expert who can share more about the land you are exploring throughout the trip.
2) Colombia: Connections to the Land and the Past
For travelers who don't want to sing "We Don't Talk About Bruno" every day while in Colombia, the National Geographic Expeditions Colombia: Connections to the Land and the Past trip is ideal. The nine-day land-based trip starts in Bogotá, where you will get a private tour of the Museo del Oro and its pre-Columbian gold relics. Other highlights of the tour include exploring a fourth-generation coffee farm and touring Tayrona National Park with a naturalist.
3) Estonia, Lithuania and Latvia: Enchanted Forests and Medieval Castles
NatGeo's third new trip for 2024 is Estonia, Lithuania and Latvia: Enchanted Forests and Medieval Castles. The land-based tour is 11 days, and on it you'll visit important landmarks in each of the three countries. Highlights of the expedition include a guided tour of the 14th-century Trakai castle, a tour of Riga Central Market (which is the biggest in Europe), and an exploration of the Gutmanas Cave.
4) National Geographic Day Tours
Another new offering from National Geographic is day tours, which will now be available as direct booking land tours (versus shoreside excursions booked through cruise companies as before). More than 30 new half-day and full-day tours are currently available in destinations like New York City, Paris, and Barcelona.
National Geographic Day Tours are operated by tour company TUI and led by National Geographic-trained guides. I can't wait to take a day tour next time I'm on a trip with some extra time, or on a family vacation where we want to do a unique activity or exclusive tour together.
More from FamilyVacationist: