I've been on seven Disney cruises and have sailed on all five Disney cruise ships.
You might be surprised to learn there are a ton of adults-only spaces and activities onboard and during shore excursions.
I've discovered that even adults traveling without kids can have a great time on a Disney cruise.
Disney Cruise Line vacations are one of my favorite ways to travel. I've been on seven sailings with Disney and have been lucky enough to cruise on all five ships in the Disney Cruise Line fleet. Even though Disney is known for its family-friendly cruises where kids are allowed to be almost anywhere, there are some secluded spots on Disney's cruise ships where children are strictly not allowed.
If you're sailing with kids, the line's kids club (called the Oceaneer Club) is available on every ship in the fleet and is a fun place for them to hang out under supervision while you enjoy an adults-only experience. But with so many adult-centric spaces and activities onboard and on land, you may want to consider booking a Disney Cruise without kids too. Here are my favorite things to do and places to be on a Disney Cruise for adults.
Indulge in a Spa Day at Senses Spa and Salon
The spa is a quiet oasis on every Disney cruise ship where you can truly sit back and relax without a care in the world. DCL's Senses Spa and Salon offers everything from couples massages to facials and body wraps.
LOVE BOATS: 7 Best Cruise Lines for Couples (and Their Most Romantic Voyages)
One of my favorite hidden gems of the spa is the Rainforest Room. This area is available in every Senses Spa fleet-wide and you can book a pass for the day or for the length of your cruise. I always book a length-of-cruise pass because it allows me to come and go from the spa at my leisure, and I've found that I go for at least an hour every day of the sailing, even on port days. Passes do fill up quickly, so try to get to the spa the moment you get onto the ship to ensure you get the pass that you want.
The Rainforest Room features a series of showers that have different water pressure, temperature, and lighting effects, plus sound and smell to give you the sense of being in an actual rainforest. There are also saunas and heated tile loungers. On the Disney Magic and Disney Wonder, the Rainforest Room is fully enclosed with no view of the ocean. On the Disney Dream and Disney Fantasy, the space has a wall of windows that look out to the ocean near the heated loungers, plus two dipping pools. If you're sailing on the Disney Wish, the Rainforest Room also has a private outdoor space with hot tubs, swings, and loungers—and an ice room so you can feel like Elsa singing "Let It Go."
Dining Experiences on Disney Cruises for Adults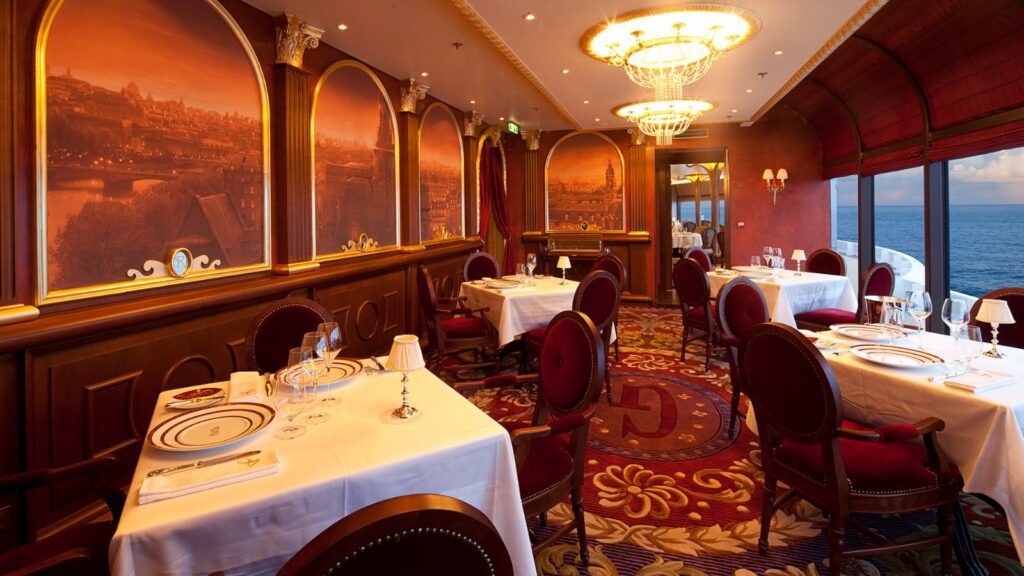 If you're 18 or older and looking to get away from the main dining rooms for a date night or other special occasion, you can make a reservation at one of the four adult-exclusive dining options on your Disney Cruise ship.
Palo
On the Disney Magic, Disney Wonder, Disney Dream, and Disney Fantasy, Palo is an adults-only restaurant specializing in Northern Italian dishes. Dinner at Palo is a treat for pasta lovers, with dishes like potato gnocchi, penne arrabbiata, and butternut agnolotti.
NO KIDS ALLOWED: What You Need to Know Before Setting Sail on Virgin Voyages's Adults-Only Cruises
My favorite meal at Palo is brunch, which is an impressive a la carte menu, but you can order as much as you want from the menu. Highlights of the meal for me include the wood-fired pizzas, house-made lasagna and chicken parmesan, and the wide range of desserts. Brunch is typically only served on sea days on the ships, so be sure to plan accordingly. You can book brunch through the Disney Cruise Line app before your sailing, or head straight to the restaurant when you get onto the ship to see if there's any availability.
Remy
Remy is the second adults-only dining option on the Disney Dream and Disney Fantasy. The French restaurant is inspired by the movie Ratatouille and features a menu created by Lallement of Enchanté and Chef Scott Hunnel from Walt Disney World's Victoria and Albert's restaurant. After dining here on a recent cruise, I can say that Remy is worth the cost.
SET SAIL: 7 Best Disney Cruises for Families in 2024
Dinner starts out with a complimentary champagne cocktail called "Collette" after the female chef in Ratatouille. The restaurant has a seasonally rotating menu with ingredients from around the world, so adventurous eaters will be delighted to sample things they may not have tried before. Remy also offers a five-course dessert experience and a champagne brunch on sailings that are four nights or longer. 
On the Disney Wish
If you're sailing on the Disney Wish, you have the option of booking Enchanté by Chef Arnaud Lallement, which is inspired by the Disney animated movie Beauty and the Beast. The French-inspired menu is a feast for the senses. If you can't get in for dinner, you can also try booking the Champagne brunch (which is a prix fixe meal) or a five-course dessert menu.
Alternatively on the Disney Wish, you can try Palo Steakhouse, which is a new take on Disney's signature adults-only Italian Restaurant Palo. Inside the steakhouse, you can choose from incredible Italian dishes and prime cuts of steak, including Japanese Miyazaki beef. Palo Steakhouse also offers a decadent brunch menu.
Some of the family-friendly rotational dining restaurants on the Disney Wish are perfectly suited to adult sensibilities as well. The dining room in 1923 serves up sensational California-inspired dishes in an elegant atmosphere, for example, and Worlds of Marvel is huge fun for super hero fans of all ages.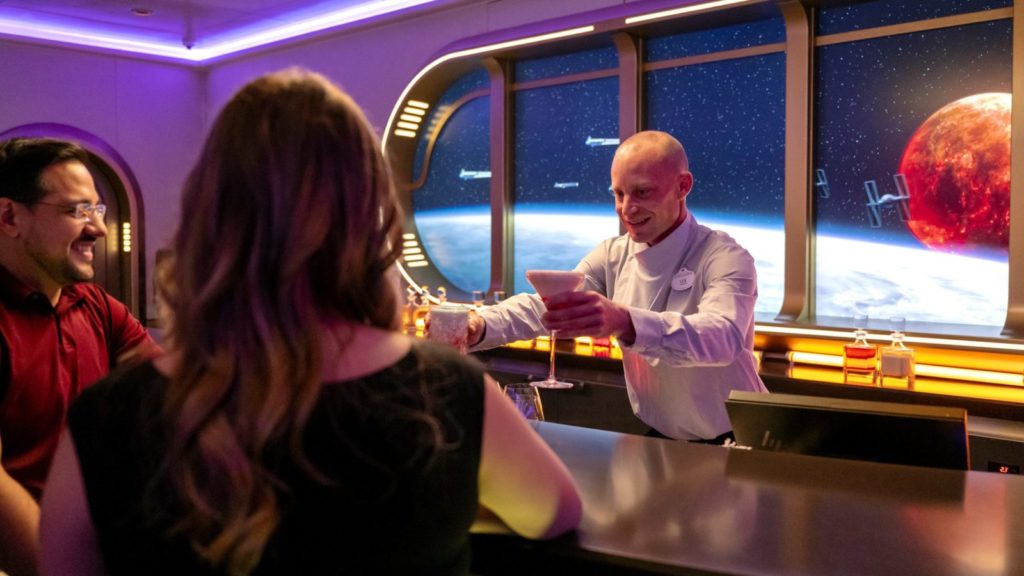 Bar Hopping During the Day or at Night
Craft cocktail fans, be sure to take time to try out all of the bars on Disney Cruise Line. Each one has a fun theme, and even though during the day they are used for family activities, after dark each space is adults-only. Each ship also hosts a variety of daytime cocktail classes that you can book, which is a great way to try a few drinks and learn a bit about bartending.
Disney Magic Bars
One of the newest spaces on the Disney Magic is Soul Cat Lounge, which is themed after the New York City jazz club from the Disney movie Soul. Inside, live music plays and there's a small dance floor for those who want to feel the rhythm. The bar is known for its city-inspired cocktails like Manhattans and martinis.
EVERYTHING'S INCLUDED: 7 Best All-Inclusive Cruise Lines in the World
Other bars on the Disney Magic include Fathoms, which is where you'll find all of the adults-only games and activities at night; Keys, which is the piano bar; and O'Gills Pub, where sports play during the day and beer and Irish whisky is served late into the night.
Disney Wonder Bars
If you're sailing on the Disney Wonder then you're privy to four adult-exclusive bars once the sun goes down. The French Quarter Lounge is themed after The Princess and The Frog and has a fun Mardi Gras vibe. The Crown and Fin Pub is where you should go for live sports and live music. For drinks with a show, head to the Cadillac Lounge, where you can sip on cocktails while singing along to iconic songs played by a live pianist. Azure is where most of the fun takes place each night with game shows and dancing into the wee hours of the morning.
Disney Dream Bars
The Disney Dream is my favorite and probably the best Disney cruise ship for adults (in my opinion) because its overall feel is perfect for me and my family. The ship has an entire adults-only bar area called The District, where there are five lounges and nightclubs: Pub 687, District Lounge, Evolution, Pink: Wine and Champagne Bar, and Skyline. Of these bars, Skyline is my top pick because every few minutes the large "window" shows off a new destination city like New York, Hong Kong, and London.
BEFORE YOU BOOK: Everything You Need to Know about Disney's Cruise Ships
If I really want to get away from everything, I head up to Meridian, the adults-only bar between Remy and Palo. Here, craft cocktails are expertly mixed, and a great view of the ocean wake is always on deck. There are also two outdoor patios on either side of the bar where you can enjoy your drink in complete peace.
Disney Fantasy Bars
Similar to the Disney Dream, Disney Fantasy has an enclosed adults-only district where multiple bars and lounges can be found. During the day, this space is used for family-friendly trivia and games, but at night crew checks to be sure there are no kids running around. The Disney Fantasy also features Meridian, so be sure to check it out between Palo and Remy.
Disney Wish Bars
The Disney Wish doesn't have all of its adults-only bars clustered together like the other four Disney Cruise Line ships, but that doesn't mean it's any less fun to bar-hop. Keg and Compass is the sports bar onboard and The Bayou is known for its live music. And Star Wars fans are going to want to get reservations for Star Wars: Hyperspace Lounge, where intergalactic drinks and otherworldly oddities are found. My favorite bar on the Disney Wish is Nightingale's, which is themed after Cinderella, hosts nightly piano sing-a-longs, and has drinks to please just about everyone in your family.
HIDDEN GEMS: 6 Things You Didn't Know You Could Do on a Disney Cruise
Pools on Disney Cruises for Adults
Each of the Disney cruise ships has an adults-only pool area. On the Disney Wish, the adults-only area features the cruise line's first infinity pool. On the Disney Dream and Fantasy, the Quiet Cove Pool is a large pool with a swim-up bar and a whirlpool spa; there's also separate wading pool where adults can enjoy the water, sunshine, and sounds of the ocean going by on deck 13. If you're sailing on the Disney Magic or Disney Wonder, the Quiet Cove Pool has a large pool plus two whirlpool spas.
Adults-Only Port Adventures
You're in luck if you plan on getting off of the cruise ship at any of its ports of call because there are some adults-only port adventures (what Disney calls excursions) to try. For example, in Antigua you can take a three-and-a-half-hour tour of the island where you'll see local villages and the only working Georgian dockyard in the world, which is a UNESCO World Heritage Site. In Alaska, you can take a ride through Victoria, British Columbia, to see the Empress Hotel, Antique Row, and more, plus enjoy afternoon tea at the Empress Hotel.
Serenity Bay at Castaway Cay
If your cruise includes a stop at Disney's private island, Castaway Cay, you can take the tram over to Serenity Bay. This adults-only beach has everything for a perfect beach day, from chairs and umbrellas to hammocks and a bar. Serenity Bay is also home to its own BBQ lunch spot, so you don't have to walk to Cookies (on the kid-friendly side of the island) to have a meal.
More from FamilyVacationist: