Happy kids make happy parents, and packing one of the best baby carriers could be your ticket to a more fun, comfortable, and easygoing time for all when you travel. From historic cities with bumpy cobblestone streets to beaches and mountain trails, there are some situations in which even a good travel stroller won't cut it—unless you want to feel like you're trekking your family along the Oregon Trail.
How to Choose the Best Baby Carrier for Travel
When choosing a baby carrier, you'll want to consider your child's age, preferences, and needs as well as the activities you'll be doing. Luckily, today's baby carrier options are versatile and plentiful, and include traditional baby carriers, baby slings (typically a piece of fabric you tie around your body with a ring), baby wraps (a piece of fabric you tie around your body without a ring or any additional feature), and even hybrid baby carrier wraps. You can find flexible fits that adapt as babies grow; offer front-, back- and even hip-carrying positions; are made with breathable and cozy yet durable materials; and don't require infant inserts.
And since traveling with little ones is slightly more unpredictable, I recommend having a baby carrier in addition to bringing or renting a stroller. As a new mom and a traveler myself, I've tested a variety of baby carriers under actual vacation conditions. Here are my picks for the best baby carriers for travel.
TRAVEL WITH A BABY: 10 Baby-Friendly Vacations That Everyone in the Family Can Enjoy
1. LILLEBaby SeatMe All Seasons Hip Seat Carrier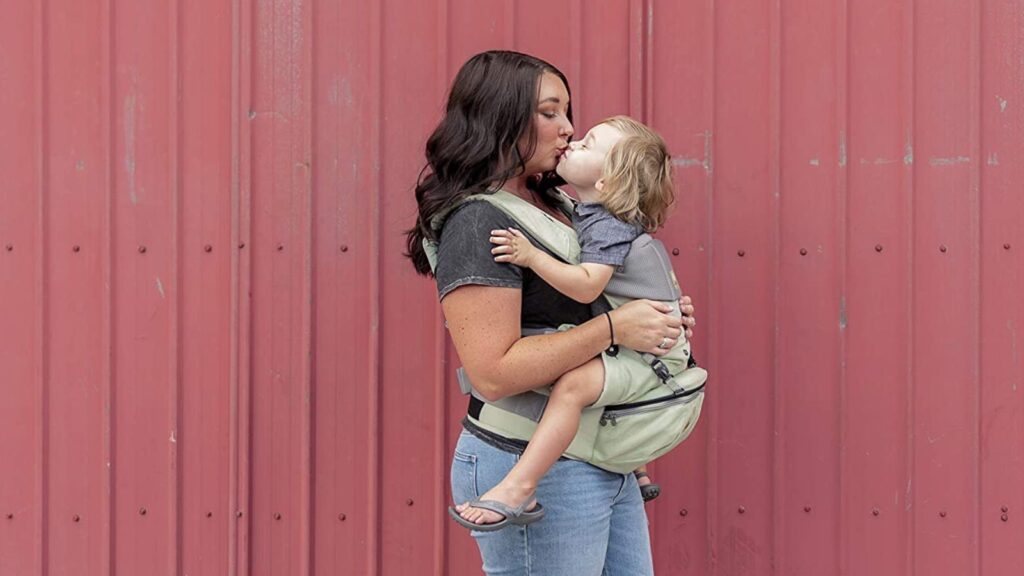 A long-favored brand among baby-wearing parents, LILLEBaby has upped the ante on its All Seasons hip seat carrier for little ones who need more support. A padded seat gives babies a boost and added sense of security—all while being able to grow as they do thanks to widening capabilities that ensure those squeezable little thighs don't get constricted (also a favorite feature on the brand's Complete All Seasons model).
TODDLER TIME: 10 Toddler-Friendly Vacations That Are Just as Much Fun for Parents
As you enter the adventurous toddler stage, you can remove the hip seat and sport it as a "portable baby seat-fanny pack" (a phrase we've coined ourselves) for swifter on-the-go pick-ups. Parents will also enjoy the carrier's soft fabric, weight-distributing straps, comfortable lumbar support, and convenient seat pocket. Whether you choose to use the whole baby carrier or the hip seat on its own, you'll appreciate its compact foldability despite its apparent bulkiness, for easy packing.
2. Ergobaby Aerloom
One of the lightest carriers on the market puts comfort at the forefront with a buttery soft, innovative fabric designed to fit you and your baby like a glove. The Aerloom by Ergobaby, a globally loved and trusted brand, stretches to hug the contours of your body for a custom fit that makes it easy to maneuver in any position while traveling.
ULTIMATE GUIDE: The Complete Baby Packing List: What to Pack for Babies When You Travel
While this carrier lacks frills like multiple storage pouches and zipper-expandable seats, you will enjoy structured lumbar support, breathable mesh panels for increased airflow, the ability to wear your little one in various positions, and a palette of adorable hues. Parents and caretakers also will feel better about their carbon footprint, as 87 percent of the Areloom's fabric is made of recycled plastic bottles.
3. Deuter Kid Comfort
For parents who like to explore off the beaten path (literally), Deuter's Kid Comfort is a must-have. Every detail of this baby backpack carrier is equipped to provide the utmost comfort during long hikes while keeping both kiddos and parents cool and safely secured.
GO FOR A RIDE: 8 Best Baby Bike Seats and Trailers
Trail-friendly features of this baby backpack carrier include an intuitively designed harness system; an energy efficient hip belt that supports load distribution; a height-adjustable seat, foot rests and chin pad; a fold-out sun shade; and ventilation system. Combine that with ample storage and an easily foldable frame for transportation, and you're ready for the ultimate adventure.
4. Buibee Water Sling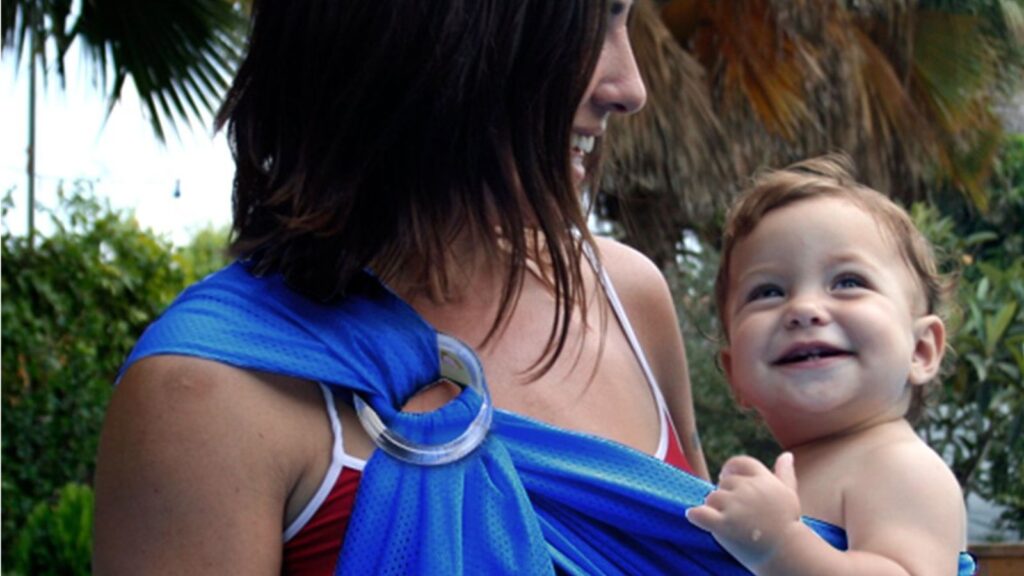 Beach trips with babies make for wonderful memories, but they can also be chaotic and exhausting for the parents—especially if you have more than one kid in tow. One way to ensure smooth sailing is with the Buibee Water Sling.
BEACH TENTS: 5 Breezy Beach Tents That Are Easy to Set Up and Take Down
This quick-drying, lightweight, polyester mesh sling allows parents to bond with their youngsters by the water hands-free. Other perks include an easy-to-use design that makes nursing a breeze, a flexible fit suitable for most adults, and a portable bag that's easy to pack.
5. BabyBjorn Baby Carrier Free
Not all high-quality baby carriers come with a slew of bells and whistles. The allure of BabyBjorn's Baby Carrier Free is its straightforward, minimalist design—one that does not sacrifice comfort, support, or durability.
CRIB COMFORT: 11 Best Crib Mattresses for Babies and Toddlers
A two-part assembly system makes this carrier easy to put on and take off, and wearers also benefit from built-in back support and a waist belt. Most importantly, adjustable head support, leg positioning and breathable 3D mesh create a soothing cocoon for sightseeing babies.
6. Boba Baby Wrap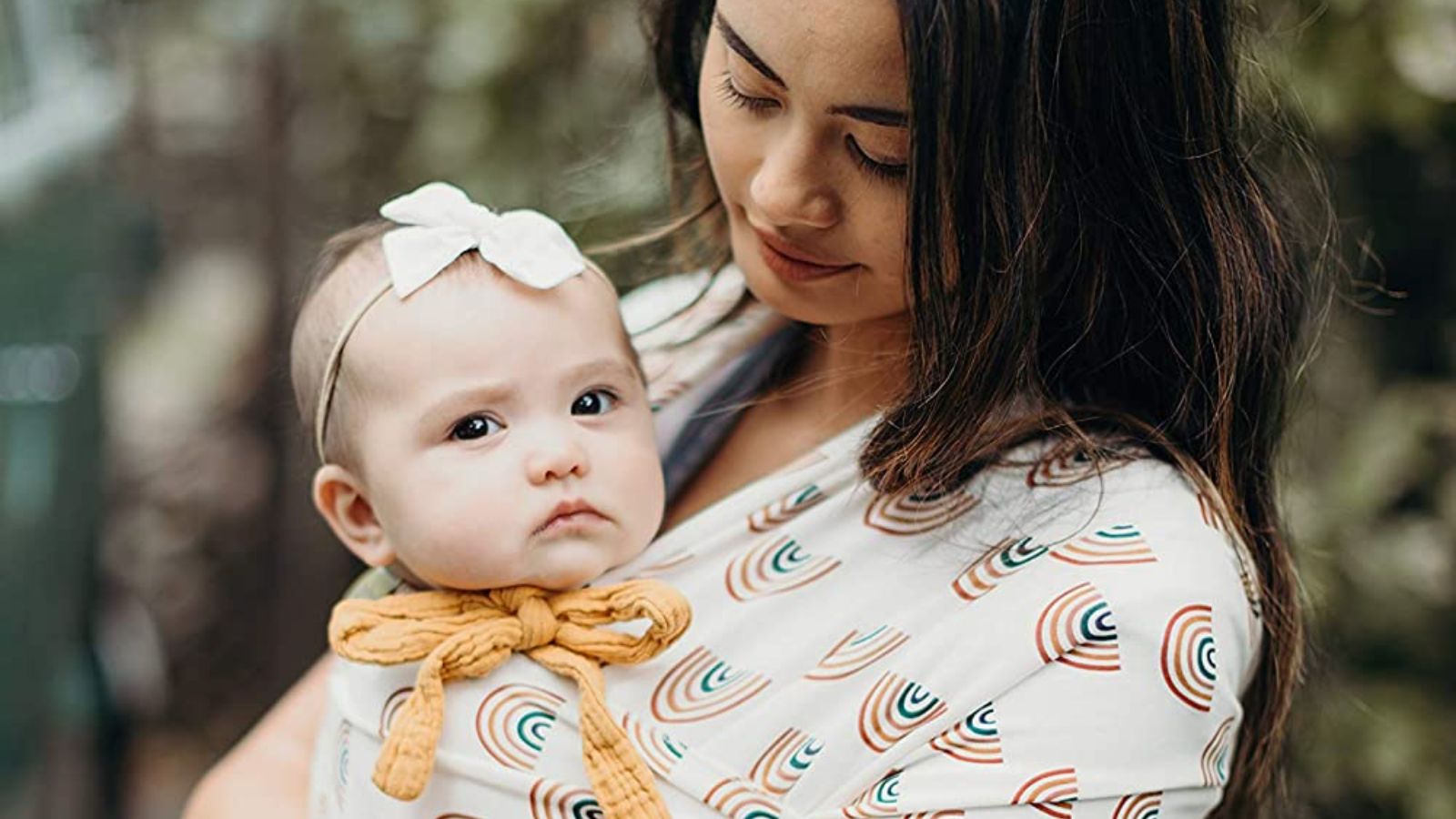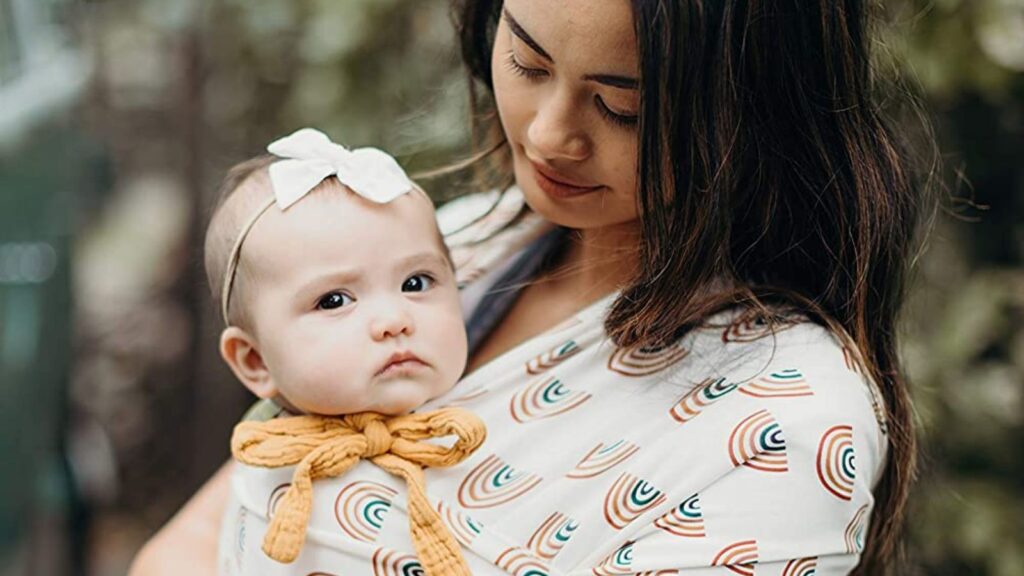 If day trips to the city and trailblazing aren't on your itinerary, but you still want a hands-free experience, the Boba Baby Wrap might be your new favorite travel accessory. A plethora of colors and patterns means you're sure to find a baby carrier wrap that fits your style.
PACK LIKE A PRO: 7 Best Packing Cubes for Traveling Families
The big wins with this carrier, however, are its efficient seat design providing weight distribution, unique blend of materials for a soft and supple feel, no-guess tying method, and "hip healthy" certification from the International Hip Dysplasia Institute. The Boba wrap is intended for babies up to 35 pounds.
7. MiaMily Hipster Air
The only baby carrier on this list specifically designed for traveling light, MiaMily's Hipster Air is an inflatable carrier that the Swiss brand proclaims is as small as a makeup bag. How it works: You inflate the hip seat via a built-in hand pump that allows you to control the level of firmness to you and your baby's comfort level. The process of inflating and deflating is quick and easy, and the carrier's built-in travel bag makes it a breeze to transport.
TRAVEL CRIBS: The Best Travel Cribs to Bring on Vacation
Although purchasing a separate infant insert is required for newborns to four-month-olds, parents can feel good about tout-worthy features like the carrier's 100-percent recycled plastic that's still soft to the touch, adjustable head support and leg padding for baby, and two handy side pockets.
More from FamilyVacationist: