Leggings just might be the ultimate piece of travel apparel. They're an oh-so-comfy choice for long flights, road trips, and sightseeing. They're great for hiking, running, and other active pursuits during a vacation. Leggings hardly take up any room in a suitcase and, depending on the pair, you can dress them up or down.
Leggings with Pockets That Are Perfect for Travel
The best leggings for travel are super stretchy, come in versatile color combos and prints, and have pockets for storing your keys, credit cards, or phone. Here are the top travel-ready women's leggings based on user reviews and ratings.
DOUBLE DUTY: The Best Multipurpose Clothing for Travel
1. LifeSky High Waisted Tummy Control Leggings
The super-stretchy LifeSky leggings are made with a breathable combination of polyester and spandex that moves with you and isn't see-through. The wide elastic waistband provides extra support in the midsection, and two side pockets plus a hidden waistband compartment offer storage options for essential items.
These women's leggings have more than 1,700 five-star ratings on Amazon, with buyers praising their fit, price, and durability. One reviewer calls them "my absolute favorite stretchy athletic pants," while another says, "I would definitely recommend these, especially for the price!"
Where to Buy: Amazon
2. Athleta Rainier Tight
Athleta's Rainer Tight is a popular cold weather leggings option that comes in a range of solid colors plus several print options. Two zippered pockets can stash keys or a credit card, while a back drop-in pocket is ideal for holding your cell phone. The warm leggings are made from recycled nylon/Lycra that's breathable, quick-drying, and sweat-wicking.
PACK LIKE A PRO: The Best Packing Cubes for Travelers
Shoppers have given the Athleta Rainier Tight more than 2,400 five-star ratings and call them "soft and warm" and "great leggings for hiking." One reviewer says, "The fabric has a nice feel, is soft to the touch, and hugs the body well," while another notes, "Once you wear these tights, you'll never want to wear anything else."
Where to Buy: Athleta
3. Fengbay 2 Pack High Waist Yoga Pants
Double your leggings pleasure with this two pack of high-waisted, moisture-wicking leggings from Fengbay available in versatile color combos like black and dark gray or black and navy. The soft fabric has good stretch and isn't see-through. There's also a hidden internal pocket in the wide waistband, plus an outside pocket for stashing your phone or sunglasses.
More than 25,000 shoppers have given these high-waist leggings five stars, calling them "soft," "comfy," and "great for traveling." One reviewer says, "I literally wear them daily," while another says, "These are the best leggings I have ever had."
Where to Buy: Amazon
4. Carhartt Women's Force Lightweight Legging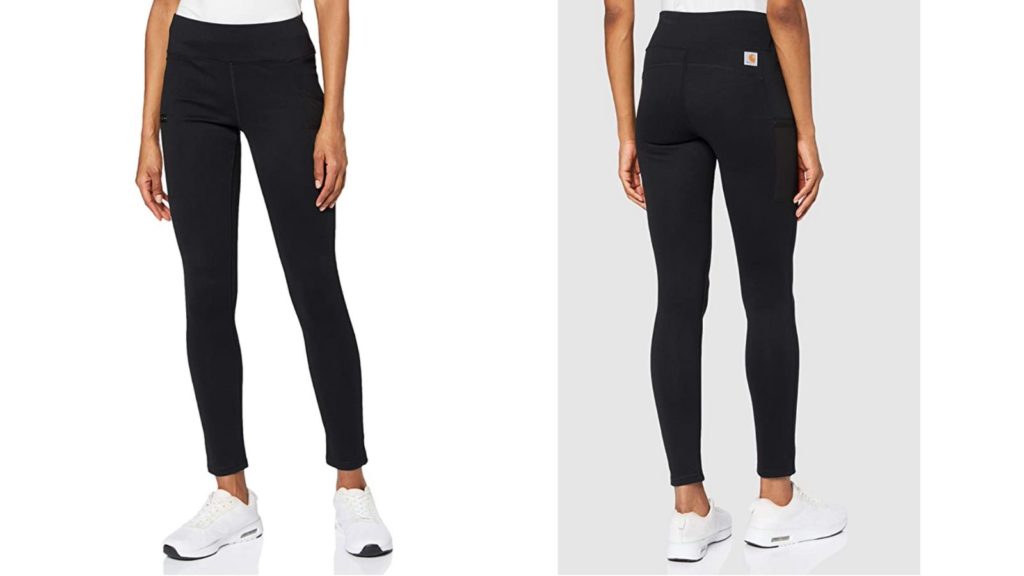 These hard-working women's leggings from Carhartt offer durability, flexibility, and ease of movement. The stretch-knit fabric is fast-drying and odor-fighting, and the leggings come in a range of sizes, including tall and plus-size. There's a utility pocket and zippered pocket, and a wide stretch waistband help the leggings fit comfortably without gaps.
BACKYARD MAGIC: The Best Outdoor Movie Screens and DIY Tips
Shoppers have given the leggings more than 1,500 five-star ratings on Amazon, citing their both comfort and looks. One reviewer calls them the "best leggings out there." Another classifies them as a "great functional legging."
Where to Buy: Amazon
5. Lululemon Align High-Rise Pant
Made with Lululemon's breathable, super soft, four-way stretch Nulu fabric, the Lululemon Align High-Rise Pant are sweat-wicking leggings that come in a variety of options, including full length, cropped, and a length that hits above the ankle. A hidden waistband pocket is just the right size for a credit card, hotel key, or cash.
Shoppers have given these travel-ready leggings thousands of five-star ratings, calling them "insanely soft" and "perfect for lounging, travel, and yoga." One reviewer says, "They are the best pair of leggings I have ever put on," while another says, "The softness, comfort, and performance never fail!"
Where to Buy: Lululemon
6. The Gym People Thick High Waist Yoga Pants with Pockets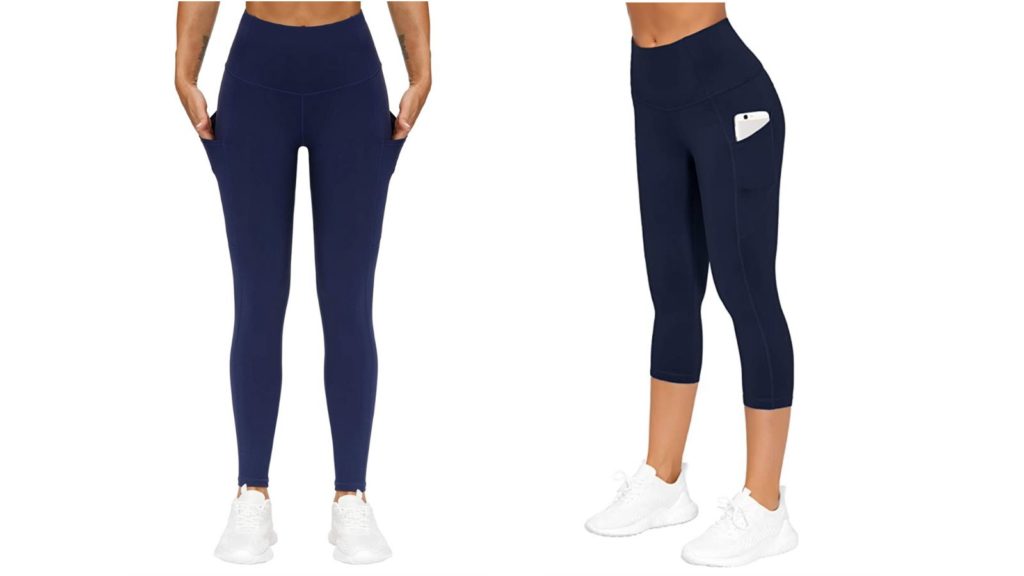 Available in dozens of colors and prints, these high-waisted leggings from The Gym People offer coverage, control, and comfort for travel days or workouts. Made of fabric that checks all the boxes—soft, breathable, and sweat-wicking—the leggings stretch well and have two side pockets plus a hidden waistband pocket for stashing needed gear.
PACKING TIPS: The Best Luggage Brands for All Types of Travelers
With more than 23,000 five-star ratings on Amazon, shoppers praise the leggings' quality, softness, and fit. Reviewers say they "feel like butter," "are comfortable and flattering," and "are hands down the best Amazon legging (if not anywhere leggings) I have ever found."
Where to Buy: Amazon
7. Columbia Women's Windgates II Leggings
The Windgates II Leggings from the trusty outdoor brand Columbia incorporate both the company's sun-protection and moisture-wicking technologies into the stretchy polyester-elastane fabric, making them a good leggings choice for hotter temperatures and sunny climates. Multiple pockets help you corral your stuff on the go.
Buyers call them "super comfortable" and "perfect for hiking and just running around town." One reviewer notes that "the quality of the material is substantial," while another says, "These are my favorite pants!"
Where to Buy: Columbia
8. The Leggings Depot Women's High Waisted Reflective Yoga Pants with Pockets
Available in a rainbow of colors and different length options, these women's leggings from Leggings Depot feature a compression waistband, moisture-wicking fabric, and a reflective strip at the bottom for extra safety in the dark. Side and interior pockets help keep essentials safe and secure.
ON-THE-GO STYLE: 6 Standout Travel Bags from Vera Bradley
These perfect-for-travel leggings have gotten thousands of five-star ratings on Amazon, with reviewers calling them "soft and comfy," "perfect to wear casually around the house or with a pair of boots," and "the most comfortable leggings I've ever had." One reviewer says they're "great for traveling," while another says they "fit like a dream!"
Where to Buy: Amazon
9. Eddie Bauer Crossover Winter Trail Adventure High-Rise Leggings
Ideal for winters trips, these Eddie Bauer cold-weather leggings feature a brushed fleece fabric for warmth that still includes moisture-wicking, sun-protection, and odor-control technologies. The high waistband includes a drawcord adjustment for a better fit, and there are two drop-in cargo pockets plus one zippered pocket.
Buyers call them "stylish," "spectacularly comfortable," and "exceptionally well made." One reviewer says the winter-weather leggings are "very warm and great for day-to-day errands and activities," while another says, "These will be getting a lot of wear!"
Where to Buy: Eddie Bauer
10. Lands' End Women's Active High Rise Compression Slimming Pocket Leggings
There's a lot to like about these active leggings from Lands' End, such as a polyester/spandex fabric that's moisture-wicking and features odor control and sun protection performance finishes. The wide waistband lies flat and offers compression mesh on the inside to keep everything in place, and pockets that can hold a credit card, keys, or cellphone.
The leggings have numerous five-star ratings for their fit, comfort, and style, with buyers calling them "my favorite leggings of all time" and "thick, soft, flattering, and sooo comfortable!" One reviewer says, "I can't stop singing the praises of these leggings," while another notes that "the fabric has enough compression to hold you in but is still soft and very comfortable to wear."
Where to Buy: Lands' End
More from FamilyVacationist: