When I was planning a family vacation to Oahu, I debated whether renting a Waikiki beach chair for myself would be worth it or just a silly expense.
It was difficult to find reliable information online about what it would be like to rent a beach chair and if it was worth the cost.
After making the decision to go for it, these are the pros and cons of the experience and why it ended up being the right choice for me despite the price.
Before I went to Waikiki for the first time, I debated whether or not to reserve two beach chairs through the resort for the day. I was staying at the Royal Hawaiian, but a number of hotels along the beach offer beach chairs you can book, and the information I could find online was frustratingly limited. That made it difficult to know of it was a good idea or a frivolous expense.
In the end, I went for it and was happy with the outcome. Still, there's quite a bit about renting a Waikiki beach chair I wish I'd known beforehand. Here's a breakdown of what I learned from my experience and what you should consider if you're also trying to decide whether to rent a beach chair on Waikiki Beach.
ALL-IN-ONE SAVINGS: 6 Best (Nearly) All-Inclusive Hawaii Resorts for Families
The Pros of Renting a Beach Chair on Waikiki Beach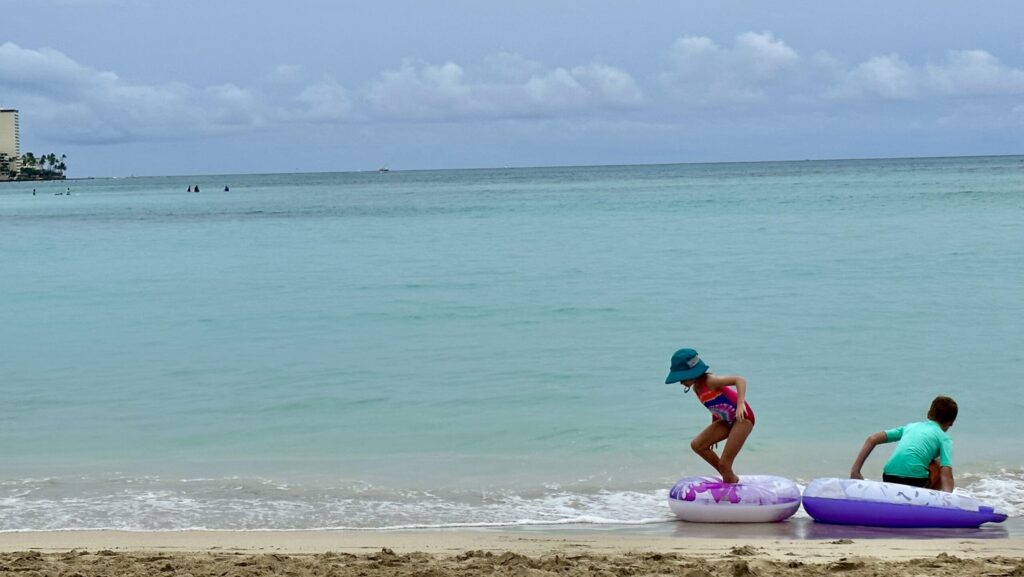 Some of the benefits of renting a beach chair were obvious from the outset, but others I didn't really realize until I was on the beach. When you book a spot on Waikiki Beach, you generally get a chaise lounge and an umbrella, and depending which hotel you're at you also might get food and drink service and towels.
BEST TRIP EVER: 50 Best Family Vacation Ideas for All Ages
If it's not already full, you can often choose your spot: closer to the hotel at the top of the beach or closer to the water. The areas are cordoned off, so even if the rest of the beach is crowded (which it often is), you have enough space for the beach chair plus room for kids to dig in the sand.
Another big benefit was that I could also come and go, since the reservation was for the whole day. So when my family got tired of beach time, we went and did other things and then came back to our reserved spot on Waikiki Beach in the late afternoon when it was a little quieter.
The Cons of Renting a Beach Chair on Waikiki Beach
The only con I came up with was the fact that it would mean paying for something that I could do a similar version of on my own for free. But doing it on my own would mean heading to a beach shop and buying an umbrella (at the very least) and probably a beach chair, too. Since this is Waikiki, buying a beach chair would be pricey. And what would I do with it when it was time to fly home?
Renting Waikiki Beach Chairs: My Verdict
Would I would rent a beach chair on Waikiki Beach again? Absolutely. With the big umbrella, I was able to sit comfortably for hours and ended the day without a sunburn. I also was able to show up for my kids in a much less grumpy way than I usually do after sitting on a beach for many hours.
TAKE FLIGHT: 17 Best Flight Booking Sites for Cheap Airfares
It was one of those times when paying a little extra allowed both my kids and I to have exactly the family beach vacation experience we each wanted. They got hours and hours of sandcastle engineering punctuated by playing in the water and occasionally hanging out with me to rehydrate and snack, and I got to be close enough to keep them safe but also able to relax, enjoy the scenery, and drink tropical smoothies.
How To Rent a Beach Chair on Waikiki Beach
If you're staying at a beach resort, check with them first to see about prices and availability for beach chairs. When I rented beach chairs at the Royal Hawaiian, it was around $70 for the day for the setup of two chaise lounges and an umbrella. (The same company also rents chairs for guests next door at the Sheraton Waikiki.)
You could also try Resortpass, which is currently (at press time) listing a few beach chair rentals through hotels (plus a whole slew of poolside cabanas and resort day passes). I've only used Resortpass a few times locally when I've wanted to take my kids swimming at a hotel pool, but the experience has been easy.
A third option gets you the equipment but leaves you responsible for finding a spot, setup, takedown, and storing the chairs and umbrella during the rental period. There are a bunch of local businesses that rent beach equipment by the day or week. Here's the current crop of highest rated options on Yelp.
More from FamilyVacationist: