Cooler temperatures, fewer crowds, and discounted hotels, vacation rentals, flights, and car rentals are the hallmarks September travel. And while vacations may be the last thing many families have on their minds with school starting up again, fall vacations are the perfect recipe for family fun—especially when it means saving big at some of the most popular family vacation spots in the U.S. and Europe.
The Best Places to Visit in September with Kids
September is a great time to visit destinations as geographically and culturally diverse as Seattle, Asheville, Prague, and beyond. Here are the best places to visit in September for that prime shoulder season mix of good weather, smaller crowds, and deep travel discounts.
RIDE THE RAILS: 10 Best Fall Foliage Train Rides in the U.S.
1. Seattle, Washington
Surrounded by mountains and overlooking the Puget Sound, Seattle is a picturesque city with a lot of things to do for every age group. In September, the weather is pleasant (average temperatures are in the mid-60s) and there's still plenty of sunshine. Your kids may have to miss a few days of school to visit in September, but you may decide it's worth it for the extra savings and smaller crowds at some of the city's top attractions.
GO WEST: 7 Best West Coast Vacations for Families
Some of the top kid-friendly activities here include seeing underwater life at Seattle Aquarium's 40-foot viewing window; navigating the Woodland Park Zoo's kid-dedicated Zoomazium before petting zoo animals; and sampling food from around the world and the Pacific Northwest at Pike Place Market.
You could spend an entire day could be spent exploring the Seattle Center. For instance, kids are invited to get interactive with art-, cultural-, and STEM-based exhibits at Seattle Children's Museum; learn all there is to know about pop at the Museum of Pop Culture; play in the shadow of the iconic Space Needle at Artists at Play playground; and catch a daytime laser or planetarium show at the Pacific Science Center.
Where to Stay in Seattle in September
Families love the four-foot-deep indoor pool, beach cruiser bikes, and afternoon pineapple treats at The Maxwell Hotel, situated just a few steps from the Seattle Center.
2. Asheville, North Carolina
Positioned along one of America's most scenic family road trip routes, the mountain oasis of Asheville is fun place to visit with kids anytime of year. But September may be the best time to go thanks to milder temperatures (ranging from the mid-50s to upper 70s), an explosion of colorful foliage, and a variety of fall festivals.
FALL FUN: How to Spend a Fall Weekend in Asheville, NC (with or without the Kids)
Nature-loving families visit the mountain city to hike the kid-friendly trails, bike at Richmond Hill Park, zip line at the Adventure Center (designed for kids 10 and under), horseback ride along the Blue Ridge Mountains, or see the hundreds of waterfalls.
No visit to Asheville is complete without seeing America's largest home, Biltmore Estate (kids nine and under are free). The 8,000-acre estate is home to a French Renaissance castle and impressive gardens and trails. Kid-friendly activities are available, such as making wildflower seed bombs, a guided bird tour, and falconry.
Where to Stay in Asheville in September
The Foundry Hotel is an old steel factory that's been updated with modern amenities. Its prime location within walking distance to many of Asheville's main attractions makes it a good choice for families.
3. Island of Hawaii (Big Island)
September is one of the best times to visit the Island of Hawaii (also called the Big Island) and its two active volcanoes, Kilauea and Mauna Loa. With the summer crowds gone, you can find great deals on airfare and lodging.
The Big Island is, well, big, and there is so much to see and do. Families can get to know the local sea life by visiting the Seahorse Farm (kids under four are free), where you can hold an actual seahorse; or snorkel with manta rays (like in Moana) with the Iruka Hawaii Manta Ray Sunset and Night Time Snorkel Experience.
PLAN YOUR TRIP: How to Choose the Best Hawaiian Island to Visit
Food lovers can learn more about the agriculture of the island by touring a farm and discovering how cacao beans become chocolate bars at the Hawaiian Crown Hilo's Farm and Factory Tour; tasting hand-grown vanilla at the Vanillerie; or seeing and sampling native nuts and fruits at the Big Island Farm.
To explore nature, take an easy hike to the stunning Akaka Falls; experience the impact of two active volcanoes at the Hawaii Volcanoes National Park; or look to the stars at the planetarium at 'Imiloa Astronomy Center.
Where to Stay on the Big Island in September
With its own saltwater aquarium pool and complimentary kids program, the Four Seasons Resort Hualalai makes a good base for a Hawaii family vacation. There are also a few nearly all-inclusive resorts in Hawaii that families should consider, including Royal Kona Resort on the Big Island.
4. Williamsburg, Virginia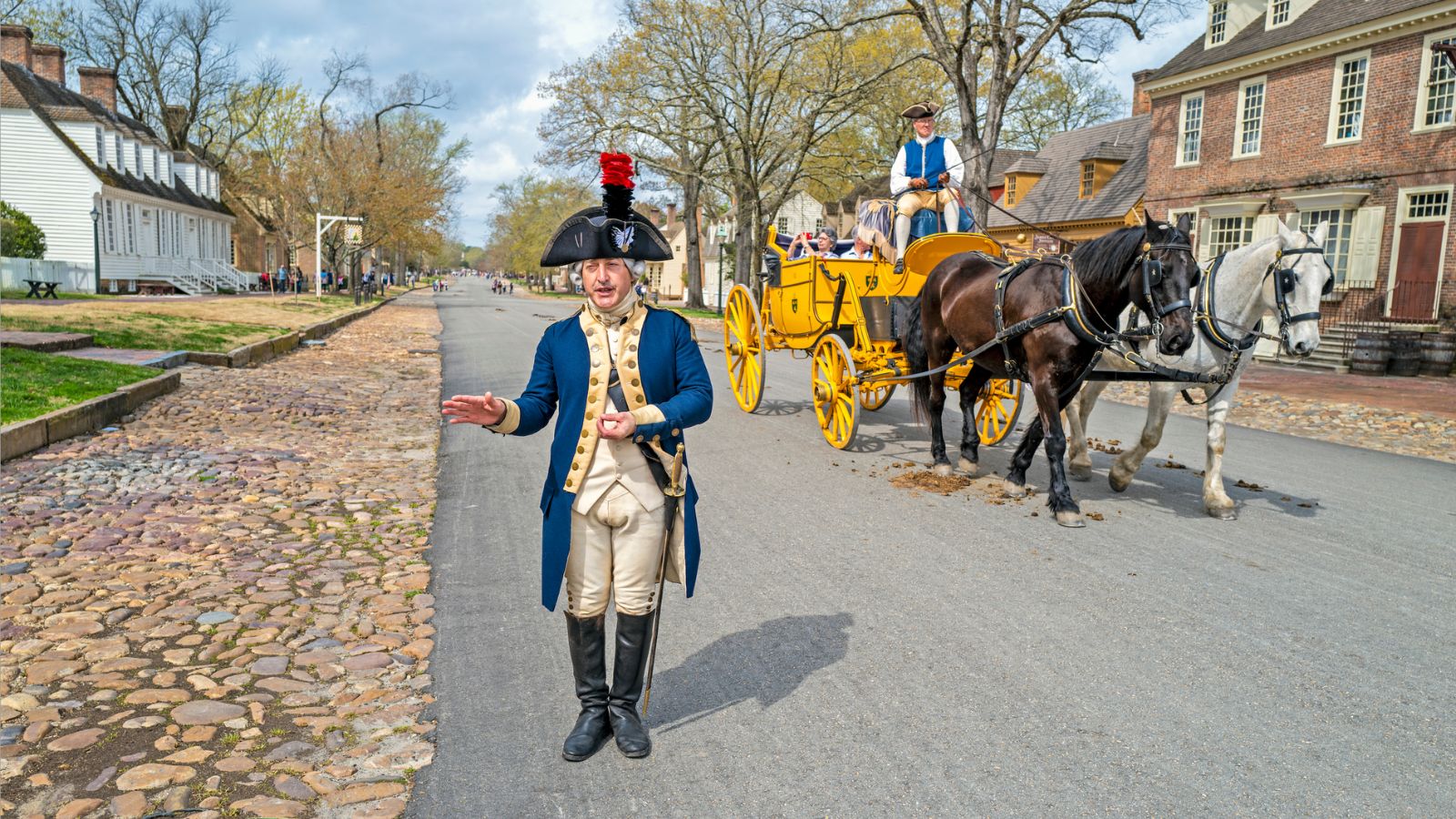 Though kids may be going back to school, the real history lesson is in Williamsburg. As part of the "historic triangle" with Jamestown and Yorktown, the city played an important role in the American Revolution. Families come from all over the world to learn more about our country's past first-hand, and September is a perfect time to visit as peak summer tourism has ended, the fall foliage is in full swing, and temperatures average in the high 70s.
FALL FOLIAGE: 10 Best New England Towns for Fall Family Getaways
The first stop on most visitors' list is Colonial Williamsburg, where you can explore 301 acres of living history. Families can talk with working tradespeople of the past, tour historic sites with costumed interpreters as guides, enjoy carriage rides, and visit two world-class art museums.
For something a bit more modern, head to Busch Gardens Williamsburg for thrilling rollercoasters, kid-friendly play areas, and laidback rides. The 30,000-square-foot Bounce House Family Entertainment Center is another place to play, and features laser tag, bungee rides, and an arcade. For those who want to get outdoors, Go Ape offers treetop adventures, ziplining, and axe throwing.
Where to Stay in Williamsburg in September
Located next to the Colonial Williamsburg Visitors Center, the Woodlands Hotel and Suites is a great jumping-off point for any family stay. Kids, however, may not want to leave the hotel thanks to the pool, splash pad, and on-site fun zone with miniature golf, shuffleboard, and a playground.
5. Prague, Czech Republic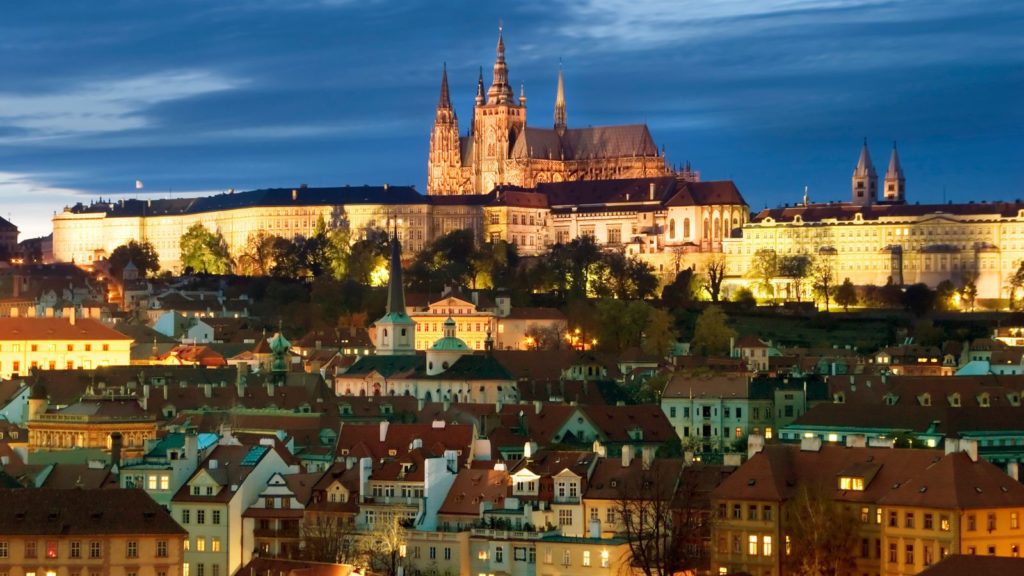 As one of the most well-preserved historical European cities—even named a UNESCO World Heritage and Cultural site—Prague feels like something straight out of a storybook. September is a particularly great time to visit because flights and hotels are cheaper and the lines are shorter at all of the city's major attractions. Book at least three weeks in advance to grab the best deals. With temperatures averaging between the low 40s and mid-60s Fahrenheit, the fall weather makes walking around the city quite comfortable. (Pack a few extra layers, just in case.)
OVERSEAS ADVENTURES: 6 Best Family Vacation Spots in Europe
Along with the must-see stops—like walking across the Charles Bridge, watching the Astronomical Clock chime, or exploring the history of Prague Castle—there are plenty of things geared toward kids, too. The Museum of Senses invites young and old to experience the unimaginable through 50 different exhibits that will educate and amaze (kids under five are free). Love LEGOs? Explore more than 3,000 models at the LEGO Museum.
Animal lovers will want to be sure to stop at the Prague Zoo, one of the largest in world, boasting more than 650 species of animals. You can even take a steamboat ferry to get there.
Where to Stay in Prague in September
Part of Central Europe's largest aquapark, it's no wonder Aquapalace Hotel Prague is a great place for families to stay. Be sure to book a Pirate Suite, decked out for young seafarers, which accommodates up to two adults and five kids.
More from FamilyVacationist: