If family vacation ideas have a secret season, autumn must be it. It's the time of year when people slow down after summer, settle into school and work and start planning for the holidays, creating a shoulder season for travel to popular family vacation spots around the country. The best fall vacations offer ideal conditions for value as well, since prices drop with reduced demand. And these fall vacation ideas blend appealing weather, fall colors, and plenty of room to enjoy the crisp seasonal air.
The Best Fall Vacation Ideas in the U.S. for Families
Whether you're heading out for a quick weekend getaway or a true vacation-length trip, these fall destinations deliver just the sort of restorative escape to help you gear up for the long days of winter ahead. From national parks and mountain resorts to fall-foliage-draped towns and beachy escapes, these fall vacation ideas celebrate the best of the season.
HOTEL DEALS: 10 Best Hotel Booking Sites for Cheap Prices
1. Rocky Mountain National Park
Northeast Colorado
Like a golden wave, aspen groves light up Colorado's mountains in autumn. To see the best fall colors in Rocky Mountain National Park and the surrounding Rockies, aim to visit in September (though you can often catch some color in late August or early October, too; check a fall foliage map for details).
SCENIC VISTAS: 10 Best Fall Foliage Train Rides in the U.S.
Foliage isn't the only reason to visit Rocky Mountain National Park in September, October, or November, though. Bring layers to enjoy hiking and biking late into the season. And autumn is a great time for wildlife watching, with elks gathering in herds and migratory birds pausing in the park on their way south for the winter.
Bonus: At lower elevations, you can sometimes soak up a vista that includes both late-blooming wildflowers like asters and the glowing golden fall foliage.
Where to Stay Near Rocky Mountain National Park
Rocky Mountain National Park has no national park lodges, so your best bet is to check out hotels in nearby Estes Park or Grand Lake, where you'll find a range of chain hotels, independent inns, nature-inspired lodges, and quaint B&Bs.
2. Blue Ridge Parkway
Virginia and North Carolina
Summer family road trips get all the attention, but fall is arguably a superior season to hit the road. And there's no better strip of highway for a fall vacation than the 469-mile Blue Ridge Parkway in Virginia and North Carolina. Wending its way through the dense forests of the Appalachian Mountains between Shenandoah National Park and Great Smoky Mountains National Park, the parkway is peppered with more than 200 scenic overlooks that offer abundant excuses to pull over and experience the beauty firsthand.
THRILL RIDES: 10 Unforgettable RV Road Trips in the U.S.
The pace is relaxed: The speed limit doesn't exceed 45 mph and the National Park Service suggests you give yourself about an hour for every 30 miles of road you want to cover. Autumn brings the added benefit of splendid fall colors and harvest-time treats at the many farms just off the Parkway.
Where to Stay Along the Blue Ride Parkway
While there are only two lodges on the Parkway itself (Peaks of Otter Lodge at Milepost 86 and Pisgah Inn at Milepost 408.6), the road's many access points connect it to accommodations in towns including Gatlinburg, Asheville, Roanoke, and Waynesboro.
3. Vermont
New England
From its cozy village main streets to its rainbow of fall foliage displays, Vermont has fall dialed all the way up. Make your base in a picture-perfect small town like Woodstock or Bennington, or take the wanderers' approach and book yourself stops along a multi-day route like the Mad River Byway, Route 100, or the Molly Stark Byway. For the full experience, mix scenic drives with leisurely hikes, and be sure to allot plenty of time to exploring the towns, farms, and historic sites along the way.
PEAK FALL: 11 Best New England Towns for Fall Family Getaways
Overnight Inspiration: Let your route through Vermont guide you to inns, B&Bs, and hotels in foliage-favorite towns like Brattleboro, Grafton, Manchester, Stowe, and Woodstock. Note that because Vermont is one of the nation's top fall foliage destinations, booking early is key, especially if you have your heart set on a particular property.
4. Sonoma County
Northern California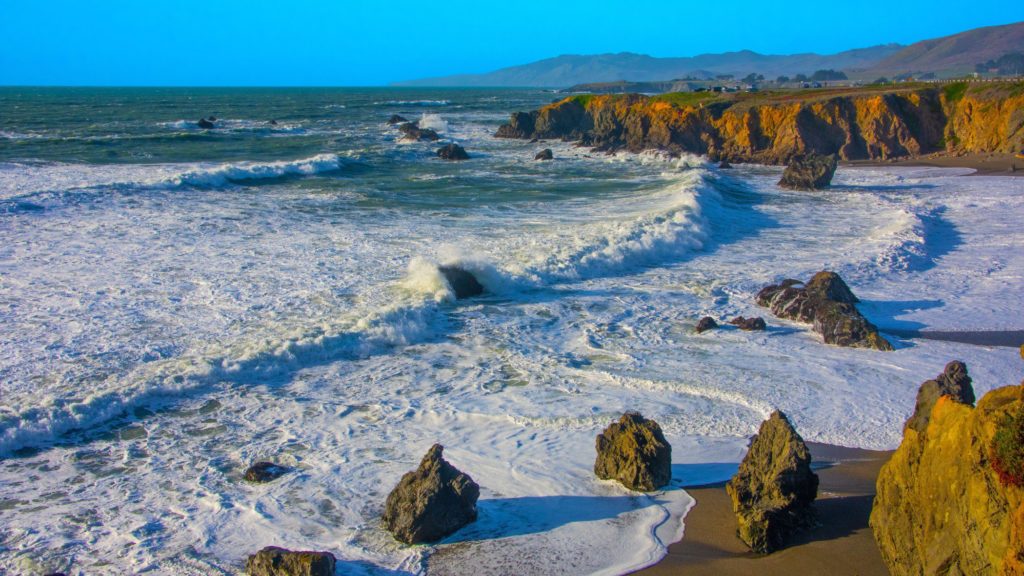 From north to south, California is blessed with more than its fair share of wine countries. But in fall, Sonoma stands out with its dazzling breadth of experiences. That's because Sonoma is vast, with 1,500 square miles of rolling vineyards, dense redwood forests, and rugged Pacific coastline. In fall, it's a party in the fields as the grapes are harvested, the leaves turn dramatic shades of red and yellow, and locals focus on the year's crush.
EXPLORE THE GOLDEN STATE: 7 Cheap California Vacation Ideas for Families
Meanwhile, along the coast, fall brings the long-anticipated respite from the summer fog, revealing the sparkling Pacific and sandy beaches ripe for picnicking. Note that fall is fire season in the West, so make sure you're either booking travel that can be rescheduled or that you have trip insurance.
Where to Stay in Sonoma
Seeking the spray of saltwater? Consider Bodega Bay or Jenner. Want the hug of redwoods? Guerneville and Occidental both offer forested surrounds, charming small hotels, and main streets lined with great eats. Healdsburg is known for its historic town square and concentration of Michelin stars. Sonoma Valley towns like Sonoma and Glen Ellen deliver that classic wine country vibe. In between, you'll find dozens of other destinations that can be the perfect home base for your fall vacation ideas, no matter what they are.
5. San Diego
Southern California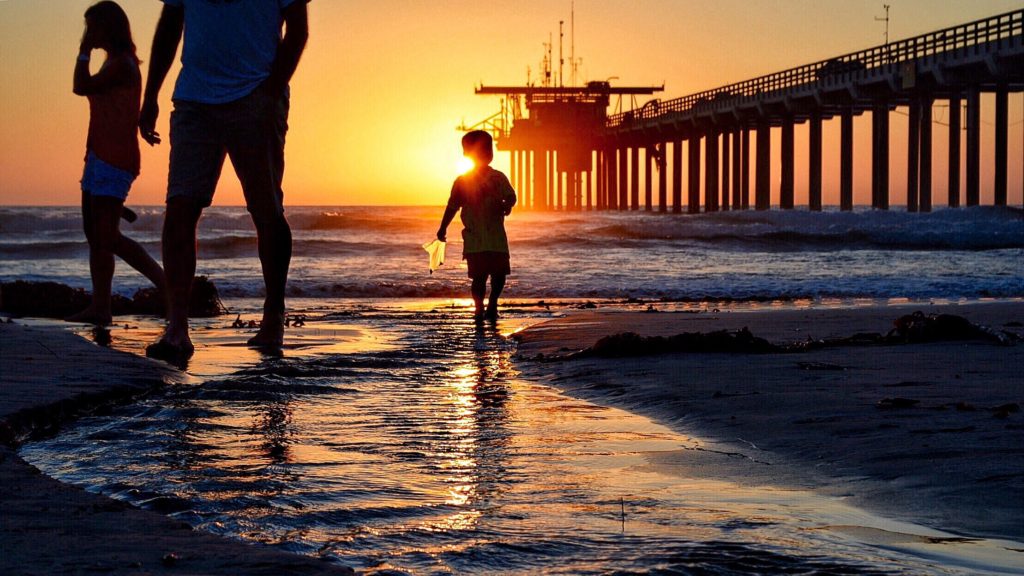 Yearning for sun in October? One of the best fall vacation ideas for sun-seekers is San Diego, with autumn temperatures that range from the low 50s to the high 70s and plenty of fall sunshine. There's more than enough sun and sand to go around, and there's always an uncrowded beach beckoning.
SUN AND SAND: 11 Best Family Beach Vacations in the U.S.
Head out on the water for surfing, boating, and, starting in mid-December, whale watching. And don't underestimate San Diego's food scene, an impressive yet strangely under-the-radar culinary landscape characterized by a mix of beach shacks, taco stands, and Michelin-starred restaurants.
Where to Stay in San Diego
The city of San Diego has a hotel for every mood. Downtown, you'll find sleek modern options like Pendry and Hotel Indigo. Head to the beach with a stay at Tower23, Pantai Inn, or another of the many coastal hotels. Or, take the short drive over the bridge to Coronado to stay at the iconic Hotel Coronado.
6. Poconos Mountain
Pennsylvania
Pennsylvania's Poconos goes all in on fall foliage activities at prices that maximize both value and fun. The region's 2,400 square miles of mountains, rivers, and deciduous forests are just a few hours' drive from Philadelphia and New York City, but its mix of small towns and gently wild surrounds make it feel a world away. Admire the changing season on a scenic train ride, hay ride, horseback ride, or paddle. Add thrills aboard a mountain coaster, or via railbike or zipline.
WEEKEND GETAWAYS: 11 Romantic Hotels for Couples in Pennsylvania
Where to Stay in the Poconos
The Poconos sees its fair share of day trippers, but magic happens when you get to settle in for a spell. Jim Thorpe's quaint historic district is dotted with inns, B&Bs, and guest houses, while Stroudsburg offers a mix of mid-priced chain hotels. Throughout the region, you'll find charming lodges and hotels like the Lodge at Woodloch (for adults) and The Times House (for families).
7. Santa Fe
New Mexico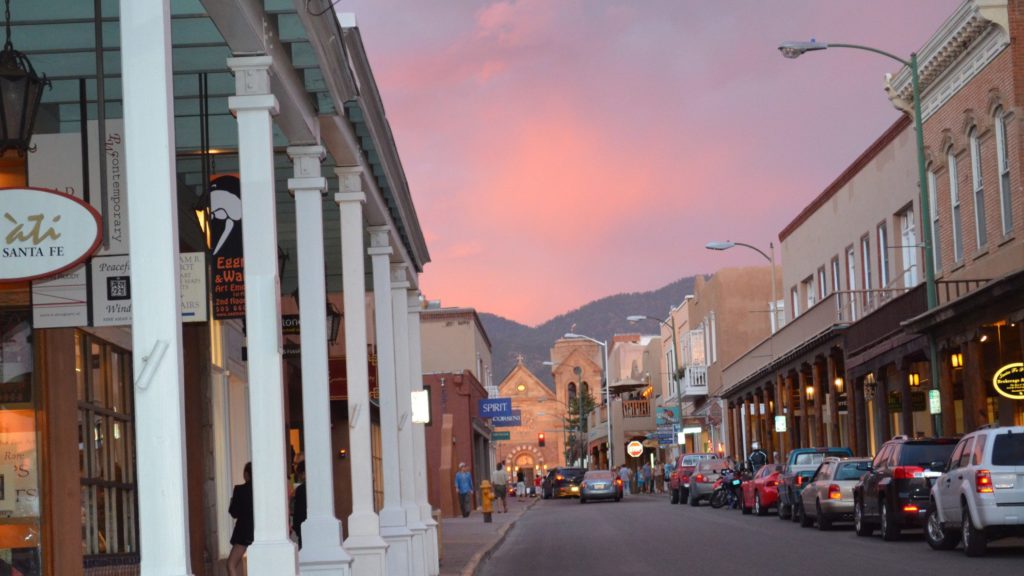 As temperatures cool, cultural events heat up in Santa Fe. From food fests and celebrations of indigenous cultures to open studios and film festivals, fall vacations in Santa Fe are simply packed with things to do. And variety is the name of the game here—late fall even brings the possibility of skiing at nearby mountains.
PLAN AHEAD: 8 Mountain Resorts Perfect for Summer Fun
Santa Fe's fall foliage season is short, but time a visit right and you could catch the aspen as they turn from green to gold. Here in the country's oldest capital, fall is a beautiful and less crowded time to embrace the best of Santa Fe.
Where to Stay in Santa Fe
Santa Fe is remarkably walkable, and there are plenty of hotels clustered around the historic plaza and gallery-rich Canyon Road neighborhood. Find treasures from around the world at the luxurious Inn of the Five Graces, classic adobe design at the Las Palomas Inn, or expand your search to nearby Cerillos Road and affordable Route-66-inspired kitsch at the Silver Saddle Motel.
More from FamilyVacationist: