Luaus are a popular splurge for families on vacation in Hawaii. The traditional Hawaiian feast involves food, dance, and entertainment alongside picturesque sunsets and sandy beaches. Luaus are an easy and festive way to learn about Hawaiian and Polynesian cultures, all while creating family memories and enjoying the island vibes Hawaii has to offer.
If you're looking for Hawaii luaus the whole family will enjoy, here's what we recommend.
The Best Luaus for Families in Hawaii
No matter which island you plan to visit or what type of experience you're after, there's a luau for you. Whether you're looking for one that's authentic, intimate, or chock-full of activities to keep your kids busy, Hawaii offers luau experiences that'll certainly be a highlight of your vacation.
1. Grand Wailea Luau on Maui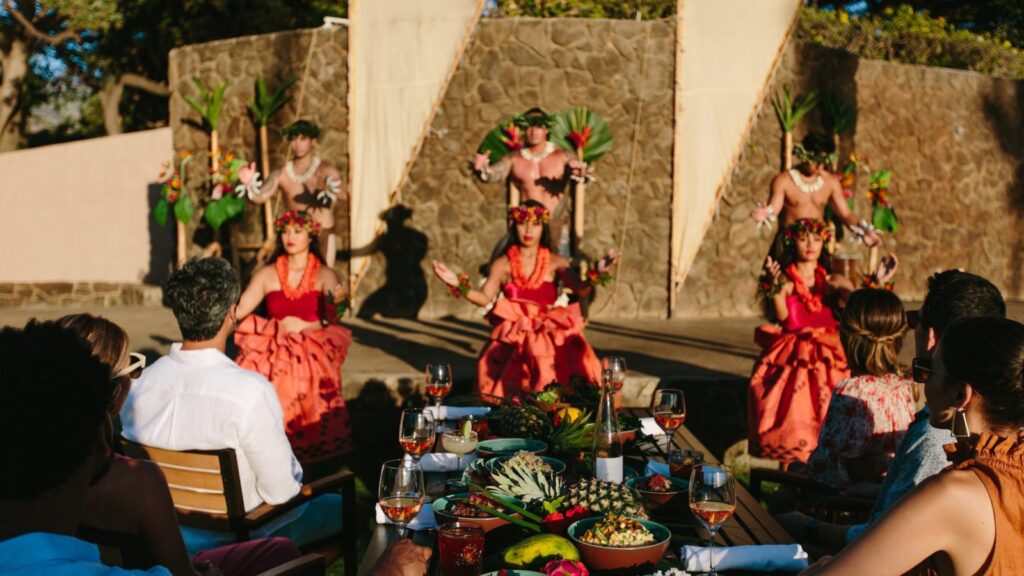 Situated within Maui's family-friendly Grand Wailea, a Waldorf Astoria Resort, is the Grand Wailea Luau, an upscale luau suitable for families with children of all ages. The luau is timed for guests to soak in the breathtaking sunset and turquoise waters of notable Wailea Beach. At two-and-a-half hours long, you'll have just the right amount of time to relax and enjoy impressive fire acts, musical performances, hula dancing lessons the entire family can take part in, and, of course, traditional Hawaiian dishes like kalua pork and poke (plus virgin mocktails for the little ones).
GREAT FIT: How to Choose the Best Hawaiian Island to Visit (for You)
Tickets to the Grand Wailea Luau are on the pricier end, but unlike other luaus that have communal tables, all guests are seated at their own private table and serviced by a staff member, which means less time shuttling back and forth to a buffet with your wiggly toddler in tow and more time spent enjoying the show. Pre-show activities are fun for kids (and kids at heart), and include temporary stamp tattoos, ukulele lessons, and 'ulu maika, a lawn game similar to bowling. And, if you're in the mood to shop, the luau features local vendors offering made-on-Hawaii items that you can take home as a keepsake.
2. Paradise Cove on Oahu
While the Mai Tai welcome drink and lei greeting are thoughtful touches, it's the well-curated pre-show activities that make the Paradise Cove luau a popular spot to visit for families. You'll definitely want to arrive early to take advantage of the canoe ride around the lagoon (where you may even spot some turtles), traditional lei making, Hawaiian lawn games, and photo ops with tropical birds—all of which keep little ones entertained before the main event actually begins.
BEACH VACAY: 11 Best Family Beach Vacations in the U.S.
As for the luau itself, it includes the imu ceremony and hula dancing show as well as a Hawaiian feast set up on large, communal tables that are great for big parties. At nearly two hours, the show is longer than typical ones you'll find on the island, but it's packed with performances to keep the whole family engaged. Also, there are several seating options to choose from. For a splurge worth the price, go for the Deluxe Package, which gets you front-row seats, its own check-in area, and front-of-the-line perks at the bar.
3. Voyagers of the Pacific Royal Kona Luau on the Island of Hawaii
Aside from the island's famous Kona coffee, you can add the Voyagers of the Pacific Royal Kona Luau to the list of reasons why you should visit the Island of Hawaii. The luau is held at the Royal Kona Resort alongside the Kailua Bay oceanfront, which serves as the perfect backdrop for the evening experience.
VOLCANO SIGHTING: The Best Things to Do at Hawaii Volcanoes National Park with Kids
The luau begins with an all-you-can-eat buffet (cocktails are complimentary with your ticket) followed by the traditional Polynesian show. While the luau is fit for children of all ages, older children may be more able to handle the luau's three-hour length as well as appreciate the captivating storytelling and Samoan fire knife dance finale. The Royal Kona Luau is held every Monday, Tuesday, Wednesday, and Friday evening and tends to sell out, so make sure to book early.
4. Smith's Family Garden Luau on Kauai
Run by Smith's Kauia, a family-run business for over 50 years and four generations, the well-reviewed and popular Kauai luau Garden Luau is just one of the several family-friendly experiences the spot offers. As you arrive, you can feel the familial homeyness instantly.
HONOR THE ISLAND: How to Travel Sustainably on Kauai
The luau takes place in a lush garden setting along the Wailua River Valley on the east side of Kauai —a great place for families looking to break away from the beach setting and immerse into nature. During the luau you'll get to participate in a narrated tram tour through the gardens as well as watch the traditional imu ceremony and enjoy authentic island fare. The show is located in an open-air "amphitheater" that you reach via (stroller-friendly) pathways after dinner. The show begins rather late at 8:00 pm, but there is an option to skip the dinner portion and just go for the show, which is a good option for families who want to eat on their own and lower the cost of the experience.
Pro tip: To add to your experience, purchase tickets to the Fern Grotto river boat tour, which takes you through the jungle to the viewing platform in an immersive hour and a half ride—just make sure to choose the 3:30 boat ride to make it in time for the luau.
5. Ka Wa'a Luau on Oahu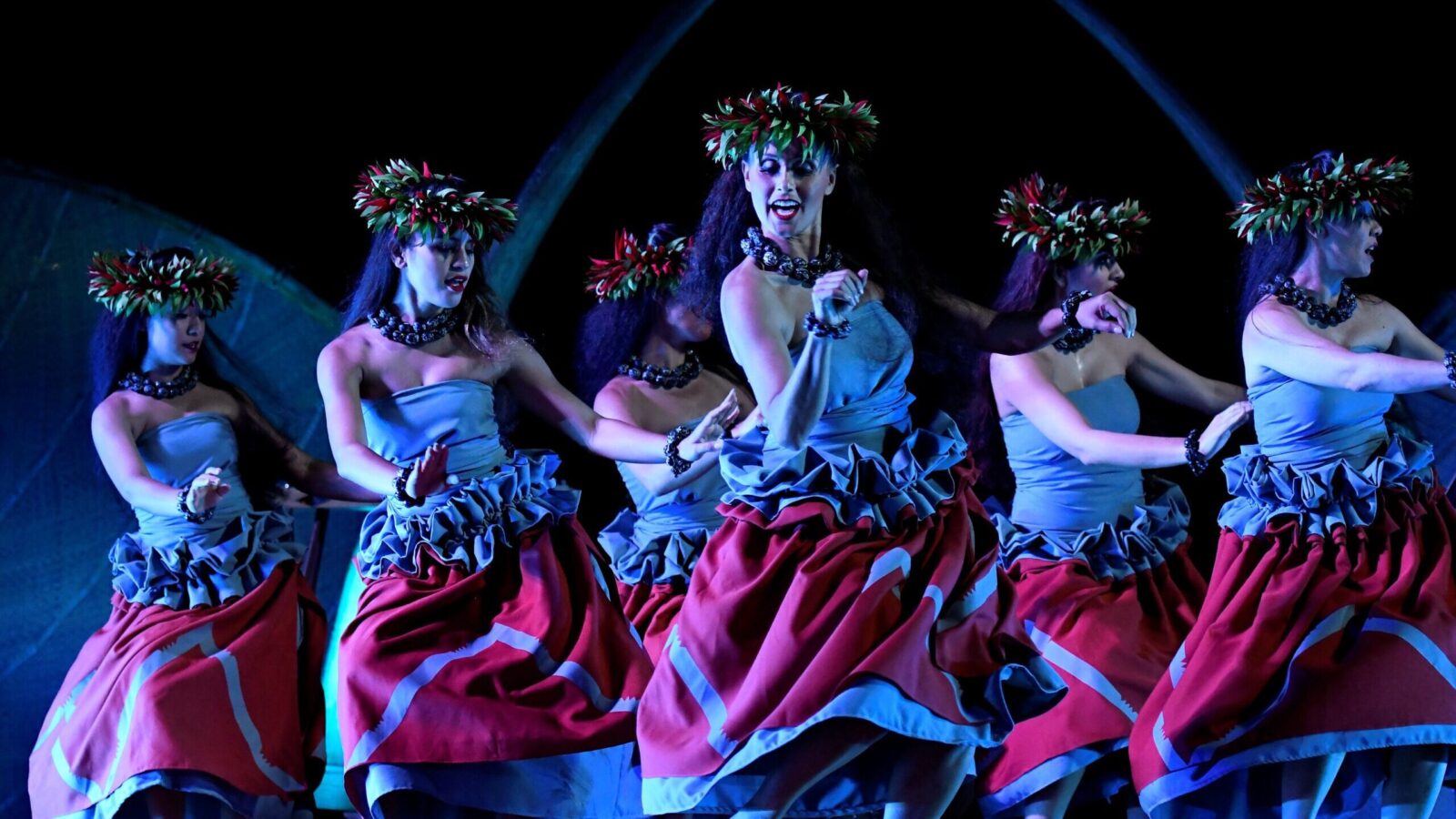 If you're staying at or near the Disney Aulani Resort on Oahu, the Ka Wa'a Luau located on property is a must. Of course, as with all things Disney, there's always room for a photo opp, including before the show when you and your family can pose for a picture with two luau performers.
Most luaus offer standard pre-show activities, but the Ka Wa'a Luau offers several that are equal parts educational, interactive, and authentically Hawaiian, including lei making, kāpala painting, temporary kakau tattoos, and ku'i kalo (pounding taro root).
HOW TO DECIDE: Should You Stay at Disney's Aulani Resort?
Options are aplenty at the dinner buffet, which highlights family favorites like teriyaki chicken, pulled pork, fresh fish, and vegetables as well as an assortment of fruit and house-made desserts. There's even a separate kid-sized children's buffet with familiar options like chicken tenders and Mickey-shaped items.
More from FamilyVacationist: