Pismo Beach is a Central California town with a nostalgic sand-and-surf vibe that's straight out of a Beach Boy's song. Long stretches of pristine beach are lined with volleyball players, kids building sand castles, and families searching for seashells. If you want to catch a wave, surfing, skim boarding, and boogie boarding are all popular.
Downtown is a pedestrian's delight, with surf shops, casual dining spots, and retro mom-and-pop stores.
Located in San Luis Obispo County midway between Los Angeles and San Francisco, it's less than a four-hour drive from both metro areas, making it a great add-on to a vacation to either city. For West Coast families, it's an easy drive destination.
Stay: The Shore Cliff Hotel is perched atop dramatic coastal cliffs. This dog-friendly, kid-perfect hotel has a pedestrian bridge leading to the California Coastal Trail and is steps from Pismo Preserve for the ultimate immersion in nature. The property features oceanfront tennis and bocce ball courts, complimentary grab-and-go breakfast, in-room for sea life viewing, and the largest heated oceanfront pool & hot tub in town. With a stellar TripAdvisor rating and a 2021 Travelers Choice Award, the Shore Cliff gets high marks for its amazing views and great staff. Each of the 100 rooms has a private patio or balcony. Sleep with the balcony door ajar and be serenaded by the sounds of the sea.
Things to do in Pismo Beach
Maintaining social distance is on the mind of today's traveler and less crowded destinations are trending. Pismo Beach's salubrious sea air, wealth of outdoor pursuits, and small-town feel are a fit for these times. There's lots to do nearby, making it an excellent base camp for exploring the area. Many activities revolve around the ocean, but there's lots to do on terra firma too, including visiting an organic winery with a grape juice tasting for kids and hiking at Pismo Preserve. Here are our recommendations for the best things to do in and around Pismo Beach.
CALIFORNIA COAST, CONTINUED: 12 Best Monterey Beaches
Stroll the Pismo Beach Pier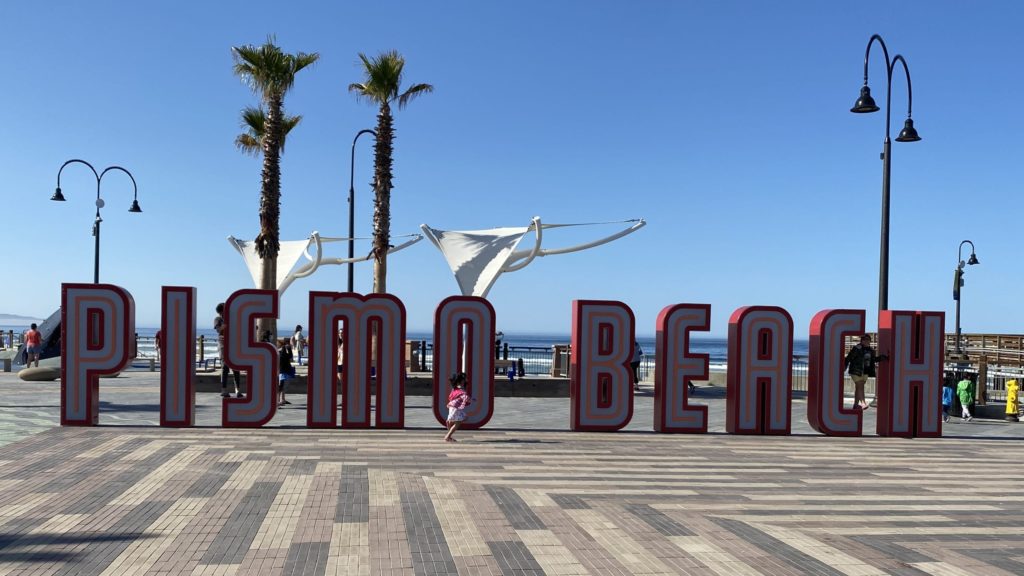 Jutting into the blue Pacific, the Pismo Beach Pier is a seaside classic. Stroll the length and get a birds-eye view of the surfers, or try your luck at fishing, no permit required. When hunger strikes, the vintage Airstream concession Sunsets at Pismo sells flavorful fish tacos and assorted snacks. Snap a photo next to the colorful illuminated giant letters spelling out Pismo Beach at the pier's entrance. Allow time for the kids to romp at the new Whale Surfing Playground, with a show-stopping slide that leads straight down to the sandy beach below.
Kayak the Central Coast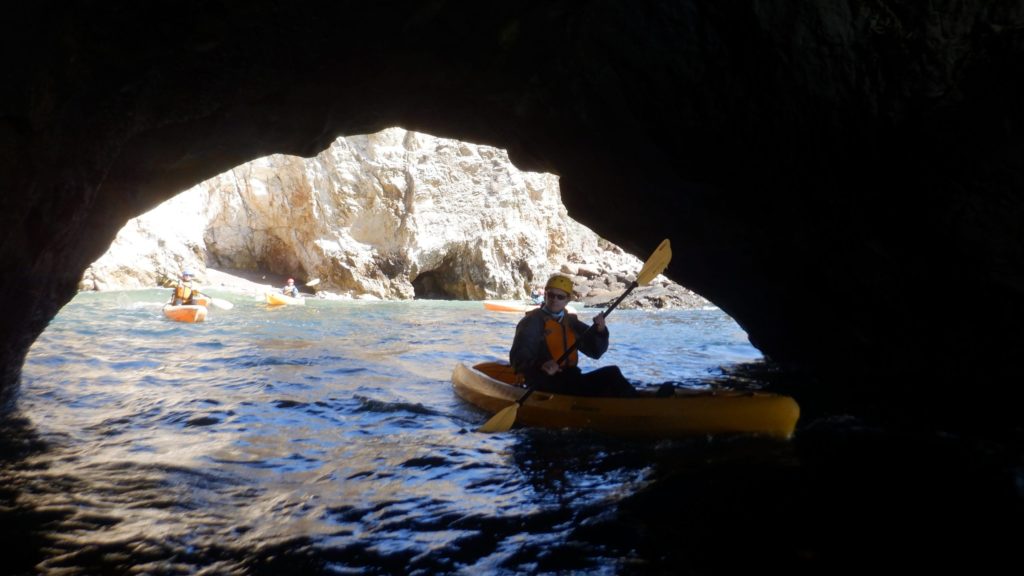 If you are traveling with kids who are at least seven years of age, book a tour with Central Coast Kayaks. The two-hour Morro Bay wildlife tour is flat-water paddling experience that's a fit for novices as well as experienced kayakers. Paddle between kelp forests and rock outcroppings as you glimpse sea otters, seals, and dolphins. Explore the tide pools filled with sea stars, anemone, and urchins. The guided tour includes instruction, all equipment, a wetsuit, snack, water, and souvenir photos.
For those looking for an adrenaline rush, the Dinosaur Cave Excursion is made-to-order. Wind through a series of grottoes, arches, and coves as you paddle in and around the Dinosaur Caves, only accessible from the water. For kids over 12 and their physically fit parents, this guided tour is equal parts strenuous and exhilarating.
THINK BIG: 20 Best Family Vacation Spots in the U.S.
Learn to Surf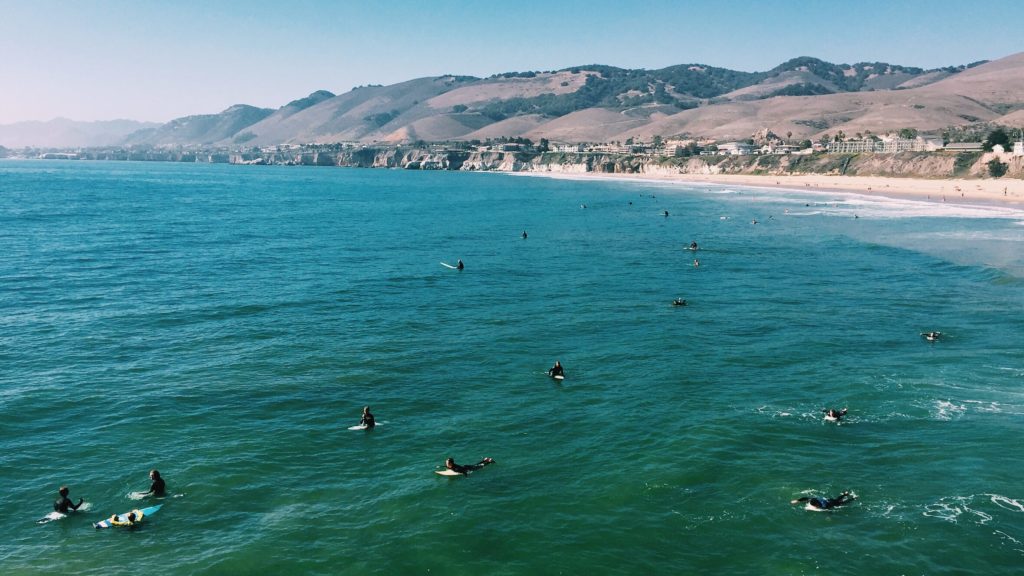 It's fun to watch the surfers but why not take the opportunity to learn to hang ten yourself? Pismo Beach is packed with opportunities to learn to surf, windsurf, or kitesurf in the Pacific. Central Coast Surf School offers private and group surf lessons for all ages, with board and wet suit included. It also runs all-day surf camps from June until September.
Watch Winged Beauties at the Monarch Butterfly Grove
From late October through February, thousands of monarch butterflies flee the colder climates and head to the Pismo Butterfly Grove at the southern end of the beach in Pismo, forming one of the largest colonies of monarchs in the country. They favor a grove filled with fragrant Eucalyptus and Monterey Pine trees, where they cluster on the limbs, each orange and black butterfly hanging with its wings down over the one below, for a shingled effect. The butterflies resemble leaves, explaining why locals call this phenomenon the Butterfly Trees.
SIERRA SPLENDOR: 10 Amazing Outdoor Activities in South Lake Tahoe
Hike at Pismo Preserve
Owned and operated by the Land Conservancy, this new nature preserve offers over 10 miles of recreational trails for hiking and mountain biking. The well-marked paths of the Pismo Preserve meander through oak woodlands and coastal ridge lines with breathtaking views of the Pacific Ocean thrown in for good measure. There's ample parking and clean restrooms. Open daily, dawn to dusk.
Glimpse Bygone Days at Price Historical Park
Step back in time at this historic ranch and house of Vaquero Juan Miguel Prais, later John Michael Price, and his family, the first non-native permanent settlers in Pismo Beach. Between 1850 and 1880, Price accumulated thousands of acres of ranch land. Today, self-guided and docent-led tours of Price Historical Park give participants a window into 19th-century ranch life.
UNPLUG AND PLAY: 10 Best All-Inclusive Mexico Resorts for Families
Sample Clam Chowder
Pismo Beach was once known as the Clam Capital of the World. Over-harvesting has made these briny bivalves harder to find, though clam chowder is still a mainstay on nearly every menu in town. Ada's Fish House is a low-key, family-run restaurant serving a creamy New England-style chowder brimming with fresh-shucked clams. After a day in the ocean, a soothing bowl really hits the spot They have a kid's menu too, making it a good choice for families.
Go Grape Juice Tasting at Castoro Cellars
Pismo Beach is a good jumping-off point to dive into Central California's wine country. Castoro Cellars is a certified organic estate in the heart of the Paso Robles wine appellation. The magnificent grounds and award-winning wines attract oenophiles, but it's the complimentary grape juice tasting that's the real hit with kids. While parents sip Zinfandel and Cabernet Sauvignon, kids sample juice made from the same luscious grapes. The helpful staff makes Castoro Cellars a fabulous family outing.
SIP AND STAY: How to Plan the Perfect Wine Tasting Trip to Napa and Sonoma
Stroll San Luis Obispo
Downtown San Luis Obispo, known as SLO, is a small city just a 15-minute drive from Pismo Beach. Its compact, pedestrian-friendly core is where you'll find the historic mission, shopping and dining along Higuera Street, and the hands-on San Luis Obispo Children's Museum, perfect for a rainy day. For a refreshing treat, stop by Doc Burnstein's Ice Cream Lab, an old-fashioned ice cream parlor with a loyal local following.
Enjoy Pristine Nature at Montaña de Oro State Park
Drive 25 minutes north of Pismo Beach and you'll arrive at Montaña de Oro State Park. The Spanish name translates into Mountain of Gold, thanks to the abundance of golden-yellow wildflowers that thrive here. Secluded beaches, including tide-pool rich Corallina Cove, feel a million miles away from civilization. Montaña de Oro's Bluff Trail is a fairly easy 3.4-mile walk that skirts the rugged coastline, with bluffs, tide pools, and ocean vistas galore. Breathe in the scent of the eucalyptus trees as you soak in the stunning scenery.
STAY SUN SAFE: Sunscreens Made for the Whole Family
Explore Morro Bay
Just 30 minutes north of Pismo Beach sits Morro Bay. The laid-back atmosphere and abundance of natural beauty make it a fine outing. Book a whale-watching cruise, rent bikes, and take a self-guided tour of the colorful outdoor art on Mural Mile. Drive to the base of landmark Morro Rock, formed 23 million years ago from the plug of a long-extinct volcano. Watch the local fishermen before you sample the fresh catch at one of the numerous seafood restaurants on the Embarcadero.
Head to Cambria for Tide Pools and Pie
Cambria is a serene town approximately a 45-minute drive north of Pismo. Moonstone Beach's one-mile-long boardwalk is a relaxing spot for a stroll. The north end of the boardwalk is home to several tide pools brimming with spiny purple sea urchins, snails, and crabs. Keep your eyes peeled for the sea otters, whales, and dolphins who frolic in these waters.
Don't miss a stop at Linn's Easy as Pie Shop & Café for a slice of fresh-baked olallieberry pie. These delectable berries, part blackberry and part raspberry, are grown on the Linn's family farm. Baked in a flaky crust, it's a mouth-watering treat.
SPEND WISELY: 10 Beach Essentials You Should Never Buy on the Cheap
Visit an Elephant Seal Rookery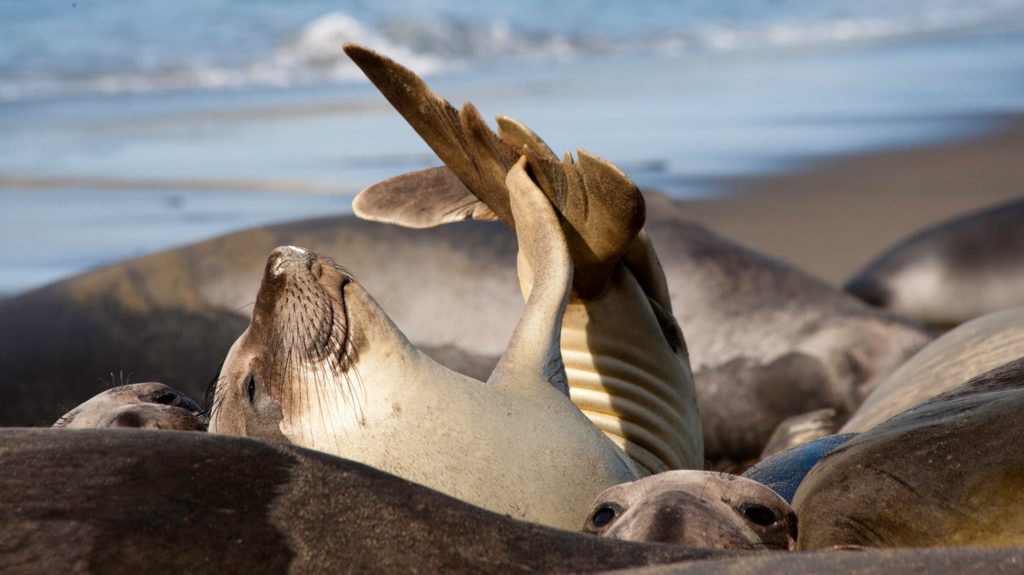 The Piedras Blancas Rookery is the only elephant seal rookery in the world that is easily accessible, free, and open to the public every day. It's located seven miles north of San Simeon on Highway 1, approximately a one-hour drive north of Pismo Beach. It's a rare opportunity to view these large earless sea creatures, with males weighing up to 5,000 pounds. The marine mammals may be seen year-round, though October through May is when you may catch the action of birthing and breeding. Loud noises may disturb these massive animals, so remind the kids to respectfully keep their voices down. Docents wearing recognizable blue jackets are on hand to answer questions. No reservations are needed and parking is free.
More from FamilyVacationist: