A Southern California coastal town soaked in sunshine and bathed in sea breezes, Huntington Beach is one of the state's premier family vacation spots for picture-perfect sandy beaches and outdoor activities tailor made for families. Add a blossoming food scene and terrific beach resorts and there are virtually limitless things to do in Huntington Beach with kids. Oh, and it's just 16 miles from Disneyland, too!
KID-FRIENDLY CALIFORNIA: 10 Best Family Resorts In California
1. Sample All Five Beaches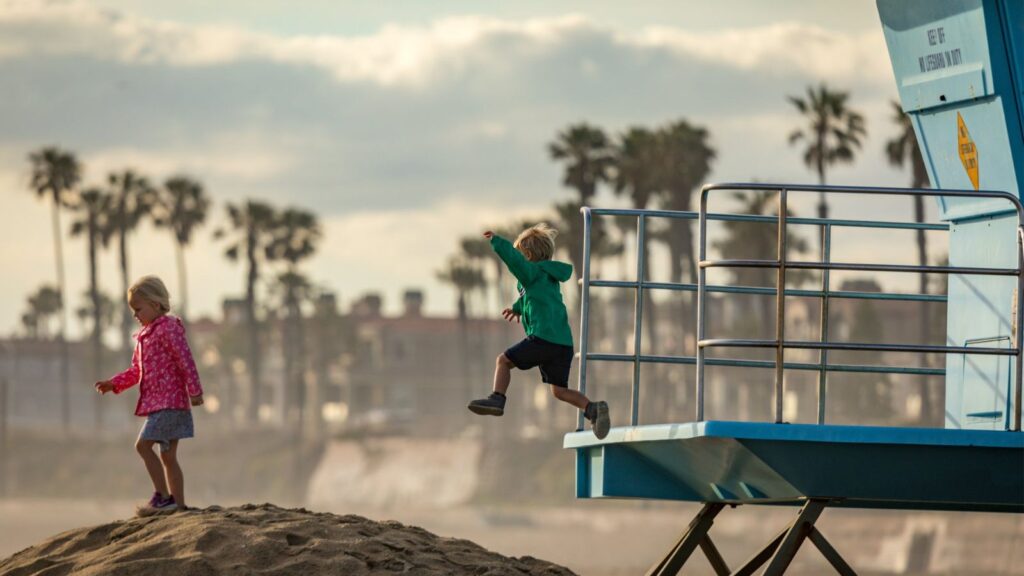 Pack all your beach essentials, because with five Instagram-worthy beaches stretching across 10 miles of uninterrupted coastline, Huntington Beach is one of the very best West Coast vacation destinations for building sand castles and jumping waves. Like ice cream flavors, each beach has its own distinct taste, but clean public restrooms and pristine sand are unifying factors. 
SUN AND SAND: 11 Best Family Beach Vacations in the U.S.
Located at the city's south end, Huntington State Beach sprawls across a sizeable 121 acres, with beach volleyball and barbecue grills throughout. Bird watching is popular here, so keep your eyes open for Snowy Plovers and California Brown Pelicans. 
Wheelchair-accessible Huntington City Beach is a haven for shoppers and diners just steps from the pier, while pet-friendly Huntington Dog Beach is the place to let your family dog frolic in the salty sea air. Rounding out the string of five beaches, Bolsa Chica State Beach is fun for families and surfers, while peaceful Sunset Beach attracts serenity seekers.
2. Experience Huntington Beach Pier
Jutting into the Pacific Ocean, the 1,850-foot-long Huntington Beach Pier is one of the longest recreational piers on the West Coast, a bona fide hub of beach culture. Not only can you watch surfers, you're so close to the action you can actually hear their conversations too.
GOLDEN STATE: 7 Cheap California Vacation Ideas for the Whole Family
If you or the kids want to try your hand at fishing, Huntington Beach Pier is the place to do it because there's no fishing license required at this popular fishing spot. Local catches include mackerel, perch, sardines, and corbina. 
3. Learn to Surf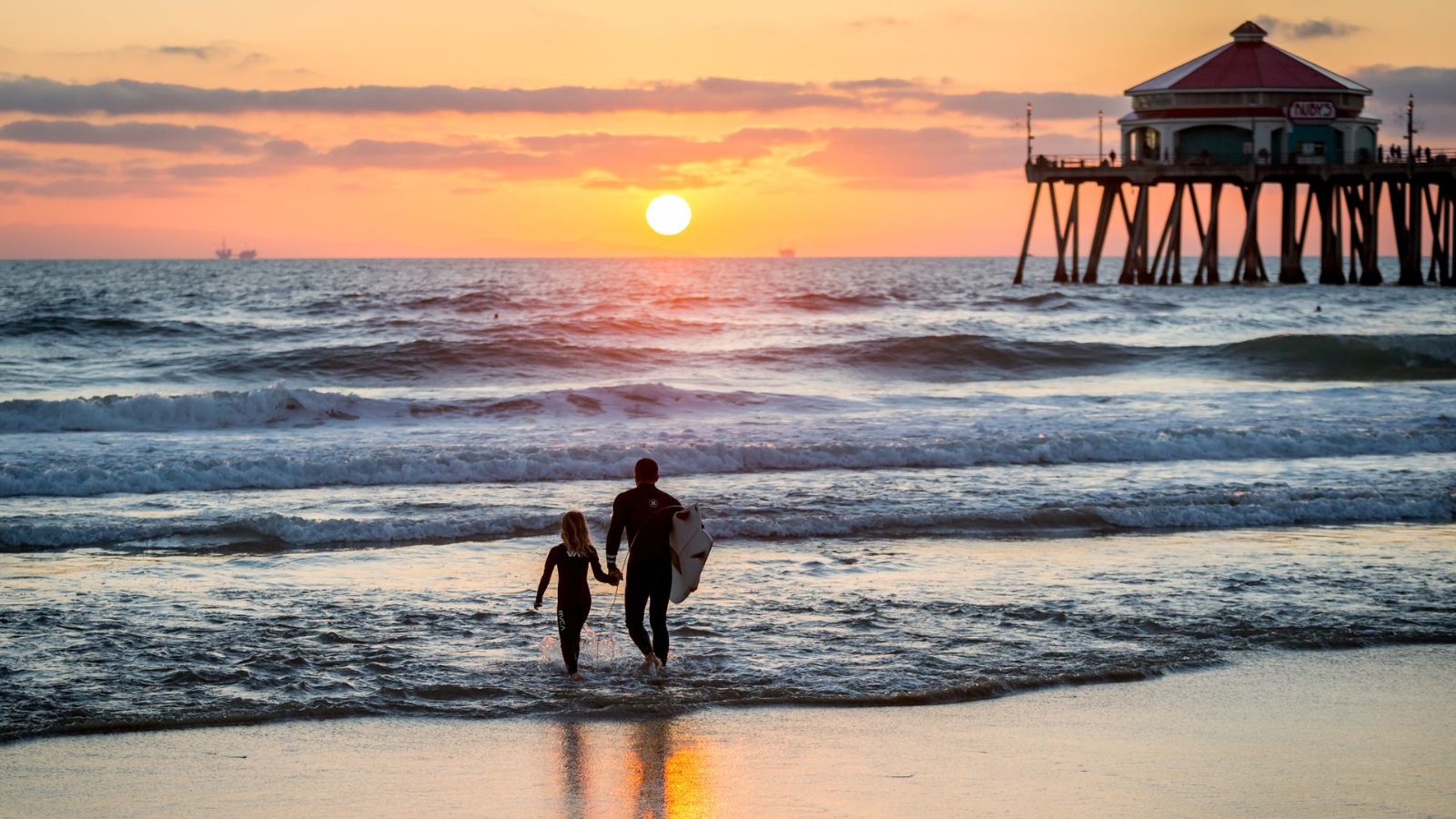 With a nickname like Surf City USA, it's no surprise that one of the most popular things to do in Huntington Beach is learning to catch a wave. Book a family lesson at Little Surf Co., where seasoned instructors convey respect for the ocean and a can-do attitude. You and the kids will be hanging 10 in no time. 
4. Zip around Parks and Playgrounds
When the kids need a break from the sand, one of the best things to do in Huntington Beach with little ones is to let them romp at the All-Inclusive Playground. With a rubber surface that is ADA-compliant and equipment that allows wheelchairs, it's designed to accommodate different learning styles and abilities.
SPLASH ZONES: 13 Best Outdoor Water Parks in the U.S.
Huntington Beach's Huntington Central Park has a free summer concert series, a playground with a zip line, and a garden that showcases drought-tolerant plants. The largest city-owned park in Orange County with more than 343 acres of property, the park is also home to an equestrian center with more than 400 horses, including rescue and therapy horses. Take a docent-led tour or visit on the first Sunday of every month from 11:00 a.m. to 1:00 p.m. to learn to groom these beautiful creatures.
For an outdoor activity that's a little different, head to Bolsa Chica Ecological Reserve, the largest saltwater march along the state's coast, where you can explore five miles of wetland trails.
5. Light the Night 
In Huntington Beach, the beach fun doesn't stop when the sun sets. In fact, there are more than 500 free beach fire pits available across all five of its beaches, all of them available on a first-come, first-serve basis. Bring firewood, a lighter, and a blanket in case it gets chilly for a DIY experience. If you'd like something more VIP, however, the Waterfront Beach Resort, a Hilton Hotel, will set you up with everything you need for a classic evening bonfire, right down to the marshmallows.
6. Hit the Water in Huntington Harbour
Rent a kayak or SUP to explore the calm waters of Huntington Harbour, or book a private cruise with a captain from Prince Charters LLC for a special occasion. 
7. Visit an Interactive Art Studios
At Mayu Silk Art, owners Phil and Star bring the ancient art of water marbling into the 21st century. Suitable for all ages and abilities, here you can design and make your own one-of-a-kind water-marbled silk scarves, bandanas, or t-shirts, utilizing eco-friendly materials.
BEYOND CANNERY ROW: 10 Best Things to Do in Monterey with Kids
During your studio experience, you'll squeeze acrylic paint into a water bath, floating the colors in custom-built water marbling trays while using combs and rakes to create unique designs. You'll have a colorful, handmade souvenir to take home. 
8. Surf on Over to a Surf Museum
The Huntington Beach International Surfing Museum is a love letter to this sport. Its collection of surfing memorabilia includes significant artifacts such as Duke Kahanamoku's surfboard and the record-breaking largest surfboard in the world. 
9. Pedal Away
A flat, car-free Huntington Beach bike trail runs alongside the Pacific Ocean, and cycling is a fun way to soak in the sights. Beach concessionaires rent bikes with helmets, tandems, electrics, and surreys. They're easy to find and a fantastic way to spend a morning or afternoon with or without the kids.
10. Escape the Heat with Indoor Fun
Huntington Beach's popular Off The Wall Social is an entertainment complex with everything from arcade games to bowling, just right for those rare rainy days or when you need a break from the sun. Try your luck at corn toss, bumper pool, or laser tag. There's a full menu of food and drink, including cocktails for adults. 
11. Stay at a Beachfront Resort
You can't miss the Hyatt Regency Huntington Beach Resort and Spa, an enormous beachfront property with more than 500 immaculate rooms and suites, a swimming pool with waterslides, onsite bike rentals, and a full-service spa. The beach concierge can set you up with surf lessons, and if you've got a mermaid lover in your family, book the hotel's Mermaid Magic package that transforms your into one of the mythical sea creatures.
NO PASSPORT NEEDED: 19 Best All-Inclusive Resorts in the U.S. for Families
You don't have to leave the hotel to experience delectable dining thanks to the hotel's restaurant Watertable, where a farmhouse vibe, locally sourced ingredients, and a children's menu should entice even finicky eaters. To top it off, a free seasonal shuttle to Disneyland makes spending a day with Mickey easy. 
12. Enjoy the Delicious Dining Scene
Huntington Beach is a hotbed of delicious eats, with a food scene as big as Pacific waves during a winter storm. Here are some popular establishments to consider.
13. Celebrate the Seasons with Festivals Galore
With a boatload of annual events crowding the calendar, seaside Huntington Beach might as well be called Festival City. Sunset Beach Art Festival, held on Mother's Day weekend, has loads of activities for kids and vendors selling handmade goods. The Huntington Beach 4th of July celebration is the largest Independence Day festival west of the Mississippi, featuring a parade and fireworks. 
LEAVE THE KIDS AT HOME: 8 Romantic California Getaways for Couples 
For dog lovers, Corgi Beach Day takes place bi-annually in fall and spring at Huntington Dog Beach. This adorable breed of dog is celebrated with a corgi kissing booth and numerous dog-themed activities and contests. And Magic on Main Street is an annual holiday happening during Christmas vacation season with entertainment and free seasonal refreshments spreading Yuletide cheer. 
More from FamilyVacationist: