Every single time I visit, I think to myself: There's no place like Yosemite. I'm never not awe-struck by the sheer granite cliffs glowing pink at sunset, the mist rainbows shimmering over rivers, and some of the West's (and lets face it, the nation's) best hiking and climbing—this California national park earns every bit of its reputation as one of the best family vacation spots in the country. But a lesson I've learned is that Yosemite's popularity as a California family vacation destination can create a hotel booking challenge, especially if you haven't planned well in advance. And that's where hotels near Yosemite National Park come into play.
Because here's the thing: The best hotels near Yosemite still offer convenient proximity to all that Yosemite magic, so visiting Yosemite National Park doesn't actually mean you need to stay in the park. Many of the best hotels close to Yosemite are also often destinations in their own right, are close to charming small towns, and prove that the beauty of Yosemite National Park doesn't end at the park's boundaries. I've stayed at resorts near a number of the park's entrances and have opinions and recommendations about my faves.
Best Hotels Near Yosemite National Park
Millions of visitors come to see Half Dome, Yosemite Falls, Glacier Point, and other Yosemite Valley sights; the giant sequoia groves; and the park's remarkable beauty. And most of those Yosemite visitors come through one of three entrances. (Technically, there are five entrances, but one is just for Hetch Hetchy Reservoir, and then there's the Tioga Pass entrance from the Mammoth Lakes area, which is only open seasonally in the warmer months.)
Some of the best hotels, resorts, camping, glamping, RV resorts, and vacation rentals in the area cluster near these gateways, offering plenty of options to travelers looking for accommodations near Yosemite National Park. Here's a breakdown of what you'll find near each entrance, plus my recommendations for where to stay at each.
MAKING MEMORIES: 50 Best Family Vacation Ideas for All Ages and Interests
Yosemite 120 via Groveland: Hetch Hetchy + Big Oak Flat Entrances
The Hetch Hetchy and Big Oak Flat entrances to Yosemite National Park draw travelers from the Bay Area and points north. Groveland, the first town that lets you know, "You've made it!" invites you to make a stop in what seems like another era with its California's oldest saloon, plus shops, Yosemite Cellars and the Groveland Yosemite Gateway Museum.
If you're looking for adventure but don't know where to start or don't want to go it alone, Groveland also serves as the home base for Arta and Sierra Mac river trips and Yosemite Guide Service. As you head towards the two park entrances, you make a crucial choice: Hetch Hetchy or Big Oak Flat toward the Yosemite Valley? Both offer plentiful hikes and magnificent views; either way, you can't go wrong.
Evergreen Lodge at Yosemite
Nestled along the road to Hetch Hetchy, Evergreen Lodge at Yosemite feels like a destination in and of itself. Cabins offer charm without sacrificing comfort and are clustered together in "villages" with surrounding open spaces for adult travelers to relax and little travelers to play. To me, Evergreen Lodge feels like a super well-outfitted family camp with luxe touches. Originally built around the time O'Shaughnessy Dam in Hetch Hetchy Valley was being built, the lodge celebrated its 100th anniversary in 2021.
While of course you'll want to spend lots of time in the park, there's also plenty to do around the property. Outdoors, there are play structures, disc golf, fire pits, supersized Connect Four, walking paths, and a heated pool and hot tub. Indoors, there's a big space with games like pool and ping pong as well as a separate, though equally majestic library/sitting room for reading, chatting, or just snuggling up.
GOLDEN STATE GETAWAYS: 10 Best Family Resorts in California
With parking sequestered in two locations, Evergreen Lodge evokes its past by maintaining the quiet of a time when strolling through a property was the norm. In addition to the well-appointed cabins, Evergreen Lodge also offers ready-to-settle campsites—tents and all the relevant gear is available, and campers get the benefit of the Lodge amenities including its cozy bar and restaurant as well as the shop, which has a cafe, souvenirs, and outdoors gear.
Distance from Evergreen Lodge to Yosemite: About 20 minutes to the Big Oak Flat entrance; 30 minutes to Tuolumne Grove; an hour to the valley; and 20 minutes to Hetch Hetchy (this is a different entrance; when you leave the lodge you turn left instead of right)
Rush Creek Lodge at Yosemite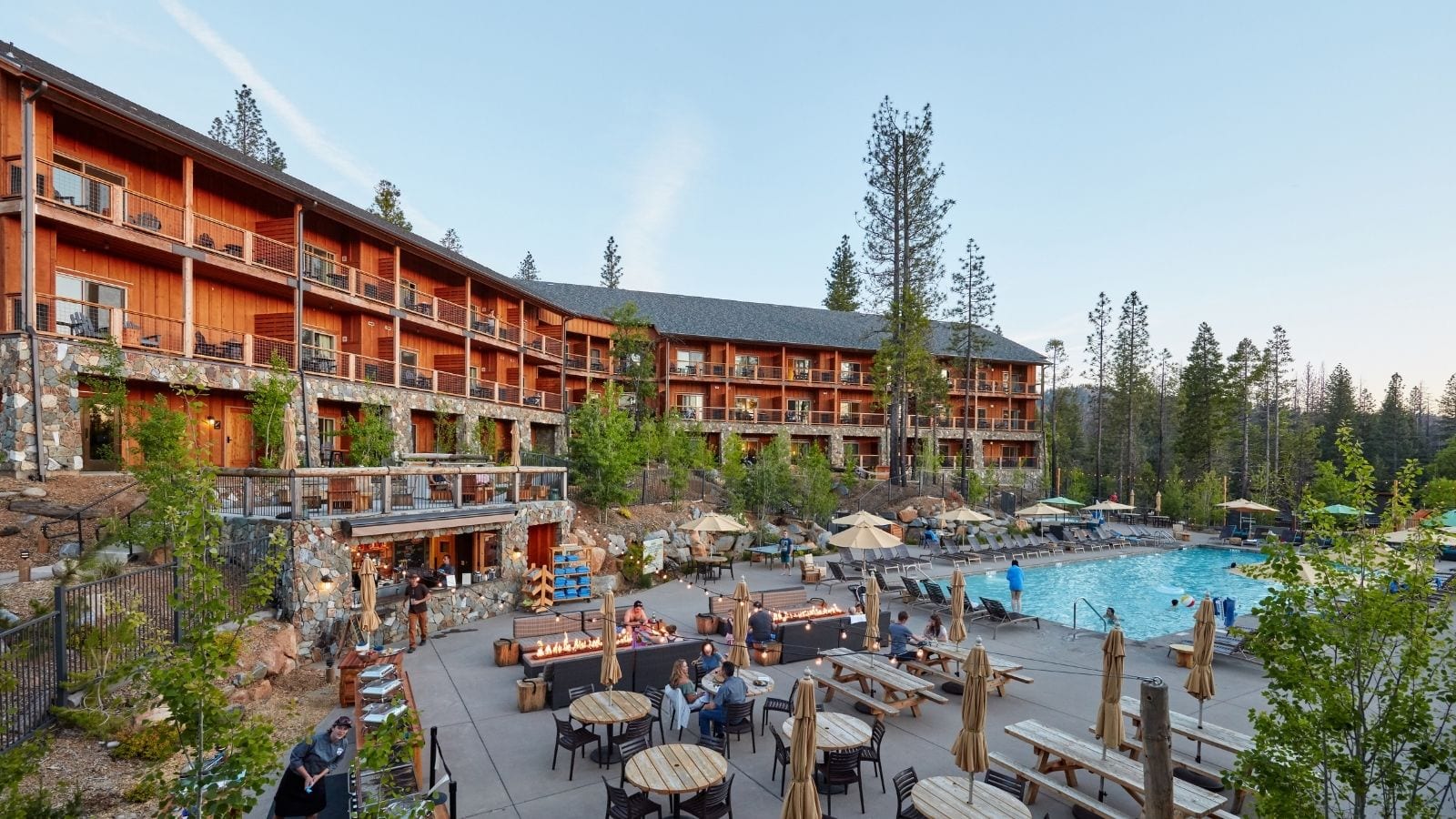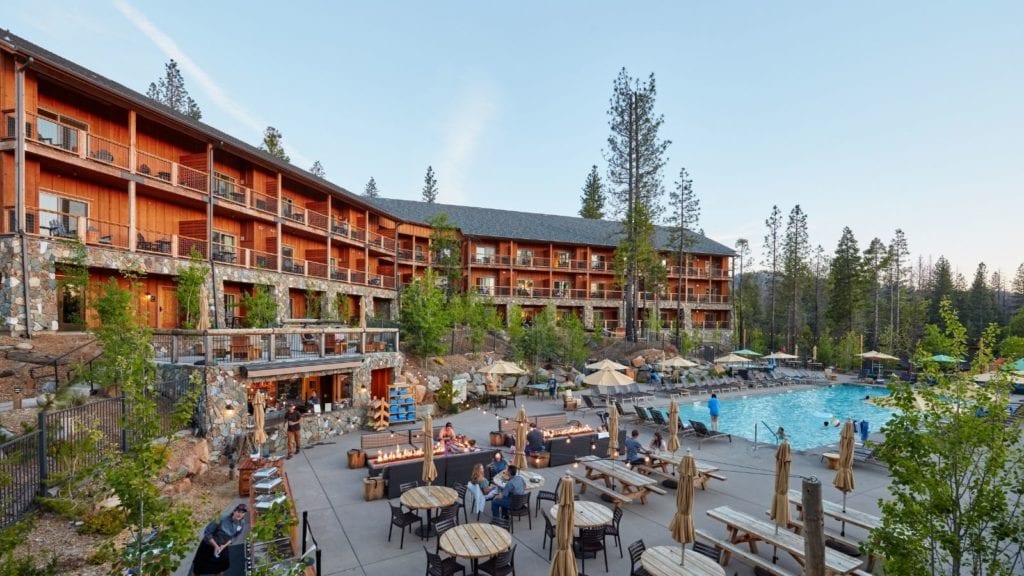 I love this eco-friendly resort and sister to the Evergreen Lodge. It offers a great location less than a mile from the park entrance, has plenty of eco-friendly style, and amenities to please the whole family. Borrowing the key elements of Evergreen and giving them a modern twist, Rush Creek Lodge welcomes all kinds of travelers (read our full review).
With its knowledgeable Activities Staff, there is no need to pour over your travel books; these friendly and patient folks have everything you need to make your visit in and out of the park an awesome one. By day, Rush Creek staff rent snowshoes, teach about the best off-the-beaten-path hikes, and answer all of your Yosemite-related questions answered, and by night, they offer you s'more kits and board games.
SUN AND SAND: 8 Best Hotels on the Beach in California
Indoors at Rush Creek offers many spots to play, climb, feast, and chat, while the outdoor property teems with fire pits, three zip lines, giant checkers, a 60' slide, two hot tubs (one adult only), a large heated pool, and varied walking/hiking trails. Every room at Rush Creek invites the outdoors in with views of the surrounding national forest.
Though you may come to Rush Creek Lodge for its incredible proximity to the National Park or its awesome amenities, adults should not overlook the spa. Wow. The Rush Creek Spa includes a Himalayan salt sauna, steam room, two indoor waterfalls, heated tile zero gravity chairs, a warm-cold-mist shower space, and a sensory chamber—that's just inside. Outdoors at the spa includes warm river rock beds, a 104-degree salt hot tub with waterfall, and three different ways to lounge, including a hanging bed.
Distance from Rush Creek to Yosemite: Five (!!) minutes to the Big Oak Flat entrance; 20 minutes to Tuolumne Grove; 50 minutes to the valley; and 40 minutes to Hetch Hetchy
Yosemite Pines RV Resort
With many options, Yosemite Pines RV Resort and Family Lodging sets families and couples alike up for a visit full of adventure and relaxation. The resort offers not only cabins, yurts, tents, and RV sites, but also Conesta Wagons and Retro RVs for fun family stays. The Conesta Wagons are fully furnished with a refrigerator, microwave and coffee, and have heating and air conditioning. The Retro RVs have all of the charm of their era with modern decor and everything you need to prep and enjoy meals.
The resort has a deli and BBQ area, so that you have everything you need right on site. With a games area, gold panning, sand volleyball, a pool, nature trails and even a petting farm complete with alpaca, you may forget that you came here to go to the National Park. Once you decide you are ready to head to the park, you have only about a 30-minute drive to the Big Oak Flat entrance.
Distance from Yosemite Pines RV Resort to Yosemite: 30 minutes to the Big Oak Flat entrance; 45 minutes to Tuolumne Grove; about an hour and 15 minutes to the valley; and an hour to Hetch Hetchy
2. Yosemite via 140 and Mariposa/Midpines/El Portal: Arch Rock Entrance
The closest park entry to the Yosemite Valley, the Arch Rock entrance (sometimes maps call it the Yosemite Entrance Gate – Central) welcomes visitors coming from all directions. The town of Mariposa is the first indication of your arrival near Yosemite and the most developed, but a beautiful, winding road along the Merced River keeps you company through the tiny towns and hamlets of Midpines and El Portal before you arrive. You can get gas along the road between Mariposa and the park, but not much else.
ROOM FOR ROMANCE: 8 Best California Getaways for Couples
The Merced River Recreation Area and Briceburg Bridge area is a worthwhile stop for a quick swim or picnic in summer and offers a sense of the power of the river that carved the valley in winter. For a longer detour, head down Briceburg Road and pull over for views and swimming holes. Zephyr Whitewater Exhibitions offers Merced River trips on this side of the park if you aren't in a rush to get to the valley. Highway 140 winds its way slowly to this main park entrance, and varied lodging opportunities give you the experience you seek.
Vacation Rentals in Mariposa
Mariposa is teeming with vacation rentals. If you plan on only visiting the park for a day or two but want a home base to explore the many excursion options of this area, renting a home in Mariposa is a good option. With its visitor center and Mining Museum, Mariposa helps visitors better understand the area. And cute shops such as the centrally-located Pioneer Market and several antique shops unite nature and retail therapy.
WINE AND DINE: How to Plan the Perfect Wine Tasting Trip to Napa and Sonoma
Past town, the area is flush with rentals along little-known hiking trails and creeks. Find vacation rentals in and around Mariposa on vacation rental sites like VRBO, AirBnB, or one of the many online travel agencies that now offers vacation rentals. Need a bit of inspiration to kickstart your search? Here's one example on the Chowchilla River and another one right downtown.
AutoCamp Yosemite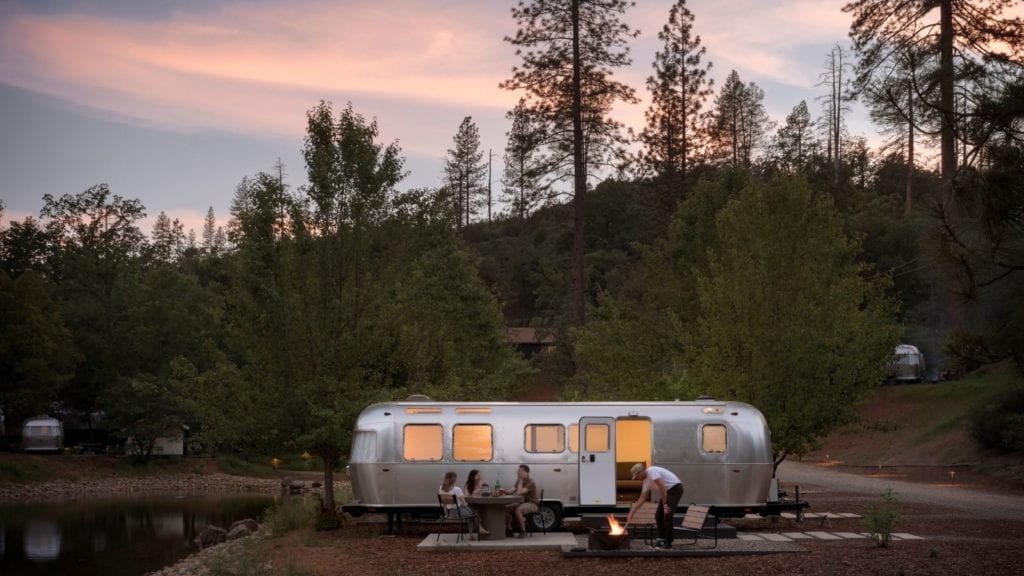 Touting itself as a "basecamp for your next adventure," AutoCamp Yosemite is a charming family glamping resort setup that will put you in the mood for all-things-outdoors. With a selection of Airstream trailers, luxury tents, basecamp/tent, and cabin accommodations, AutoCamp has something for every kind of adventure-traveller, plus a fire pit at every site for evenings around the fire.
LEAVE THE KIDS AT HOME: 6 Romantic Weekend Getaways in Northern California
When the weather is right, parents can make the Airstream home while children nestle in already-pitched tents. Traveling with a group? There are Airstream-Luxury Tent sites that sleep six. All AutoCamp visitors have access to the shop that offers grab and go breakfast options as well as BBQ-ready meal kits. Complimentary WiFi and coffee will keep you comfortable if you have to sneak in work, but a cozy clubhouse and seasonally operated pool are right there for the real reason you got away.
Distance from AutoCamp to Yosemite: About an hour to the Arch Rock entrance; a little over an hour to the valley
Yosemite Bug Rustic Mountain Resort
The legendary Yosemite Bug Rustic Mountain Resort has attracted travelers for decades with its variety of accommodations, delicious food, and festive communal options for meetings, spa-going, playing and cooking. The Bug is nestled enough off of Highway 140 that as soon as you pull in, you feel tucked away in the trees and hills of Mariposa County, and even a little bit transported to another time.
UNDER THE STARS: 7 Things You Should Never Do When Camping with Kids and Pets
If you are looking for a low-budget option, the Bug offers dorm-style housing and a shared kitchen. And, true to its resort name, "real cabin lodging" options are cozy, well-appointed and offer everything a weary traveller needs, except the modern resort prices. Known for its standout food, the affordable June Bug Cafe offers travelers a variety of made-to-order meals to nourish you before you hit the trails and replenish you upon your return.
Distance from Yosemite Bug Rustic Mountain Resort to Yosemite: A little less than an hour to the Arch Rock entrance; a little over an hour to the valley
Yosemite View Lodge
The closest lodging to the Arch Rock entrance and the Yosemite Valley, Yosemite View Lodge offers more than 300 rooms and suites just steps from the Merced River. Travelers are greeted with in-room kitchenettes, coffee, and HBO-ready cable, as well as WiFi. And, with a convenient store, cocktail lounge, restaurant, and visitor center, Yosemite View Lodge welcomes travelers with any and everything they may need.
With indoor and outdoor pools and spas, hikers have a relaxing place to return to after a full day in the park. And when you're ready to get up and doing it all again, you're only a short drive back to the park entrance.
Distance from Yosemite View Lodge to Yosemite: 25 minutes to the Arch Rock entrance; about 30 minutes to the valley
Yosemite via Highway 41/Oakhurst and FishCamp: South Gate Entrance
Typically the approach from travelers who arrive from the south, the South Gate Entrance shouldn't be dismissed from those coming from the north, either. The South entrance has an impressive claim to fame: the not-to-be-missed Mariposa Grove of Giant Sequoias. More than 500 of these up-to-2700 year-old magnificent trees lie just inside the South Gate of the park, and are a destination in and of themselves.
SOUTH OF THE BORDER: 11 Best Family Vacations in Mexico: Cancun, Los Cabos, Puerto Vallarta, and Beyond
You'll want to stop many times along the way, however, because Highway 41 greets you with the legendary Reimer's Candy and Gifts in Oakhurst, where travelers with and without kids will be delighted by the candy and ice cream selections. Visitors interested in the logging history of Mariposa County or who simply love an open-air train ride will certainly want to make a stop at the Yosemite Sugar Pine Railroad.
And, those looking for leisurely but beautiful hikes just off the road have great options; Corlieu Falls and Red Rock Falls are easily accessible, and for more intrepid hikers, swimming holes can be found at the end of Fish Camp Falls in Jackson Hole.
Tenaya Lodge at Yosemite
Tenaya Lodge is a great hotel to stay at for a Yosemite trip that includes some downtime at the hotel. Tenaya is an especially good choice for those coming from points south and who will enter the park via its south entrance. The 4-star hotel offers everything you need for a relaxing stay, including a pool and spa, dog-friendly rooms, and free-standing cabin accommodations. Tenaya Lodge's accommodations options are varied; lodge rooms, suites, cottages and cabins give you all the comforts of a resort while feeling nestled in the natural surroundings (read our full review). 
An adventure course, archery, and electric-assist mountain biking will keep families busy on site all day, and if you want a little help navigating the park, expert local guides will enlighten you as you tour the park in an open-top bus.
Tenaya Lodge offers a seasonal Junior Ranger tour of the park to keep kids ages 3-13 engaged and connected to this beautiful place.
Distance from Tenaya Lodge to Yosemite: 7 minutes to the South Entrance of Yosemite; 14 minutes to Mariposa Grove; a little over an hour to the valley
Sierra Sky Ranch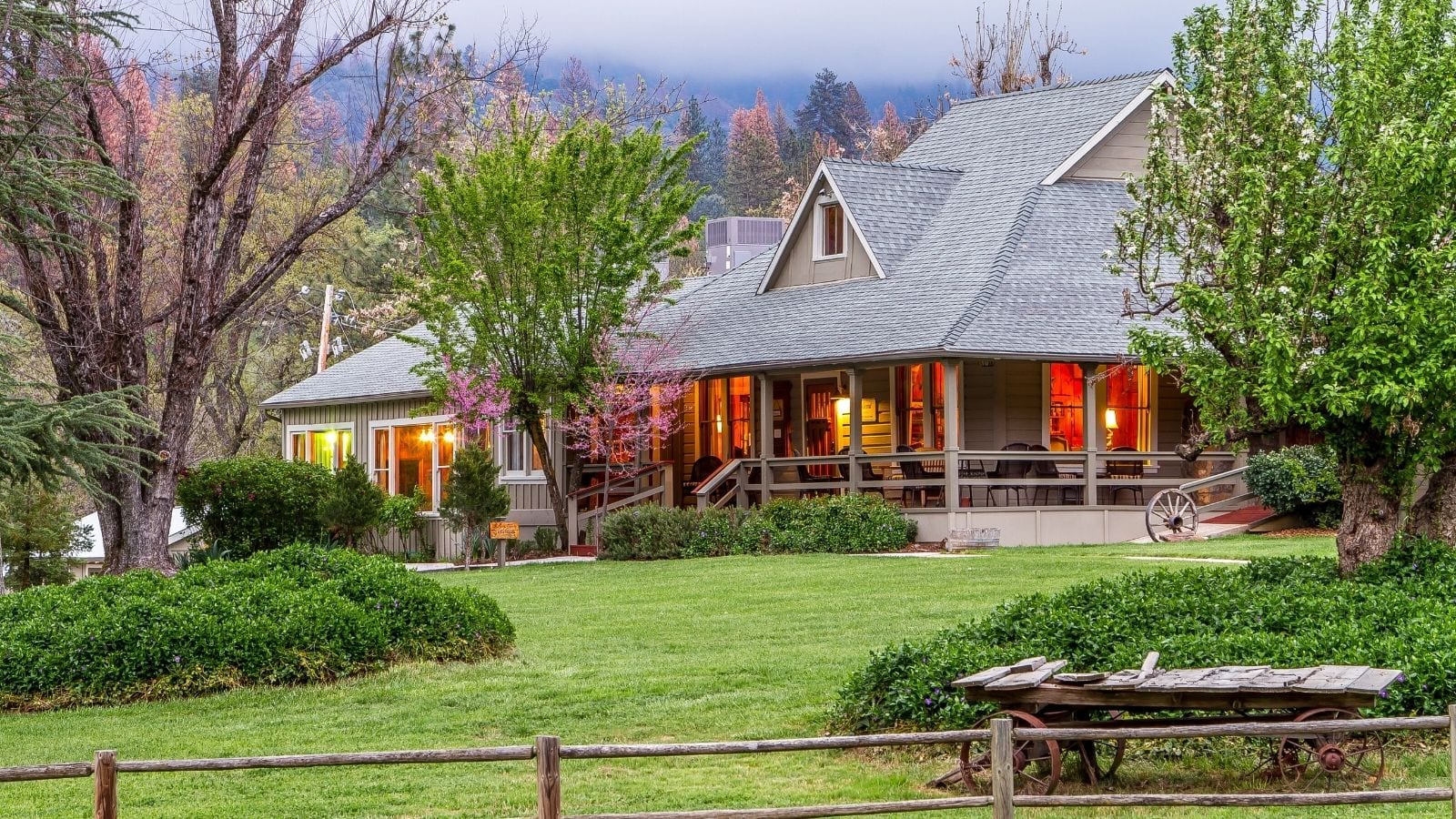 Oakhurst is full of right-on-the highway lodging options, but Sierra Sky Ranch, located four miles north of town and off the main road, feels like it's miles away from anything. Tastefully decorated rooms reflect the woodsy environment and are in configurations that will suit both couples for a romantic getaway and families who need a little more space. Almost every room opens out onto the covered porch, inviting guests to enjoy the outdoors as much as possible.
LAST DAYS OF SUMMER: Where to Go for a Labor Day Weekend Getaway with the Kids
Now part of the Ascend Collection Hotels, Sierra Sky Ranch hasn't lost its family-owned feel. The warm and welcoming staff will supply you with information for your adventures plus any necessities you may have left at home. At the on-site Branding Iron steak house, you can grab a cocktail to enjoy on the wraparound veranda, or a hearty breakfast to start your day off right. Beamed ceilings in the Great Room make it an inviting place to connect, or cozy up in the library for reading or a game of cards. Of course, especially in summer, no post-hiking day is complete without a dip in the outdoor pool.
Whether you visit Yosemite in winter, spring, summer, or fall, you'll find magic there. And with so many great places to stay near the park, it's a kind of magic that extends beyond the park's boundaries.
Distance from Sierra Sky Ranch to Yosemite: 20 minutes to the South Entrance of Yosemite; 30 minutes to Mariposa Grove; about an hour and 20 minutes to the valley
A Quick Note About Hotels In Yosemite
Hotels in Yosemite National Park can be divided into those that are in the Yosemite Valley and those that are elsewhere in the national park. In the valley, national park hotels include The Ahwahnee (historic, beautiful, pricey), Yosemite Valley Lodge (mid-range and centrally located), Curry Village (cabins and tent cabins), and Housekeeping Camp (rustic tent-like structures). Beyond the valley, there's the Wawona Hotel near the park's south entrance, White Wolf Lodge and Tuolumne Meadows Lodge in the park's high country, and then the hike-in-hike-out High Sierra Camps and the seasonal ski-in-ski-out Glacier Point Ski Hut. If you have your heart set on a stay in Yosemite National Park, book early, since the limited inventory means it books up fast.
More from FamilyVacationist: