Opened in 2016, Rush Creek Lodge offers unfussy sophistication, a playful spirit, and an ultra-convenient location less than a mile from Yosemite National Park. Rooms and villa suites are spacious, views are oriented toward the forest or the sunset, and decks with Adirondack chairs and small tables are standard with every room. An abundance of on-site activities and offerings keeps things lively in between trips to the park.
Things to Know About Rush Creek Lodge
Rush Creek Lodge at Yosemite is just a half mile from Yosemite National Park's Northwest entrance. 
The resort's vibe is relaxed, playful, and comfortable, and there's plenty of room to roam on the 20-acre property.
The rooms feel spacious and modern. Note that there is Wi-Fi but no televisions in rooms.
There's an abundance of activities on property plus guided trips into Yosemite.
Many of the lodge's amenities are available during the pandemic, though sometimes in an adjusted format (dining, for instance, is outdoors and food is packaged to go). 
Rush Creek Lodge is a newer sister property to the popular and slightly more off-the-beaten-path Evergreen Lodge. The two properties are about a 20-minute drive apart.
From Rush Creek Lodge, it's about a 40-minute drive to the Yosemite Valley.
During the COVID pandemic, Yosemite has sometimes been using an advance reservations system to limit park capacity. If the national park is your main reason for a visit, check park access for your dates before you book. Note that if you book a guided tour with the resort, your park entry is included.
What Families Need to Know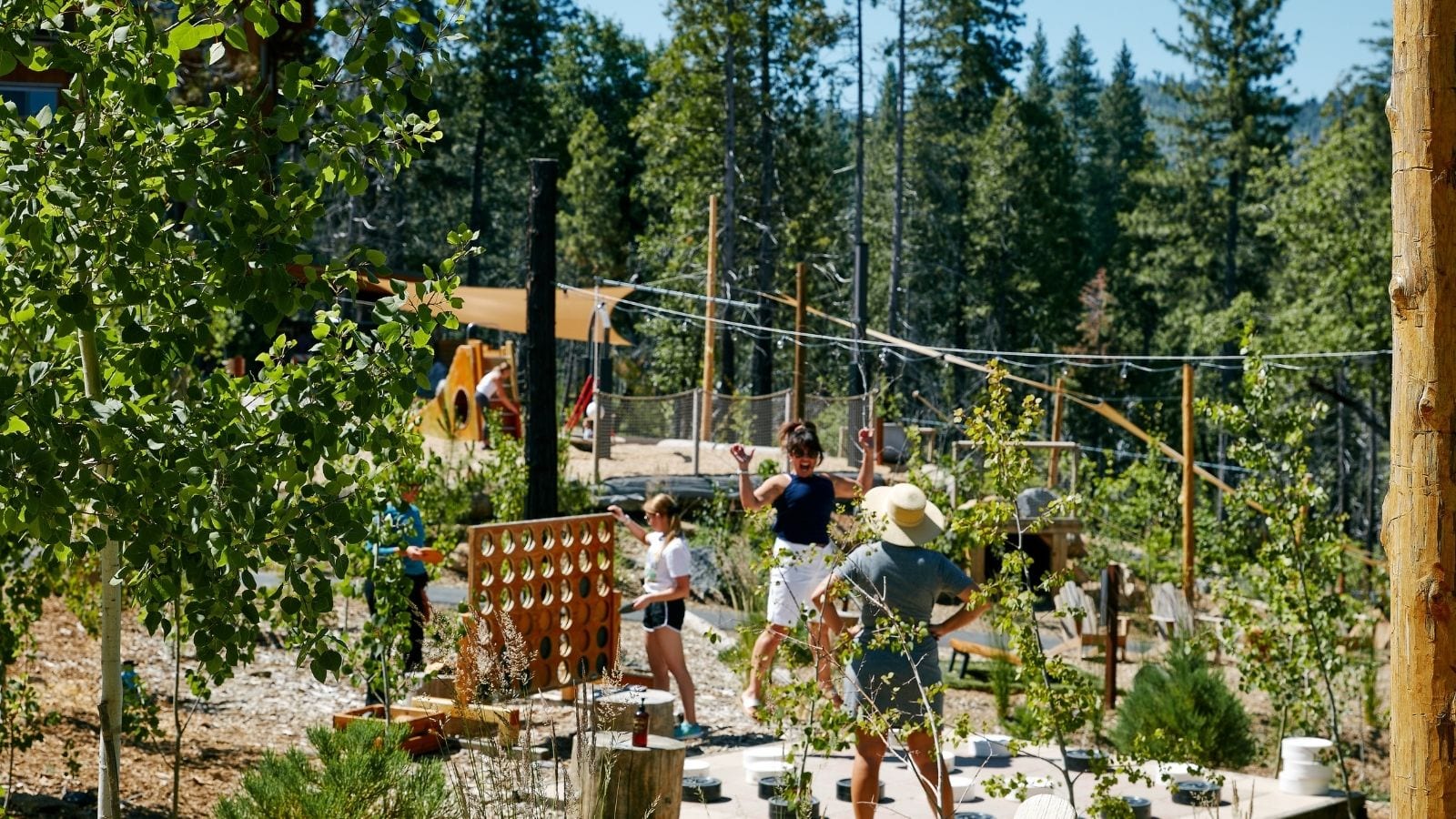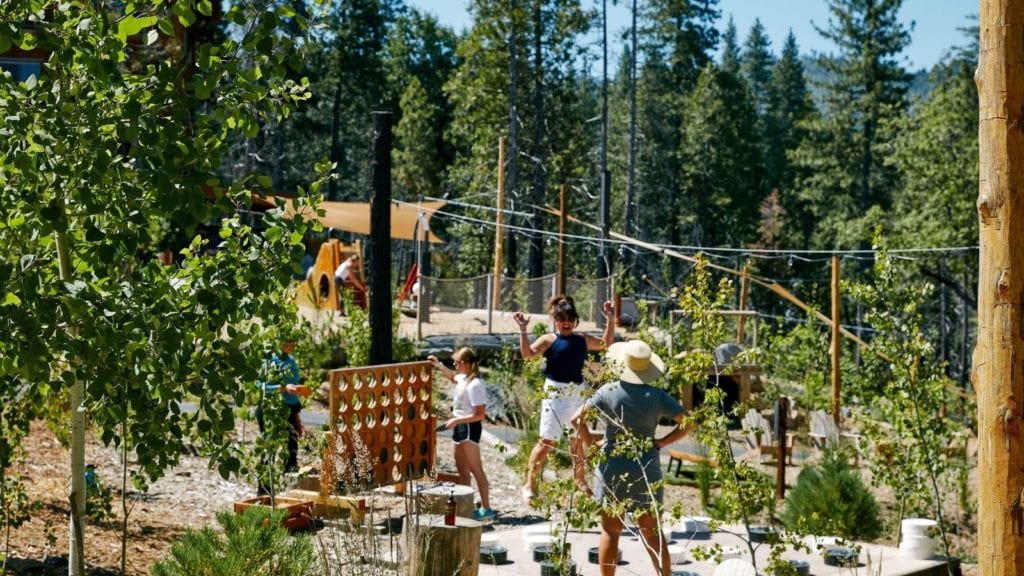 For families, Rush Creek Lodge is an ideal refuge in between hiking and biking trips. Downtime at the hotel becomes a highlight with plenty of leisure activities to suit both kids and their grown-ups. During my visit, I saw kids finding plenty of activities to fuel their play, and parents who were just as delighted.
All room options comfortably accommodate up to four people. Families who prefer a quieter option can opt for a villa suite, which are a bit of a walk to the pool and main lodge, but which offer more reliable serenity. The lodge provides Pack n' Plays and bottle warmers upon request.
At the main lodge, a kids menu offers kid-pleasing favorites alongside more sophisticated fare. Another great option is the General Store, which offers quick-service and ready-made options like breakfast burritos, bagels and cream cheese, and warm coffee cake for breakfast; sandwiches, sandwiches, and parfaits for lunch, and ready-made cheese plates and other grab-and-go treats for snack time.
Rush Creek Lodge Reviews
The Rush Creek Lodge at Yosemite earns a rating of 4.5 out of 5 on TripAdvisor based on more than 1,200 reviews, 9.4 out of 10 on Hotels.com based on over 700 reviews, and 9.2 out of 10 on Booking.com based on around 900 reviews. Reviewers praise the spacious and clean rooms, its proximity to Yosemite National Park, and its abundance of kid-friendly activities on property.
Important Details About Rush Creek Lodge
Location
Rush Creek Lodge has a prime location just a half mile from the Highway 120 entrance into Yosemite National Park. The seasonal YARTS bus picks up and drops off right out in front of the resort, and will deliver you to the valley floor between mid-May and the end of September. Round-trip fare from Rush Creek to Yosemite Valley is $14 per adult, which includes a free seat for an accompanying child and Park admission for both riders. From the lodge, it's a 30-minute drive to the Yosemite Valley, a 25-minute drive to Hetch Hetchy, a 75-minute drive to Tuolumne Meadows, and a 90-minute drive to Mariposa Grove.
By car, Rush Creek Lodge is about 3.5 hours from the San Francisco Bay Area, three hours from Sacramento, three hours from Fresno, and a little over six hours from Los Angeles. The closest town to Rush Creek Lodge is Groveland, which sits about 23 miles west of the property.
The lodge is perched on a hill above the two-lane highway, but once you're on the lodge's property, the road is not particularly noticeable.
Related: 10 Fun Family Glamping Spots in the U.S.
The Property
As at its sister property Evergreen Lodge, play is prioritized at Rush Creek Lodge. The large heated saltwater swimming pool is open 24 hours, as are the separate and sizable family and adult hot tubs. Oversized outdoor versions of games like checkers and chess are always available, and there's also a 60-foot hillside slide, three zip lines, and nature-inspired playground. Bocce, horseshoes, corn hole, and ping pong set-ups are scattered around the property. In the main lodge, the game room is full of board games, books, comfortable couches and tables, plus a roaring fire in the evenings. A second game room features an indoor climbing area for kids plus pool, air hockey, and other games. Rooms are stocked with additional board games. Fire pits (both communal and individual) dot the resort, and complimentary nightly s'mores kits bring both kids and adults to the campfire.
Hiking trails and a stream through the Rush Creek Lodge's 20 acres bring nature close. The property's Recreation Desk acts as a nature concierge, offering advice, equipment, and guided tours of natural sites around the region.
Rooms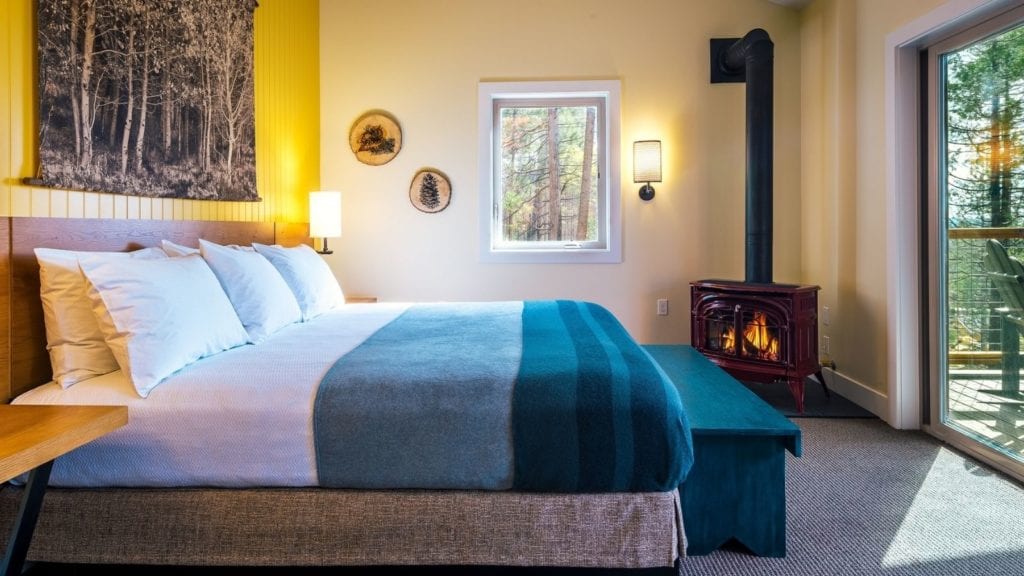 The lodge is the closest building to the pool, reception, and main lodge. Standard lodge rooms can sleep up to four people and face either the pool and the sunset or the forest at the back of the property. Lodge suites have a separate living area with a pull-out couch, and also sleep four. Suites also have a cast-iron gas fireplace.
Scattered throughout the property are four-unit hillside villas. Each hillside villa unit has two bedrooms, a spacious hallway for storage, a gas fireplace, and a bathroom. There are multiple layouts for the two-bedroom villas, and during some times of year one-bedroom villas are also available.
All rooms at Rush Creek Lodge Yosemite include private decks, Keurig coffee brewers, refrigerators, custom furnishings, and Alexa, comfortable beds and hypoallergenic feather pillows, and free toiletries including hand soap, lotion, shampoo, and conditioner (and are available at the lodge's gift shop if you want to take some home). Free Wi-Fi is available in rooms and common areas.
Dining
Rush Creek Lodge's dining scene looks a little different right now because of COVID-19 precautions, but the restaurant's full menu is still available for take-out. In non-pandemic times, The Restaurant at Rush Creek Lodge and Rush Creek Tavern offer both indoor and outdoor seating in the main lodge. Menu items range from burgers and wood-oven flatbreads to shared-plate items like poke and brisket tacos. A number of vegetarian, vegan, and gluten-free options are also available.
In summer, the pool bar serves up a rotating array of alcoholic and non-alcoholic cocktails, wine, beer, and food. Poolside barbeques are also a standard feature of summer.
Spa
The Rush Creek Lodge spa has done what more resorts should do: Create a place-specific spa experience. Inspired by the surrounding stone and water of Yosemite and the High Sierra, the spa experience incorporates elements like warm waterfall coves with rain curtains, warm river rock beds, and waterfall hot tub.
The spa has an aromatherapy steam room, a Himalayan salt block sauna, a cool mist shower and warm deluge shower, and a sensory room. Compared to everything that surrounds it, the out-of-the-way sensory room may not immediately draw you in, but don't miss it. With its simple use of temperature, sound, scent, and light, it offers a perfect way to calm and center, a gift you'll be able to carry well beyond the spa walls.
A covered outdoor section of the spa offers heated floors, hanging beds, and lounge areas.
Spa staff offers massages in its three treatment rooms. The signature massage extends the theme of stone by incorporating hot stones and chakra stones. The hiker's delight massage blends massage, hot stone therapy, and light exfoliation. There are also basalt river rock hot stone massages, deep tissue treatments, and pregnancy massages.
The spa shop offers a highly curated selection of local and global products, including a blend-your-own aromatherapy-infused lotions bar and many of the products used in treatments.
COVID-19 Precautions
Rush Creek Lodge has enhanced protocols to keep staff and guests safe. Masks are required except when dining or swimming on the property, and during my visit, both guests and staff seemed to abide by the protocol without drama. Hand sanitizer pumps are scattered throughout the property, and all dining is currently outdoor or in-room. You'll find plexiglass barriers at check-in and other counters around Rush Creek Lodge Yosemite, sealed s'mores packets, additional sanitization around the resort, and protocols for safety during guided trips.
About Our Reviews
We review hotels, cruise lines and cruises, and tour companies and tours. Each of our reviews is based on first-hand experience at the property or with the provider. Reviews are based on independent travel, hosted stays, or site visits. We always offer our unbiased opinions.
More from FamilyVacationist: