It's been well-documented that friendships are important to our physical and mental health. Gathering your friend group for a girls trip can provide a much-needed escape from everyday life and help long-distance friendships thrive any time of year, but the second weekend in February is an especially good time because it aligns with Galentine's Day (every February 13).
Galentine's Day Ideas for Girlfriend Getaways around the Country
You've probably heard the term before, but if you're not entirely familiar with its origin, Galentine's Day owes its existence to Amy Poehler's character Leslie Knope in the television series Parks and Recreation. While Valentine's Day is all about romantic love and couples getaways, Galentine's Day celebrates the joy of female friendships. And what's a better way to do that than with a girlfriend getaway to somewhere you can truly relax together as friends?
Whether you choose to celebrate your female friendships on Galentine's Day or any other time of the year, here are some of the best Galentine's Day ideas for girlfriend getaways around the country.
GIRLFRIEND GETAWAYS: How to Plan the Perfect Wine Tasting Trip to Napa and Sonoma
1. Nashville, Tennessee
You don't have to know the difference between Luke Bryan and Luke Combs to have fun in Music City. Yes, country music is big in Nashville and you can immerse yourself in that musical genre with a visit to spots like the impressive Country Music Hall of Fame and Museum, Ryman Auditorium, and the flashy honky-tonks that draw revelers to the city's stretch of Lower Broadway.
FOOD HEAVEN: 12 Foodie Hotels That Will Delight Your Taste Buds
But you can also learn more about the history of musical styles like R&B and jazz on your Galentine's Day getaway at the new National Museum of African American Music, hear tales about artists like Elvis Presley during a tour of Historic RCA Studio B, and try your hand at making your own letterpress poster at local institution Hatch Show Print. Book a food tour from operators like Walk Eat Nashville to sample everything from barbecue to the city's own Goo Goo Clusters candy, and head to spots like The Gulch and trendy East Nashville for good shopping.
Where to Stay for Galentine's Day in Nashville
In 1920, suffragettes gathered at The Hermitage Hotel while waiting to see if Tennessee would be the deciding state in favor of ratification of the 19th Amendment giving women the right to vote. (Spoiler alert: It was.) But that's just one reason why staying at this National Historic Landmark is among the best Galentine's Day ideas. Current day guests can also book fun experiences like the Girls Getaway with Draper James, which includes a private shopping experience at the flagship store for Nashvillian Reese Witherspoon's lifestyle brand, afternoon tea at the hotel, and matching Draper James PJs for the whole group.
2. St. Petersburg, Florida
Move over, retirees—the city of St. Petersburg on Florida's Gulf Coast is a lot cooler than you might think. Your girlfriend group could spend a Galentine's Day girlfriend getaway just checking out St. Pete's artsy side: Eye-catching murals and other public art can be found all over the city, and museum lovers can admire the surrealist artwork at The Dalí Museum, colorful glass pieces in the Chihuly Collection at the Morean Arts Center, Western paintings and sculptures at The James Museum, and portraits and still lifes at the Museum of Fine Arts.
MAKE MEMORIES: 22 Romantic Babymoon Ideas for Expecting Couples
Download a digital passport to help you explore all the craft breweries found in the city (the larger area has gotten the nickname "Gulp Coast"), or stop by Book and Bottle for a glass of wine and the latest bestseller. Visit The Factory to check out the artwork on display, shop for records at Daddy Kool, and immerse yourself in the unique (and oh-so-Instagrammable) world of Fairgrounds St. Pete or head to the St. Pete Pier for some shopping, dining, and sweeping views of the city and Tampa Bay.
Where to Stay for Galentine's Day in St. Petersburg
The pink-hued Vinoy Renaissance St. Petersburg Resort and Golf Club offers historic charm and a prime location near the water and all the action in downtown St. Pete. Elegantly stylish guest rooms and suites provide a comfortable home base for wandering the city, and amenities include a waterfront outdoor pool, fitness center, and several restaurants serving up tapas, Florida seafood, cocktails, and gorgeous views.
3. Wilmington, Delaware, and the Brandywine Valley
Gather your girls and head to Wilmington, where you can admire the collections at the Delaware Art Museum and Brandywine Museum of Art or see how the other half lived at the du Pont family's jaw-dropping 175-room Winterthur estate. Longwood Gardens and Mt. Cuba Center are ideal Galentine's Day ideas for springtime strolls, and the 1.3-mile Wilmington Riverfront offers dining and entertainment options along the Christina River.
LEAVE THE KIDS AT HOME: 11 Best Adults-Only All-Inclusive Caribbean Resorts for Couples
Drive the Brandywine Valley National Scenic Byway for photo-worthy views or the Delaware Bayshore Byway that takes you to historic New Castle, and download the Delaware on Tap app to find breweries and wineries located on the way. Multiple state parks offer picturesque spots for walking or running, and no sales tax makes the state a great shopping destination.
Where to Stay for Galentine's Day in Wilmington
Wilmington's first boutique hotel, The Quoin features 24 stylish guest rooms and suites with custom-made beds, vintage rugs, and other minimal-meets-modern decor touches. Enjoy a cocktail at the hotel's Rooftop lounge or speakeasy-style Simmer Down lounge, or hit the fitness center for a morning workout.
4. Palm Springs, California
Bright sunshine, mountain vistas, vintage style—there are lots of reasons Palm Springs is among the best Galentine's Day ideas for girlfriend getaways. HGTV and shelter mag enthusiasts will quickly start indulging in some fantasy house hunting while admiring all the midcentury modern homes in the area. Book an architecture tour to learn about some of the area's coolest structures, or just drive around and be on the lookout for the colorful doors and sleek design for which the region is known.
GO TOGETHER: Trip Inspo: A Palm Springs Weekend Friends Getaway
There are scenic spots for hiking, lush gardens to stroll (don't miss the cactus-focused Moorten Botanical Garden and the serene Sunnylands Center and Gardens), and shops filled with vintage clothing and home decor along with more of-the-moment finds. For a different view of Palm Springs, take a 10-minute ride on the Palm Springs Aerial Tramway—the world's largest rotating tram car—to find yourself 8,516 feet above the valley, or book a Sky Watcher skygazing experience to explore what's overhead.
Where to Stay for Galentine's Day in Palm Springs
The Jonathan Adler-designed Parker Palm Springs offers guest rooms and villas done up in bright colors, punchy prints, and boho-meets-modern style. Your whole gal group can lounge by the pool, play a friendly tennis or croquet game, or pedal bikes around the neighborhood. A visit to the hotel's Palm Springs Yacht Club spa is a must for a relaxing massage, rejuvenating body wrap, or classic pedicure.
5. Leesburg, Virginia
About an hour from Washington, D.C., in Loudon County, Virginia, the historic hamlet of Leesburg is an ideal spot for a Galentine's Day girls getaway. Downtown's King Street is at the center of all the action, and a stroll along the thoroughfare will lead you to boutiques, coffee shops, breweries, and dining spots like Lightfoot Restaurant, which occupies a former bank. Loudon County is also home to more than 50 wineries and tasting rooms where you can sip a glass of Viognier or Nebbiolo.
TREAT YOUR FEET: 10 Comfortable Travel Shoes That Can Handle a Whole Day of Walking
History buffs have lots to explore here too, from well-preserved homes to local battlefields, and virtual walking tours help you learn more about the area's past. Horseback riding is big in these parts (there are more horses in Loudoun County than in any other county in Virginia), and you can book a ride or watch equestrian experts take the ring during a visit here. Or pedal the Washington and Old Dominion Railroad Regional Park's 45-mile-long paved trail, stopping off at the various parks, restaurants, and breweries you might encounter along the way.
Where to Stay for Galentine's Day in Leesburg
Pamper yourself during a stay at Lansdowne Resort, where you can book a facial, massage, or body treatment at Spa Minérale or partake in some of the resort's wellness offerings. If you want a more active girls getaway, the resort also offers three golf courses, tennis and pickleball courts, four pools (three outdoor and one indoor), and a fitness center with group exercise classes.
6. Door County, Wisconsin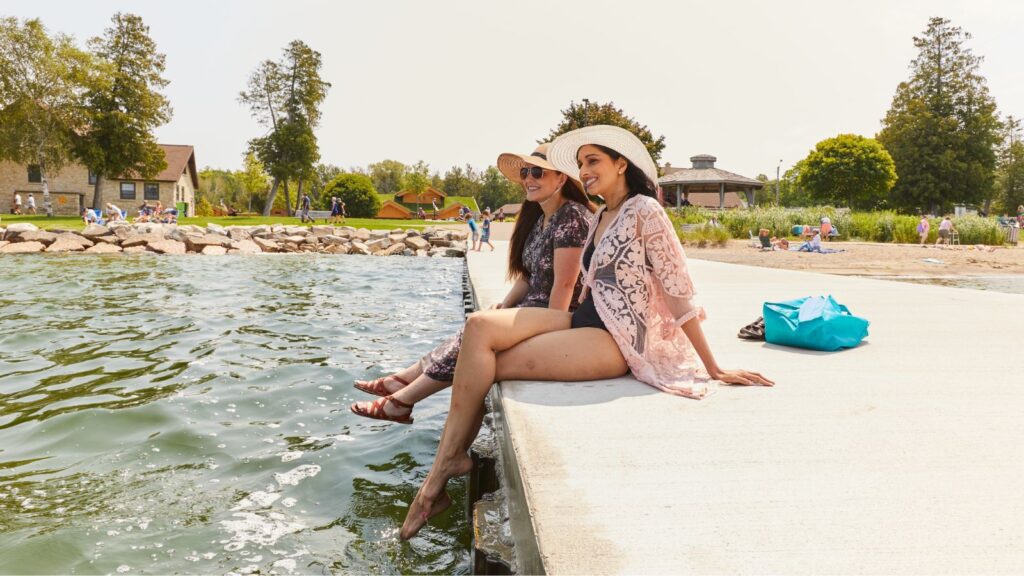 Often called the "Cape Cod of the Midwest," Door County is located on a peninsula in Wisconsin surrounded by Lake Michigan and Green Bay. The water is naturally a big part of life here, and boat and kayak tours take visitors on excursions to local lighthouses, scenic caves, and sunken shipwrecks.
WEAR IT WELL: 10 Best Travel Leggings with Pockets, According to Reviewers
There's lots to do here for a Galentine's Day girls getaway or any other time of year, from snowshoeing and cross country skiing during the winter to leaf peeping and apple picking in the fall. Spring is ideal for admiring cherry blossoms and wildflowers, while summertime means peak cherry season at local orchards and farms. The county is home to charming communities like Sister Bay and Ephraim with lots of great shopping and dining spots plus parks and beaches for enjoying the great outdoors. And make sure to include a fish boil on your itinerary for a true Door County experience!
Where to Stay for Galentine's Day in Door County
In Ephraim, Eagle Harbor Inn sits on five acres overlooking Green Bay and within walking distance of restaurants, shops, and galleries. Guest rooms and suites are done up in traditional style befitting the inn's 80-plus years in operation, and guests can enjoy amenities like a fitness room, sauna, indoor current pool, and outdoor seating areas and lawn games.
7. Spartanburg, South Carolina
You'll have no trouble coming up with Galentine's Day ideas in Spartanburg, which is located in the northwest corner of South Carolina in the foothills of the Blue Ridge Mountains. Foodies can check out the city's burger trail, then burn some calories biking or walking the almost two-mile Mary Black Foundation Rail Trail. For something faster paced, book a thrilling BMW Driving Experience or tour the car company's Spartanburg plant.
TRAVEL HAPPY: The Most Comfortable Travel Clothes Brands
The Spartanburg Art Museum and Mayfair Arts Studios offer exhibits and workshops for flexing your group's creative muscles, and the downtown boutiques carry everything from clothing to gourmet goodies. Stroll Hatcher Garden to see what's in bloom, explore the miles of trails at Croft State Park, or paddle the Pacolet and Lawson's Fork Blueway to see the area from the water.
Where to Stay for Galentine's Day in Spartanburg
The 10-story AC Hotel Spartanburg provides a prime downtown location paired with modern guest rooms, an outdoor pool, and a fitness center. Make sure to visit the Level 10 rooftop restaurant for sweeping views of the city and check out the hotel's collection of works by artists associated with North Carolina's Black Mountain College, where faculty and students included names like Walter Gropius, Robert Rauschenberg, and Willem and Elaine de Kooning.
8. Santa Fe, New Mexico
Any season is a good season for a Galentine's Day girls getaway to New Mexico's artsy capital city of Santa Fe. During the winter your girlfriend group can hit the slopes at Ski Santa Fe or stay warm by visiting the city's many art galleries. A trip to the Georgia O'Keeffe Museum is a must any time of year, and other museums worthy of a spot on the itinerary include the New Mexico Museum of Art and the IAIA Museum of Contemporary Native Arts (the country's only museum for exhibiting, collecting, and interpreting progressive work by contemporary Native artists).
History lovers have lots to explore here, including ways to connect with the local Native American culture. The city is also known for its wellness offerings, which include spas like the Japanese-influenced Ten Thousand Waves and miles of hiking trails for connecting with nature. After a day of sightseeing, your group can sip its way along the Santa Fe Margarita Trail, which spotlights more than 40 of the area's best margaritas, or take a sweet journey on the city's Chocolate Trail to sample drinking chocolates, truffles, and other tasty treats.
Where to Stay for Galentine's Day in Santa Fe
Immerse yourself in the culture of the American Southwest at La Fonda on the Plaza, where authentic New Mexico architecture meets modern amenities for a truly special stay. Complimentary art and history tours delve into the century-old hotel's past, while a spa and outdoor pool provide spots for relaxing rejuvenation.
9. Savannah, Georgia
Dripping with Southern charm, the historic city of Savannah is ideal for strolling, sipping, and shopping on a girl group getaway. As America's first planned city (and dating from 1733), Savannah boasts a storied past, beautiful architecture, and inviting parks that can easily be explored on foot. Dig deeper by visiting some of the city's historic homes (including the birthplace of Girl Scouts founder Juliette Gordon Low) or taking a tour of the area. And since Savannah calls itself America's most haunted city, a ghost tour is a fun way to explore its spooky side.
FORM AND FUNCTION: 10 Durable Luggage Brands for Suitcases Built to Last
There are lots of great places for a bite to eat or a well-crafted cocktail, including trendy spots like Arco and Zunzibar. The shopping scene here will give your credit cards a workout, whether you browse the boutiques on Broughton Street, spend time at City Market, or head to shopSCAD to take home artwork, jewelry, home decor, and other items made by students, alumni, and faculty from Savannah College of Art and Design.
Where to Stay for Galentine's Day in Savannah
A perennial favorite, Mansion on Forsyth Park occupies a prime location near Savannah's largest and oldest public park and its iconic fountain. Elegant guest rooms set the tone for a stay at the hotel, where amenities include a spa and fitness center, outdoor heated pool, bike borrowing program, and evening champagne toast. Taking a class at the on-site cooking school is a fun Galentine's Day idea to consider.
10. Austin, Texas
There's always a good time to be had in Austin, especially if your girls getaway coincides with one of the many concerts or music festivals hat take place in the city throughout the year. The food scene's also a big draw here, from old standbys like Franklin Barbecue to newer spots like Nido at The Loren and Chapulín Cantina.
TOGETHER TIME: 10 Romantic Weekend Getaways for Couples
The great outdoors also puts on a show in the Austin area, from the colorful blooms at the Lady Bird Johnson Wildflower Center to the waters of Lady Bird Lake and Lake Travis. Pedal or hoof it along the Ann and Roy Butler Hike and Bike Trail for views of the downtown, or take a dip at historic Barton Springs Pool (where Robert Redford learned to swim). Head to South Congress Avenue for cool shopping and dining spots, then snag your spot on the Congress Avenue Bridge to see the only-in-Austin sight of about a million Mexican free-tailed bats setting off around sunset from their daytime hangout under the bridge.
Where to Stay for Galentine's Day in Austin
The luxury Austin Proper Hotel features oh-so-cool interiors by designer Kelly Wearstler, a fifth-floor swimming pool, four food and drink options, and on-site Tesla Model 3s available for rental for exploring the area. A 24-hour fitness center features Peloton bikes, Pilates Reformers, and a mediation room, while the Verbena Spa offers unique treatments like a massage that incorporates "the healing oils of agave and tequila" and a Gua Sha facial.
More from FamilyVacationist: