Staying at one of Universal Orlando Resort's onsite hotels comes with special theme park perks like complimentary transportation, early admission, and special discounts on room and ticket packages. Each of the Universal Orlando hotels also has its own unique set of perks that may appeal to your family's interests, ages, and budget.
Whether your number one concern is a wallet-friendly price tag, spacious suites, or cool hotel pools, here's everything you need to know about choosing the best Universal Studios Florida hotel for your budget and vacation plans.
THEME PARK MAGIC: The Ultimate Guide to the Wizarding World of Harry Potter at Universal Orlando
What Are the Different Types of Universal Orlando Hotels?
At Universal Orlando Resort, there are four different tiers of hotels (Value, Prime Value, Preferred, and Premier) that start at different price points and come with varying degrees of theme park perks. 
Universal's Value Hotels
The resort's least expensive hotels are its two the Endless Summer properties, Dockside Inn and Suites and Surfside Inn and Suites. These Value hotels are the furthest away from the parks but still come with select benefits such as complimentary shuttles and early park admission. Both have two-bedroom suites that sleep up to six.
Universal's Prime Value Hotels
Universal's two Prime Value hotels, Cabana Bay Beach Resort and Aventura Hotel, come with the same benefits as the Value hotels and offer a cool additional perk: a special guests-only entrance to Universal's only Orlando water park, Volcano Bay. Cabana Bay actually boasts its own lazy river and two large pools, so even if you don't have the energy to hit the park you'll have some (quieter) water action right outside your door.
Universal's Preferred Hotels
The pet-friendly Preferred hotel tier is more expensive, situated closer to the parks, and comes with additional perks such as valet parking, 24-hour room service, and water taxi transportation to the parks. Universal's sole Preferred-tier hotel is Loews Sapphire Falls. 
Universal's Premier Hotels
The most expensive of the Universal Studios Florida hotels are the three Premier properties, which come with all of the above-mentioned perks as well as priority seating at restaurants and complimentary Express Passes for the parks. With this, you can skip the regular lines at participating rides and attractions at Universal Studios Florida and Universal's Islands of Adventure. Note that you must still buy your own theme park admission, and this is not valid at Universal's Volcano Bay. The three Universal hotels that fall into this tier are Universal's Hard Rock Hotel, Loews Portofino Bay, and Loews Royal Pacific Resort.
1. Universal's Endless Summer Resort – Dockside Inn and Suites
Best of the Universal Orlando Hotels for Families on a Budget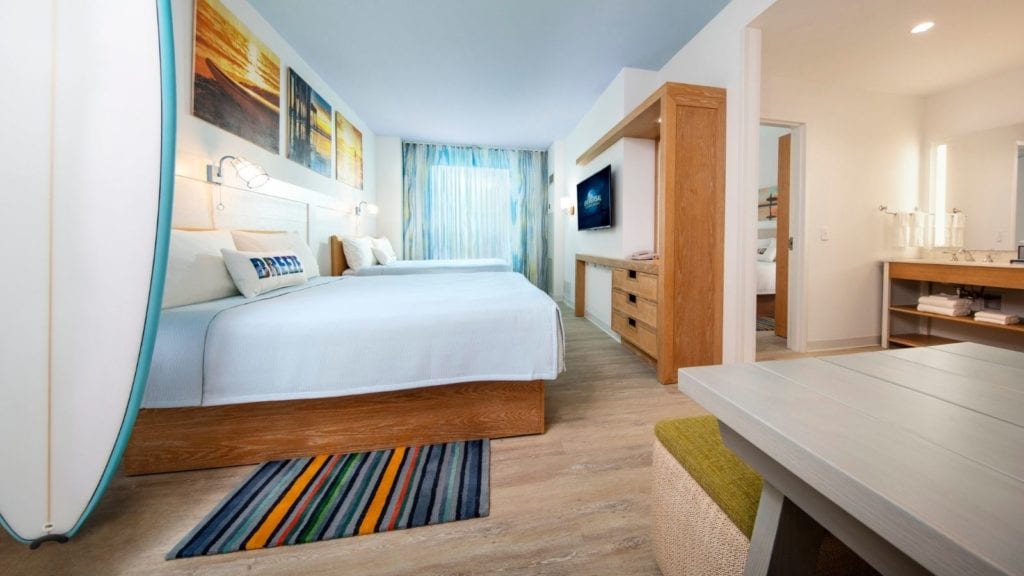 Universal Orlando's newest hotel is also one of the best onsite hotels for families looking to save money without sacrificing space or quality. The seaside-style Universal's Endless Summer – Dockside Inn and Suites has two pools, a kids' splash pad, a game room, and a large food court serving up everything from chicken and waffles to coconut shrimp.
FAMILY FUN: 7 Florida Attractions That Are Just as Much Fun as Disney and Universal
There's a Starbucks in the lobby to perk you up before a long day in the parks, and also a lounge to help you wind down at the end of the day. Treat yourself to pizza delivery to your room, eat any of the day's meals at the Pier 8 Market, and enjoy two bars, including a poolside bar with smoothies, in addition to the lounge. Standard rooms start at less than $100 per night, but the biggest benefit of this Universal Orlando hotel is its two-bedroom suites, which start at less than $144 per night. 
2. Universal's Endless Summer – Surfside Inn and Suites
Best of the Universal Orlando Hotels for Families Who Need a Little Extra Space
The sister property of Dockside Inn and Suites, Universal's Endless Summer – Surfside Inn and Suites boasts the same budget-friendly value as Dockside and many of the same amenities and room types (including those spacious two-bedroom suites). But Surfside also gives off major "hang ten" vibes with its surfboard-shaped pool, beach-inspired cocktails, and gorgeous ocean photos in the guest rooms. While rooms might be slightly larger, the property is actually smaller than Dockside, so if you like your hotel guest room slightly more intimate, Surfside is the better option.
BEACH VACATIONS: Why Sarasota Might Be the Perfect Florida Vacation Spot for Families
With one restaurant, bar, Starbucks, and pizza delivery, there's enough on property to keep your family hydrated and nourished without the bother of too-many-to-choose-from. It's important to note that the budget-friendly pricing of both of Universal's Endless Summer hotels does come at the cost of proximity to the parks, however. While most Universal Orlando hotels are only a short walk or boat ride to the theme parks, the only way to get to the Universal parks from Surfside and Dockside is by complimentary bus.
3. Universal's Cabana Bay Beach Resort
Best of the Universal Orlando Hotels or Families Who Love Pool Time
Universal's Cabana Bay Beach Resort will make you nostalgic for the beach resorts of the 1950s and 60s, even if you weren't alive yet. From the V05 and Zest in guest bathrooms to the bowling alley and old-school TV commercials playing in the food court, staying at this Universal Studios Florida hotel is like traveling back in time. If you've had enough time in the sun at the parks, the Jack Lalanne Fitness Studio and Game-O-Rama Arcade will keep your family engaged indoors.
RESORT STAYS: 7 Best All-Inclusive Resorts in Florida for Families
And while it doesn't have an actual time machine, Cabana Bay does have something you won't find at any of the other Universal Orlando hotels: a lazy river. In fact, the hotel actually has two pools, one with a water slide and the other with a meandering lazy river. There are cabanas to rent and free shaded picnic sites. Organized activities such as hula hoop and splash contests are ongoing and welcome guests of all ages. To get the full enjoyment of the lazy river, tubes can be purchased at a small stand in the pool area. For more opportunities to swim, slide, and splash, you can take the walking path or a bus next door to Universal's Volcano Bay water park. 
4. Universal's Aventura Hotel
Best for Families Who Want to See It All
Universal's Aventura Hotel is centrally located to Universal Studios Florida, Islands of Adventure, and Volcano Bay water park. In fact, you can see the water park's 200-foot-tall Krakatau volcano from certain "skyline view" guest rooms on the hotel's higher floors. If that's not enough, you'll find even better views from Aventura's rooftop lounge, Bar 17 Bistro.
DREAM VACATIONS: 10 Dreamy Beach Resorts in Florida That Are Perfect for Families
In a departure from the typical Universal Studios Orlando hotels, Aventura has a sleek, minimalistic style reminiscent of a chic beachfront high rise. Your little ones won't feel left out of the fun however, as the hotel boasts a Splash Zone and Kids' Suites lodging with twin beds for the littles who don't like to share.Transportation from Aventura include shuttle buses and walking paths, including one that will lead you directly to one of the best Orlando water parks, Universal's Volcano Bay. 
5. Loews Sapphire Falls Resort at Universal Orlando
Best of the Hotels Near Universal Orlando for Families Who Love the Beach
Staying at Loews Sapphire Falls Resort is as close as you can get to staying in a tropical island resort without leaving Central Florida. You'll find white sand beaches in the pool area, serenity-inducing touches of sapphire blue all around you, Caribbean-inspired food (and cocktails!) at the bars and restaurants, and cascading waterfalls surrounding the waterway that takes you straight to Universal's theme parks.
AFFORDABLE TRIPS: 11 Cheap Family Vacations That Are Super Fun
Kids will be thrilled with tons of poolside activities such as ping pong tournaments, water balloon tosses, and outdoor pool table, and the fun continues indoors at the Calypso Game Room. The whole family can take an evening stroll around the property with dog-friendly walking and jogging pathways. The kids' suites at this Universal Orlando hotel have nautical-themed bedrooms where the young ones can play out their own island adventure while parents relax in the room next door. 
6. Hard Rock Hotel at Universal Orlando
Best of the Universal Studios Orlando Hotels for Families Who Want to Be Close to the Parks
Kids of all ages can party like a rock star at Universal Orlando's Hard Rock Hotel. There's rock 'n' roll memorabilia in every nook and cranny of the hotel, a large pool with an underwater sound system, and stylish guest rooms. Your family can really live it up in the Hard Rock Hotel's Future Rock Star Suites that have a separate bedroom for kids, complete with velvet bedding, a starlit ceiling, and performance area  where they can belt their little hearts out. For the truly musical family, splurge on a Graceland Suite and enjoy your own in-room baby grand piano!
NO PASSPORT NEEDED: 19 Best All-Inclusive Resorts in the U.S. for Families
With a game room, fitness center, and concert venue, there's plenty to do on site at The Hard Rock Hotel. That said, you've likely come for the theme parks, so it's important to know that The Hard Rock Hotel is also the closest of the Universal Studios Orlando hotels to the theme parks. When you stay there it's easier to get to the fun faster. And as with all of Universal's Premier hotels, your family will receive free Universal Express Unlimited access for the entirety of your stay, allowing you to skip the line on most theme park attractions. 
7. Loews Portofino Bay Hotel at Universal Orlando
Best for Families Who Want Early Theme Park Access
The Loews Portofino Bay Hotel at Universal Orlando is modeled after the charming seaside village of Portofino, Italy. During your downtime, you can sit by the water with a cup of gelato, zip down a Roman aqueduct-themed water slide, and dine on Italian cuisine. By night there's classical opera and "popera" at the Harbor Piazza.
This Universal Studios Florida hotel also has a handful of Despicable Me Kids' Suites with custom-made missile beds and wall-to-wall Minions in the kids' room, but they book up fast. Book early if you want to say "Bello!" to Bob, Kevin, Stuart, and the other Minions.
WATER WORLDS: 7 Best Water Parks in Orlando for Every Age Group and Interest
In addition to Universal Express Unlimited, all onsite hotel guests at Loews Portofino Bay Hotel get Early Park Admission including to the Wizarding World of Harry Potter. Your family can get into the parks one hour before opening time and hop on select attractions, including Despicable Me Minion Mayhem. Also included is Priority Seating at select Universal restaurants and delivery of any of your on site purchased goods directly to your room.
8. Loews Royal Pacific Resort
Best Universal Orlando Hotel for Families Who Want Maximum Park Time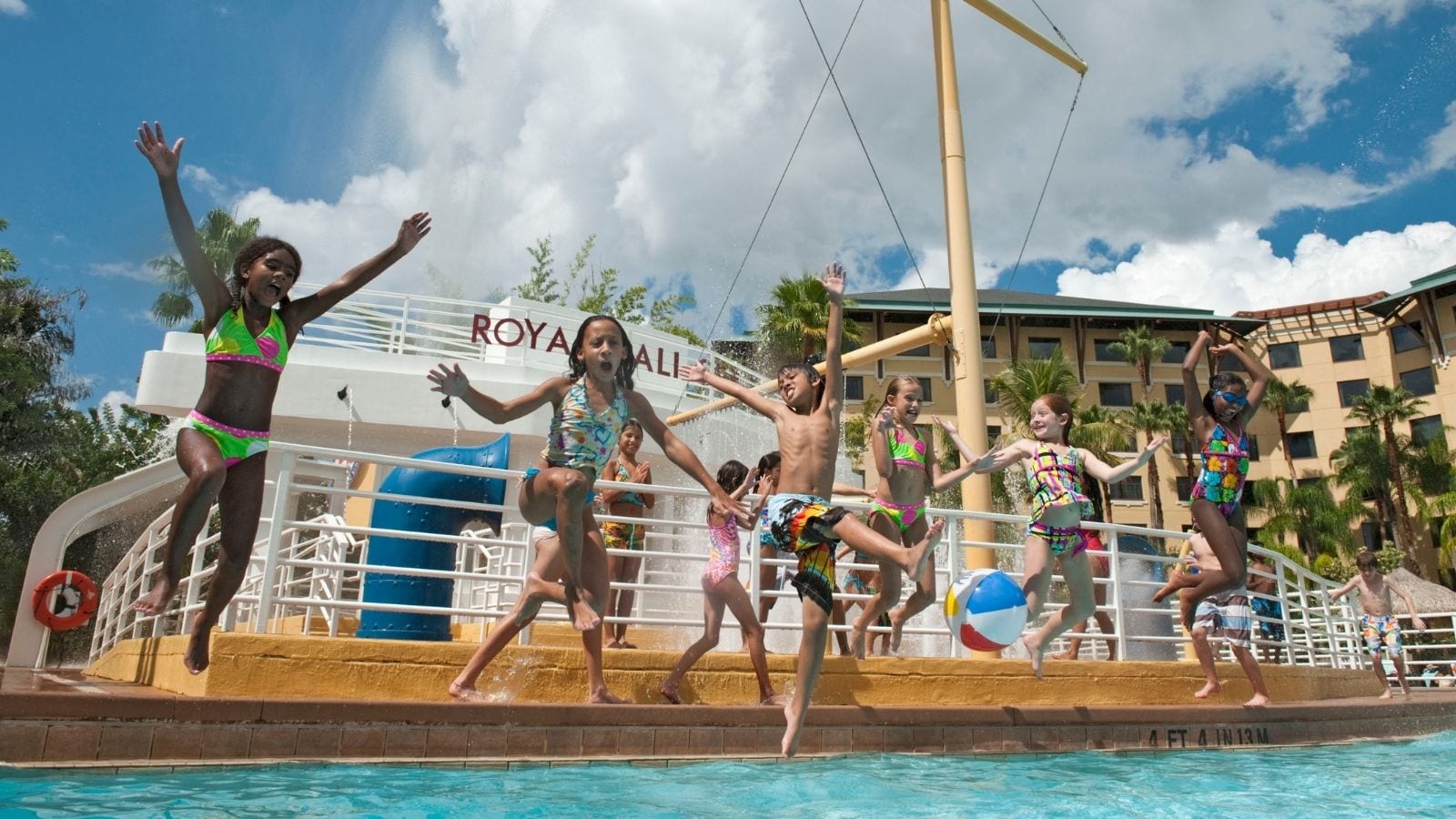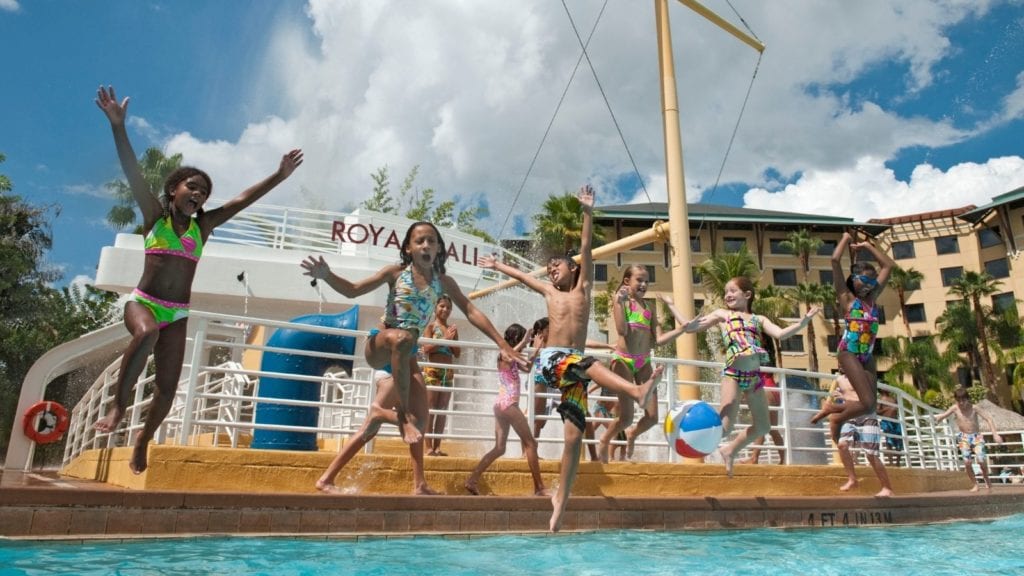 The Loews Royal Pacific Resort may make you feel as if you've been transported to a serene South Seas paradise, but you're actually just minutes from the action at Universal's theme parks. Depending on your room location, you can even see some of the rides peeking out from the tops of the tropical palm trees. And if your kids love dinosaurs, they can actually sleep with their favorite prehistoric friends in the Royal Pacific's Jurassic World Kids' Suites.
ENDLESS AMUSEMENTS: 10 Best Theme Parks in Orlando for Every Age Group and Interest
Loews Royal Pacific Resort is one of the three Universal Orlando hotels in the Premier class, so you'll get skip-the-line and early admission benefits along with a less-than-ten-minute walk, boat ride, or bus ride to the parks when you stay there. Included here, like Portofino Bay, are Early Park Admission, Priority Seating at restaurants, and several onsite restaurants plus 24-hour room service.
Are There Any New Hotels Coming to Universal Orlando?
Universal's newest theme park, called Universal's Epic Universe, is currently under construction. The publicly revealed plans do show that new hotels will be built as part of the project. As reported by the Orlando Sentinel, Universal's Epic Universe will include "an entertainment district with shopping, restaurants, and hotels," in addition to rides.
More from FamilyVacationist: