About 70 percent of U.S. households own a pet, according to the American Pet Products Association, and many of those families enjoy vacationing with their pets. But while traveling with a pet can be fun, it takes planning, preparation, and patience to do it well. The most important pet travel tips are all about ensuring your pet is comfortable and safe throughout the trip.
If you're planning to hit the road or take to the skies with your pet, here are the most important travel safety tips for taking your dog or cat on vacation, especially if you're a first-time pet parent.
WHERE TO STAY: Top 10 Pet-Friendly Resorts and Hotels in the U.S.
1. Pet-Friendly Trips Require Advance Planning
Before traveling with your pet, first make sure Fido or Fluffy is welcome everywhere you want to go. "Begin vacation planning much farther out than you ordinarily might," advises Josh Snead, CEO of Rainwalk Pet Insurance. "Finding pet-friendly accommodations might prove more difficult than expected, and the last thing you want to do is scramble to find a pet sitter last minute."
TRAVEL TIPS: Flying with a Dog: What to Know about Fees, Safety, and More
Be clear on what "pet-friendly" means at your hotel or vacation rental, too. "If you are traveling with a dog that weighs over 15 pounds, inquire about what size dogs they accept," says Heather Eisenstadt, founder of pet-focused travel agency Top Dog Pet Travel. "Many places have breed restrictions [or only allow small dogs], so make sure your breed is welcome.
"I have encountered challenges with finding cat-friendly hotels," says Dr. Molly DeVoss, a certified feline training and behavior specialist and founder of the nonprofit Cat Behavior Solutions. "A lot of hotels say 'pet-friendly' when they actually mean 'dog-friendly.' Be sure to call the local hotel phone number and confirm 'pet' includes your cat."
Before you set off on your trip, get your pet familiar with the way they'll be traveling. If you'll be flying with your pet in a carrier, have them spend some time in it while you're still at home. If you'll be making it a road trip, do some practice runs.
PET TRAVEL ETIQUETTE: 7 Things You Should Never Do When Camping with Pets and Kids
"Some dogs enjoy riding in cars, but others may become anxious until they understand what's happening," says Eisenstadt. "Get your dog used to riding in the car by taking him on short trips. Drive to nearby towns where you can walk him around, so he gets used to being in new places and encountering people and other dogs."
2. Pet Safety Is All about Keeping Them Contained and Comfortable
The Humane Society of the United States recommends that dogs and cats be put in pet carriers or crates anchored to the seat with a seat belt when traveling in the car. Although dogs love to ride with their heads out the window, it's not safe for them. Risks include falling, jumping, or being injured from a sudden collision or stop.
Providing your dog or cat with distractions is a good idea, though. "Just like parents may want to keep their kids occupied during a trip, pet parents may want to keep their dog busy," says Eisenstadt. "A busy dog is an engaged dog. Have a few chew toys available, especially those you can hide treats in that will keep your dog busy for hours."
REGIONAL GETAWAYS: 15 Pet-Friendly Hotels in New England Where Dogs Are Always Welcome
For car travel with cats, Dr. DeVoss recommends covering their crate with a sheet: "It makes your cat more nauseous and fearful if they can see things moving outside," she says.
3. Stick to a Routine When Traveling with Your Dog or Cat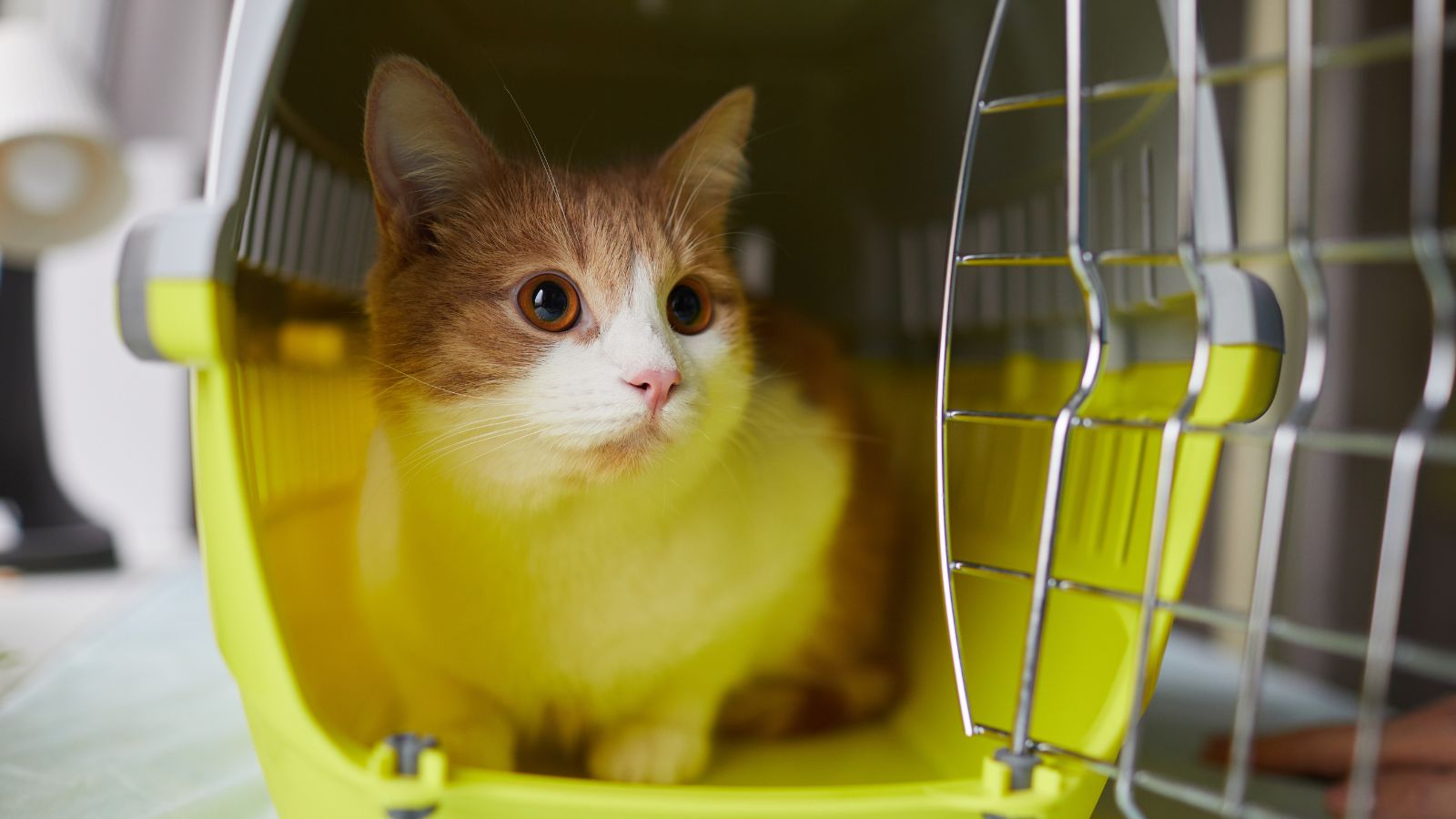 Sticking to your pet's normal routine during your travels can help reduce the animal's stress and anxiety. "If you usually take them out at 7:00 a.m., 2:00 p.m., and 7:00 p.m., you want to continue that," recommends Brandi Hunter Munden, Vice President for Public Relations and Communications at the American Kennel Club. "You want the familiarity to continue as much as possible."
UNIQUE ACCOMMODATIONS: 10 Best Treehouse Hotels in the U.S. for Families
The same goes for food and water. "Bring your dog's regular food with you on the trip or know where you can buy it," says Eisenstadt. "Switching food can cause digestive problems." Feed them on the same schedule as usual.
If your pet takes medications, be sure to administer them at the same time (and pack enough for your stay). It's also smart to put your veterinarian's contact information or cell phone number into your contacts, and plan ahead by knowing where you can bring your pet in case of emergency at your destination.
4. Create a Home Away from Home for Your Pet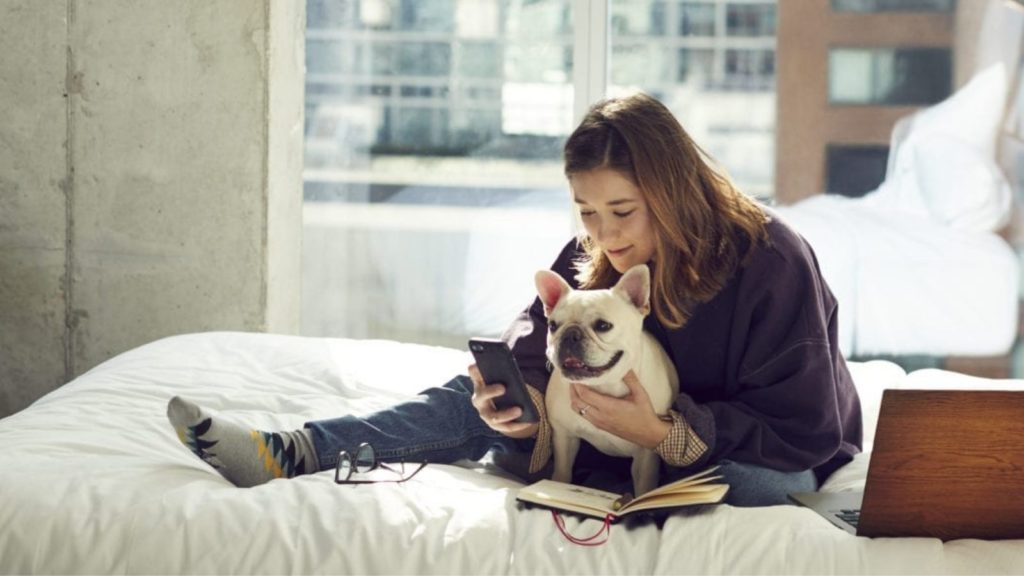 Once you arrive at your destination, set some ground rules for your pet. "Allow them to explore a bit, but also make sure they know where they can potty and not potty," says Hunter Munden. "Do not leave your dog alone uncrated or unconfined in those spaces to reduce the potential for any damage to the space due to issues like anxiety or a new environment."
"Don't leave things lying around for your pet to 'dig around in' just because you are away from home," advises Sadie Cornelius, who handles creative and content marketing for Canine Journal and travels frequently with her dog. "All those new (to them) decorations could look like fun play toys. Keep them out of your pet's reach."
NO PASSPORT NEEDED: 17 Best All-Inclusive Resorts in the U.S. for Families
Many pet-friendly hotels don't allow pets to be left alone in the room unattended. If you're in a rental home and need to leave your pet behind for a bit, crate them and provide them with some toys or other distractions. "If your dog makes noise while you are gone, turning the TV on to a low volume while you are away can keep some dogs quiet," says Dr. Sarah Wooten, a small animal veterinarian and public speaker.
Recognizable items can help set your pet at ease and travel safely. "You should bring your pet's favorite things to make the place you will be staying feel like home," says Dr. Sabrina Kong, one of the veterinarians involved with the website WeLoveDoodles. "Their toys, sheets, or pillows will help them feel more comfortable."
More from FamilyVacationist:
Editor's note: An earlier version of this article mistakenly attributed some quotes to Dr. Amanda Takiguchi. FamilyVacationist apologizes for the error.