Northern California's Mendocino coast is rich in experiences for families, hikers, artists, history buffs, surfers, canoers, nature lovers, flower lovers, cyclists, kayakers, divers, wine tasters, picnickers, birdwatchers, whale watchers, and people who just want to relax and enjoy the sea air and beautiful views. When it comes to things to do in Mendocino, the challenge is narrowing down the options to fit your stay.
The Best Things to Do in Mendocino
Here are a dozen things to do in Mendocino that make the most of the region's coast, ocean, forest, and towns. They range from athletic to sedate so no matter what your travel style is, you can find a nice selection of activities when you're in this coastal Northern California county.
CALIFORNIA VACATIONS: 10 Most Kid-Friendly Family Resorts in California
1. Visit Beaches and Tide Pools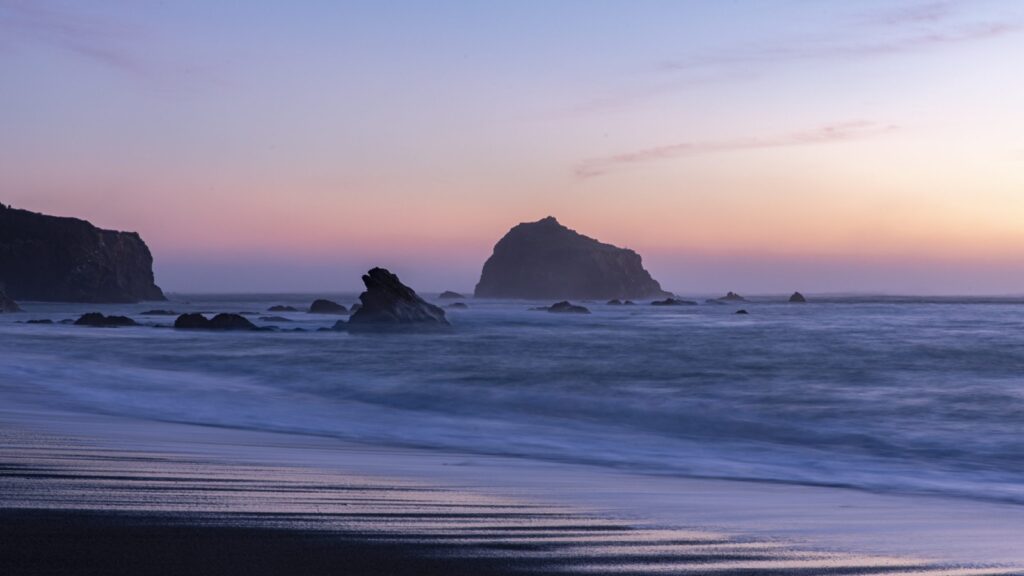 Flat sandy beaches at Van Damme State Park, Big River (below Mendocino), and Pudding Creek (near Fort Bragg) are great for water play and picnics. Glass Beach near Fort Bragg are worth a visit although glass collecting is now discouraged. Seaside Beach is a popular "pocket beach" north of Fort Bragg. At low tide, families can enjoy tide pools off the Laguna Point Trail and at Russian Gulch State Park. Russian Gulch also features the Devil's Punch Bowl, a partially collapsed sea cave.
GET AWAY: 6 Romantic Getaways in Northern California
2. Watch for Whales
Migrating gray whales pass the Mendocino coast between December and April. Humpback whales and occasional pods of orcas have been reported throughout the year. The area's state parks, along with the the Point Cabrillo and Point Arena lighthouse areas, provide excellent vantage points as well as information about the whales.
3. Take a Walk in a State Park
From the easy nine-mile coastline trail at Fort Bragg's MacKerricher State Park, you can spot pelicans flying through the mist above the crashing waves and simply savor the best of Mendocino's natural wonders. The trail follows the old Haul Road, a former lumber road with an impressive high trestle. In the same park, the Laguna Point Boardwalk has interpretive panels and many benches.
Mendocino's Jug Handle State Natural Preserve features an Ecological Staircase, a series of marine terraces, each with its own geology and plant life. A unique Pygmy Forest is accessible at a separate entrance.
BIG INSPIRATION: 50 Family Vacation Ideas for the Best Trip Ever
Spring Creek Ranch (at Van Damme State Park) and Mendocino Headlands, a short walk from town, provide bluff-top views of the sea, sunsets, seals, and other wildlife. Russian Gulch and Van Damme State Parks offer beautiful Fern Canyon trails (as of May 2023 these were closed for storm repairs). The Mendocino Land Trust provides guides to more than 30 trails at including notes on accessibility and trail ecology.
4. Explore the Town of Mendocino
Perched dramatically above the sea, Mendocino is a cheery town of colorful storefronts, well-kept houses and gardens, and distinctive wooden water towers. Though it was a rugged lumber town until the 1930s, over the decades it evolved into a tidy, artistic village with the look and feel of a charming New England seaside town—so much so that the 1980s TV series Murder She Wrote, which was set in Maine, was filmed here.
SUN AND SAND: 12 Best Beach Hotels in the U.S. for Families
There's plenty to do in the town of Mendocino: browse interesting shops, relax in cafes or pubs, or walk along the headlands or down the bluffs to the sea. Another local gem: from its headquarters in a historic Victorian home, the Kelley House Museum offers walking tours of the town.
5. Enjoy the Mendocino Coast Botanical Gardens
Don't miss the spectacular Mendocino Coast Botanical Gardens near Fort Bragg. Something is always in bloom in its perennial, woodland, succulent, and vegetable gardens. The magnolia, rose, camellia, heather, dahlia, and rhododendron collections, seen at the right time of year, are unforgettable. More than 1,000 rhododendrons (many of them hybridized by local enthusiasts) bloom from early spring through June.
BUILT TO LAST: 11 Stylish and Durable Luggage Brands
Although some parts of the gardens are rocky or steep, visitors with wheelchairs or walkers can enjoy most of the gardens as well as the spectacular views from the cliffs in the garden's natural area. The Sprouts program offers self-guided activities to do with kids. An extra WOW for tree lovers: California Highway 128 south of Mendocino winds through the Navarro River Redwoods. Most of the traffic is hurrying between Highways 1 and 101, but there are places to pull off and enjoy the forest.
6. Dine al Fresco
During the Covid crisis, many Mendocino restaurants added dining tents and other covered, heated areas for diners, and have kept them. Some of these are in lovely gardens or provide beautiful views of the coast: try Mendocino Café, Trillium, MacCallum House, or Little River Inn Restaurant.
AT THE WATER'S EDGE: 16 Bast Lake Resorts and Hotels in the U.S. for Families
Or you can assemble your own kid-friendly or gourmet picnic at Mendosa's Store or the Little River Market and Deli. Mendocino's farmers' markets are Fridays from noon to 2; Fort Bragg's year-round market, Wednesday afternoons, is located near Cowlick's Ice Cream parlor.
7. Paddle, Hike, or Bike the Big River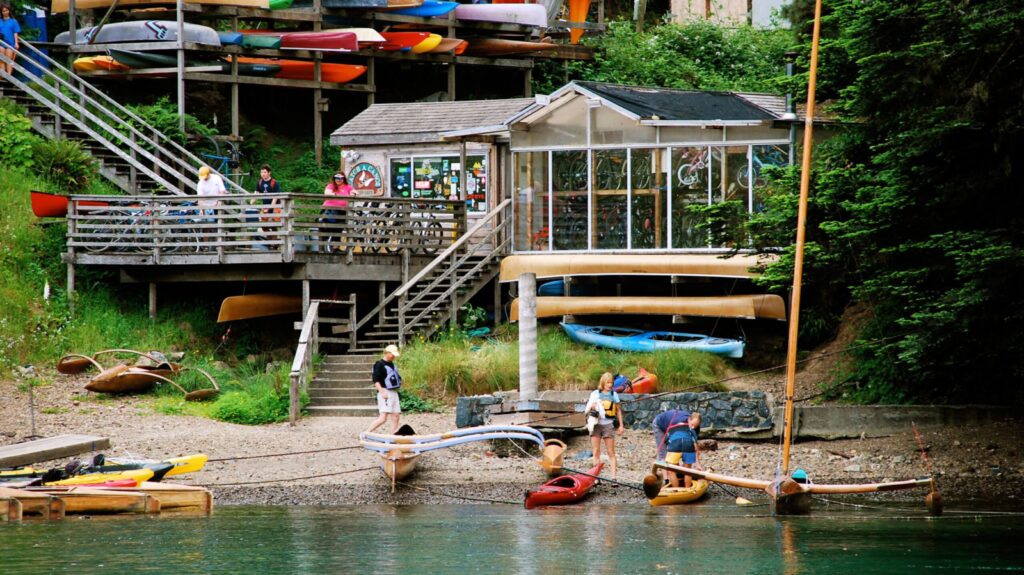 Once a key site for the logging industry and now part of the Mendocino Headlands State Park, the estuary of the Big River reaches eight miles inland. Here, canoers and kayakers can see harbor seals, sea otters, and coastal bird life, along with some remains of the time when logs were floated downriver.
ALL DAY COMFORT: 10 Comfortable Travel Shoes That Can Handle a Whole Day of Walking
Hikers and cyclists can enjoy the river from a 10-mile ex-logging road that weaves its way through the forest. At the mouth of the river, Catch a Canoe and Bicycles Too offers, in addition to kayak and bike rentals, stable redwood outrigger canoes that are ideal for families with children or pets. Knowledgeable guides are also available for canoe tours.
8. Enjoy the Arts and Make Art
Part of the community for more than 60 years, the Mendocino Art Center includes studios, classrooms, and galleries. Classes are scheduled for youths (5 and up) as well as adults, and the gallery and shop are open daily. The center sponsors the annual Open Paint Out in September.
CALIFORNIA DREAMIN': 7 Cheap California Vacation Ideas for the Whole Family
The Mendocino Theatre Company, located at the Art Center, offers a full season of six plays, and the Mendocino Film Festival takes place in June. Fort Bragg and Mendocino galleries feature the work of local and visiting artists in several media. More than a dozen murals in Fort Bragg are a result of the town's Alleyway Art Project. Arts Mendocino has an updated county-wide directory and events calendar.
9. Visit (or Stay in) a Lighthouse
At Point Cabrillo Light Station (a California State Historic Park), a beautiful one-mile walk past several vintage lightkeepers' houses and other buildings leads down to the headland and the active lighthouse itself. Visitors can tour the Lighthouse Museum and Assistant Lightkeeper's House Museum and Marine Science Exhibit.
SPEND THE NIGHT: 13 Best Lighthouse Hotels in the U.S.
The park is open sunrise to sunset, and on the days when Lens tours are scheduled, you can climb to the top of the lighthouse. Point Arena Lighthouse, surrounded by water on three sides, has been active since 1870. Both the Lighthouse Museum and the Lighthouse Tower are open for tours, and a virtual tour is also available on the lighthouse's website. Both lighthouses offer vacation rental homes.
10. Taste Wine and Beer
The Anderson Valley and Yorkville Highlands, in the southern part of Mendocino County between Highways 101 and 1, are enjoying increasing popularity as the source of premium wines (especially white wine and pinot noir) and enjoyable wine-tasting among beautiful hills and vineyards.
BOTTOM'S UP: How to Plan the Perfect Wine Tasting Trip to Napa and Sonoma
Among the wineries available for drop-in tasting are Lula Cellars and Husch Vineyards. Some vineyards offer walks and self-guided tours, and locations like Pennyroyal Farm have lunches, snacks, and occasional kid-friendly farm tours.
Mendocino County also boasts a Beer Trail, including several local brewing companies, pubs with local beers on tap, a brewers' museum, and the Boonville Beer Festival in April. Harvest Mendocino (November-December) features local wineries, breweries and distilleries. Seafood and Sips takes place the last week in January.
11. Take a Ride into History
The Skunk Train departs from the depot in Fort Bragg and travels along the Pudding Creek estuary and through redwood forests, a seven-mile, 75-minute round trip. The tracks were laid down in 1885 to transport workers and their families to and from logging camps.
ALL ABOARD: 12 Best Scenic Train Rides in the U.S.
Also available for rail travel are two-person, electric-assisted Pudding Creek Railbikes. Tours last about two hours. While children under 2 years of age are not permitted on the railbikes, 3-5-year-olds may ride in a car seat or special harness.
12. Play Outdoors (or Stay Cozy Indoors)
At family-friendly Little River Inn Golf and Tennis Club, you can play nine holes and watch the deer and the sunset over the ocean. (Further inland, Ukiah has a municipal golf course and a disc golf course.) Bicycle rentals are available in Fort Bragg and Mendocino, and trails range from paved and easy to rocky and challenging. AllTrails rates cycling and hiking trails for accessibility, kid-friendliness and stroller-friendliness.
On foggy mornings or rainy days, curl up with a book from the excellent Gallery Bookstore in Mendocino. Moore Used Books is just down the street. Or visit museums, like Fort Bragg's Model Railroad Museum, Sea Glass Museum, and Larry Spring Museum of Common Sense Physics.
More from FamilyVacationist: