Opt out of the airport (and all of air travel's its delays, cancellations, and packed flights) and hop into a car for an adventurous and luxurious family road trip down and around Highway 1, California's Pacific Coast Highway. 
Road trips are the vacation of choice right now, and the California coast is lined with mild-weather hot spots the whole family will enjoy—all that balance fun (for the younger travelers) and luxury (for the parents who, let's face it, need a little special treatment after the last few years).
Highway 1 Road Trip Itinerary for Families
Instead of putting miles on your own car, curb the kiddo boredom ("Are we there yet?") before it even starts by making the journey just as fun as the destination. Car rental sites and vehicle-share apps like Outdoorsy and RVShare will rent you fun-to-drive options including convertibles, camper vans, Airstreams, or Jeeps with pop-up tents.
FAMILY FUN: 10 Kid-Friendly California Resorts
Here's how to plan an epic, much-needed adventure-cation following Highway 1 along the California coast from north to south.
Stop 1: Leggett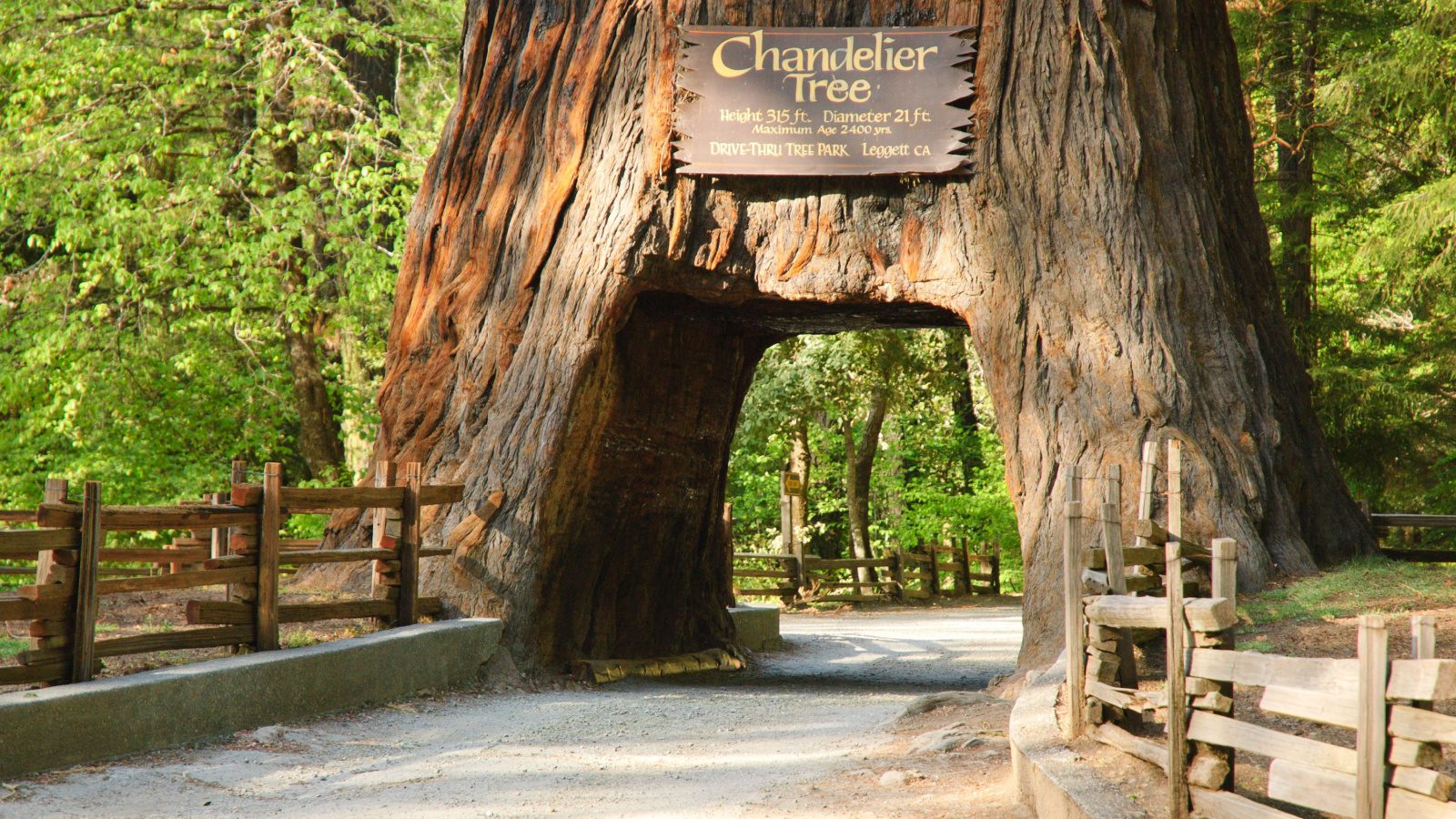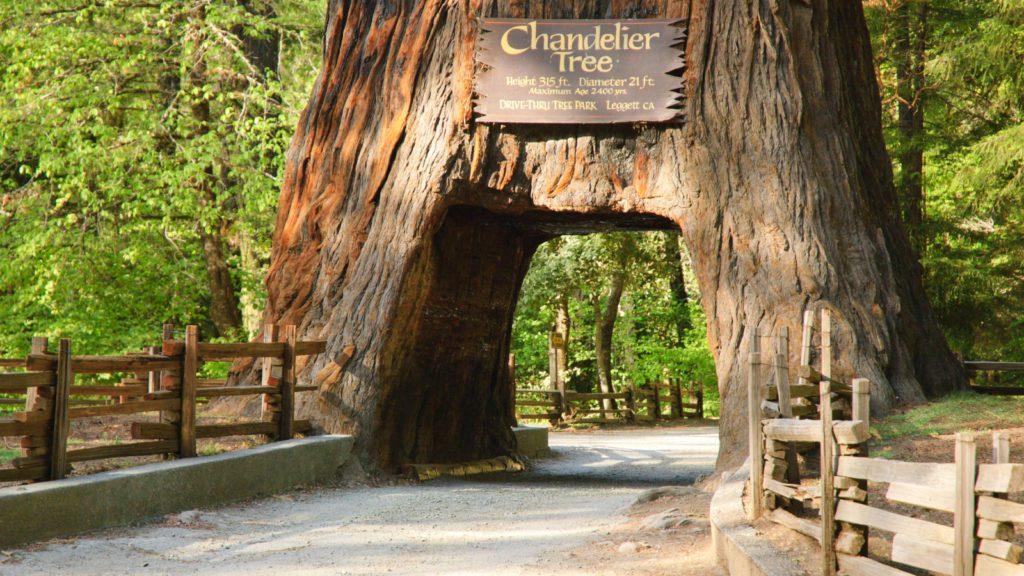 This road trip starts in Mendocino County in the historic logging town of Leggett. Home to some of the largest redwoods in the world, Leggett has great hiking at Standish-Hickey Recreation Area and at Smithe Redwoods State Natural Reserve (don't miss the 60-foot waterfall at the latter). In Leggett, you can even drive through a giant tree. The Chandelier Drive-Thru Tree is a living remnant of a time when it seemed like a good idea to bore a car-sized hole through a 315-foot tall 2,400-year-old redwood. In nearby Piercy, you can find a mountain train ride and the world's largest standing chainsaw sculpture.
TIME OUT: 8 Romantic California Getaways for Couples
If your kiddos enjoy camping, stay at one of the RV parks immersed in the massive redwoods, like the Redwoods River Resort. Near Leggett, there are also a bunch of cute little motels and inns tucked into nature.  
Detour: Napa Valley
Though it's about an hour detour from Highway 1, the Napa Valley is a remarkably kid-friendly place, packed with unfussy-but-delicious eateries (start at Oxbow Market in downtown Napa), hotels that welcome kids, and activities that range from wine tasting (a number of wineries have kid-friendly offerings like farms, rescue animal sanctuaries, outdoor games, and live music) to getting outdoors in parks and on hiking trails.
WINE WISDOM: How to Plan the Perfect Wine Tasting Trip to Napa and Sonoma
Train loving families can hop aboard the Napa Valley Wine Train. While this historic train is elegant and serves a multiple-course meal with (of course) wine, it's also a train. Kids love trains. Passengers are welcome to walk through the various cars, stand on the outside decks and wave at cars from the caboose deck. Adults will love the wine pairings and easy tour through Napa, kids will enjoy exploring the hallways and different rooms of a passenger train and everyone will like the food. And the dessert. 
Stop 2: San Francisco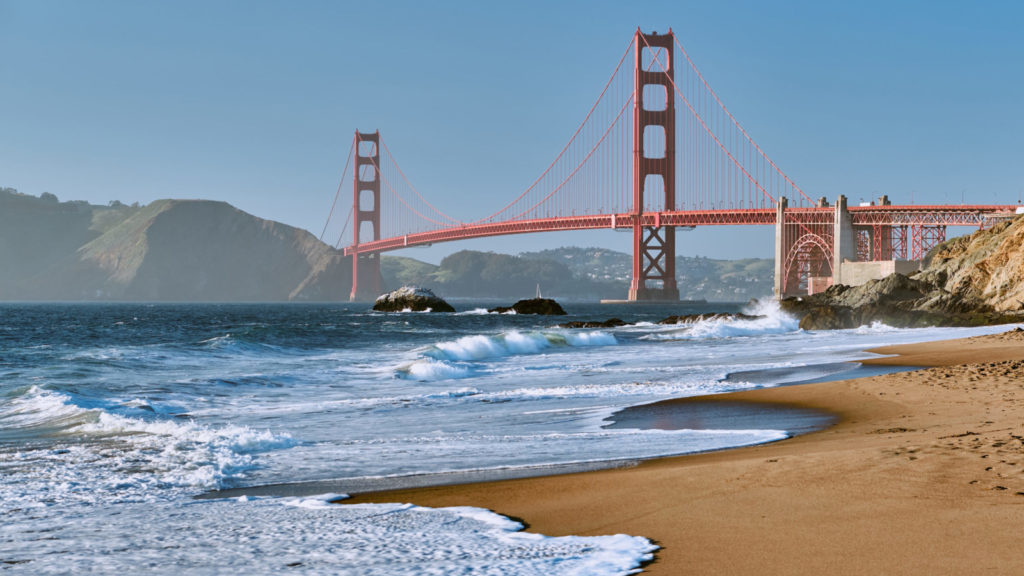 The big ships. The sea lions. The cable cars. The Painted Ladies Victorian houses. Oh, and did you know that "Full House" was filmed in San Francisco? Because if you didn't, your kids won't stop reminding you.
There's endless entertainment in the City by the Bay, virtually guaranteeing no bored kids. Science-loving family? Don't miss the Exploratorium and the California Academy of Sciences. Disney lovers? Go deep at the Walt Disney Family Museum in the Presidio. Sports fans? If you're in town during a game, head to Chase Center for Warriors basketball or Oracle Park for Giants baseball. There are hundreds more fun activities to do with kids (giant hidden slides! a wave organ!), and a little research will yield fun results for all.
FUN FOR ALL: 7 Affordable California Vacation Ideas
Fisherman's Wharf's Argonaut Hotel is a great home base for families. For the parents, it's a Four Diamond, historic beaut with Golden Gate Bridge views from bed. For the kids, it's located right in the heart of the action, and it offers guests free bike rentals.
For a quirky breakfast pop-up, check out Friends With Benedicts, located inside the oldest seafood restaurant in town. This joint is run by a former magician, staffed by local comedians, and comes complete with tableside magic shows. And tons of variations of mimosas.
Stop 3: Slo Cal
There's so much to do in the San Luis Obispo area (or as its known locally, Slo Cal) that your kids won't want to leave. The region's most famous landmark is the Julia-Morgan-designed Hearst Castle, which runs a dozen different tours so you can find the one that's just right for your family. There's also miles of beaches and an entire wine region (ask about the secret kids' menu at Niner Wine Estates).
In downtown San Luis Obispo, a cute college-town vibe rules. This is the place to grab a pizza and then wow the kids with a walk down Bubblegum Alley, an alley covered in chewed-up gum. You'll gag, the kids will laugh, and everyone will have fun. For more quirky fun, stop by for a slice of cake at the wildly decorated Madonna Inn, a place draped in more pink than you've ever seen in one building.
COASTAL DREAMS: 10 Best Things to Do in Monterey with Kids
Stay right on Avila Beach, the warmest beach on the Central Coast, at the family-friendly Avila Lighthouse Suites. This oceanfront hotel has a pool with ocean views, free breakfast, a putting green and and games like ping pong and giant checkers. Then, just walk across the quiet street to enjoy the soft, sandcastle-perfect sand and swing sets on the beach. 
Stop 4: Santa Barbara
The drive between SLO and Santa Barbara is only about two-and-a-half hours, so take your time and make some detours to enjoy this wonderful stretch of the Central Coast.
Santa Barbara is a fun place for families. There are a number of family-friendly museums including the Museum of Natural History and the Santa Barbara Maritime Museum, with kid-friendly activities and exhibits. Bonus: The Maritime Museum overlooks the harbor.
SANTA BARBARA BESTS: How to Make Santa Barbara the Ultimate Family Vacation
The Santa Barbara Zoo has giraffes and wallabies with an ocean backdrop, and the meditation labyrinth on Lagoon Island is a hidden (and relaxing) gem designed by students. While you're in town, borrow a bike from your hotel or rent a B-Cycle to cruise around this Spanish-inspired town.
Continue the ease of staying right on the beach by booking a room at Hotel Milo. This relaxed hotel with multiple pools is steps across from the vast and inviting West Beach and the iconic Stearns Wharf. 
Stop 5: Redondo Beach
Redondo Beach is a great Los Angeles area home base for families looking to soak up the SoCal beach spirit. Known for its great surfing and its mix of bluffs, beaches, and bike paths along the water. It's home to an unusual horseshoe-shaped pier and Redondo's coast is a great place to spot local sea life like sea lions and dolphins. It's also less than an hour from Disneyland.
DISNEYLAND DAYS OUT: How to Plan Your First Disneyland Vacation
In Redondo Beach, check out the Portofino Hotel and Marina. The newly renovated lobby is elegant, the rooms are comfortable, the waterside pool is a blast, but you're here for one reason: private, glass-walled balconies that overlook the marina and give you an up-close view of wildlife right outside your room.
Stop 6: San Diego
San Diego is a serious contender for family-friendliest city in the U.S. for so many reasons. It's packed with fun things to do, has plenty of delicious but cheap eats, and there are endless ways to spend a day at the beach. And of course it's famously home to one of the world's best zoos and animal parks (though the San Diego Zoo Safari Park isn't in San Diego proper but Escondido, about a 30-minute drive). It's also got a mellow vibe that makes it easy for families to move at the speed of easily distracted kids.
And when you're not in a rush, you can spend more time enjoying your hotel. The Mission Bay Resort is an expansive resort that's ideal for families, with a private beach on the bay, multiple restaurants, pool, and plenty of activities, like beach volleyball.
More from FamilyVacationist: