Cape Town is one of the world's great cities, and definitely one that is worth visiting with the family. Full of rich diversity and culture, the warm and vibrant city in South Africa has it all: natural beauty, great food, welcoming people, sandy beaches, mountains to climb, and lots of things to see and do.
Frequently Asked Questions
How many days should we spend in Cape Town?
As there are so many things to do in this large city, I would recommend spending at least a week in Cape Town, but for many people, 10 days is the ideal length of time to see and do plenty in Cape Town while also having some time to rest.
When is the best time to go to Cape Town?
Luckily for those of us who live in colder climates, Cape Town's summer is our winter, so it's the perfect place to escape to for some sun. Cape Town's weather is best between February and May, since this the tail end of summer, so it is not too hot, not too touristy, and the stormy winters haven't set in yet.
GO BIG: The 50 Best Epic Family Vacation Ideas
Do I need a car in Cape Town?
Yes, absolutely. Cape Town is large and spread out and public transport is a no-go. A car will allow you to safely get around, as well as get to beaches, wineries, and on any day trips. As a driver, remember to watch out for the local taxi buses, as they will cut you off.
8 Family Friendly Things to Do In and Near Cape Town
Cape Town and the surrounding region is full of family friendly activities that make the city a fun and interesting destination for all ages. Here are my favorite activities in and near Cape Town for both kids and their adults.
1. Take the Hop on Hop off Bus (Really!)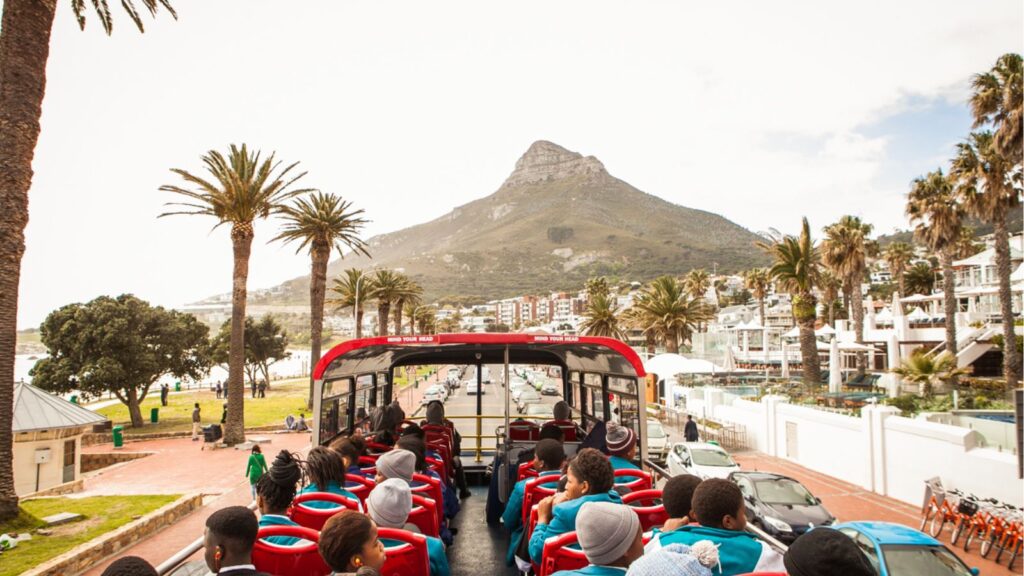 Prior to my visit to Cape Town, I had always regarded tourist bus concept with mild suspicion, thinking it would be way too touristy. However, in Cape Town, it turns out the Hop-On-Hop-Off Bus is the perfect way to get to know the city and go between its most famous sights easily.
Leave your car at the Victoria and Alfred Waterfront, where you can purchase the bus tickets and hop on the red line (and have a look around the Watershed Craft Market if you have time). From there, the bus, equipped with a pre-recorded audio guide, will take you up through the streets of historic Cape Town, briefly going over the past of the place.
COMFORT AND STYLE: 10 Incredibly Comfortable Travel Clothes Brand
Soon, you'll be climbing the hills behind the city, which offers stunning views of the city, the bay, Robin Island, and Table Mountain. At Table Mountain, hop off, and line up for the cable car that will take you to the top. Tickets can be purchased there. At the top admire the view below and keep your eyes out for dassies (a cute, small mammal somewhat akin to a squirrel whose closest relative is the African Elephant). I wouldn't recommend eating at the top; either go in the morning and have lunch at the beach or go after lunch and have an aperitivo at the beach. When you have come back down from the mountain, hop back onto the bus, and let it take you down to Camps Bay, a fancy section of town, to enjoy a meal on the beach.
Note that Table Mountain is not open in bad weather. Though the weather may be nice in the city, it changes quickly at the top of the mountain, and it is often covered in fog. Before setting out, make sure to check that there isn't fog (you should be able to just look up at the mountain and see). Also, bring a layer; it's windy at the top.
Stay Nearby
The Victoria and Alfred Hotel is an elegant icon that's surprisingly kid-friendly. Most rooms in this converted waterside warehouse have views of either the harbor or of Table Mountain. The hotel offers babysitting on demand.
2. Take a Historic Cape Town Walking Tour
I will always be an advocate for a good walking tour, but in Cape Town especially, this is the way to go. Cape Town, as you can imagine, has a rich and divisive history that is reflected in its buildings and monuments. A knowledgeable guide who can bring the past to life, combined with the fact that it is much safer to walk around in a group than on your own, makes this the perfect way to experience the city center.
DAY BAG: 10 Adaptable Cross-Body Bags Perfect for Travel
Following this, head up to the colorful Cape Malay quarter, the Bo-Kaap—characterized by small, brightly painted houses—to Faeeza's Home Kitchen, where you can enjoy a hearty curry lunch prepared by a mother and daughter from the kitchen of their house. While you're there, make sure to try the koesisters and koeksisters, two delicious varieties of fried dessert.
3. Go to the Beach
Of course, a visit to Cape Town wouldn't be complete without a trip to the beach. Luckily, there are lots to choose from. The challenge here, however, is the wind, as many beaches are completely windswept. For that reason, I recommend Clifton Beaches, specifically 1 or 4 (they're numbered), two gorgeous beaches in the ritzy part of town, known for being family friendly and relatively protected from Cape Town's strong winds.
SUN AND SAND MUSTS: 25 Beach Essentials
Clifton 1 is harder to reach and therefore quieter, whereas Clifton 4 is where the family action is at: it's far bigger and more crowded, full of kids playing in the water and building sandcastles.
Stay Nearby
The Camps Bay neighborhood is a quick drive to the Clifton Beaches, and has an upmarket vibe and plenty of cute and family-friendly places to stay, including the beautiful Camps Bay Retreat, which offers kid-friendly menu items, toys and coloring books, and bathroom amenities made just for kids.
4. Make a Day Trip to See the Penguins
Boulders Beach is a must for anyone who visits Cape Town, especially with kids, because this is the home of Cape Town's famous penguins. When I went, I was expecting maybe 10 to 20 penguins … but no, the real number is in the hundreds.
Your entry fee funds improvements that protect the animals and the beach, for instance the board walk above the beach that keeps human visitors from getting too close to the penguins and disturbing them. Boulders Beach can get really busy, so I would recommend going in the morning for a bit more tranquillity.
The price of the ticket also includes entry to a second beach, one at which there are a few penguins, but where you can swim and sunbathe. To get there, just leave the gates of the first beach, turn left, and follow the boardwalk until you hit the second gates. Keep an eye out for dassies here too, there are sure to be many.
After you are oversaturated with cuteness, head to the famous beachfront Seaforth Restaurant to enjoy a fish lunch. If you want an outside table (you want an outside table), make sure to book in advance. There is also a beach here that's good for kids.
On the way back to your hotel at the end of the day, stop off and catch the sunset at the local institution Dixie's. This waterfront restaurant and café is usually packed with locals and serves up delicious food at a great value.
Stay Nearby
Downtown Simon's Town is a very quick drive from Boulders Beach, and has plenty of cute places to eat and spots to stay, including Simon's Town Quayside Hotel, which has lovely views of False Bay and family rooms that come with roll-away beds.
5. Visit Babylonstoren
A visit to Babylonstoren for lunch, fruit and wine tastings, and a visit to its expansive grounds was at the top of my list of things I wanted to do in Cape Town, and it didn't disappoint. This gorgeous and expansive Cape Dutch farm and winery is one of the oldest in the country, and is a popular spot with something for everyone, including kids.
This is very much a full day trip, as there is a lot to see and do. First, explore the extensive gardens, streams, greenhouses, fruit orchards and vineyards, before choosing between one of two lunch options. Babel, its upscale restaurant, is for a special occasion lunch (make sure to book in advance), while the Greenhouse Restaurant, also delicious, is much more casual and offers lots of outdoor seating, complete with chickens wandering around. The menu is all fresh and locally grown, and the fruit juices are pressed onsite.
Then do a wine tasting, or olive oil and balsamic vinegar tour, or both. The wine tasting happens in a pretty and modern glass room that overlooks the estate and comes with lots of snacks for the kids. The olive oil tour is relatively short, and at the end you get to make your own olive oil mix!
Stay Nearby
Babylonstoren has its own beautiful farm hotel that grants you full access to the garden, a guided farm walk, the chance to harvest with the gardeners and bake with the bakers, bikes to borrow, and more.
6. Catch an Evening Concert at the Kirstenbosch Botanical Gardens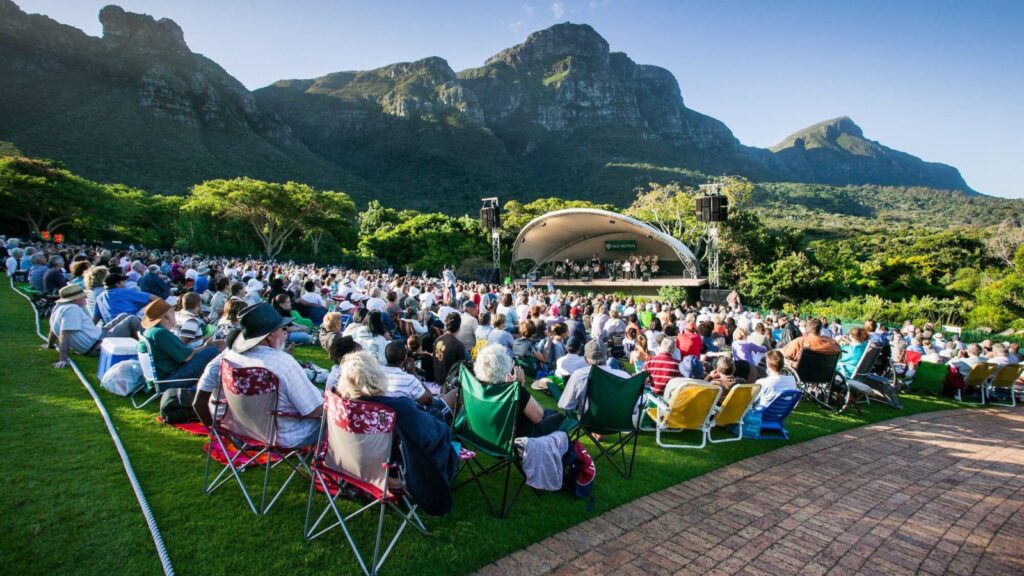 Going to a sunset, open-air concert at the Kirstenbosch National Botanical Garden was one of the highlights of my trip by far. The botanical garden runs events including summer concerts for families—so pack a picnic blanket and some food and get ready to enjoy stunning views and South African music. You'll be completely swept away by the sweet atmosphere of it all, complete with hundreds of kids of all ages running around. Do try to get there early though as it gets crowded. And to beat the crowds at the end, slip out as the last song starts.
Stay Nearby
The cute Cape Town suburbs near Kirstenbosch are dotted with little inns, and put travelers close to the popular wine country Constantia Winelands. Among the many great choices are well-reviewed spots like Riversong Guest House, which has family rooms among its offerings, and is not affected by the power outages (known as "loadshedding").
7. Go to Cape Point and the Cape of Good Hope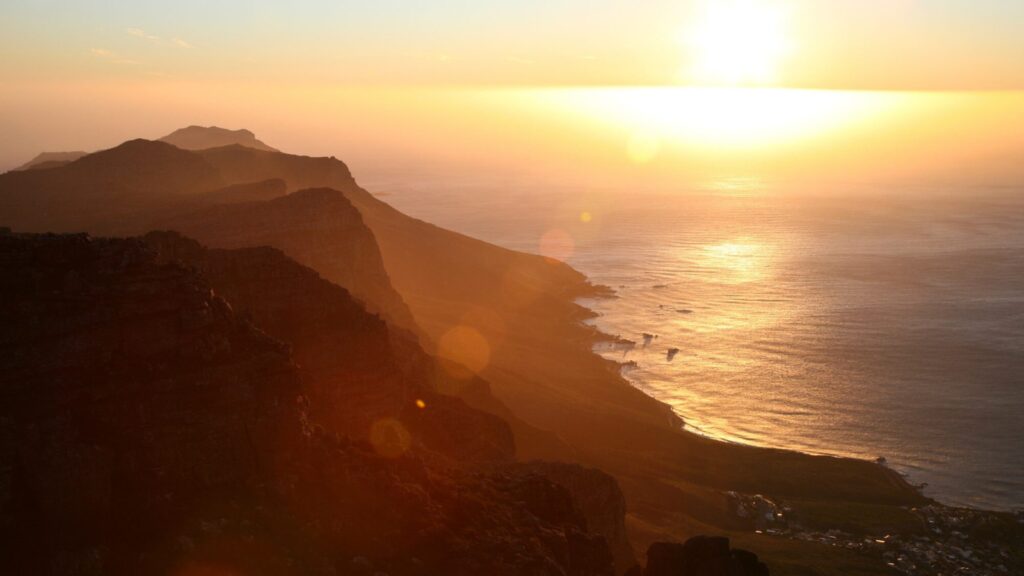 Here's a bold idea: Go to Cape Point to see where the Indian and Atlantic oceans meet, then visit the Cape of Good Hope, and then top it all off with lunch in an old Italian-style villa.
Yes, this day trip is a bit of a drive, but very much worth it as the scenery the whole way is beautiful, and the destination is even more so. Like Boulders, this is a paid experience as both capes fall within Table Mountain National Park. These lookout points get crowded as soon as the tour busses start to pull in each day, so I recommend getting there for 9 in the morning at the latest.
NO PAIN, ALL GAIN: 10 Best Walking Shoes for All-Day Adventures
If you do manage to beat the crowds, you will be rewarded with a completely empty landscape as you walk between the lighthouse point to see the merging of the Indian and Atlantic Oceans, and the Cape of Good Hope. Along the way, keep an eye out for baboons, elands, and ostriches, and make sure to bring your walking shoes.
There are also beaches in the park, should you decide to stop for a quick dip (though do be careful of the strong currents). Instead of eating in the park, opt for a lunch at Casa Labia on the way back to town for great, well-priced food in a historic seafront Italian villa with stunning, ornate interiors and garden.
If you don't want to drive yourself, there are a number of guided day tours that will bring you to Cape Point and the Cape of Good Hope and back.
8. Take a One-Day Big Five Safari in the Karoo
If you're not going on a longer safari while in South Africa, a one-day excursion is a must. Though Cape Town is far from the "bush" (the scrubland generally associated with safaris), there are parks within the Karoo wilderness, about a two-hour drive from the city, that offer a taste of the real experience.
Aquila Private Game Reserve is the one I opted for, due to its focus on conservation and rehabilitation. Our guide was lovely, passionate and informed about these issues, which was a bonus. Though this is not considered to be the real bush—the landscape is different and the animals are fed near to the lodge to ensure they are all always visible on tours—it was a lovely chance to get into nature, see some amazing animals, and support important conservation efforts.
Aquila also offers transport to and from Cape Town. For just slightly more, a van will pick you up at your hotel early in the morning and bring you to the park and back in the evening, saving you the drive. You can customize your day—you can do one or two game drives, or one game drive and one ridden safari. If you do only one game drive (of about two hours) you can play in the pool before heading back in the evening, and breakfast and lunch are included.
Advice About Safety and Security in Cape Town
Safety is an issue in Cape Town, especially in certain areas. I recommend checking with your hotel about possible walking/driving routes before setting out. Try to avoid driving at night and don't walk at night.
Due to a lack of electricity in South Africa, the grid shuts off for a scheduled amount of time every day to ease the load. Most hotels will have generators—make sure yours does before booking, or you will be spending several hours a day without Wi-Fi or electricity.
More from FamilyVacationist: