The island of Bali, part of the 6,000-island Indonesian archipelago, is a shining example of vacation paradise. What makes this island the size of Connecticut so special is the rich culture and spiritual lifestyle of its people. When you're looking for the best Bali hotels for your family, there's a lot to consider, including kid-friendly amenities, beach access, and only-in-Bali cultural experiences.
The Bali Resort and Hotel Scene
In general, Bali resort prices are a bargain compared to Western destinations such as Cancun or the Caribbean. Families who can afford them may never want to leave the over-Instagrammed luxury resorts with kids' clubs, private yachts and heli-surfing. To discover the island's authentic soul, however, you should consider staying at a traditional Balinese hotel or villa compound.
BIG FUN, BIG MEMORIES: 50 Best Vacation Ideas for a Trip They'll Never Forget
Here are my 10 picks, all of which are located in four of the island's resort areas. These small resorts, under $100 per night, have all the modern conveniences yet emphasize service, cultural activities, and friendly local staff who will proudly share their traditions with you.
Kuta: Bali's Surfing South Coast
A magnet for beach-lovers, surfers, Australian families, and budget travelers since the 1970s, Kuta is located in south Bali near the Ngurah Rai International Airport. Grab sunblock and patience to explore the tangle of narrow lanes packed with hostels, tattoo parlors, moneychangers and cafes packed into the bustling and traffic-clogged Raya Kuta district. Therein lies Kuta's charm for younger parents with infants: There's always something going on within walking distance in town or along the five-kilometer stretch of gold sand beach.
Kuta is also the gateway to Bali's southernmost point at Ulu Watu with its clifftop temple and amphitheater overlooking the sea. Over time, Kuta crowds have expanded into Seminyak in the north and Legian and Tuban to the south of town.
Bali Garden Beach Resort
Kuta, Bali
The Bali Garden Beach Resort in the heart of Kuta is our first pick for families. The traditional Balinese style property has lush, mature gardens that shelter its temple and two pools from the chaotic streets and busy beach. The ornately carved teak lobby (recently renovated) is a social hub for kids and multigenerational families, most of them who are return visitors.
KID-SIZED: 10 Best Snorkel Sets for Kids
Family rooms at this well-reviewed resort with a coffeemaker, fridge, and balcony (ask for garden facing) have a king and bunks with a trundle bed to easily sleep five. The easy-going vibe and friendly staff—who often remember returning kids' names—are hallmarks of this top value Bali resort. Rates include a large breakfast buffet with choice of Indonesian rice dishes, an omelet station, fresh fruit, and pastries. The full-service resort has a spa, coffee bar, Cuban restaurant, an Indonesian warung (casual roadside eatery), and a stylish beachfront lounge and dinner restaurant. 
Holiday Inn Resort Baruna Bali
Tuban, Bali
Committed beach-goers prefer the larger, more modern Holiday Inn Resort Baruna Bali. The 193-room resort in the quieter village of Tuban boasts sweeping lawns, a lagoon pool and a beachfront outdoor café. An enormous multi-colored statue of Prince Baruna rises from a sandbar to protect the beach from evil water spirits. 
Though recently built, its sense of place comes from graceful Balinese architectural details and a ubiquitous gamelan muzak track. Attentive service is more five-star than at a typical Holiday Inn. Bonus: The complimentary Rascals Kids Club has scheduled activities for ages 4 to 12, and up to four children ages 12 and under dine free with parents.
Munduk: Breezy Cool Hill Station in the North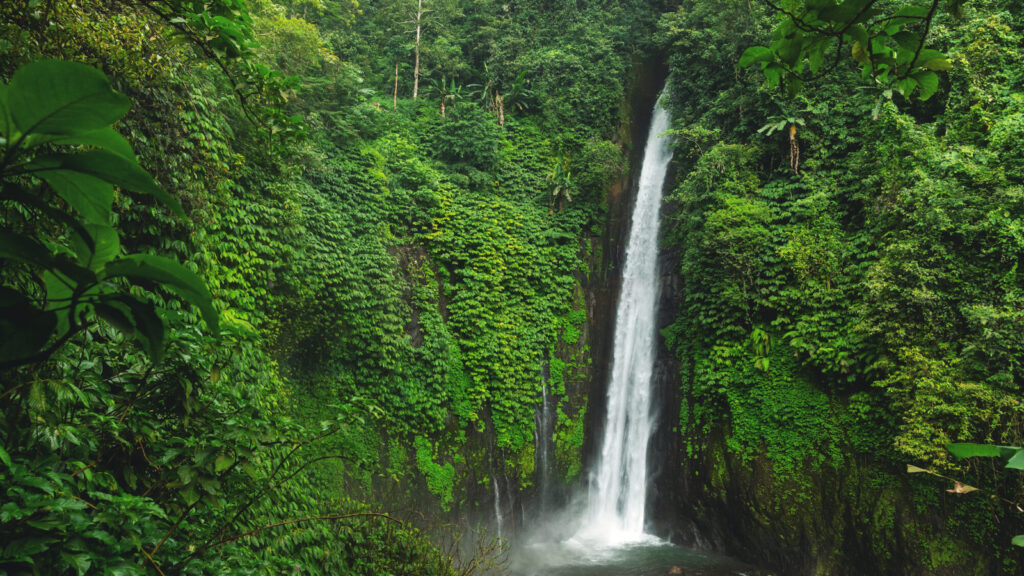 Munduk village is in the heart of Bali's mountainous north, a heavily wooded area surrounded by terraced rice paddies and clove plantations. It's a popular escape for Balinese families because at 2,500 feet in elevation, the climate is usually cooler than other areas.
There's so much to do in and around Munduk, including the chance to join a guided forest trek along narrow pathways for a hands-on introduction to Bali's agricultural economy or to spot waterfalls. On the few paved paths, motorbikes carrying entire families, boxed deliveries, and farm supplies get the right-of-way. Massive hydrangea trees, ornamental wild ginger, strangler figs, and passion fruit trees add color to the dense jungle.
Puri Lumbung Cottages
Munduk, Bali
A magnet for celebrities and political figures since the 1970s, Puri Lumbung Cottages is Munduk's sustainable tourism success story that school-age and older kids will especially enjoy. 
The "cottages" are authentic, two-story rice barns collected by a local philanthropist in a stunning naturalistic landscape of irrigation canals, waterfalls, and terraced hillsides. Elegantly rustic, each cottage at this popular resort features carved wood furniture, local fabrics, wooden shutters to let in the breezes, draped mosquito netting, and an open-air shower. The peaceful compound is staffed by students from the Bali's tourism training school, who live and work as interns in culinary and hospitality arts. It's easy to feel right at home with this energetic and friendly team. 
BEACH CHIC: 10 Stylish Beach Bags With Extra Features
In addition to treks to the powerful Red Coral Munduk Waterfall, Puri Lumbung guides lead temple tours as well as Balinese language, basket weaving, and cooking classes at the resort. Don't miss the opportunity to get a vigorous Balinese massage at the rustic spa. While Munduk has many other hostels, homestays, and resorts, nothing compares to Puri Lumbung's rice flour and coconut milk breakfast pancakes topped with palm sugar, which is included in your room rate.
Permuteran: Conservation-Focused Black Sand Beach
Pretty Permuteran Beach is on the northwest coast, close to the ferry port for Java. Unlike in predominantly Hindu villages, days here begin early with the Muslim call to prayer emanating from local minarets. Permuteran's Javanese residents also make it a good town to try Indonesian staples like gado-gado (a mixed salad with tofu and peanut sauce) and nasi goreng (fried rice) at small cafes called warungs.
Permuteran's uncrowded black sand beach and warm, shallow, clear waters draw many families in summer. While picturesque, it isn't as well maintained as busier south Bali beaches and, on windy days, plastics and ocean debris make a powerful environmental statement.
Fortunately, the waterfront dive shop is home to a green sea turtle conservation group and the Biorock Project, which grows coral reefs using solar panels. Biorock scientists discovered that charging underwater metal and concrete sculptures with a DC current stimulates coral growth. Experiencing Bali's sustainability initiatives and snorkeling from shore to see sunken sculptures make Permuteran a terrific, hands-on learning destination for young environmentalists.
Taman Selini Beach Bungalows
Permuteran, Bali
Families love the hotel facilities at the small, beachfront Taman Selini Beach Bungalows. There's a long swimming pool, a dining pavilion, and an open-air yoga studio that's also used for lounging and events. Each ornately crafted bungalow (its own small house) has a covered patio and chaise lounges out front. Kids will love the open-air bathrooms with outdoor showers shaded by palm fronds. 
ON THE WATER: 7 Stunning Overwater Bungalows Totally Worth the Splurge 
This hotel was started by a Greek family who decorated the hotel in authentic Balinese art and antiques. They also taught the chef to cook Greek classics, so the menu ranges from burgers to nasi campur (a rice and sate platter) to housemade spinach pies. Don't overlook the hotel's deliciously mild Bali sambal, a salsa of finely chopped shallots and red chilis marinated in coconut oil that locals use on everything.
People come to Permuteran to snorkel or scuba dive, so there are many inexpensive gear rental places that stock both adult and children's sizes. The hotel can arrange day trips to Menjangan Island in Bali Barat National Park. Boats take all ages to the island for excellent snorkeling among a riot of colorful fish. Note the gorgeous indigo-blue starfish are an invasive species that threaten the coral reefs.
Puri Ganesha
Permuteran, Bali
Beachfront next to the large Taman Sari Resort, Puri Ganesha is an intimate getaway for families who want the privacy of a luxury villa with its own pool. Four one- to three-bedroom homes furnished with antiques and homespun fabrics share a common library, shop, and a special vegetarian restaurant. The British owner, Diana, is a noted vegan chef who gives cooking classes and can arrange Balinese healing massages. Order in advance to sample her impressive Balinese feast, which can be made with or without seafood and poultry at the open-air Umbi Kitchen pavilion. 
Ubud: The Famous Cultural Heart of Bali
In the movie version of "Eat, Pray, Love" Julia Roberts found love in Ubud, a central hill village that has been popular with Western artists and seekers since the 1920s. Bali's most famous town is still an expat haven with the island's best galleries, cultural performances, and restaurants.
Spend at least three days here to take a cooking, traditional dance, or batik-making class. Borrow a sarong to visit sacred temples, join a festival, try yoga, bike, or just relax together after a traditional Balinese massage. We recommend you base yourselves at one of the small resorts outside of town to avoid the throngs of day visitors from cruise ships and the beaches.
Alam Indah Bali Hotels
Every taxi driver on Bali knows the Alam Indah Hotels chain because of its beloved founders, Ibu Wayan and Bapak Ketut. Starting in 1980 with a bamboo warung selling snacks, the family built a guesthouse, and now runs three luxury villa resorts hidden in lush gardens behind the Monkey Forest. (Kids love this attraction where they can watch mischievous monkeys.) Complimentary shuttles and the rideshare app Grab make it easy to explore Ubud's bustling commercial streets and return to your own hotel paradise, a 10-minute drive away.
Hand-built and landscaped by artists, rooms are uniquely detailed with Balinese woodwork, fabrics, and furnishings. The longtime staff welcome all like family. Views over endless rice paddies, flowering trees, and valleys are stunning.
ARRIVE PREPARED: 25 Beach Essentials for Every Sun-Soaked Vacation
Kebun Indah, the original and more economical guesthouse, has a two-room family suite near the pool. The 10-room, hilltop Alam Indah is a favorite for the social hub created by its yoga studio and central dining terrace. (Note that paths of stone steps make these two better choices for those traveling with older kids.) 
There are 19 other romantic villas at the Alam Jiwa and Alam Shanti hotels, some multi-story, several accessible and one with a private pool. They are separated from each other and the owners' home by flowering gardens, tiled swimming pools and tranquil spas. Rates include custom breakfasts, afternoon tea and on-site workshops, including how make the floral offerings that bless your every step. Be sure to plan a wonderful culinary experience and cultural show at their restaurant, Laka Leke. 
Hotel Tjampuhan and Spa
Ubud, Bali
Hotel Tjampuhan and Spa is uniquely situated at the confluence of two sacred rivers, in a picture-perfect Bali landscape first developed in 1928 for the King of Ubud. Birds chirp wildly, butterflies float by, and pools, ponds, lotus and hibiscus—the king's favorite flower—abound. 
As a royal guesthouse, the property once welcomed artists such as the German painter Walter Spies, the Dutch Arie Smit and the painter/writer Miguel Covarrubias, whose work put Bali in the global spotlight. Today, the resort has 67 spacious, updated rooms decorated in the Balinese style. Each has a patio or terrace overlooking the same dense jungle that's visible from the 2.4-mile Campuhan Hill Ridge Walk across the valley.
The Tjampuhan is a nostalgic favorite (and priced that way) within walking distance of Ubud Square. Yet it's a good choice for families because of its large swimming pools, extensive private grounds and attentive staff. The spa has hot and cold plunge pools tucked into a carved grotto decorated with Balinese deities.
Choosing Bali Hotels for Families
Tempted by the beach, mountains, learning adventures, and cultural activities? For the ideal sojourn in paradise, combine all four destinations into a 10- to 14-day trip. It's a great way for your family to get to know the real Bali. 
More from FamilyVacationist: