The easternmost island in the Caribbean Sea, Barbados is both delightfully elegant and infectiously funky. Cricket and horse racing are big here, but it's also the island that gave us Rhianna. The music—reggae, calypso, soca—will make even the little ones in your family want to jump, jump. And at the top Barbados all-inclusive resorts, you'll get a taste of everything this happy little island has to offer.
The Best Barbados All-Inclusive Resorts for Families
In Barbados, the convenience and family-friendly amenities of the top all-inclusive family resorts can't be overstated. After all, the less you have to think about, the more fun you and your family can have. Make it easy on yourself with these top Barbados all-inclusive resorts for families.
TROPICAL TRIPS: 11 Caribbean Vacations That Have Something for Everyone in the Family
1. Sea Breeze Beach House by Ocean Hotels All Inclusive
Oistins, Barbados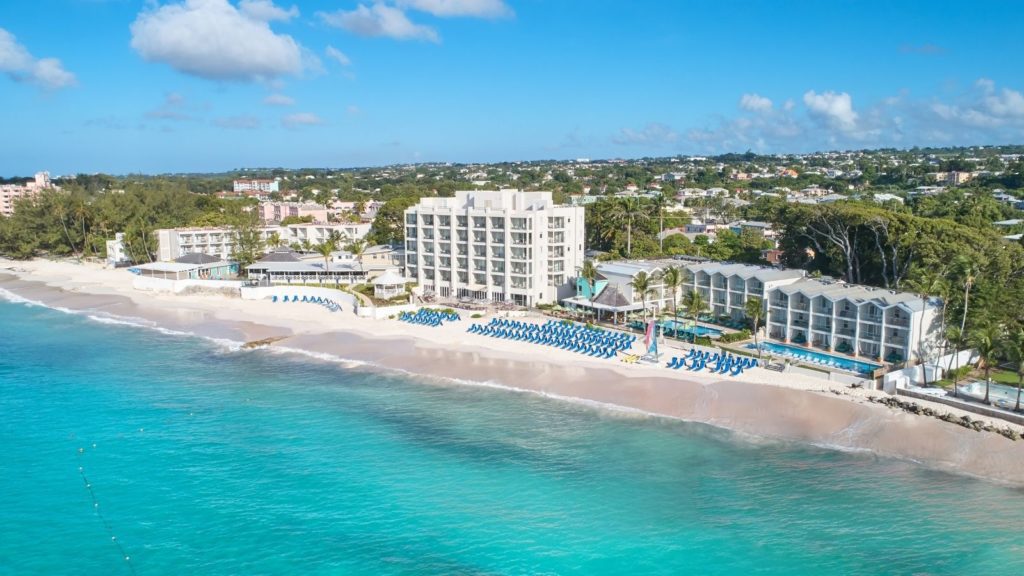 At Sea Breeze Beach House, families will enjoy an all-inclusive beachfront oasis with plenty of entertainment options for both kids and teens. The resort has a kids club for little ones and teen lounge for families vacationing with teenagers. With three swimming pools and easy snorkeling in a secluded bay, there's always something to do, too.
SUN AND SAND: 10 Most Beautiful Caribbean Beaches (and Where to Stay Near Each)
Recent renovations include upgraded luxury suites with full ocean views and a host of enhanced amenities. These suites can be combined or sectioned off so that families can enjoy a whole private area of the hotel for themselves. No worries about running out of good food either: There are six on-site restaurants choose from.
A stay at Sea Breeze Beach House is actually a two-for-one deal, because guests also have access to the resort's sister property, the recently opened O2 Beach Club and Spa. There, you can take advantage of daily "how to" classes that teach everything from making sugar cake to rum punch. O2 Beach Club also offers aqua aerobics, beach cricket, yoga, and hour-long morning walks.
2. Crystal Cove by Elegant Hotels All Inclusive
Saint James Parish, Barbados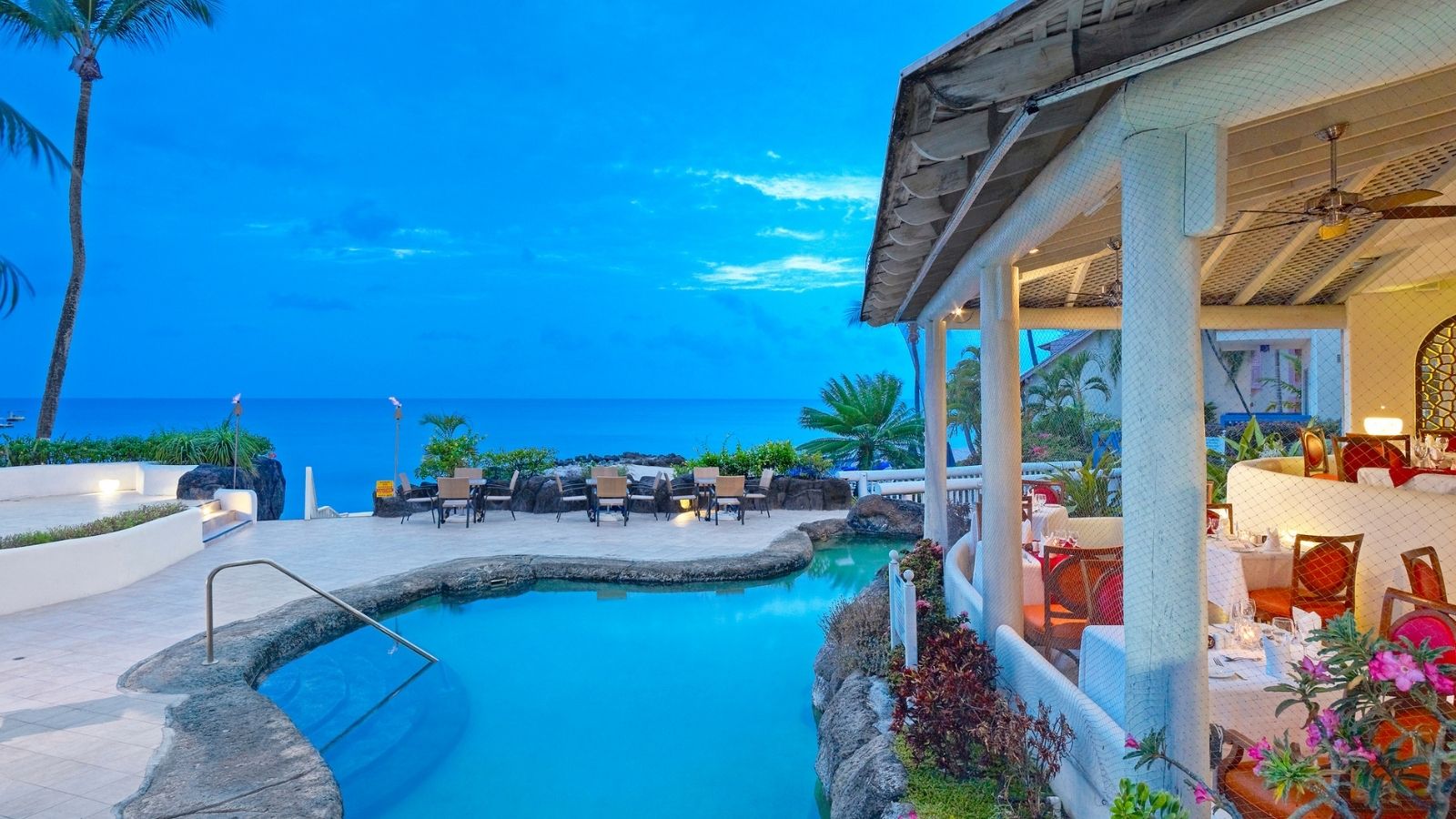 You can never wrong at a Barbados all-inclusive resort overlooking a pure white sand beach. Crystal Cove by Elegant Hotels is just such a sweet spot in St. James on the island's Platinum Coast.
Kids will love the resort's kids club where activities include nature spotting, making bottle charms from seaweed, and creating souvenirs from driftwood and sand. There are games to keep them busy as well, and come mealtime the open-air beachfront dining spot called Drifters Beach Bar and Restaurant is the place to be. The entire family can snorkel, water ski, enjoy a submarine tour, and take guided community and beach walks.
LEAVE THE KIDS AT HOME: 10 Best Adults-Only All-Inclusive Caribbean Resorts for Couples
When you're ready for some couples time, babysitting services are available while you splash around in the lagoon-style pools and make your way to the swim-up bar. Better still, you might spend time revitalizing yourselves at the spa or taking a complimentary Yoga or Pilates class.
If you're traveling with an infant and discover you've left something off your baby packing list, cribs are provided for free and other baby items can be ordered in advance.
3. Barbados Beach Club
Christ Church Parish, Barbados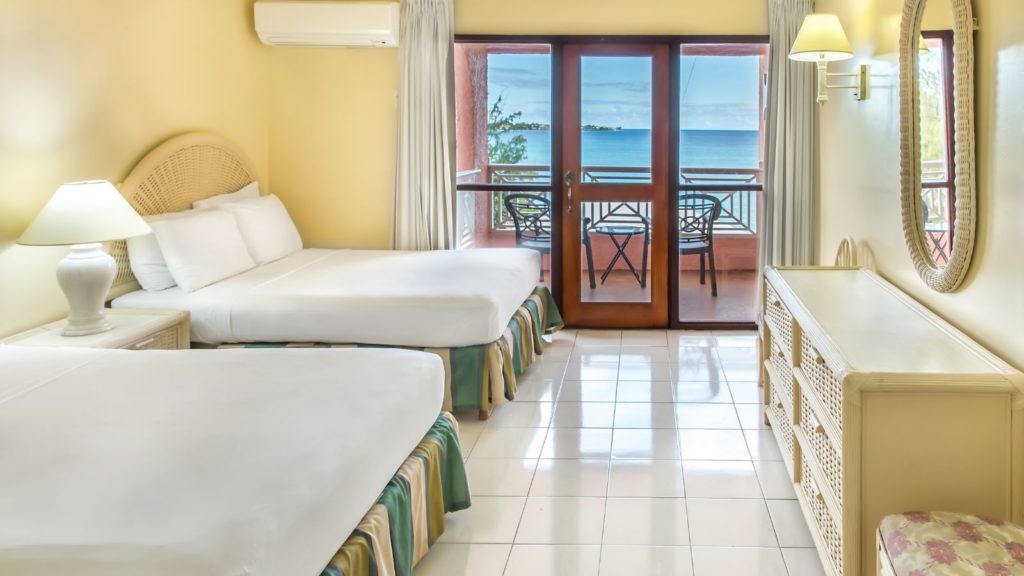 Head to Christ Church on the South Coast for the Barbados Beach Club in the trendy St. Lawrence Gap neighborhood. All guest rooms at this Barbados all-inclusive have ocean or pool views with private open-air balconies.
NO PASSPORT NEEDED: 4 Best Puerto Rico All-Inclusive Resorts for Families
Family activities here includes beach time, paddle boarding, kayaking, splashing in the beachfront pool, snorkeling, and playing a game of tennis. Dine casually poolside with your crew or upgrade the atmosphere and get fancy with a formal dinner at the resort's Reef View restaurant.
4. Turtle Beach by Elegant Hotels
Dover, Barbados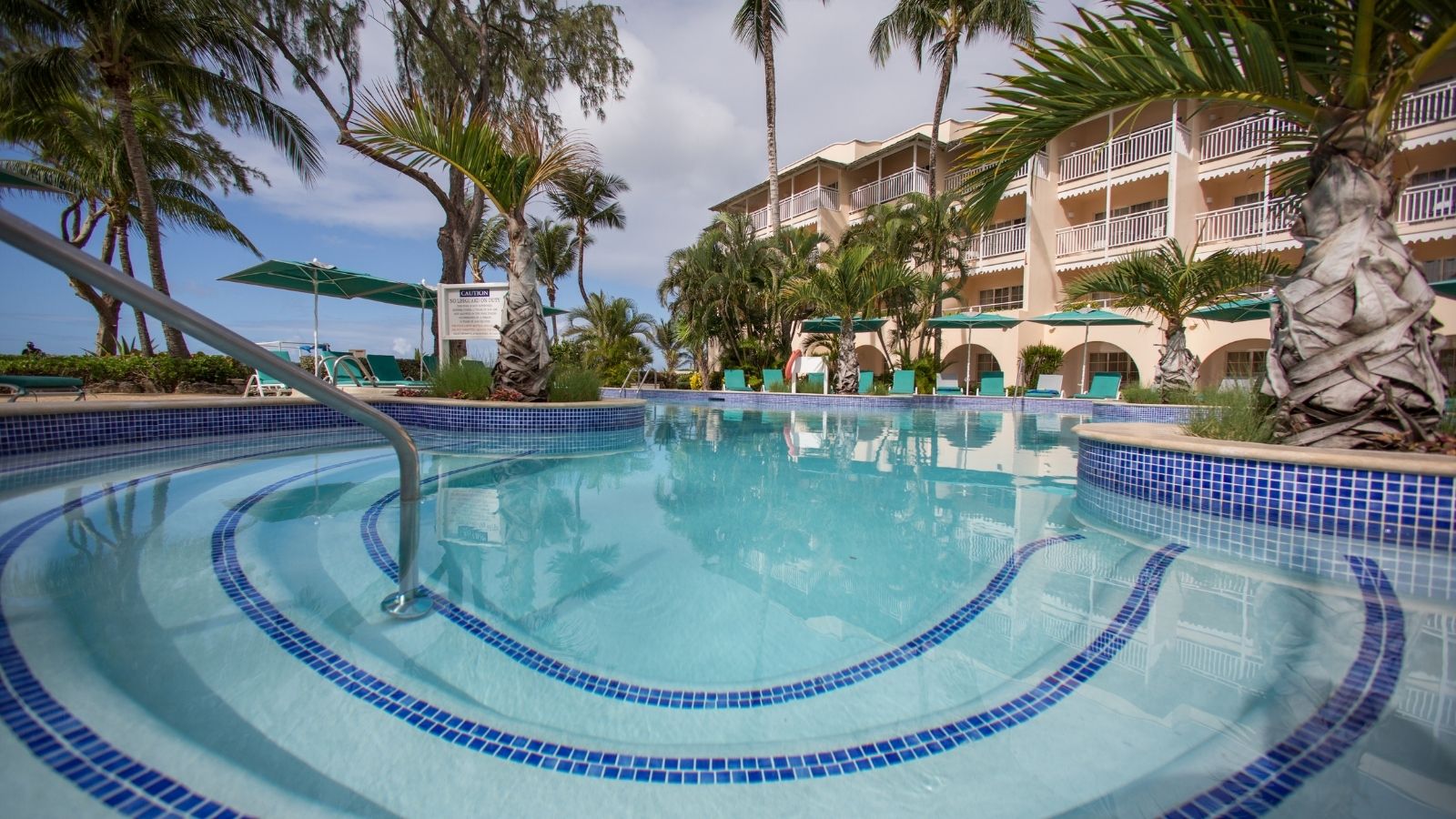 With amenities like a dedicated children's pools and jungle gym, family lounges, and the Flying Fish Kids Club, Turtle Beach on the island's Platinum Coast is an ideal Barbados all-inclusive for families. Kids can even get the cultural experience of becoming a "honorary" Bajan through a fun course that teaches them local lingo and offers the chance to cook up authentic Bajan dishes. They'll go home with a souvenir pin, certificate, and a "Bajan passport" from the resort.
CARIBBEAN DREAMS: 5 Best Aruba All-Inclusive Resorts for Families
Parents can enjoy beach cricket, calypso dance lessons, or taking to the water for boogie boarding, kayaking, or learning to sail a Hobie Cat. There are spinning classes and tennis clinics to keep the fun going. And when the adults are ready for a bit of romance, there's private dining available for couples.
5. Sugar Bay Barbados
Garrison, Barbados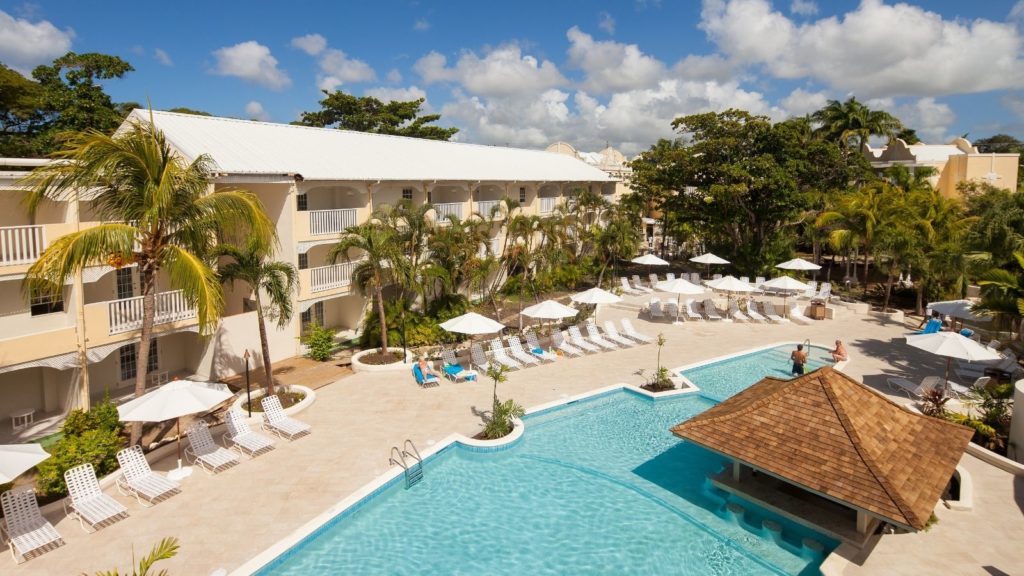 While you'll love the seclusion of Sugar Bar Barbados (situated on the beach just steps from an ocean lagoon), when you want action you're within easy walking distance of Bridgetown's South Coast Boardwalk and treasures like its historic Garrison, a UNESCO World Heritage Site. There's especially good news for families looking for all-inclusive resorts where kids stay free, too. At Sugar Bay Barbados, kids under three stay free, as does the first child ages four to 16.
SUNSHINE STATE: 7 Best Florida All-Inclusive Resorts for Families
There are clubs for babies, toddlers, kids aged four to 12, and a Teen Clubhouse. Babysitting is available. Parents will appreciate the Karma Spa and cocktails on the beach. The all-inclusive resort has four restaurants. After breakfast at Reef, grab lunch at Colin's Bar and Grill (reminiscent of a traditional rum shop) or Umi (for Asian-fusion cuisine). For dinner, treat yourself to Sizzle Steakhouse. 
6. Southern Palms Beach Club
St. Lawrence Gap, Barbados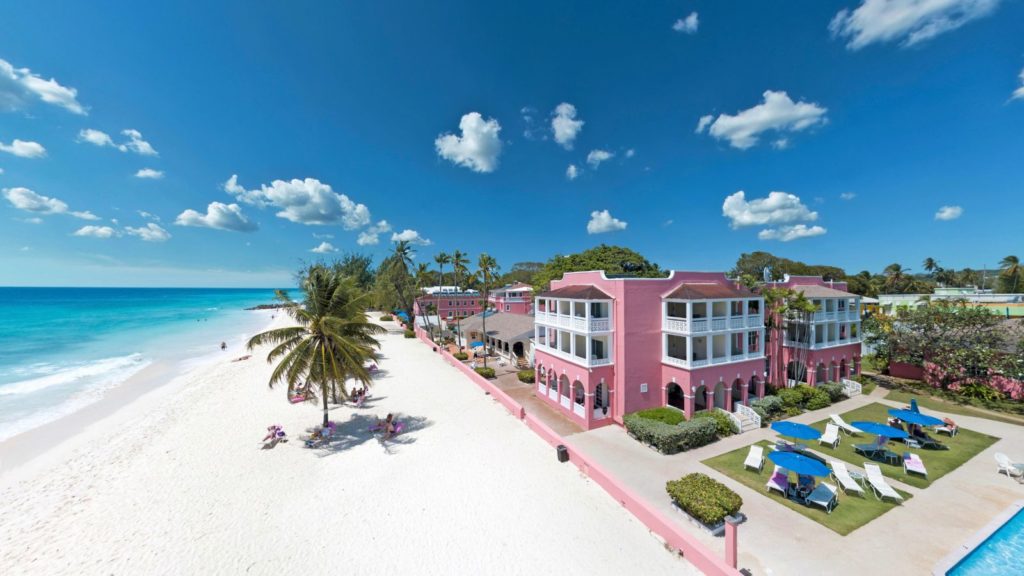 Though it isn't a true Barbados all-inclusive resort, you might still want to put Southern Palms Beach Club on your family vacation ideas list because children under 12 stay free. The island's "Pink Pearl" is a colonial building on the ocean and it's a beauty. Freebies include windsurfing, snorkeling, an outdoor gym, tennis court, beach volleyball, shuffleboard court, miniature golf, and boogie boards.
ONCE IN A LIFETIME: 10 Caribbean Family Resorts That Belong on Your Bucket List
There are two freshwater pools here for cooling off, and you can enjoy fresh Caribbean cuisine at the Garden Terrace restaurant and Khus Khus Bar. Another plus: You're in St. Lawrence Gap, with its lively restaurants, shops, and bars.
More from FamilyVacationist: