If your family loves spending time together on the beach, Antigua is the perfect Caribbean vacation destination for you. This tiny island is home to 365 beaches—one for every day of the year, as the locals like to say—and a number of kid-friendly Antigua all-inclusive resorts you can build a whole vacation around.
Want a quiet family beach vacation? Some of Antigua's best beaches, like Rendezvous Bay and Doigs Beach, are only accessible by foot or four-wheel drive. Famous Half Moon Bay is a 132-acres white sand crescent that neighbors at national park. And Antigua's peaceful Long Bay is especially good for vacations with toddlers and young kids because it's completely protected by a reef.
When you want a break from sand and sun, leave your Antigua all-inclusive behind for a day to take in a historic walking tour through the port city of St. John's and English Harbour. For a bit of adventure, Antigua offers plenty of opportunities for off-road island safaris, horseback riding, and zip lining through the rainforest. After you work up an appetite, you can feast at one of the 100 restaurants in Antigua, where island cuisines include West Indian, Italian, French, Chinese, and Swiss-German.
SUN AND SAND: 11 Caribbean Family Resorts That Should Be on Your Bucket List
Best Antigua All-Inclusive Family Resorts
As for where to stay on Antigua, you'll find a good selection of all-inclusive resorts that accommodate the needs of families, many with dramatic beachside settings and a menu of activities for kids and parents to enjoy.
1. Curtain Bluff Resort
St. Mary's, Antigua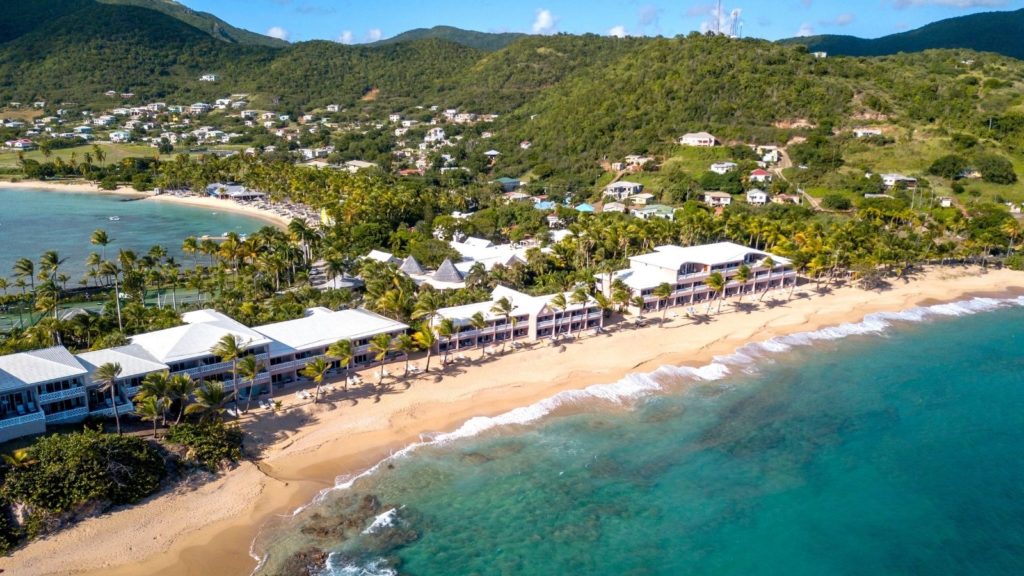 Talk about a dramatic setting. Antigua's all-inclusive Curtain Bluff Resort is settled snug on a rocky promontory. Both sides of the resort are privy to that Caribbean Sea, and all accommodations are situated right on the sand or just a few steps away. Picture floor-to-ceiling windows with views of the sea. All that and this kid-friendly beach resort is a five-star property, too.
BEACH DAYS: 10 Most Beautiful Caribbean Beaches (and Where to Stay Near Each)
The Curtain Bluff's Cee Bee Kids Camp for thee to 12-year-olds gives younger children and tweens plenty to do during the day, with age-appropriate activities like designing T-shirts, making necklaces and mocktails, dock fishing, and beach combing just to name a few. While the kids have their fun, the adults can relax at the spa, play a game of squash or tennis, or simply down a drink while lounging along the water. If you want something romantic in the evening—dinner and dancing to a live band under the stars, for example—childcare can be arranged at an extra cost.
When you're all together at this Antigua family resort, you can make family memories with snorkeling, waterskiing, or even a Hobie Cat sail, all included in the cost of your stay. Meals, drinks, and alcoholic beverages by the glass are also included in your room rate at this Antigua all-inclusive hotel.
2. Blue Waters Resort and Spa
St. John's, Antigua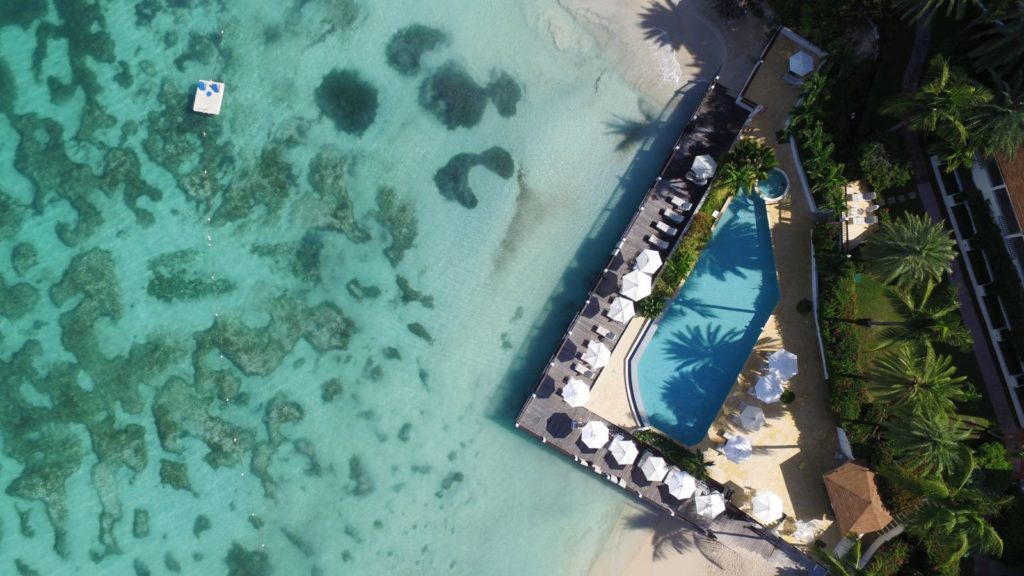 Families seeking a multigenerational all-inclusive resort will feel right at home in the deluxe beachfront rooms and luxury suites at Blue Waters Resort and Spa, located just 15 minutes from the island's capital of St. John's. This Antigua resort offers all-inclusive meal packages to go along with its sizable penthouses and villas with private infinity pools for large groups. Families of three or four can enjoy spacious beachfront rooms and suites. 
WORLD'S GREATEST: 12 Best All-Inclusive Family Resorts in the World
Kids ages five to 12 can spend their days at the resort's Kids Club, open year-round Monday through Friday during the day, with special movie and pizza nights as well. For the older kids and tweens in your life, this family-friendly Antigua resort also has a game room decked out with a pool table, table tennis, board games, and television. The whole family can come together to enjoy Blue Waters' freshwater pools and secluded beach coves, perfect for windsurfing, jet skiing, snorkeling, or yoga.
With three restaurants and four bars included in the resort's all-inclusive meal package, finding something good to eat is never a problem either.
3. St. James Club and Villas All Inclusive
Maroma Bay, Antigua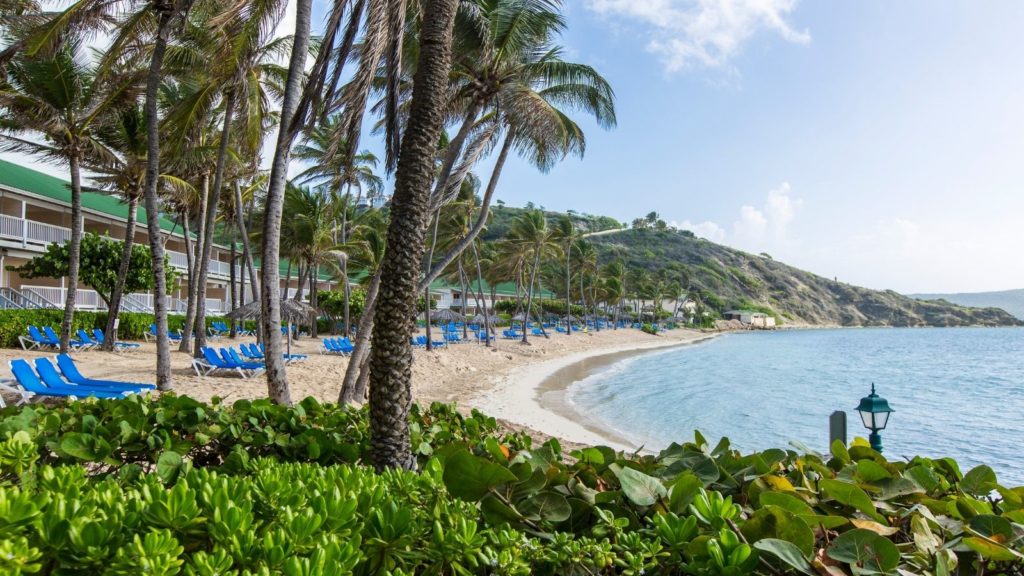 Ask savvy travelers about the best all-inclusive resorts for families and most will include St. James Club among their favorites. Situated on a secluded 100-acre peninsula on the island's southeastern coast, this resort is absolutely loaded with family-friendly things to do, including an all-ages kids club.
ROMANTIC GETAWAYS: 11 Best Adults-Only All-Inclusive Caribbean Resorts for Couples
Other highlights include five restaurants, a spa, outdoor tennis courts, a movie theater, six pools, and two beaches. You can rightly assume you're going to have it all when it comes to non-motorized water sports options, too—think kayaks, paddleboards, sailing, snorkeling, and pedal boats, for starters. The fitness center even offers creative ways to keep moving, like Caribbean dancing, yoga, and aqua aerobics.
St. James Club's oversized hotel-style guest rooms are ideal for families, too. And who says no to a beachfront private terrace?
4. The Verandah Resort and Spa Antigua All Inclusive
St. Philips, Antigua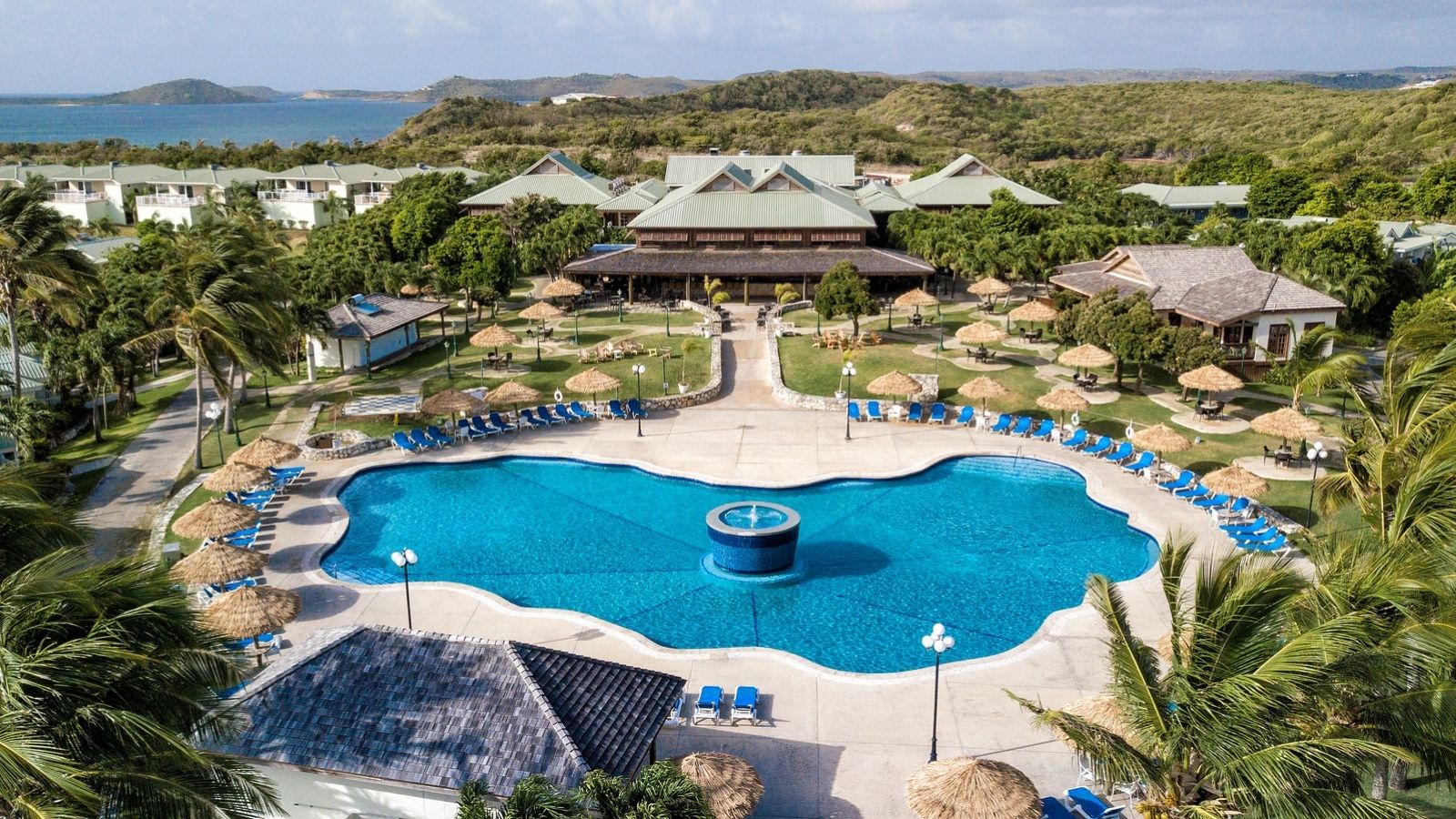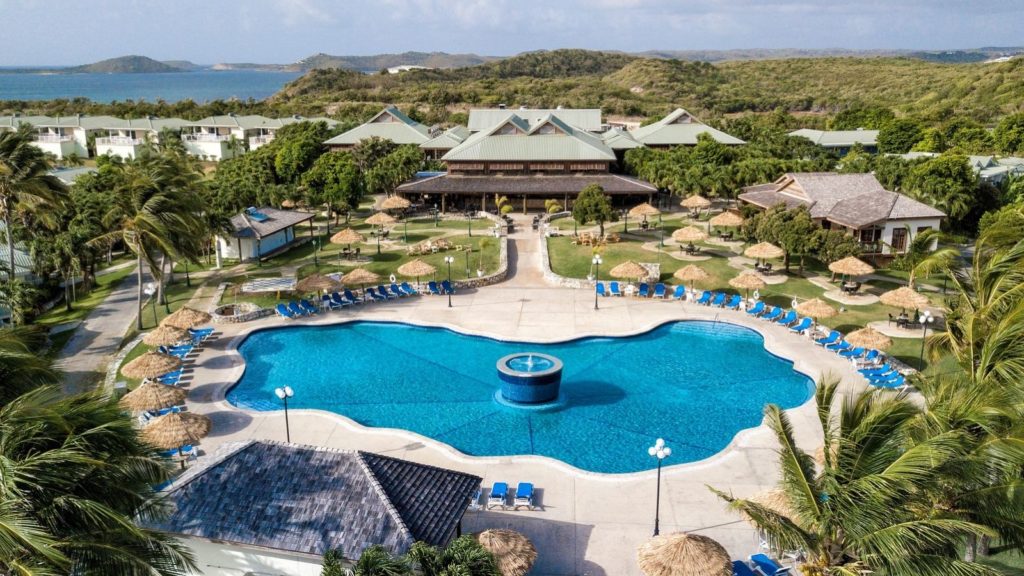 It's hard to say which is most stunning at The Verandah Resort and Spa: the lush greenery, the turquoise waters, or the tropical views. You can take your pick of hillside, water view, superior waterfront, or waterfront suites at this hillside beachfront resort. The setup is a pair of adjacent suites—think Caribbean cottages with white-washed trim and pale-green exteriors and a shared porch. Each suite has a private verandah in back with tables and chairs so you and the family can kick back and take in the fab scenery.
CLOSER TO HOME: 19 Best All-Inclusive Resorts in the U.S. for Families
Add to the mix four freshwater pools, a kids club, teen lounge, mini-golf course, a playground, water sports, and nightlife, and you have all the ingredients for one of the best all-inclusive resorts in Antigua for families. Another plus: The island's spectacular Devil's Bridge limestone formation is a short walk from the resort.
Babysitting is available at the resort for parents who need a little alone time for a romantic dinner or night out, Caribbean-style. Sip on cocktails at one of the five bars and lounges. And if your stay includes a Monday, take in the Manager's Cocktail party for drinks, hors d'oeuvres, and live entertainment.
5. Royalton Antigua, an Autograph Collection All-Inclusive Resort and Casino
Five Islands Village, Antigua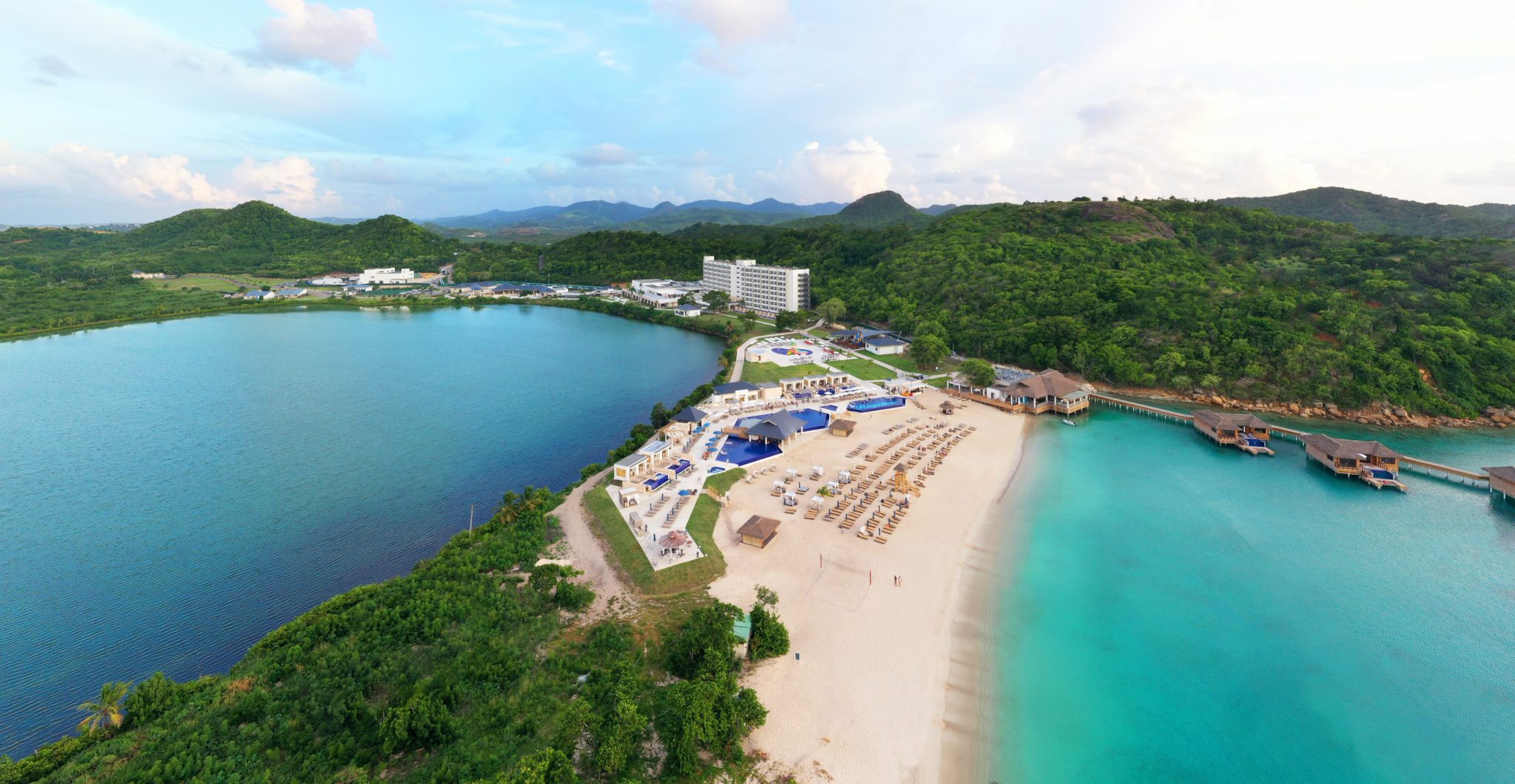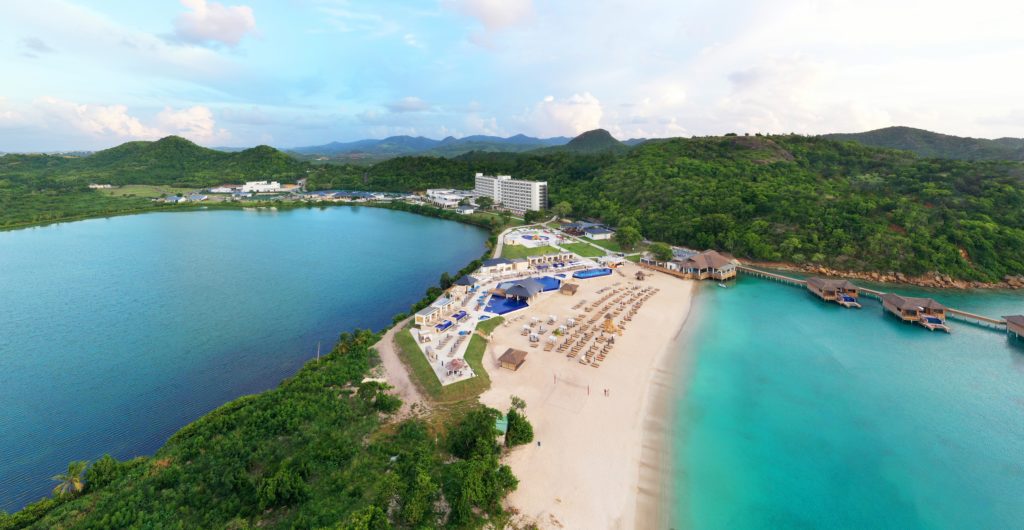 Just a 30-minute drive from the airport, the ultra-kid-friendly Royalton Antigua all-inclusive resort is positioned along a pristine private beach overlooked by the dramatic 18th century Fort Barrington. This is a true luxury family resort with 294 suites, eight restaurants, five bars, three swimming pools, a kids club, a teen hangout lounge, a spa, and even some gorgeous overwater bungalows.
GORGEOUS GETAWAYS: 7 Stunning Overwater Bungalows That Are Totally Worth the Splurge
Activities here include kayaking, snorkeling, beach volleyball, tennis, dance classes, ping pong, and nights that end with live performances at the open-air theater. And the food is top-notch, too, from the Hunter Steakhouse to the Grazie Italian Trattoria.
At the end of a fun day, get a good night's sleep in a luxury junior suite with a bay or mountain view, or splurge on a Diamond Club luxury junior swim-out suite with a semiprivate terrace with swim-up access to the Diamond Club pool.
More from FamilyVacationist: