Summer may be the most popular time for family vacations, but if you live someplace that experiences winter with a capital "W," you know the best time to travel is during the coldest months. The best tropical vacation spots are never more enticing than in the dark and dreary months of December, January, February, and even March. Because, let's be honest, winter can sometimes overstay its welcome.
Rather than spend the winter indoors imagining yourself on a hammock at one of the best Caribbean resorts, why not pick one of those tropical places to visit and make it a reality? Swap your snow boots for flip flops (don't worry, you'll be on the other side of hurricane season) and head to one of these tropical vacation spots where there's a lounge chair and a tropical drink with your name on it.
TROPICAL PLACES TO VISIT: 6 Best-Value All-Inclusive Resorts for 2024
1. Punta Cana, Dominican Republic
One of the best tropical vacation spots for all-inclusive resorts
Tropical winter vacations don't get any better than in the Dominican Republic. Not only does sunny Punta Cana deliver spectacular weather in the winter months, it also stands out as a great value destination for families and couples alike. There are so many all-inclusive family resorts and adults-only all-inclusive resorts that it's never hard to find a bargain, and the abundance of direct flights to Punta Cana International Airport (PUJ) from around the U.S. makes it a convenient destination for tropical winter vacations.
PLENTY OF ROOM: 15 Best All-Inclusive Resorts for Large Families in 2024
Kids will feel right at home at the family-friendly Nickelodeon Hotels and Resorts Punta Cana, where getting slimed and visiting one of the Caribbean's biggest water parks are fun things to do. Teenagers can find a space of their own Club Med Punta Cana, one of the top resorts in the world for teens. And if you're searching for tropical places to visit without kids, Punta Cana has a number of secluded and romantic couples resorts to choose from, including luxurious all-suite Majestic Mirage Punta Cana.
2. Jamaica
One of the best tropical vacations in winter for relaxed island vibes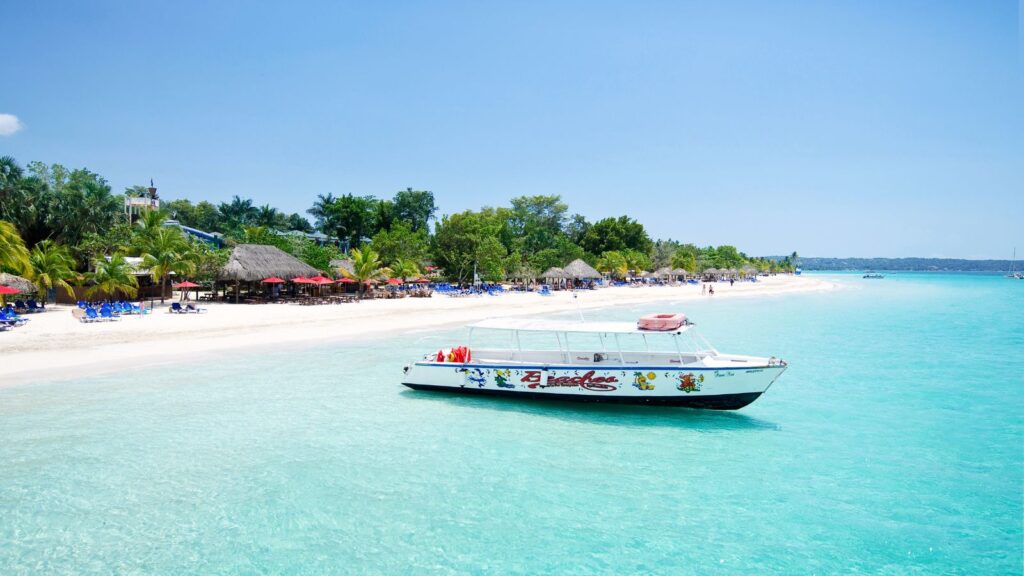 Tropical winter vacations in Jamaica naturally bring to mind the island's rich cultural heritage, live music scene, and relaxed way of life. The all-inclusive Jamaica resorts in Montego Bay and Negril lean into this vibe, while the capital city of Kingston is the country's cultural mecca and a must-visit day trip when you venture beyond your beach chair.
ROMANTIC ESCAPES: 7 Best Jamaica Couples Resorts for Adults in 2024
Beloved family resort brand Beaches has two all-inclusive options on the Caribbean island of Jamaica: Beaches Negril and Beaches Ocho Rios, which are especially good choices if your kids are of an age to enjoy the extraordinary Beaches Kids Club. At Hilton Rose Hall Resort and Spa, you can get a little taste of everything, because the resort has a beach, golf courses, recreational activities, live entertainment, and plenty of places to eat. And speaking of dining options, foodies will want to look into Hyatt Ziva Rose Hall and its 16 dining locations.
3. The Bahamas
One of the best tropical places to visit for families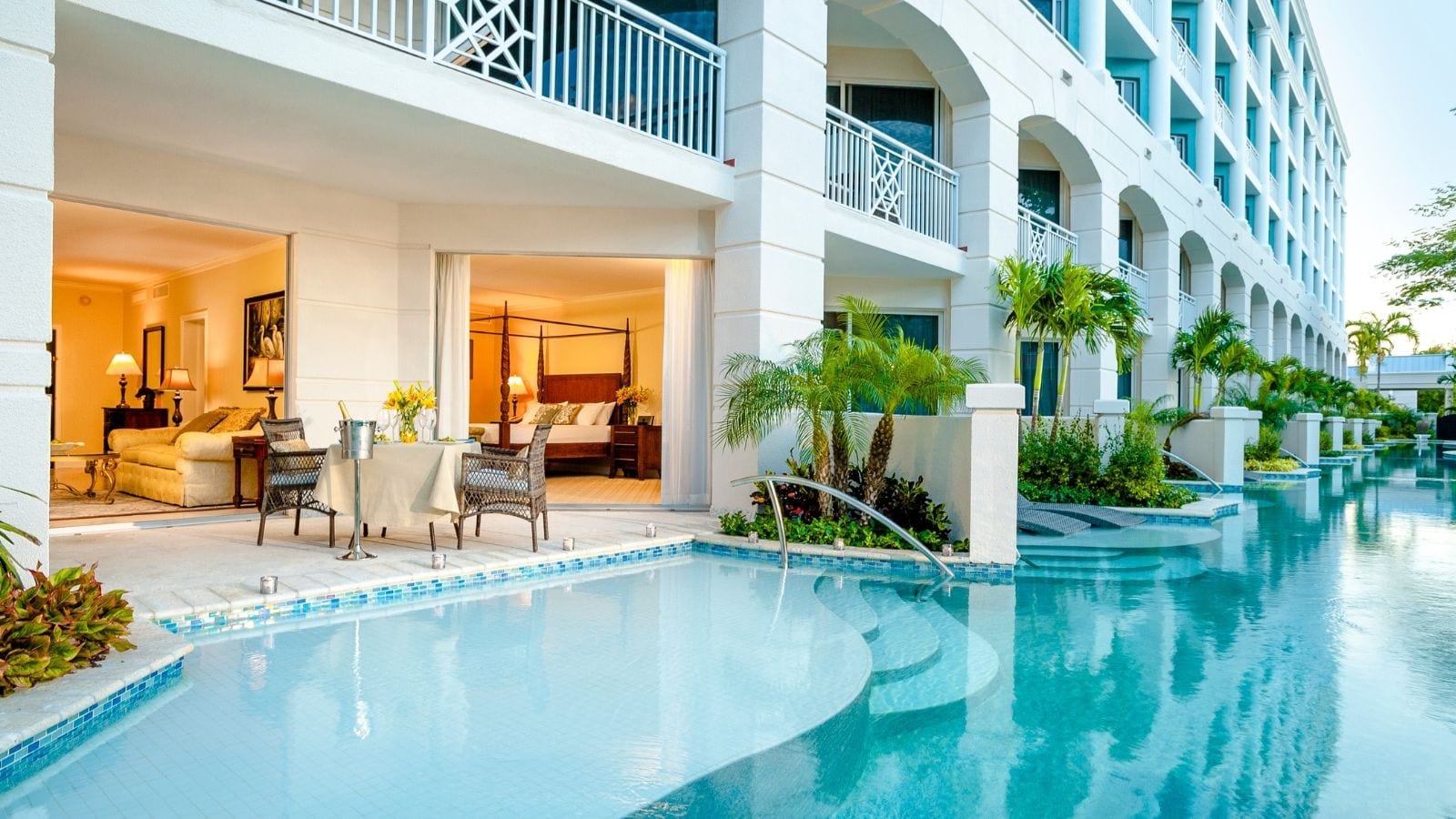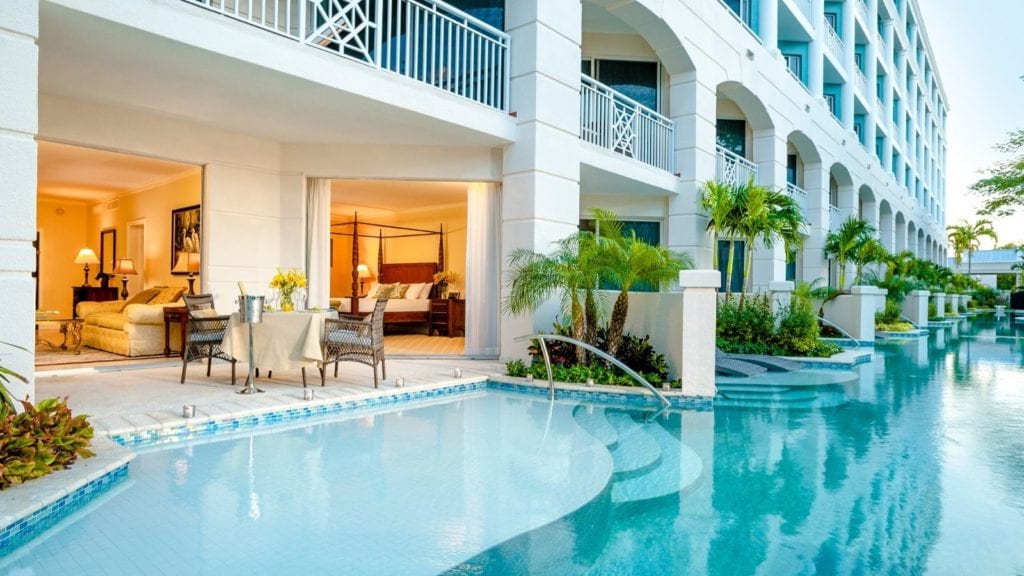 Composed of nearly 700 coral islands, only 30 of which are inhabited, The Bahamas is a best winter beach vacation spot you can return to again and again without ever running out of things to do. The top all-inclusive Bahamas resorts cater to all the adventurers, relaxers, foodies, and nature enthusiasts out there craving someplace warm to visit, all while being just a short three-hour flight from the East Coast.
ADULTS-ONLY TROPICAL VACATIONS: 10 Best Sandals Resorts for 2024
Head to Small Hope Bay Lodge on Andros Island for a quieter escape, or stay in the heart of the action in Nassau at the couples-only Sandals Royal Bahamian. Families, meanwhile, will want to consider Atlantis Paradise Resort for its massive 141-acre water playground, top-rated dining, and incredible recreational activities including marine adventures and golf courses.
4. Riviera Maya, Mexico
Winter beach vacations for both families and couples
Mexico's Riviera Maya is a long stretch of Caribbean coastline just south of Cancun that's home to some of the most popular tropical places to visit in the whole country, including Playa del Carmen, Tulum, and Puerto Morelos. Most of the beach resorts here are self-contained and many are all-inclusive, making it both more convenient and safer to visit than other areas within the country.
TROPICAL WINTER VACATIONS: 13 Best Mexico All-Inclusive Resorts for Families in 2024
For families with younger kids, there's no better all-inclusive choice than Playa del Carmen's Nickelodeon Hotels and Resorts Riviera Maya. Like its sister resort in Punta Cana, this one also has a spectacular water park and plenty of things to keep the kids busy—but here every single guest room has an oceanfront view and a swim-out pool. (Read our full review here.) For an adults-only escape, look to Viceroy Riviera Maya, where you can book a private villa with its own plunge pool and outdoor shower.
5. U.S. Virgin Islands
Three unique choices for tropical winter vacations
No passport is no problem for American travelers visiting the U.S. Virgin Islands, a U.S. territory which is home to not one, not two, but three of the best tropical vacation spots anywhere in the Caribbean: St. Croix, St. Thomas, and St. John. With year-round sun and an average seasonal temperature of 77 degrees Fahrenheit in the winter months, there's really no wrong choice when you visit the USVI.
WINTER BEACH VACATIONS: Why Every Family Should Try an All-Inclusive Resort at Least Once
On St. Croix, the Buccaneer Beach and Golf Resort is a top choice for families, who will appreciate its waterfront views and family suites with breakfast included. Centrally located Cruz Bay Boutique Hotel and Gallows Point Resort will both put you close to the action on St. John. And on St. Thomas, The Ritz-Carlton has romantic and luxurious accommodations, while the all-inclusive Marriott's Frenchman's Cove is especially family-friendly.
6. Oahu, Hawaii
A beach lover's paradise that has it all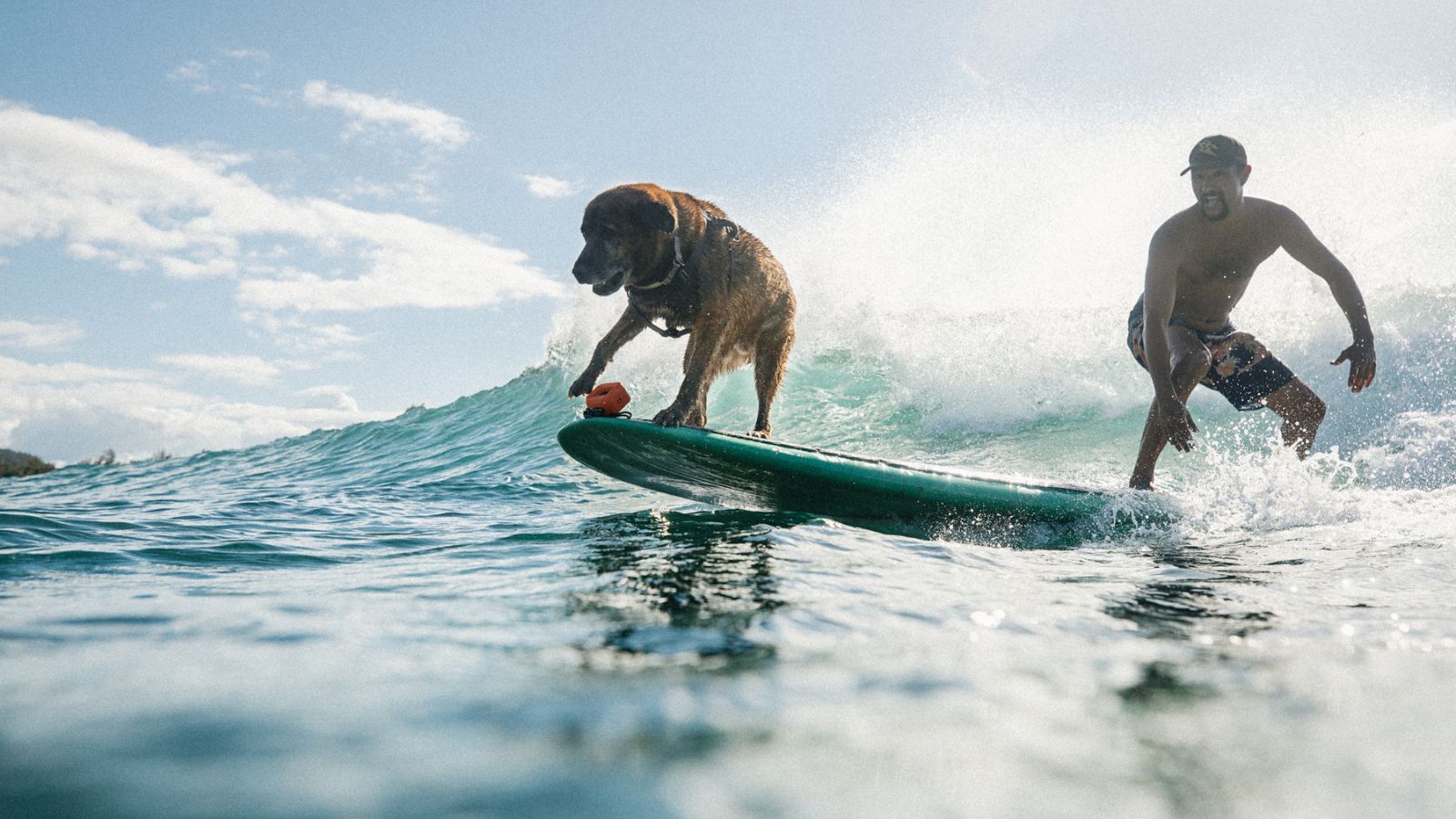 Winter is a particularly great time to visit Hawaii, and not just to escape the chilly weather back home. If you're a thrill seeker—or enjoy watching others seek out some thrills—then come in January to catch the big-wave surf competitions. There's also no better time or place to enjoy a winter beach vacation, either, especially on the island Oahu, famous for Waikiki, Kailua, and Waimea beaches and its gorgeous tropical resorts.
TROPICAL PLACES IN WINTER: 6 Best Hawaii All-Inclusive Resorts for Families in 2024
For families, nothing beats Aulani, A Disney Resort and Spa, which is jam-packed with the kinds of services and experiences you'd expect from a Disney vacation in Hawaii, including a private beach, a top-rated pool area, lots of dining options, and plenty of character meet-and-greets. (Read our full review.) Another kid-friendly choice is Turtle Bay Resort, which offers memorable activities like "surf with a pup" classes that are exactly as adorable as the sound. And if you're traveling without kids, Oahu has some of the most romantic resorts in Hawaii, including Moana Surfrider and Halekulani, both on Waikiki Beach.
7. Key West, Florida
A convenient tropical vacation spot that feels like it's worlds away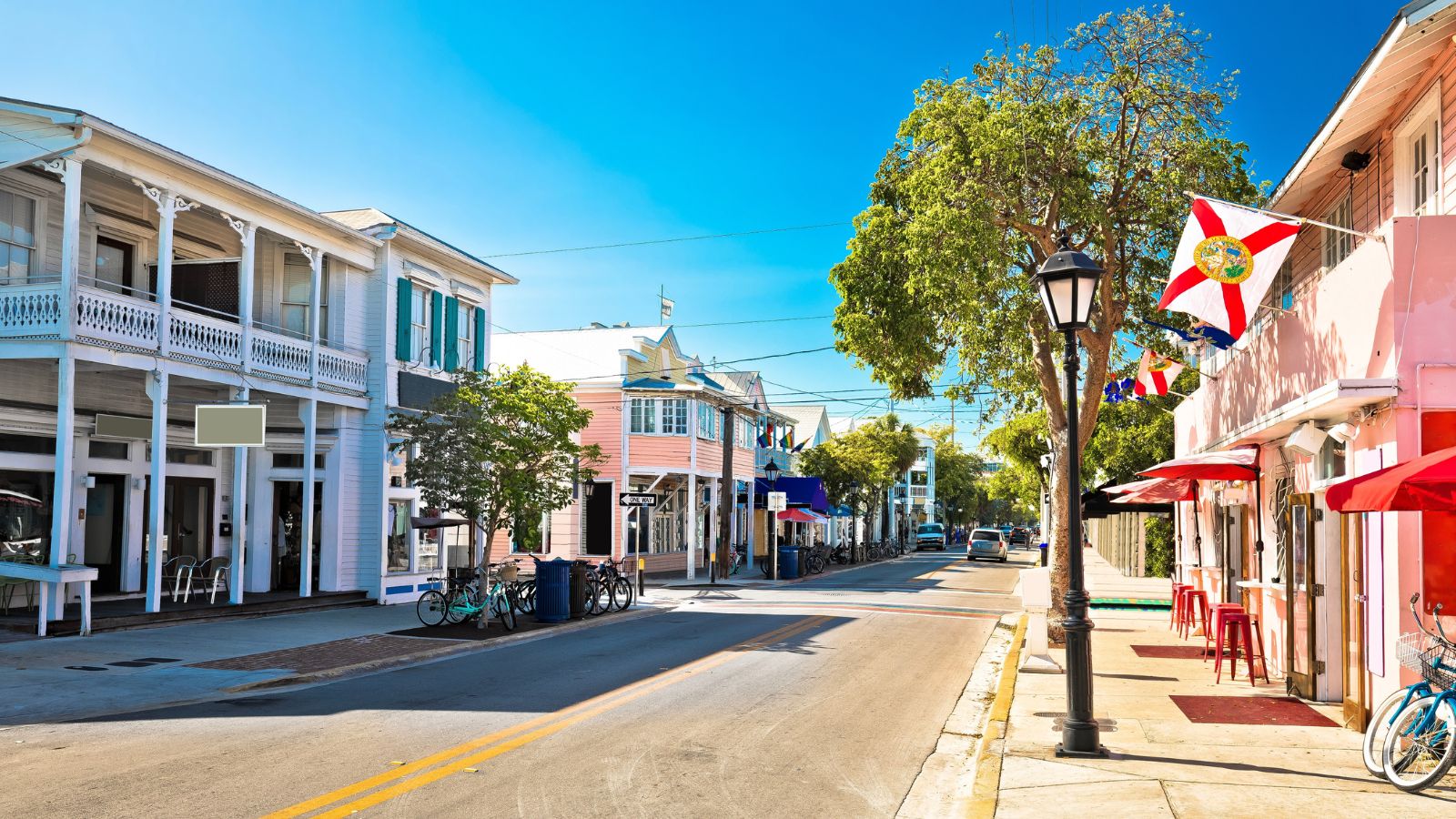 Sometimes the best tropical vacation spots aren't far-flung tropical islands at all. Want to escape the winter blues without hopping on a single boat or boarding a single airplane? Load everyone into the family van and head south to the Florida Keys. The string of islands south of the mainland are connected by roads and bridges, ending with one of the most charming coastal towns in the whole country, Key West.
CLOSE TO HOME: 10 Dreamy Florida Beach Resorts That Are Perfect for Families in 2024
This Florida beach town is packed with unique things to do, including the conch train tour, the Key West Aquarium, and the Fort Zachary Taylor Historic State Park, one of the best state parks in Florida. Traveling with just your favorite plus one? Every room at Oceans Edge Resort and Marina Key West comes with a romantic ocean view. For families, Pier House Resort and Spa has one- and two-bedroom suites right in the heart of Downtown Key West.
More from FamilyVacationist: