I first visited Iceland for just a long weekend. Several people told me that seeing Iceland would be possible in just four days, especially given the quick and easy flights from the U.S. East Coast. So a few years ago I booked a trip to Iceland over Memorial Day weekend.
Those folks who told me four days would be enough weren't wrong necessarily, but Iceland is so beautiful and full of adventures that I found myself longing to go back, even before I was done with that trip. For my second trip, I chose to take a slower approach and travel through Iceland in a camper van.
HIT THE ROAD: A Beginner's Guide to Choosing an RV to Rent or Buy
Why Travel in Iceland in a Campervan?
I believe that traveling around Iceland in a campervan is the perfect way to see the country. It just requires a little sense of adventure and the perfect set of wheels for your situation. Here are four great reasons to give vanlife a chance when you visit Iceland.
1. The Ring Road Is a Can't-Miss Road Trip Route
Iceland isn't huge—you could drive more miles on a New York vacation than you would in Iceland. But there's so much to explore by car or RV, and the mountainous volcanic terrain and changing weather can make it slow to drive.
FAMILY CAMPING: 10 Best Campgrounds and RV Parks for Families
To see the most during a campervan or RV road trip, it's most efficient to travel in one direction without backtracking every day. Iceland's epic Ring Road is built for this type of travel. And opting for a camper rather than a car allows you to live out of your vehicle as you adventure around Iceland.
2. You'll Always Be Prepared
The weather in Iceland can change quickly. A sunny day might turn to torrential rain within minutes. Having all your gear with you at all times makes it easy to change into the most comfortable travel clothes depending on the weather. You'll never forget your rain jacket in your hotel room because your hotel room is on wheels.
3. You'll Save Money
Iceland is expensive to visit, but very much worth it. A camper van makes traveling within Iceland more cost-efficient since it combines both your rental car and lodging expenses. Having access to food and cooking equipment also helps to save money. Food is an important expense to cut: The cost of just a sandwich for lunch can easily reach $25 in Iceland.
STAY ORGANIZED: Best Packing Cubes for Travelers
4. You Can Change Plans Easily
There are so many beautiful spots in Iceland that you simply can't plan for all of them from afar. Having a home on wheels gives you flexibility to change your Iceland road trip plans the moment you spot another gorgeous waterfall or scenic vista during your journey.
Dos and Don'ts for Traveling in Iceland in a Camper van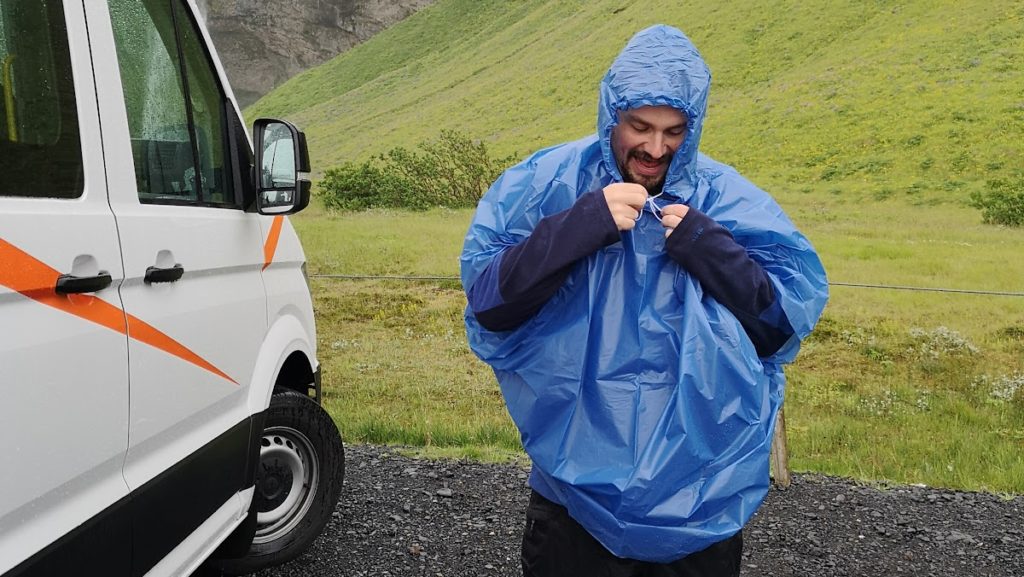 Do Choose Your Vehicle Carefully
There are many campervan rental companies in Iceland offering a slew of vehicle options. Do your research to determine what you will need to spend a week or more living out of your van.
For my campervan trip, my husband and I decided we wanted plenty of inside space, so we booked the largest van we could. It was more comfortable for us to be able to stand inside the van to change our clothes. There's also more room for a comfortable portable travel bed. And it was easier to cook inside when the weather got bad. I was also the main driver and I can't drive a manual vehicle, so I was careful to make sure I rented an automatic.
OUTDOOR AMBIENCE: 10 Family Glamping Resorts Where You Can Get Away from it All
But there are plenty of smaller options at lower prices, so if budget or ease of driving is your main priority, you may want to go minimalist. If you're thinking about going really off-road, find a four wheel drive option. And if you're traveling with a larger family or group and need more room, know that some outfitters offer motorhome rentals as well. The largest motorhome rentals in Iceland generally give you space for up to six people.
No matter what size camper van or motorhome you decide on, be sure read online reviews of your potential rental company. Make sure any company you choose to rent from has plenty of positive reviews, and read the comments to get a sense of what the rental company does well, and more importantly, what might go wrong if you rent with them.
I rented from Lava Car Rental, but there were many other companies offering appealing options. In my research, I looked at car, camper van, and motorhome rental companies including Kuku Campers, Campervan Iceland, Happy Campers, Cozy Campers, and Motorhome Iceland.
Renting the right rig is the most important decision for your Iceland road trip and will make or break your trip—renting a lemon would really ruin your vacation!
Do Travel in Summer
Summer is an ideal time to take a road trip around Iceland in a camper van. More intrepid travelers might be up for traveling by camper van in the winter, but for most people, summer is the best time to have this type of adventure.
MAKE MEMORIES: 11 Family Road Trip Ideas Every Kid Will Love
In summer, the weather will be the warmest (though I did need a ski jacket some days even in July!), and more roads will be open to you without requiring a four-wheel-drive vehicle. A summer Iceland road trip also means you'll avoid the issue of some roads being entirely closed, as they are for winter vacations.
Iceland summers also mean midnight sun—your days will be extra long, allowing you to fit in more sightseeing.
Pro-tip: If you can manage it, try showing up to popular outdoor attractions late at night when crowds won't be an issue. You'll have plenty of sunlight and have those places all to yourself.
Don't Worry About Driving
While some roads are slow going given the terrain, Iceland does have an exceptional road system that's easy to navigate. If you can drive in your home town, you'll feel fine driving around Iceland. You might find yourself on a bumpy road or driving up a big mountain, but for the most part, it's nothing to worry about. And if you find yourself driving up a mountain that feels like the moon, you'll likely be so enamored by the views that you'll forget to be scared.
BUCKET LIST: 10 Europe Tourist Attractions Everyone Should Visit
One big "must do" while driving: Do pay attention to the type of fuel you're going to add to your car. Gas stations in Iceland offer both diesel and regular gasoline. Your van is very likely to take diesel, and the non-diesel fuel pump nozzle fits in a diesel gas tank! Pay attention to the differences or else you might be responsible for a large repair bill (and be stranded in the middle of your journey).
Do Pack Your Sense of Adventure
Aside from warm layers, sleeping bags, and some key water-proof camping gear, the most important thing to remember to pack is a sense of adventure. As with most road trips or family travel adventures, Things will probably go wrong. You might spend a long day or two in the car. The rain might hit the very moment you drive to that one waterfall you were dying to see.
But when things go wrong, just take a breath, pull the camper rental over, and make yourself a cup of tea while you watch the sheep roam the hillside. You're in Iceland and it's going to be okay.
COMPARE AND SAVE: 10 Best Car Rental Booking Sites for Cheap Prices
Do Stock Up on Groceries
A huge benefit of renting a camper van in Iceland is the prospect of saving money on meals. Eating out in Iceland is eye-poppingly expensive, but groceries are much more affordable.
And there is nothing quite like making and eating a grilled cheese at the base of a gorgeous waterfall; or cooking up a hot dog while overlooking the black sand beaches that were used during the filming Game of Thrones. Iceland offers perfect landscapes for some of the most memorable picnics of your life.
SUN AND SAND: The Best Summer Vacation Ideas for Families
I loved visiting Iceland's grocery store chain, Bonus. It's always fun to explore supermarkets in another country, and Bonus has a great selection of Icelandic baked goods, cheeses, and meats, plus all of the basics you'd need. Bonus stores are plentiful almost everywhere in the country, so don't get too worried about stocking up too heavily during each grocery run.
Gas stations in Iceland also come in handy when you find yourself in more desolate areas. If you need a grocery stop but you're in the middle of nowhere, look for one of Iceland's larger chain gas stations like N1, Ollis, or Orkan. These gas station chains offer plenty of services in addition to fuel, including hot foods, groceries, and souvenirs.
Don't Make Campsite Reservations
You will need to camp at a campground in Iceland; it's illegal to sleep in your van on the side of the road. But don't worry about making reservations ahead of time. I found that even in the busiest travel season, I was never turned away from a campground, and never encountered a totally full campground.
Finding a campsite in Iceland on the fly makes it easier to change your plans throughout the day, giving you the most flexibility on your road trip. And there are plenty of campgrounds across the country. I used a combination of guidebooks, the internet, and road signs to find campgrounds wherever and whenever we needed them.
FAMILY CAMPING: 7 Things Never to Do When Camping with Kids and Pets
One thing to note: At many campgrounds, there is no formal check-in desk. At some point in the evening, the camp hosts will visit each party to take payment. So, just drive in, pick a spot, and pay when they get to you.
Don't Overplan Your Route
Spontaneity is one of the best reasons to rent a camper van in Iceland, so don't fight it with an overly planned trip. Choose one or two things each day that you'd like to see along your route. Then, let fate take the wheel (not literally though, please keep those hands at 10 and 2!). You'll find plenty of reasons to stop along the way that might not be apparent in guidebooks or Google maps. Enjoy the journey and you won't be disappointed.
Do Take Advantage of Town Pools
The Blue Lagoon and other touristy hot springs are beautiful, and you should absolutely make room for them in your plans, but don't miss a smaller, more local type of attraction: town pools. Because Iceland is set on geothermal fault lines, there's easy access to hot water, which makes it efficient for just about every town to have its own pool complex with warm water pools and hot tubs. Entry fees are inexpensive and pools are well-maintained. Some pool complexes even have awesome water slides for kids (and kids at heart).
KID-FRIENDLY HOTELS: 15 Best Family Resorts in the U.S.
Another bonus: You can take advantage of these town pools as an easy way to shower along your journey. They all have fantastic locker room facilities. It's important to note that anyone using the pools is expected to shower first—without clothes—before donning a bathing suit. And yes, it's a public situation. But don't fret about it. I never felt too awkward and it's totally normal for the locals, who won't pay any attention to you.
Do End Your Trip in Reykjavik
Town pools were enjoyable and relaxing to visit. Visiting them also gave us a great window into local daily life, as residents clearly use pool time as time to catch up with their social circles.
I suggest ending your trip in the country's capital and largest city, Reykjavik. This means you should consider renting your van or pick up your motorhome rental from a company that offers drop-off in the city—otherwise you might end up spending extra time managing your camper rental drop-off.
I found that by the end of my campervan journey, I was happy to have a hotel for one night to re-pack for my flight, take a long hot shower, and explore a larger city without worrying about parking. It was a good reentry into the hustle and bustle of real life after visiting less populated areas on my leisurely road trip.
MAKE MEMORIES: 27 Family Vacation Ideas for a Trip They'll Never Forget
Reykjavik also gives you an option for last-minute souvenir shopping and the chance to splurge on an incredible meal before your vacation is over.
My camper van vacation in Iceland was one of my favorite trips of all time. I'm sure I will do it again because even after 10 days roaming the country, there is still plenty of ground to cover—and a few places that I'd like to return to. Renting a camper van in Iceland is truly a bucket list vacation and is immensely doable, even for camper van novices.
More from FamilyVacationist:
Can't get away? Travel through food with some of my Cook with Kerry recipes inspired from places around the world: