For families and older travelers eager to make up for lost vacation time during the pandemic, RVs are a way to get back out into the world in a clean, safe, and convenient environment. Also called motor homes or recreational vehicles, RVs let you travel in a self-contained bubble that has all the comforts and conveniences of home, including space for your pets. They're even a viable option for the increasing number of people embracing the "work from anywhere" movement.
But with so many different types of RVs on the market, how do you know which type is right for your big RV road trip? From pop-ups and fifth wheels to Class A, Class C, and campervans, here's everything you need to know about choosing the best RV for your travel needs—including how to rent an RV and whether you should rent or buy.
FAMILY CAMPING: 10 Best Campgrounds and RV Parks for Families
Choosing an RV: Should You Rent or Buy?
Even setting aside the considerable financial investment of buying an RV, it's common sense that if you've never been RVing before, you should first consider renting one.
"Renting an RV helps you understand if you even like the experience," says Paige Bouma, Executive Vice President of Sales and Operations at Trader Interactive, which operates the website RVTrader.com. Renting will also allow you to try out different types of RVs to see which kind is a good fit. Some rental RVs also come equipped with bedding and kitchen supplies.
OUTDOOR AMBIENCE: 10 Family Glamping Resorts Where You Can Get Away from it All
Is a motorhome more your style or will a campervan better suit your needs? Do you want to tow a travel trailer, and if so do you have the appropriate tow vehicle? Rent an RV from a local dealer or individual owner through a company like Outdoorsy or RVShare (think of it like an Airbnb or Vrbo for RVs). Then head off to a local campground and try out the RV lifestyle for yourself.
"Many RVers use their RV at least two weeks a year, and some for months at a time. If you think that you won't, it may make sense to rent," advises Christy Hamilton of Go RVing. "If you plan to use it 20 days or more per year, buying may be a better option." Hamilton also notes that some RV owners buy an RV and rent it out via peer-to-peer sites like Outdoorsy or RVShare when they don't plan to use it, which Helps offset the cost of the RV.
Travel Trailers vs. Motorhomes
First-time RVers have to make a choice between towing a travel trailer or driving a motorhome.
If you decide to tow, it's important to match the loaded weight of the RV to the towing capacity of the tow vehicle. The longer and heavier the trailer, the larger the tow vehicle needs to be. Always check your vehicle's owner's manual for towing weight restrictions and have your tow package professionally installed.
KID-FRIENDLY HOTELS: 15 Best Family Resorts in the U.S.
If you don't have any experience towing, or if towing makes you nervous, a motorhome may be a better choice for you.
Types of Towable RVs
Travel Trailers or Bumper Pulls
Travel Trailers or "bumper pulls" are the most popular type of RVs. They range from small sizes for solo travelers (like a teardrop or pop-up trailer) up to longer coaches that accommodate big families.
ROAD TRIP: Why an Iceland Camper Rental Should Be Your Next Open-Road Adventure
Towable travel travelers make it easy to set up at a basecamp, unhitch your tow vehicle, and head off to explore the area. Travel trailers are also popular because they don't contain an engine, thus making it more economical and lower maintenance.
Fifth Wheel Travel Trailers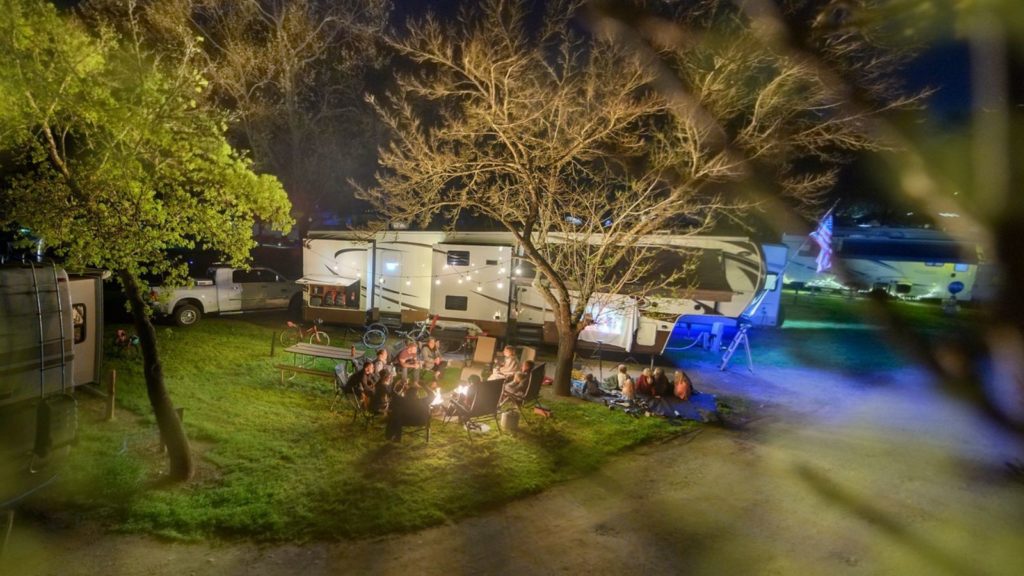 Fifth wheels are large towable coaches with many of the features of the more luxurious motorhomes (minus the engine). They are designed to be towed exclusively by a pickup truck with a "5th wheel" hitch in the bed. These large RVs need to be towed by a heavy-duty truck and may be too big for first-time RVers.
Types of Motorhomes
Class C Motorhomes
Class C motorhomes are probably the RV most people think of first. This motorhome has an over-the-cab area that usually contains a bunk, another bedroom in the back, and (depending on the size) bunk beds and other sleeping berths. The downside of the Class C motorhome is once you set up camp, you typically need a separate vehicle to explore the area.
Class A Motorhomes
Class A motorhomes are luxurious bus-like RVs that are the high-end way to travel. Because of their size and weight, RVs in this category can be difficult for first-time RVers to drive.
MOVIE MAGIC: 11 Best Outdoor Movie Screens and DIY Tips
Class B Motorhomes (a.k.a. Campervans)
The smallest of the drivable motorhomes are the campervans, categorized as Class B. In a campervan, there's typically enough space for a couple and the vehicle may (or may not) include a bathroom. Because of their "van-life" size, campervans are easy to drive and easy to park, but might not have enough space for an entire family. These are a great choice for childless couples, solo travelers, and seniors looking to explore the open road in retirement.
What Size RV Should You Choose?
Start by making sure you choose an RV that has enough room for everyone in your travel party to sleep comfortably. If there's just two of you on a couples getaway, for example, a Class B campervan or small travel trailer may be all you need. For a family road trip with the kids, you'll need to think bigger. Some RVs have over-cab beds, others have bunk beds, and most offer a pull-out couch and a dinette that will both turn into beds.
NO HIDDEN COSTS: 17 Best All-Inclusive Resorts in the U.S. for Families
If you decide on a motorhome instead of a travel trailer, choose an RV that has enough room to seat your family. Each person should be seated using a seatbelt when the RV is moving.
Bear in mind that bigger is not always better, though. The longer an RV is (either towable or drivable) the more difficult it will be to control when driving. Look for a "Goldilocks vehicle" that's big enough to accommodate your travel group but not so big it leads to difficult driving conditions.
Nervous about Driving? You Can Have the RV Delivered to a Campground for You
Don't want to drive or tow an RV but still want to check out the RV lifestyle? You can rent an RV and have it delivered to your campsite. Websites such as Go RVing can help you find local dealers near you or your destination. Some companies will even hook up your RV for you and come get it when you're done—leaving you plenty of time to enjoy the area and the campground.
EASY VACATIONS: 7 Family Travel Adventures Where Someone Else Does All the Planning
Another option is to stay in a Park Model RV at a local campground. Park Model RVs look like a cabin and generally have a bedroom, full kitchen and bath, and living area. Some have a sleeping loft and a front porch with a swing.
More from FamilyVacationist: