I'm a full-time travel writer, a mom, and a former educator with a focus on Early Childhood Education. My special area of focus is family travel.
I've explored the Caribbean extensively. Some of my favorite Caribbean islands include Jamaica, Aruba, Puerto Rico, and Barbados.
I've stayed at more than 30 all-inclusive resorts around the world, including most recently at Beaches Negril in Jamaica. Here's what I think everyone should know about this family resort.
As a full-time travel writer for the past 15 years, I've been fortunate to explore much of the Caribbean. I've yet to find a tropical island that's more beautiful and varied than Jamaica, with its mile upon mile of white sand, crystal-clear water, and lush mountains—to say nothing of its distinct cuisine, enchanting reggae music, and friendly people. And while there's something to recommend virtually all of the island's resorts I've visited, Beaches Negril stands quite tall on the list.
Part of the Caribbean-owned Sandals Resorts brand, Beaches Resorts are a family-operated company that specializes in offering guests of all ages nonstop activities while still allowing plenty of time to kick back. If you think finding an all-inclusive resort that retains local flavor is as difficult as finding a needle in a haystack, prepare to be wowed.
BEGINNER'S GUIDE: Beaches Resorts Vacations: What to Know Before You Book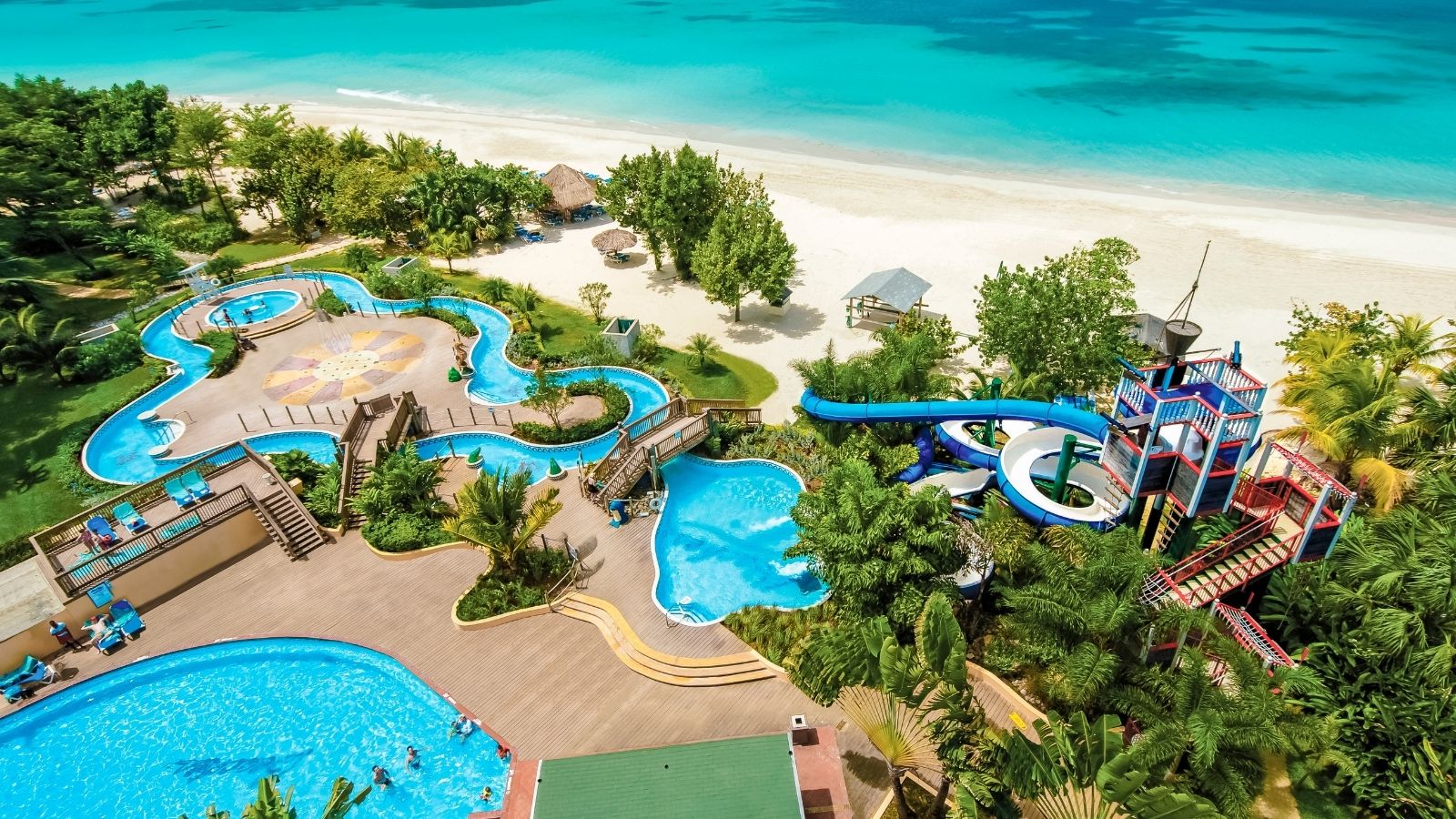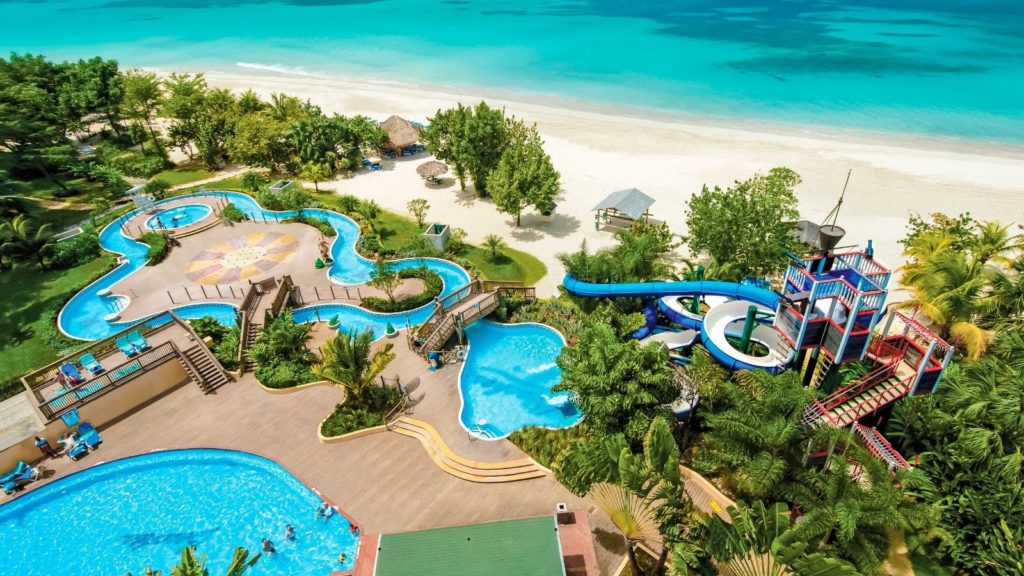 Things to Know about Beaches Negril
There are two Beaches Resorts in Jamaica (one in Ocho Rios and the other in Negril). The Beaches Negril property is situated on Seven Mile Beach, one of the best swimming spots in the entire Caribbean.
Beaches Negril is an all-inclusive resort where activities, including scores of water sports from snorkeling to kayaking, don't incur an extra fee. Its nightly entertainment engages all ages. With all-inclusive pricing and a no tipping policy, there's no sticker shock when it's time to pay the bill. Alcohol, included in the rate, flows freely at numerous bars and restaurants.
Beaches prides itself on its inclusive philosophy. If you've got food allergies or dietary restrictions, the team will help you chart a safe course.
At mealtimes, you can enjoy buffets featuring kid favorites such as mac-and-cheese and chicken fingers, as well as local options loaded with authentic international flavors. Snacks like frozen yogurt and soft-serve ice-cream are a big hit with little ones.
Every Beaches Resort in the Caribbean has an age-specific kids clubs for infants to teens called Beaches Kids Camp. The newly renovated facilities at Beaches Negril are staffed by trained professionals. The resort's nannies are members of the International Nanny Association and have a minimum of 2,000 hours of childcare service. (More on this momentarily.)
A partnership with Sesame Street offers little kids the opportunity to hug Elmo, shake hands with Ernie, and meet other favorite characters. Character parades and stage shows are also common at Beaches resorts.
The staff is happy to teach you a few phrases of Jamaican patois and give you the rundown of island life from a local perspective. I love to initiate a chat and I found the staff to be incredibly friendly. We conversed about everything from local politics to the weather to Bob Marley.
What Families Need to Know about Beaches Negril
Although there's lots to do at Beaches Negril, this 20-acre resort with 197 rooms and suites doesn't overwhelm. I've stayed at resorts where I keep getting lost until my departure day, but thankfully this didn't happen at Beaches Negril. The straightforward layout makes it easy to get your bearings and the lush landscaping looks like a botanical garden. The wide beach is a beauty, too, with calm waters and a gentle slope for easy entry. There are plenty of loungers and sun umbrellas, so no need to wake-up early and stake your claim.
KID-APPROVED: 10 Standout Perks for Kids at Beaches Resorts
For families interested in supervised children's clubs, Beaches Negril has age-specific groupings for newborns to teens, with developmentally appropriate programming from 9:00 a.m. until 9:00 p.m. All nannies and camp staffers are members of the International Nanny Association, America's oldest in-home childcare association. Each nanny must meet the minimum requirement of 2,000 hours of child-care services and be trained in safety, nutrition, and child development. Nannies who specialize in infant care for ages zero to 24 months and childcare specialists who work with in ages two to 17 years are qualified with an Associate Degree in Early Childhood Education.
All nannies and camp staff have completed a minimum of 40 hours of autism sensitivity training. The staff works diligently to provide children with autism and other neurodivergent children with personalized care, low-key activities when they require down time, and customized dining options.
Beaches Negril has been created with families in mind, though you'll notice many couples, adult-only wedding parties, and families with adult children here, too. The beach and three hot tubs are spots where adults tend to congregate.
What Couples, Families, and Groups Should Know about Special Events at Beaches Negril
Beaches Negril is set up for customized destination weddings and vow renewals. The resort offers photography, flower arrangements, hair and make-up artists, DJs, officiants, and more. You can say your vows on the sand, under a gazebo, or poolside.
LARGE FAMILIES: 15 Best All-Inclusive Resorts for Families of 5+
If you're celebrating a special event, I can attest that the staff will go above and beyond to make your day special. My family and I were recently at the resort during my sister-in-law's birthday. When I mentioned to this to the staff, they spelled out "Happy Birthday, Kimberlie" in the sand, decorated her chaise lounge with balloons, and surprised her with a cake.
Beaches Negril Reviews
On Tripadvisor, Beaches Negril scores 4.5 stars out of 5 based on more than 8,600 reviews and 7.0 /10 on Kayak. Top-notch children's programming and the serene beach are some of the reviewers' favorite amenities. Many reviewers note that they're return visitors.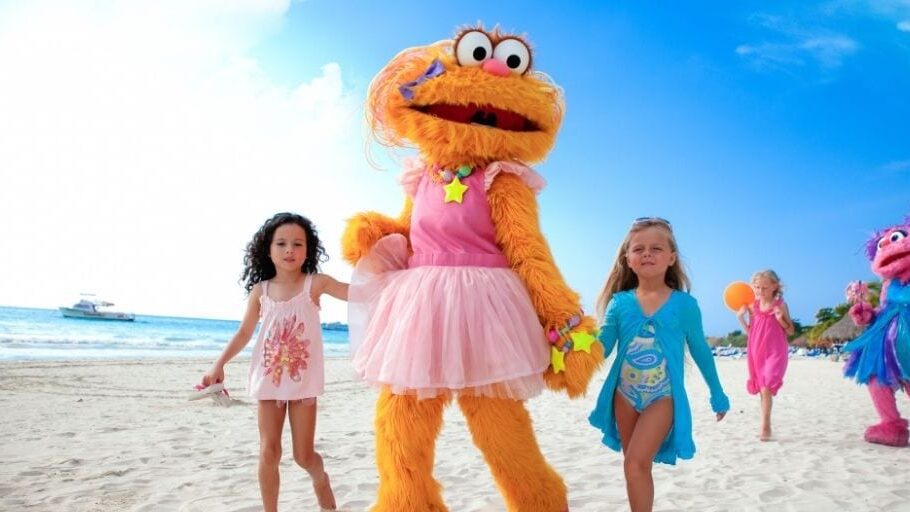 Beaches Negril basics
Location
Beaches Negril sits on a swath of Seven Mile Beach, a 90-minute car ride from Montego Bay's Sangster International Airport. The airport has numerous nonstop flights from gateway cities across North America as well as Germany and England.
Property
Sprinkled with tropical flowers and strategically placed hammocks nestled in shady nooks, the resort is easy to navigate. The sandy beach, three swimming pools, and water park are aquatic options, with plenty of showers to rinse off after a dip. Shuffleboard, croquet, and volleyball are on-land diversions. There are 11 restaurants to tempt your taste buds, from upscale Peruvian food to pizza.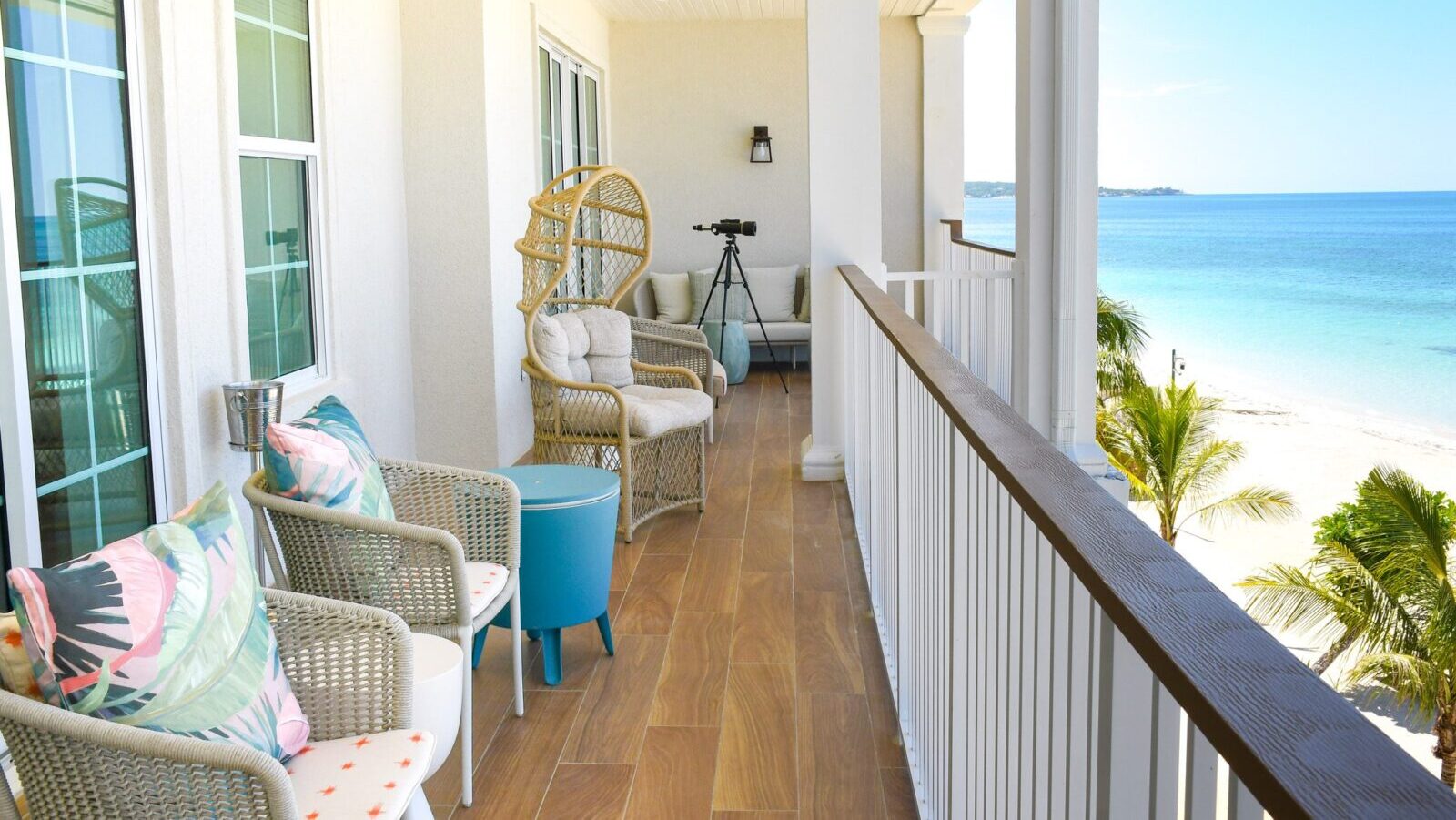 Rooms
A variety of room configurations, including connecting rooms and family-sized rooms with trundle beds and pull-out sofas, suit a range of budgets and family sizes. All rooms have balconies or patios, refrigerators, and iPod docking stations.
The resort recently debuted its Beachfront Firesky Reserve Villas and Eventide Penthouse collection, comprised of six four-bedroom, three-story Firesky Reserve Villas equipped with posh living areas and private pools, with direct beach access.
CLOSER TO HOME: 21 Best All-Inclusive Resorts in the U.S. for Families
My family and I stayed in one of the Eventide Penthouse Collection's six suites, each with three or four bedrooms and access to a terrace for stargazing. Spacious, light-filled, and luxurious, they're decorated in a neutral palette of white, cream, and café au lait, with swanky furniture and pops of color adding panache. It was perfect for our multigenerational family vacation, offering space and privacy in perfect proportion. There were fun touches, like a collection of classic board games and a popcorn popper. Butler service took it to the next level by keeping the fridge stocked with drinks, the dining table loaded with snacks, setting up our beachside sun beds each morning, and much more.
Activities
If you like water sports, you can try everything from snorkeling to sailing at Beaches Negril. At the Friday evening water show in the main swimming pool, acrobats wowed us and fire-breathers had us on the edge of our seats. The enthusiastic entertainment team coaxed nearly everyone, including my entire family, to jump in the pool fully clothed, for an unforgettable, only-in-Jamaica pool party. In the evening, entertainment options include listening to a steel drum concert, watching the Sesame Street show, or busting a move at the silent disco.
Beaches offers guests the chance to join a Reading Road Trip, voluntourism at its finest. I spent the morning with a group of preschoolers at West End Infant School, a short drive from the resort. I read to a small group of kids and helped them plant fruit trees in the school's garden. The Sandals Foundation, the resort's philanthropic arm, is committed to literacy and tackling the complex issues around food insecurity, and our excursion shed light on both. The children were so warm and friendly, I didn't want to leave. It was an incredible opportunity to meet local educators and children, and a highlight of my time in Jamaica.
Dining
Beaches Negril has 11 food outlets. I'm often disappointed at the generic menu offerings and bland buffets at most all-inclusive resorts, but at Beaches Negril I was able to kiss boring goodbye and indulge in Jamaican culinary treats.
The resort's new beachside Jerk Shack is a winner. Jerk cookery is Jamaican-style barbecue, with meat, fish, or chicken marinated in a blend of spices and slow-cooked over fragrant wood from the allspice tree. It's flavorful but not overly hot, so open-minded young eaters may want to give it a try. For adults, it pairs perfectly with an ice-cold local Red Stripe beer.
BON APPETIT: 7 All-Inclusive Resorts with the Best Food
Most of my family ate breakfast at the buffet, but my husband and I opted for a sit-down meal with waiter service. We were treated to the country's national dish, ackee and saltfish, which is codfish blended with the tapioca-like beads of the savory ackee fruit, served on a bead of sautéed greens with light-as-air fried dumplings.
Try patties, a flaky pastry crust enclosing shredded chicken, beef, or vegetables, at the open-air Bar B Q Park. These portable treats are Jamaica's version of fast-food.
Specialty dining venues present an array of international eats. At Yaku, the ceviche rivaled anything I've eaten in Lima. Colorful Peruvian textiles and bold artwork decorate the walls. Don't miss a visit to the restroom, where a ceiling mural of llamas adds whimsy.
Food meets entertainment at Kimonos, where you'll sit at a communal table and watch the chef cook pan-Asian cuisine on a giant hibachi grill. And the brick-oven pizza at Dino's was a hit with my family.
Spa
For an extra fee, the Red Lane Spa has a menu of pampering treatments, from body scrubs to facials. You can also book a massage in their private outdoor space with birdsong as your soundtrack.
More from FamilyVacationist: