No need to wait until Mother's Day for mother daughter trips. Spending time with your daughter away from daily routines can be an unbeatable bonding experience any time of year. Whether your dream is a big city, a tropical resort or a national park, allowing your child, teen, or adult daughter to have a voice in trip planning makes them feel like an important partner and should get your travels started on the right foot. Read on for seven great mother daughter vacation ideas.
1. Atlantis Paradise Island, Bahamas: Nonstop Aquatic Fun
Atlantis Paradise Island is an aquatic buffet for mothers and daughters who love being in water. There are dozens of waterslides at Aquaventure water park, plus 11 swimming pools and a stunning swath of white sand beach.
Dolphin Cay is the world's largest open-air marine habitat, home to some 50,000 aquatic animals, including playful dolphins. Junior Ultimate Trainer for a Day is a four-hour educational program for kids ages 6 to 10, who will work alongside aquarists feeding fish and tending to sea turtles.
DON'T MISS THEM: 7 Iconic U.S. Attractions Kids Should See Before They Grow Up
Off-site possibilities include day trips to the outer islands of Exuma and Eleuthera to swim with pigs and nurse sharks.
Stay
Atlantis has five hotels onsite but budget-minded travelers should keep Comfort Suites Paradise Island on their radar. Located next door to Atlantis, it offers tidy rooms and free admission to Atlantis. A complimentary buffet breakfast and frequent specials where kids eat lunch and dinner free are additional money-savers.
2. New York City: Tea for Two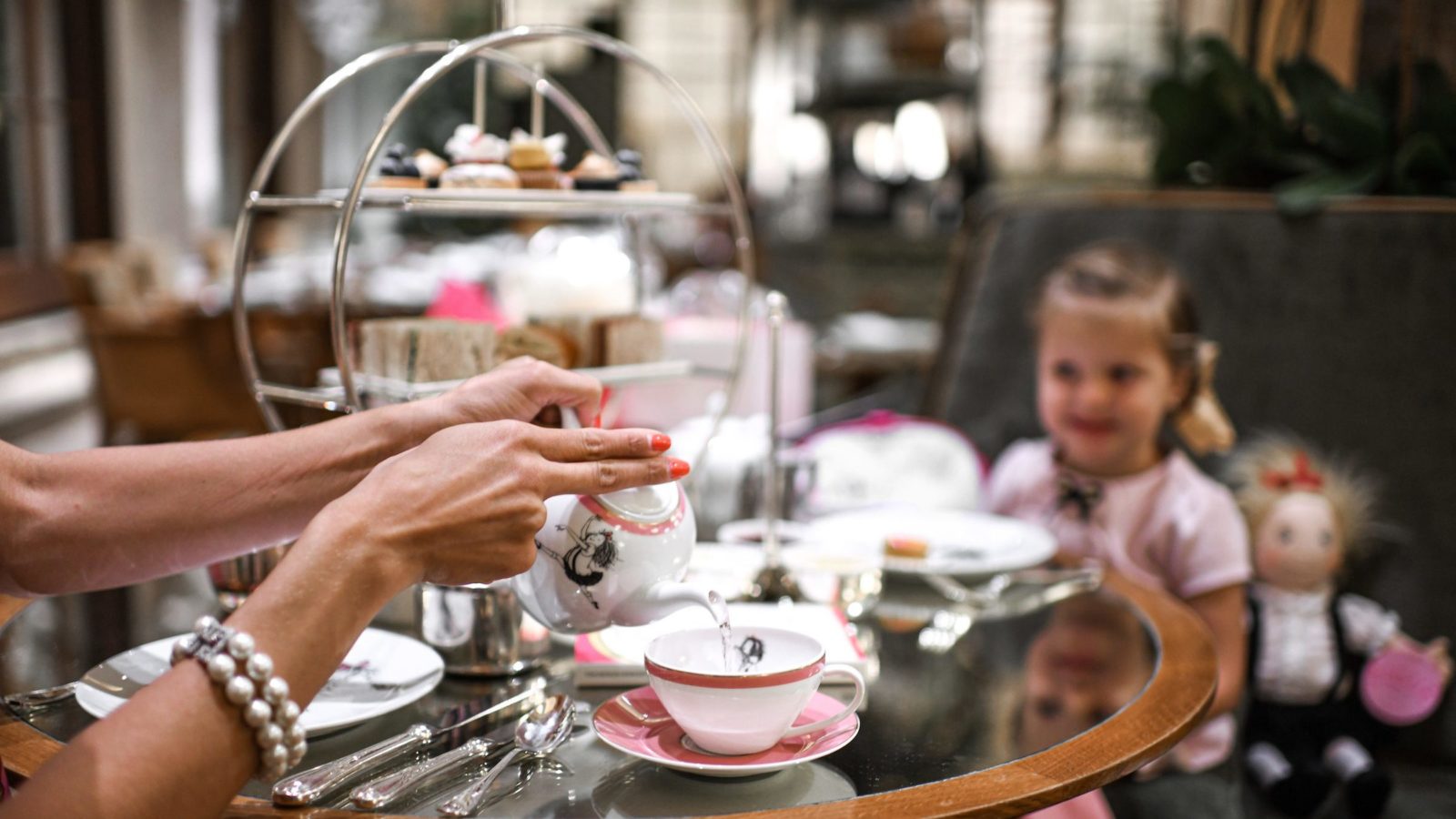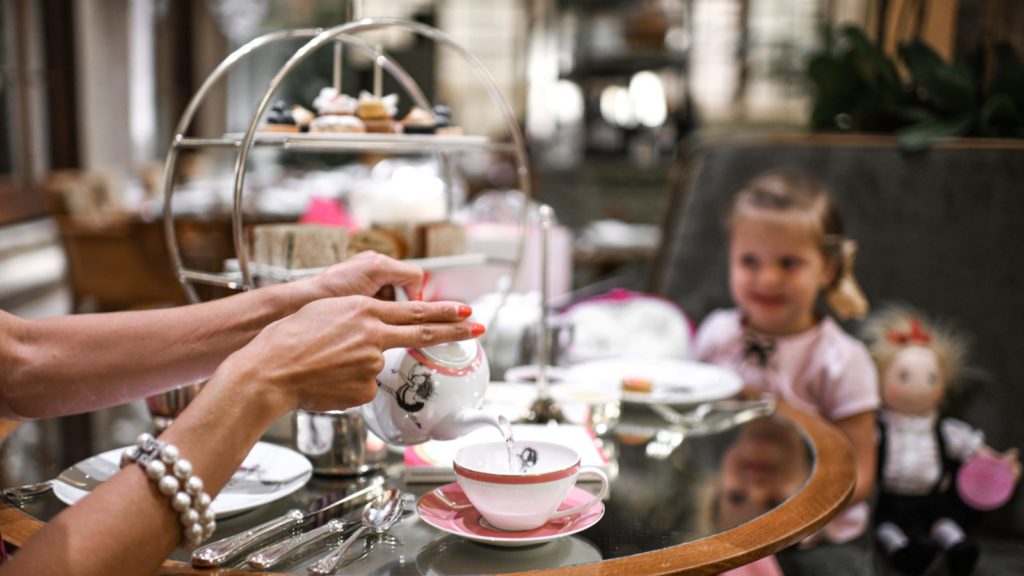 The Big Apple is famous for its exciting attractions and nonstop energy.
Seeing a show on Broadway tops the list for many. Whether you prefer a musical or drama, there's something to suit all ages.
Indulging in afternoon tea at a posh hotel is splurge-worthy. Fans of the classic children's book Eloise know its mischievous heroine lived at The Plaza Hotel. The hotel's iconic Palm Court serves a delightful Eloise-themed tea for children age 12 and under. Nibble on dainty finger sandwiches as you sip pink lemonade under a magnificent stained-glass dome surrounded by palm trees.
BOOK RIGHT: 10 Best Hotel Booking Sites for Families
If mineralogy is your girl's best friend, the American Museum of Natural History's newly renovated Mignone Halls of Gems and Minerals has a sparkling display of priceless diamonds, rubies, emeralds, and sapphires.
Stay
Trendy tweens and teens should enjoy the Moxy East Village, which pays tribute to counterculture residents of this neighborhood. Don't miss a meal at onsite restaurant Cathédrale, where both the food and service feel festive.
3. Princess Cruises: A Floating Hotel in the Mediterranean Sea
For a trip to multiple European capitals, a cruise hits the sweet spot. Princess Cruises 11-day Grand Western Mediterranean itinerary starts in Barcelona and ends in Rome or vice-versa. You and your daughter will spend part of the day sightseeing in fabulous cities such as Dubrovnik and Pisa, either on organized shore excursions or exploring independently. Once you're back on the ship, enjoy dinner and entertainment like poolside movies. It's the perfect proportion of culture and shipboard fun.
KIDS SAIL FREE: 5 Cruise Lines Letting Kids Sail Free in 2023
Camp Discovery has age-specific, on-board programs led by trained staff, allowing moms free time to hit the gym or relax poolside with a good book.
4. Grand Canyon National Park, Arizona: Mother Nature at Her Finest
Seeing the look on your child's face as they gaze at the Grand Canyon, one of the seven natural wonders of the world, is priceless.
The South Rim is home to the tourist infrastructure of Grand Canyon Village. If you aren't seasoned hikers, check out the Rim Trail, which connects a series of scenic overlooks. Bus stops scattered along the way offer the flexibility to combine hiking specific sections with riding the shuttle.
The sure-footed mule is a time-honored method of canyon transportation. For adventure-seekers, an overnight mule ride goes to the canyon floor, where riders sleep at Phantom Ranch. You must be at least 9-years-old and 4 feet, nine inches tall to participate.
HOW TO: Planning a Family Trip to the Grand Canyon
The canyon's otherworldly rock formations and jaw-dropping size may have curious kids wondering how it formed. The interpretive panels and detailed three-dimensional models at the Yavapai Geology Museum should answer some of these questions.
Stay
El Tovar is dramatically perched on the canyon's rim. It was considered the most elegant hotel west of the Mississippi River when it opened in 1905 and continues to ooze rustic dignity.
5. Paris, France: The City of Light Is Always a Good Idea
With world-class culture and iconic monuments like the Eiffel Tower, Paris tops the bucket-list of many mothers and daughters.
Visit one of its fairytale parks, where kids can ride a painted pony on a carousel and mingle with petit Parisians at the playground as adults admire fragrant flower beds.
Paris is synonymous with fashion. The wearable art of designer Christian Dior is on display at the new Gallery Dior. See dresses as refined as sculptures in the beautiful setting where they were created. The doll-size collection of miniature dresses and accessories is a kid-pleaser.
SHORT BUT SWEET: How to Make the Most of Two Days in Paris
Shopping is a respected pastime. At the newly-renovated flagship branch of venerable department store La Samaritaine, architectural elements include a show-stopping glass roof surrounded by a fresco of frolicking peacocks. The store sell hundreds of eclectic clothing brands, from high fashion to tomorrow's trends.
Stay
The Nolinski Paris has 45 Rooms and suites that feel like private apartments, adorned with decorative splashes of Carrara marble. Kids should get a kick out of the hand-painted clouds on the palatial staircase. An indoor pool adds diversion.
6. The Breakers Palm Beach, Florida: Spa Treatments for Big and Little Guests
Being pampered may bring out the best in both mothers and daughters. At The Breakers Palm Beach, kids age 6 to15 are welcomed into the spa with special hair and nail services.
FUN WITH KIDS: 12 Great Family Dining Experiences in the Palm Beaches
Consider a luscious Ice Cream Mani-Pedi that comes with a creamy ice cream cone or go for beach braids and hair tinsel. Moms can luxuriate with a Black Orchid facial or custom massage.
Stay
The Breakers is a swanky oceanfront hotel that epitomizes seaside glamour. After your relaxing spa time, enjoy the sandy beach, sparkling pools and playground.
7. Santa Monica, California: Seaside Celebrity Sightings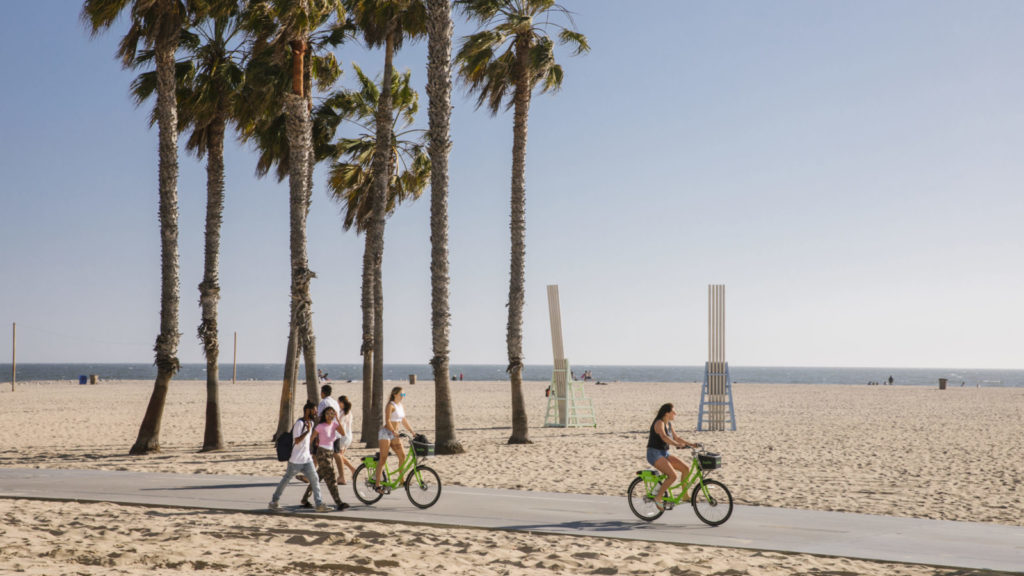 For an introduction to California's sun-kissed lifestyle, Santa Monica can't be beat. Jump Pacific waves, build a sandcastle and watch surfers. Frequent celebrity sightings are catnip for mothers and daughters who groove on glitz.
Rent bikes and pedal the beachside path past the Santa Monica Pier's Ferris Wheel.
IN THE KNOW: 7 Secret Things to Do at Disneyland
If you're in town on a Wednesday or Saturday, join foodies from around Los Angeles and enjoy fresh-picked produce at the farmers' market on Arizona Avenue.
Stay
Wake up to a sea breeze at casually elegant Fairmont Miramar Hotel & Bungalows. Glorious gardens and a fantastic swimming pool are oceanfront perks.
More from FamilyVacationist: