Like Goldilocks searching for a bowl of porridge that's "just right," Pittsburgh's manageable size and range of things to do hits the sweet spot for a weekend getaway. There's plenty to do without being overwhelming, and it's a city that's refreshingly low on pretensions or hefty price tags. Plus, its Southwestern Pennsylvania location makes it an easy addition to both East Coast vacations and Midwest vacations—popular centers like Washington, Baltimore, Philadelphia, Buffalo, and Cleveland are within weekend driving distance.
The Best Things to Do in Pittsburg on Weekend Getaways
Though once known for its steel industry, deindustrialization came to Pittsburgh in the middle of the 20th century. Luckily, the legacy of the Gilded Age millionaires who built their fortunes here continues to impact the city via charitable organizations that sustain countless museums and cultural institutions.
BEYOND NYC: 13 New York Family Vacation Spots Perfect for Families
And many of those museums offer interactive exhibits, a perk for visiting families. Add a thriving sports culture and inexpensive diners to the mix and it's easy to see why the city is a rising destination. Here are the best things to do in Pittsburgh, Pennsylvania.
1. Stop and Smell the Flowers at Phipps Conservatory and Botanical Gardens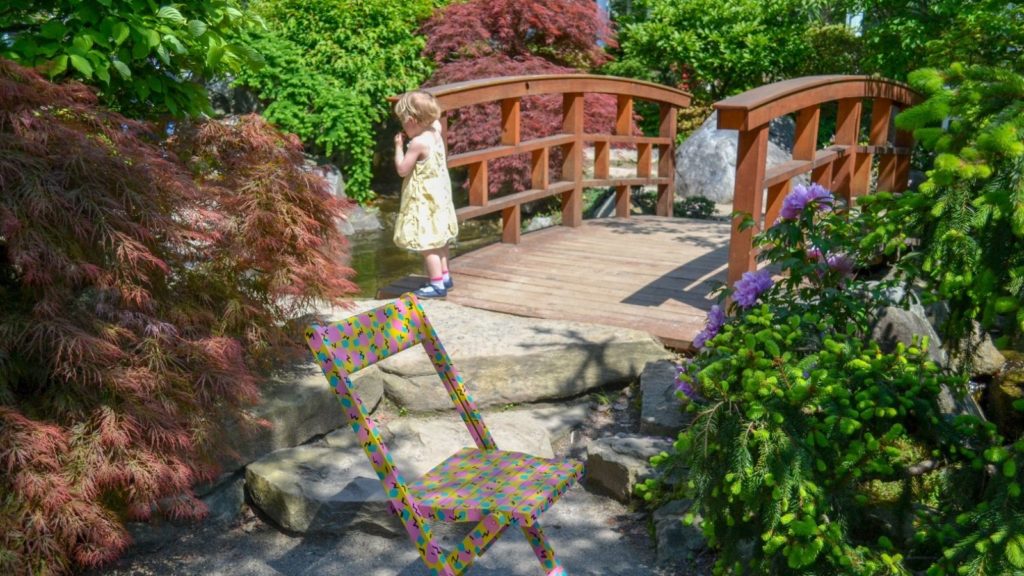 The sprawling Phipps Conservatory and Botanical Gardens is an urban oasis of 23 distinct indoor and outdoor gardens and stunning glasshouse include renowned orchid, bonsai, fern and palm collections. Train lovers will enjoy Garden Railroads: Bridges and Tunnels, a miniature recreation of Western Pennsylvania's landscape and Pittsburgh's skyline, bustling with toy trains and sprinkled with countless live plants.
ROMANTIC TRIPS: 10 Best Vacation Spots in North America for Couples This Year
Time your visit to have lunch at Café Phipps, where a menu of healthy dishes made with sustainable produce, some sourced from the rooftop garden, complements the botanic experience.
2. Learn Into Local History at the Heinz History Center
The Senator John Heinz History Center presents a compelling look at Western Pennsylvania's past and present. It's home to the largest collection of original artifacts from the Mr. Rogers' Neighborhood television set (Fred Rogers lived in Pittsburgh and developed the program for the local public television affiliate). For those who grew up watching this groundbreaking show, the sentimental favorite item is the bench that Mister Rogers sat on to tie his sneakers during each episode.
MEXICO FOR COUPLES: 10 Romantic Mexico Resorts That Cater to Couples
Head to the Western Pennsylvania Sports Museum section for a deep dive into the importance of sports in Pittsburgh and the enormous pride locals have in their teams. Multimedia and hands-on exhibits, plus a fine collection of vintage baseball cards, are crowd-pleasers.
3. Watch Winged Creatures Fly at the National Aviary
Visitors to the National Aviary can enjoy the company of hundreds of birds at America's only indoor dedicated bird zoo. Birds fly, waddle, and swim freely, offering the opportunity for casual up-close encounters.
BABY ON THE WAY: 22 Romantic Babymoon Ideas for Expecting Couples
As you walk through diverse habitats bursting with greenery and alive with birdsong, you'll come nose-to-beak with colorful species from around the world, including owls, parrots, flamingos, and eagles. A variety of daily programming, such as penguin feedings and sloth encounters, will appeal to children.
4. Get a View from the Top on the Duquesne Incline
Ride the Duquesne Incline for spectacular views of Pittsburgh's three rivers, numerous bridges, and towering skyscrapers. Your five-minute ascent is in an original wooden cable car oozing yesteryear charm. Historical exhibits and on-point souvenirs for sale in the waiting room should help keep you entertained in case you have to wait a few minutes for your ride.
5. Engage Curious Minds at the Carnegie Science Center
The Carnegie Science Center is hands-on heaven. Hundreds of interactive exhibits with a focus on science and technology guarantee subtle learning experiences infused with fun. Roboworld is the world's largest permanent robotic exhibit, where visitors may challenge a robot to a game of air hockey or spend time with replicas of famous Hollywood robots.
CRUISE VACATIONS: 7 Best Cruise Lines for Couples (and Their Most Romantic Voyages)
Find out what it's like to be an astronaut at SpacePlace. The Miniature Railroad and Village exhibit encapsulates iconic Western Pennsylvania landmarks like Primanti's, the city's beloved sandwich shop; and Frank Lloyd Wright's architectural stunner, Fallingwater. The Rangos Giant Cinema and Buhl Planetarium enhance the experience.
6. Walk the Line Between Art and Pop Culture at the Andy Warhol Museum
The Prince of Pop Art's work is on display at the Andy Warhol Museum. This comprehensive examination of Warhol's creations, including paintings, photographs, and videos, shines light on the Pittsburgh native's quest to erase the line between fine art and pop culture.
WELCOMING DESTINATIONS: 10 Best U.S. Vacation Destinations for LGBTQ+ Families
This merging of art and commerce may hold special appeal to brand-conscious teens and tweens. Warhol's choice of bright colors, repetitious patterns, and familiar subjects from Mickey Mouse to Campbell's soup cans should engage young visitors.
7. Get Active on the Rivers and Trails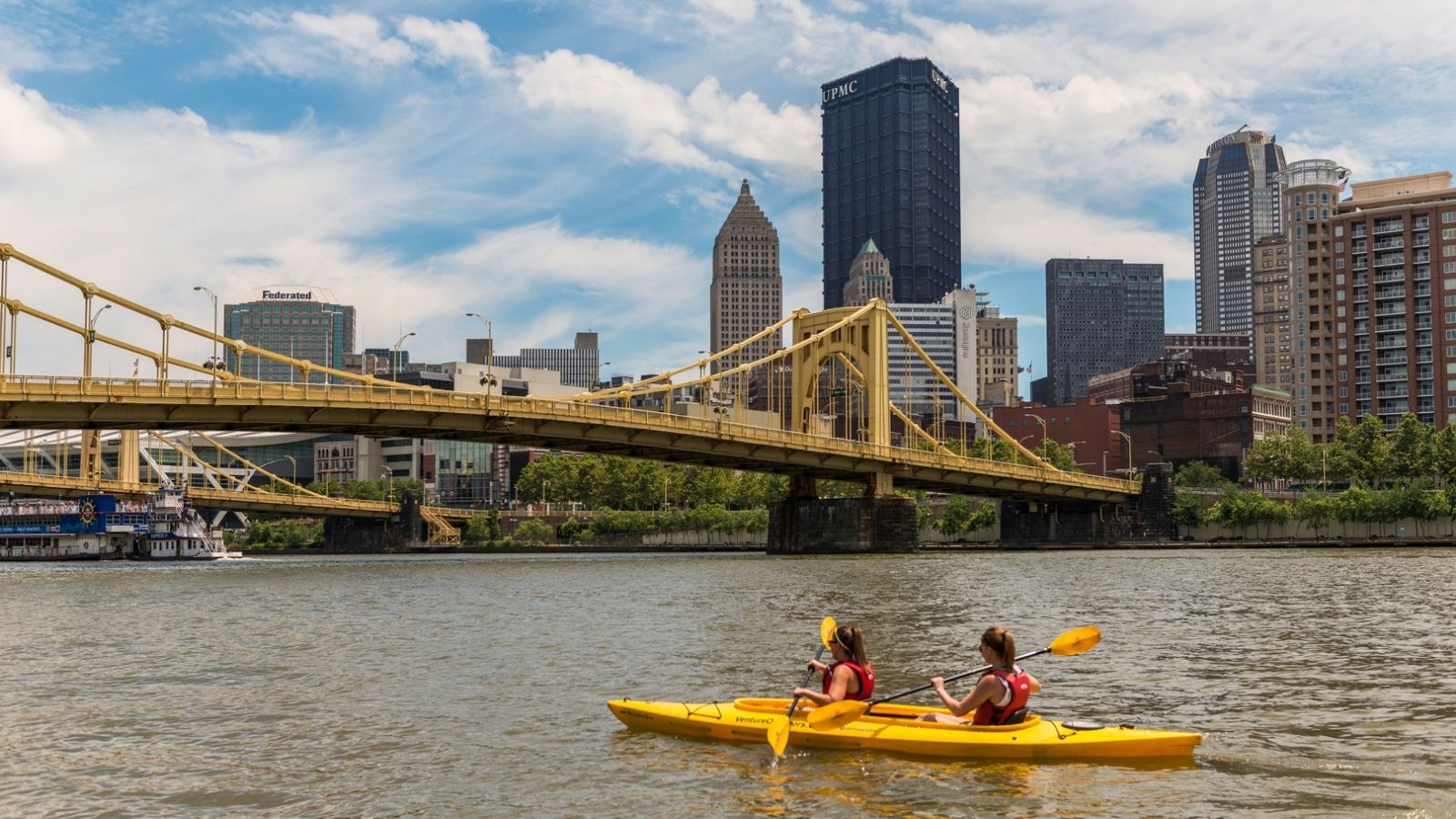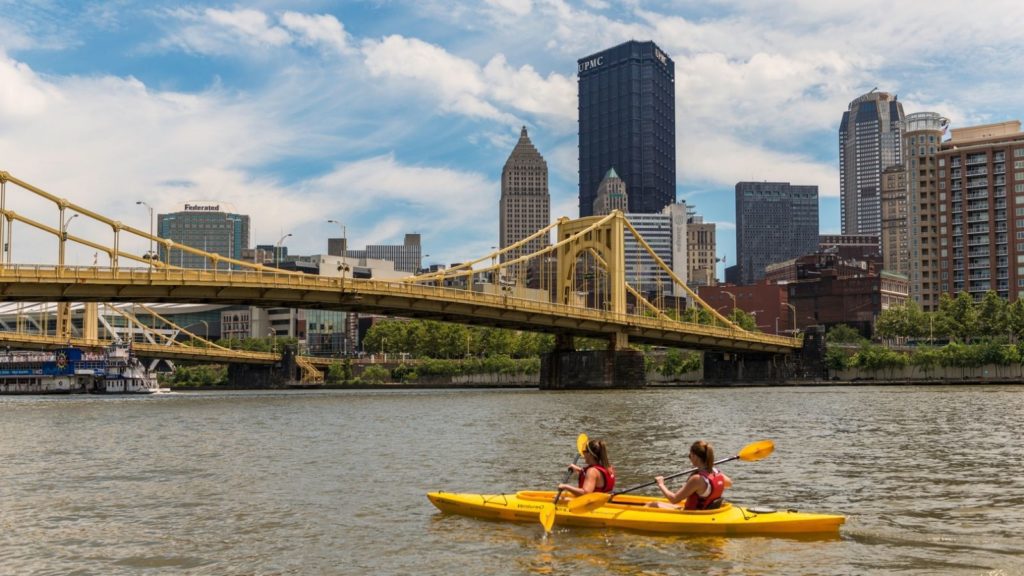 With the Monongahela, Allegheny, and Ohio Rivers converging in Pittsburgh, renting a solo or tandem kayak from Venture Outdoors (open seasonally) allows for an interesting urban perspective. Kids age three and older may ride in a tandem kayak.
PETS WELCOME: 10 Top Pet-Friendly Hotels and Resorts in the U.S.
Pittsburgh has a robust network of car-free paths to pedal. The 24-mile-long Three Rivers Heritage Trail is ADA accessible and hits diverse neighborhoods and attractions. Healthy Ride Bike Share kiosks are sprinkled around town, and many hotels offer loaner bikes for guests.
8. Root, Root, Root for the Home Team
As important as art and culture is to Pittsburgh, the heartbeat of the city is its intense passion for sports. Football's legendary Steelers, baseball's Pirates, and hockey's Penguins all call the city home. The arenas and stadiums are all close to downtown, so while getting there is easy, scoring a ticket may prove tough. The teams all share the same colors, so expect a sea of black and gold.
9. Dig into a Homestyle Meal in the Strip District
Pittsburgh has a tradition of diners serving homestyle meals for a low price. The Strip District is home to three of the city's top diners.
At Pamela's, the menu features large portions of pancakes with edges as lacy and crisp as a Florentine cookie. One bite and you'll understand why they are reportedly a favorite of President Barack Obama. You can't go wrong with the biscuits and gravy at female-owned-and-operated Kelly O's, another local favorite. And at De Luca's, everything is made to order. Their hearty breakfast burritos and ethereal waffles won't disappoint.
CULINARY ADVENTURES: 15 Foodie Hotels That Will Delight Your Taste Buds
When it's time for a frosty treat, Klavon's is an old-fashioned ice cream parlor also in the Strip District. Original marble countertops, revolving stools, and wooden telephone booths are a blast from the past. Order a sundae made with homemade ice cream and sample the penny candy for sale at the vintage candy counter.
10. Stay in Comfort at the Kimpton Hotel Monaco Pittsburg
Situated in a distinctive Beaux Arts-style building, the Kimpton Hotel Monaco Pittsburgh enjoys a convenient downtown location. Step inside the lobby and you're warmly greeted by the helpful staff, who will remind you to join the free hosted wine reception at 5:00 p.m. daily. Head to your room and be dazzled by bold pops of color and whimsical prints on decorative accents such as bolsters and wallpaper.
Traveling with an infant? The hotel has teamed up with 4moms to provide quality baby gear at no cost. If you've forgotten anything from your baby travel packing list like a bassinet, baby bath, infant seat, or play yard, they're available just by contacting the front desk (though advance reservations are recommended).
More from FamilyVacationist: