Home to the Disney water parks, Orlando theme parks, and other popular family vacation ideas, Central Florida is undoubtably one of the best vacation spots in the U.S. But there's one resort that's just a little more special than the rest: Give Kids the World Village.
Like the other Florida resorts, Give Kids the World Village has rides, ice cream, and special holiday celebrations. What sets this one apart, though, is that the rides are all wheelchair-accessible, the ice cream is all-you-can-eat (and ice cream for breakfast is encouraged), and Halloween, Christmas, and birthdays are celebrated every single week.
Oh, and families who visit don't pay a dime for any of it.
What Is Give Kids the World Village?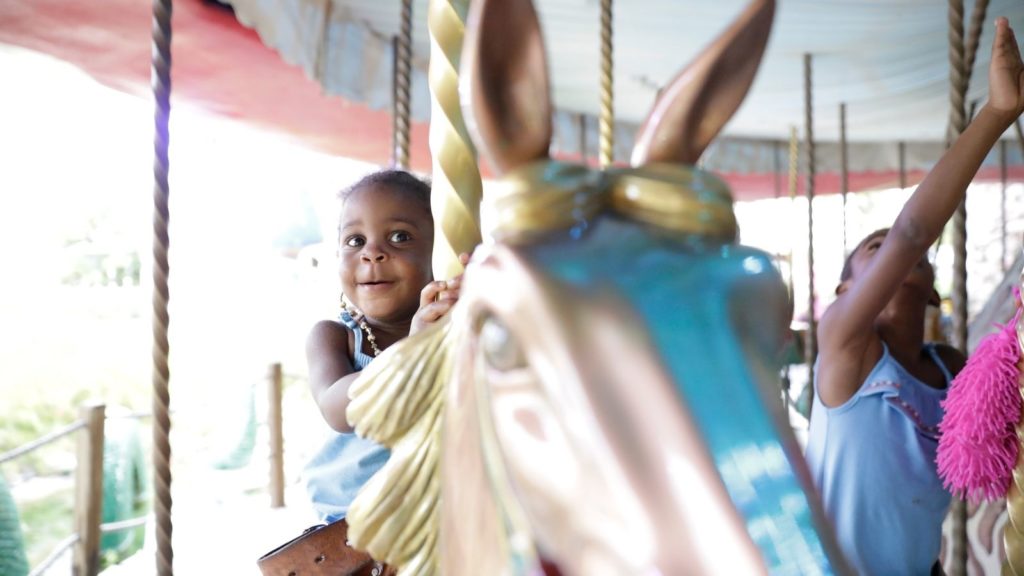 A nonprofit resort in Kissimmee, Florida, Give Kids the World Village is an 84-acre nonprofit "storybook" resort that provides weeklong cost-free vacations to children with critical illnesses and their families. Not only can families enjoy Central Florida's theme parks and other Orlando attractions from their base of operations at Give Kids the World Village, the resort has its own rides, activities, and special events that make it a destination in itself.
Give Kids the World Village wouldn't be able to do any of this without the volunteers who contribute their time to the Village's mission.
"Volunteers are really the backbone of everything we do," says Pam Landwirth, President and CEO of Give Kids the World Village. "Our volunteers far outnumber our staff and we couldn't do all of this without them."
ULTIMATE GUIDE: Everything You Need to Know about Aquatica Orlando, One of Florida's Best Family Water Parks
What's even better is you can help on your vacation, too. If you're planning a vacation to Central Florida, you can spend one or more days volunteering at Give Kids the World Village. The resort does have local volunteers who come in on a regular basis, but families and individuals who are visiting the area are always welcome.
What Do Volunteers at Give Kids The World Do?
Volunteer shifts last about three or four hours, and you can choose from tasks such as serving meals or ice cream, delivering pizza or gifts to the villas, operating the rides, office work, landscaping, and preparing the Village for special events.
The minimum age requirement to volunteer is 12 years old (if you are traveling with younger kids, the resort may be able to accommodate younger volunteers on a case-by-case basis). Certain tasks, like driving the trams or operating attractions, are reserved for volunteers ages 18 and up. And if you aren't able to volunteer in person, Give Kids the World Village has a variety of alternative methods to donate your time and skills as well.
How Do You Volunteer with Give Kids The World Village?
Signing up to volunteer is easy. Simply visit the resort's website and fill out the application. "There is a background check and once everything is approved, you can complete the orientation online," says Landwirth.
You can also sign up for volunteer shifts online, including which tasks you'd prefer to help out with. The whole process is quick and easy and can be done as soon as a couple weeks before you plan to visit.
What Is it Like to Volunteer at Give Kids the World?
Many individuals and groups return to the Village to volunteer year after year, including FamilyVacationist contributor Dave Parfitt of Rochester, New York. Parfitt, who has visited the Village many times with his family and with a group of college students for alternative break service trips, has volunteered in just about every area of the resort.
"During our alternative break service trips, we usually volunteered in the morning or evening. It left plenty of time for enjoying all of the world-class attractions around Orlando," says Parfitt. "For family visits to Orlando, we would usually plan at least one day in our weeklong vacation to give back and volunteer at Give Kids the World Village. We could sleep in and rest from the parks, and then head to the Village in the evening for a three to four hour volunteer shift."
MAGICAL VACATIONS: A Complete Guide to the Wizarding World of Harry Potter in Orlando
If you're traveling with kids near the younger end of the age requirement, Parfitt says his daughters started with tasks as simple as opening the door and welcoming families to breakfast in the morning. As they got older, they helped with pony rides and served as gate attendants for attractions and evening parties. "My youngest daughter Evie drew chalk art on the pool deck for the Beach Bash Party, and led children in a game where she tossed Mr. Potato Head pieces to kids in the pool. They raced to collect the pieces and build their Potato Head," Parfitt says.
For Parfitt, the best part of volunteering at Give Kids the World Village is interacting with the families who are staying at the resort. And the families feel the same way, says Landwirth. "Our families are always overwhelmed by complete strangers who are giving their time and their talents just to come out and make a difference in their lives."
What Is it Like to Stay at Give Kids the World Village?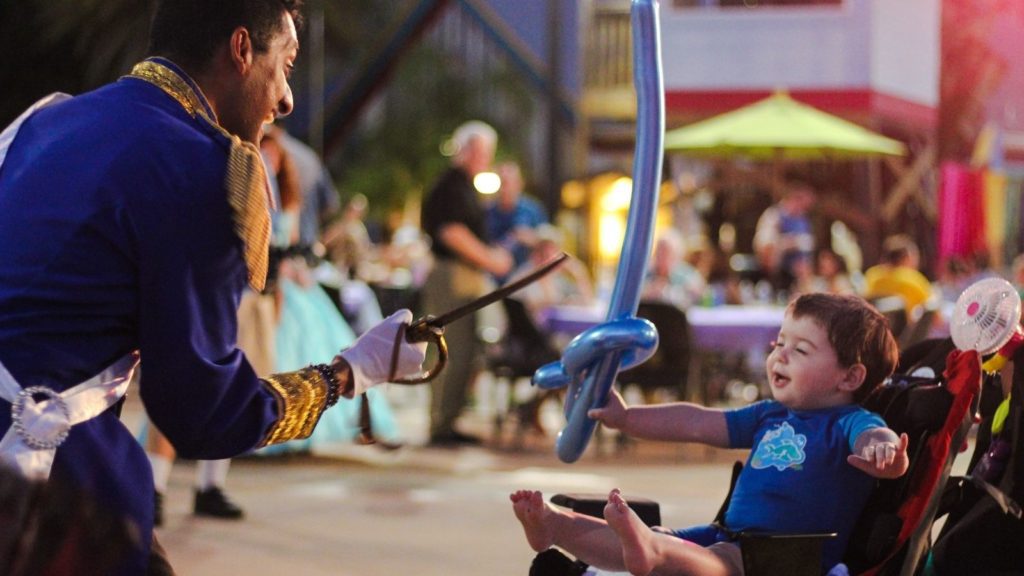 Lindsay Carter, a fitness trainer and coach from New Albany, Indiana, spent a week at Give Kids the World Village with her family in 2017. When her daughter Lainey was a year old, she had a stroke caused by viral encephalitis. Lainey now lives with intractable epilepsy, cerebral palsy, and autism, and was gifted a trip to the Village through the Indiana Children's Wish Fund when she was seven years old.
In addition to access to visiting the area theme parks, Lainey and her two brothers took full advantage of the activities and amenities at Give Kids the World Village. "When we returned to the village [in the evening] we participated in the activities, played putt putt, swam in the pool, and rode the rides. Lainey got to ride the pony one day, and the kids loved the unlimited ice cream," says Carter.
"Characters from the parks would come and do meet and greets," she adds, noting that the resort "even had a tuck-in service for the kids where the mascots would come and put the kids to bed. Lainey cracked up at the costumed characters!"
BATUU BOUND: A Complete Guide to Star Wars Land in Orlando
The real magic of Give Kids the World Village, though, goes much deeper. "Families of kids with medical needs literally never get a break. Between the constant worry, dealing with doctors, medications, and emergency hospital visits, our lives are full of stress," notes Carter. But for that one week at Give Kids the World, Carter's family didn't have to worry. Everything from flights to airport transportation and theme park tickets was taken care of.
"We didn't have to plan anything or make arrangements based on Lainey's needs because everything was suitable for her to do. Everyone in the village was kind and the volunteers went out of their way to make us feel relaxed and special. It was the most perfect week ever," Carter says.
It's not only critically ill children who benefit from all the Village has to offer, though. It's their siblings, too. In Carter's case, her other children "have spent nights with family when we had to go to the hospital, they worry about their sister, and honestly, at times, their needs came second to hers. It's not fair but it's just how living with a high needs kid is."
Parfitt sums it up simply: "The time I've spent at Give Kids the World Village is the most magical part of my days in the 'Most Magical Place on Earth,'" he says.
More from FamilyVacationist: