Let's start with the most important part: Disney's new Star Wars hotel, called Star Wars: Galactic Starcruiser, does not actually travel to outer space. I'd be remiss if I left out that important detail because once you arrive at the Galactic Starcruiser and eat, breathe, and play Star Wars for the length of your stay, you might easily be convinced otherwise.
Disney's Star Wars: Galactic Starcruiser is set to blast off on its "maiden voyage" on March 1, 2022, and bookings for select guests have already begun. If you're planning (or just dreaming about) a Star Wars hotel vacation, here's every detail you need to know about the intergalactic hotel experience. 
What Is the Star Wars Hotel?
In short, Star Wars: Galactic Starcruiser is a Star Wars-themed hotel at Walt Disney World in Orlando. A visit to the Star Wars: Galactic Starcruiser is an immersive two-night fantasy experience onboard a luxury class starship called the Halcyon.
SPACE VACATIONS: The Ultimate Guide to Star Wars Land in Orlando
To get to the Halcyon, you'll first arrive at the Galactic Starcruiser terminal at Walt Disney World and board a "launch pod" that will transport you to the Halcyon. Once there, the experience is more like a cruise than a traditional hotel stay. You arrive and leave with the same small group of guests (there are only 100 state rooms and suites in the Star Wars hotel) and you can't just pop out for a quick trip to Magic Kingdom.
Most meals and activities are covered in the all-inclusive pricing, including a selection of choose-your-own-adventure experiences that may require you to choose between aligning with the First Order or the Resistance.
Where Is the Star Wars: Galactic Starcruiser Located?
The starship is located very close to Disney's Star Wars land, called Star Wars: Galaxy's Edge, at Hollywood Studios in Orlando. In fact, if you've visited Disney World lately, you might have driven right by the Star Wars hotel without even realizing it. I'll get into the very good reason for the hotel's proximity to Galaxy's Edge in just a moment.
How Many Nights Do You Spend at the Star Wars Hotel?
Stays on the Star Wars: Galactic Starcruiser last for two nights. Disney has released a sample itinerary itinerary that gives a general idea of what time on board will entail. For example, you'll arrive at the terminal by 1:00 p.m. on your "departure" day and then have a full day of meals, activities, entertainment, and, of course, a few surprises.
WHAT TO PACK: The Ultimate Disney Theme Park Vacation Packing List
After breakfast on day two, you'll enjoy an excursion to the planet of Batuu at Star Wars: Galaxy's Edge (hence the Star Wars hotel's proximity to Galaxy's Edge) and then you'll return to the Halcyon for the evening.
Your third morning will include breakfast on the ship before you head back to Earth.
What Types of Activities Are Available Onboard the Star Wars: Galactic Starcruiser?
Have you always dreamt of wielding a lightsaber? Or sipping on a cosmic cocktail while playing a round of holo-sabacc? The Star Wars hotel is all about immersing yourself into the Star Wars galaxy, and to that end there will also be lots of new and familiar Star Wars characters serving your drinks, commanding the ship, and possibly soliciting your help with a clandestine mission.
DISNEY TRIPS: What to Wear to Disney World (and What to Leave at Home)
In addition to lightsaber training and intergalactic gaming, you can visit the ship's bridge, participate in a droid racing competition, or take in dinner and a show. This voyage is all about choosing your own path, so there will also be opportunities to participate in covert missions during your time on board.
After you book your vacation, your itinerary will be available 30 days prior to your departure date in the Star Wars: Datapad area of the Play Disney Parks app. This is where you can get an idea of what's to come.
Food and Dining on the Galactic Starcruiser
While staying at the Star Wars hotel, you'll take most of your meals in the Crown of Corellia Dining Room. Breakfast and lunch are more casual, while dinner is billed as a "table-service supper club" with musical entertainment. The food is colorful and adventurous, but Disney promises there will be "familiar favorites from your home planet" if you are traveling with a picky eater.
DELICIOUS DESTINATIONS: The Best Places to Eat In Orlando
Guests of all ages can visit the upscale Sublight Lounge for cocktails (or mocktails), mingling, and a game of sabacc. You'll also enjoy a quick-service meal at Star Wars: Galaxy's Edge during your planet excursion on day two.
All meals during your stay are included in the cost of your vacation package, with the exception of alcoholic and specialty beverages.
What Are the Rooms Like at the Star Wars Hotel?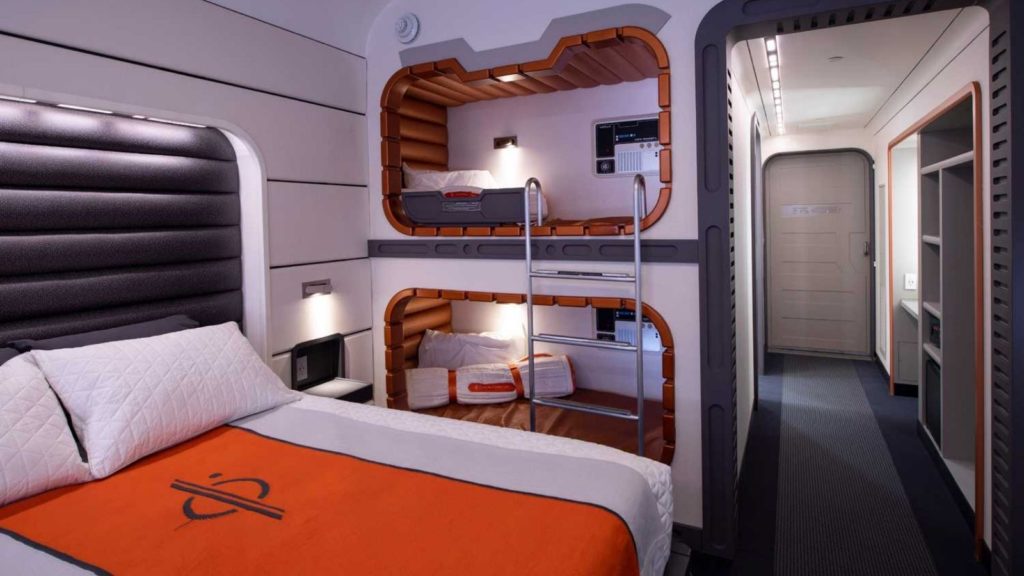 There are three basic room types to choose from on the Galactic Starcruiser, each with sleek Star Wars-chic decor and views of outer space through the window (using immersive digital projection).
Standard Cabins have a queen bed, a bunk bed, and an additional pull-down bed for a fifth guest. The one-bedroom Galaxy Class Suites sleep four and feature a separate living space. The Grand Captain's Suites have two bedrooms and sleep eight.
MOVIE MAGIC: The Best Outdoor Projector Screens for a Backyard Movie Theater Experience
All rooms come equipped with standard amenities like a mini refrigerator, hair dryer, phone, and bath products. The in-room television is interactive and, based on concept art, can display things like your current location in outer space and your favorite shows from your home planet.
Is There an Age Requirement for the Star Wars: Galactic Starcruiser?
Guests of all ages are welcome at the Star Wars hotel and most activities are appropriate for all ages, but there are some activities with a minimum age requirement. Lightsaber training, for example, is only available to guests seven and older.
How Much Does it Cost to Stay on the Galactic Starcruiser?
Pricing will vary based on the date, cabin type, and number of guests in your party, but Disney has shared starting prices that range from around $4,800 total for two guests to $6,000 for four guests (three adults and one child). These prices are based on a Standard Cabin, so expect even higher prices for the suites.
NO STICKER SHOCK: 7 Florida Attractions That Are Just as Much Fun as Disney and Universal
The price includes all meals, entertainment, activities, and admission to Disney's Hollywood Studios for your planet excursion. There are certain add-ons that will incur an additional fee, like building a droid or lightsaber during your time at Galaxy's Edge or upgrading to a seat at the Captain's Table at the Crown of Corellia Dining Room.
It's also worth noting that, for many, this is more of a once-in-a-lifetime experience than an annual family vacation (though for Star Wars superfans, it's easy to imagine it becoming an annual pilgrimage).
Do You Need to Be a Star Wars Superfan to Have a Good Time?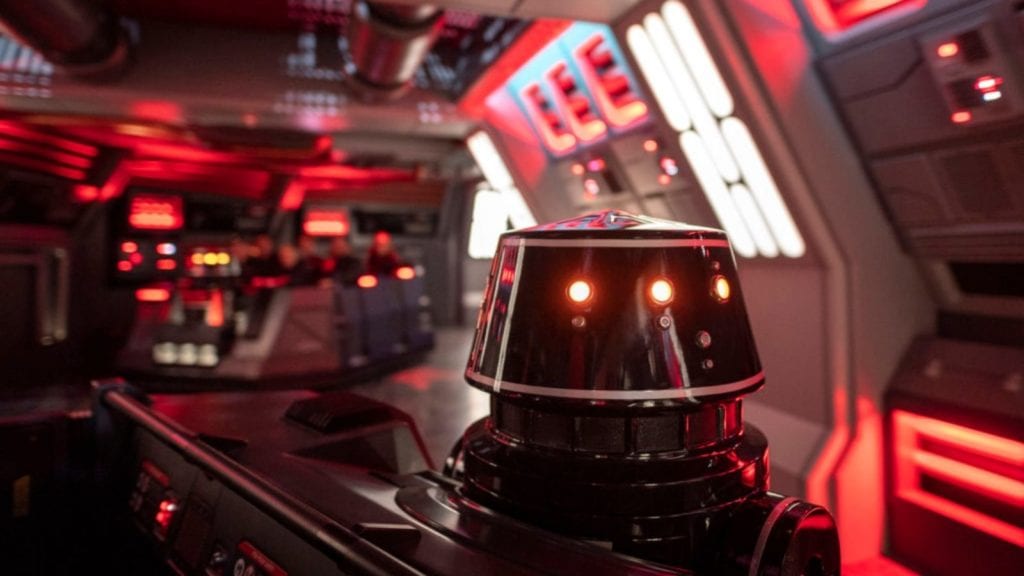 While guests are encouraged to dress up in costume (which will be available on shopDisney if you don't already have a Jedi robe hanging in your closet) and play the part of a space traveler, it's totally optional. You can choose to take part in the role-playing aspect or take more of a people-watching approach and watch the action unfold from afar. And if you just want to go back to your room and watch TV, you can do that too.
If you're a total Star Wars novice, there are a few things you can do to brush up on your knowledge before your trip, but, again, it's not necessary in order to enjoy your experience. In 2022, Marvel will release a five-issue comic book miniseries called Star Wars: Halcyon Legacy, detailing the starship's adventures and the colorful cast of characters who have been on board.
Amy Ratcliffe's The Art of Star Wars: Galaxy's Edge gives a fascinating look at the land you'll visit during your planet excursion, and there's also a short section on the Halcyon that will help you better understand the voyage before you embark.
More from FamilyVacationist:
This article about the Star Wars hotel was originally published in October 2021. It has been updated to include the most current information available.