Our family has tip toed slowly back into traveling not just because of the pandemic, but also as a result of my wife's disability. Since her multiple sclerosis (MS) exacerbation, she uses a manual wheelchair and wheeled walker to assist her mobility. A recent cruise on the Disney Wish was our first real foray back to traveling and left us itching for more.
We're always up for a good road trip. After all, they're the quintessential American family vacation. "Kids, who wants to see the second-largest ball of twine on the face of the earth?!" That being said, that four-hour roadside attraction detour can be really uncomfortable to sit through for my wife. So we were really excited to hear about Winnebago's accessibility enhanced line of RVs.
HIT THE ROAD: 10 Unforgettable U.S. Road Trips for Families
We took the accessibility enhanced Winnebago Roam for a test drive to New York's 1000 Islands region for fall foliage. The Roam is a Class B RV (think #vanlife) with a built-in wheelchair lift and accessible bathroom with grab bars and hand-held shower. A rear power sofa lies flat for a bed, and our model also included a pop-top sleeping roof with a second bed.
Road Trip: Winnebago Roam AE
New York State's tourism branch publishes a weekly fall foliage report, and leaf colors were near peak in the 1000 Islands. We booked an RV site at Sun Outdoors Association Island —just one of the over 1,000 Islands of the region.
Our campsite was right on the water, ideally situated for Lake Ontario sunsets. Unfortunately, on this particular weekend, a thick cloud bank blocked the sun and gale force winds blew constantly off the lake making it not fit for campfire sitting.
Airbnb of RVs: What to Know Before You Book with RVShare
However, even with nighttime temps dipping into the 40s and a relentless wind howling outside, we were cozy inside the Winnebago Roam. Its Timberline cabin heating system kept the interior nice and warm, and even with gusts rattling the sides of the pop-top we felt no breeze inside the camper.
What We Liked About the Winnebago Roam AE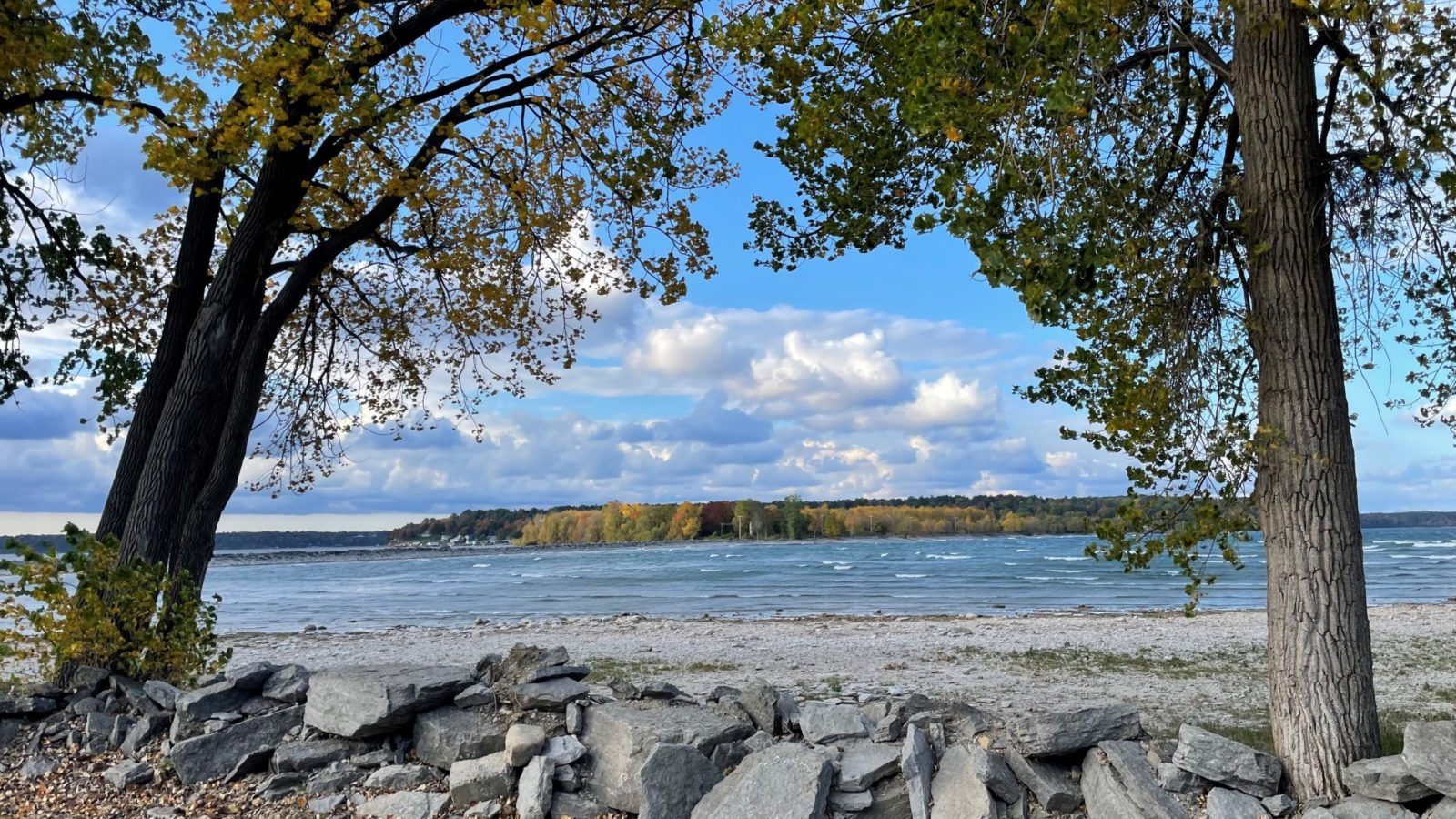 We loved the accessible features of the Winnebago Roam. The BraunAbility under-vehicle lift made it so easy to get into the RV. The lift also had a wireless remote that allowed my wife the ability to enter and exit the RV on her own. The front seats swiveled, allowing for an easy transfer from the wheelchair to the car seat for my wife.
VACAY FOR TWO: 12 Best Vacation Spots for Couples in North America
And, while we didn't make use of this feature, the Roam also included integrated wheelchair tie-downs so you can use your personal wheelchair as an additional secure seat in the vehicle. Finally, the under-vehicle mount kept the lift out of the way, thus freeing up much needed interior space in the RV.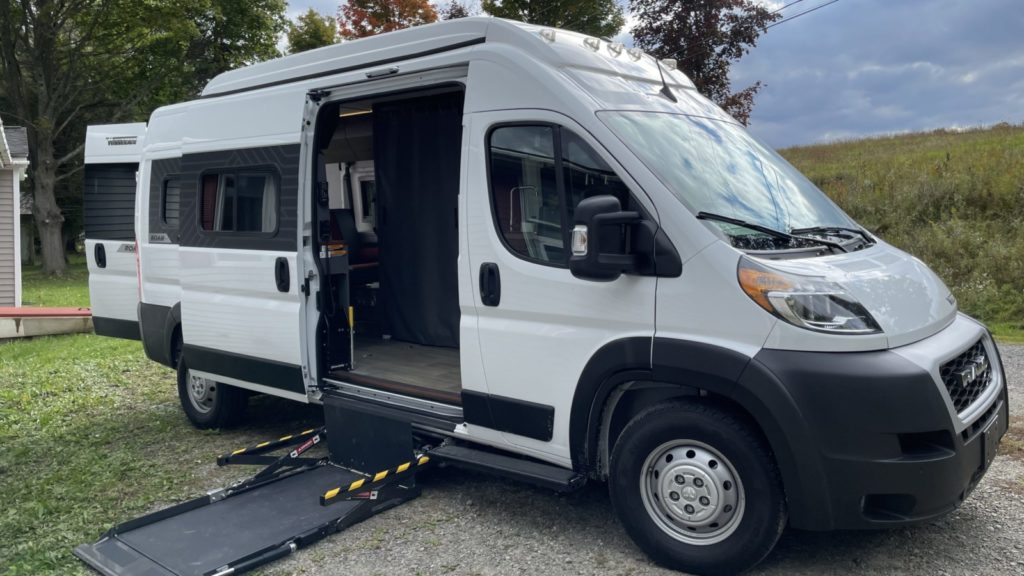 The built-in wet bath had a cassette toilet with grab bars, and provided a convenient, accessible restroom always close at hand. That meant we didn't ever have to worry about finding an accessible restroom at a stop. There was also an integrated shower with a hand-held wand, where the cassette toilet could serve as a shower stool.
Other accessible features in the van included a fold-up dinette table that a wheelchair can roll underneath as well as a pull-down cabinet for easy-reach storage. The galley kitchen offered a decent sized 3.0 cu ft refrigerator convenient for someone in a wheelchair to access.
From a driving perspective, at a little under 20 feet long, the Winnebago Roam was incredibly easy to drive. It drives like a standard van, making it easy to navigate streets and parking lots, and to find a place to park. You could easily make this an everyday vehicle for use running around town.
What Didn't Work for the Winnebago Roam AE
At 19 feet 9 inches, what made this Class B RV easy to drive also made it a little too small for family camping. The Winnebago says that the Roam pop-top model can sleep four people, but those better be some pretty small human beings.
FUN FOR ALL: 10 Kid-Friendly Campgrounds and RV Parks
My wife and I felt like we maxed out the vehicle with just the two of us on a long weekend trip, and wondered where we would pack more camping gear, food, and toys if we had brought the kids along. The Roam is equipped with a hitch that could tow a trailer filled with stuff, but that would negate its ease to drive.
Folded down, the sofa bed in the main cabin is meant to sleep two people. The flat size is somewhere between a full and a queen, but my wife needed to lay down on it diagonally in order to stretch out her legs. We quickly realized I would need to sleep on the mattress included in the pop-top. The mattress on the pop-top was quite comfortable, but, again, two full-size adults would be quite cozy in this sleeping space.
Winnebago has thought through a number of conveniences for those in a wheelchair. However, it would be very difficult to reach and make use of the microwave in the galley kitchen, and we wished more of the overhead cabinets had pull-down features to reach inside.
Takeaways
We were thrilled to check-out the Roam and commend Winnebago for its commitment to making accessible RVs. We learned a lot about our family needs testing out this camper van.
In the future, we would love to get an accessible van with a BraunAbility wheelchair lift, swivel seats, and space for my wife to stretch out on the road. The Roam certainly offers all of that plus an accessible on-board bathroom and a small galley kitchen.
The Winnebago Roam may work for a couple with accessibility needs or a solo traveler, but we think it would be difficult to use the camper as a larger family. In general, this advice probably holds true for any Class B RV. For our accessible camping needs, I think the larger Class A Winnebago Inspire might work better, or to get a wheelchair accessible van to tow an accessible travel trailer.
More from FamilyVacationist: