Paris-based French Bee SAS, self-styled as "French bee," is a low-cost airline geared toward leisure travelers that flies to destinations worldwide. The airline has been generating positive buzz with U.S. passengers for its new transatlantic route between Newark and Paris (Orly), which it flies three or four times weekly, depending on the season.
French bee: Everything Families Need to Know
With one-way flights to Europe starting at just $199 and excellent in-flight service, it's well worth keeping French bee in mind when you're ready to cross the Atlantic. Here's what you need to know when deciding if a cheap flight to Europe with French bee is right for you and your family.
Fare Classes on French bee: Basic, Smart, and Premium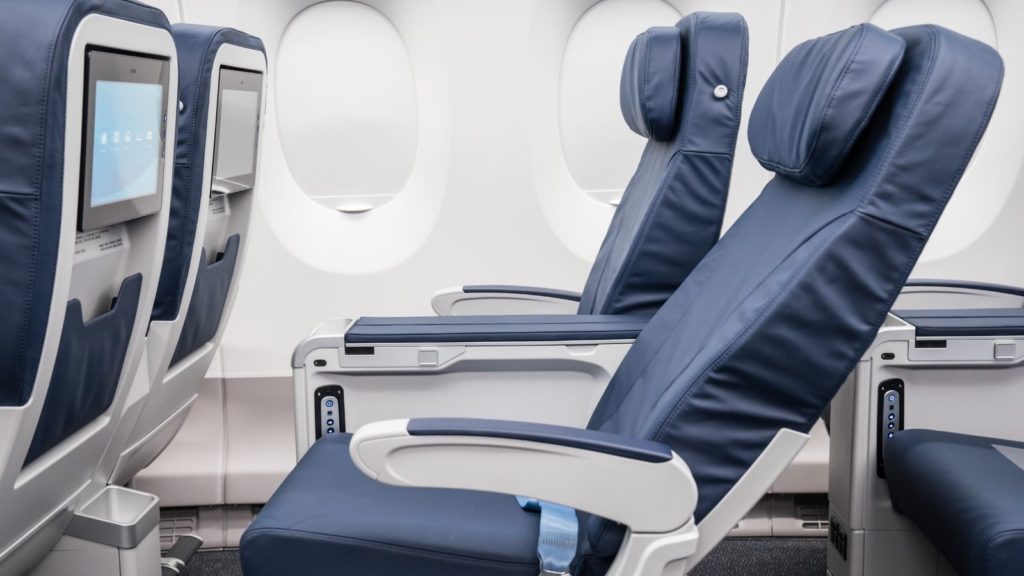 French bee offers three fare classes aboard its Airbus A350 planes. The least expensive is Basic, where you'll get a standard-sized seat (31-inch or 32-inch seat pitch) and a 26 lb. carry-on bag allowance. The second tier is Smart, which sweetens the deal by allowing one 50 lb. checked bag per ticket and offering an in-flight meal.
COMPARE FLIGHTS: 17 Best Flight Booking Sites for Cheap Airfares
Premium is the most luxurious fare class option offered by French bee. A Premium ticket includes two 50 lb. checked bags, a premium meal, complimentary beverage service, seat choice within the Premium cabin, line jump, priority boarding, and priority luggage delivery. While it's not quite business class, Premium comes very close. And with one-way fares starting at $469 for the Newark to Paris route, it's an excellent value.
The airline's customizable ticket model allows you to book different classes of service on each leg of your journey, which is just what I did. I purchased Premium seats going to Paris, in hopes that we'd sleep and arrive ready to hit the ground running. There are 35 roomy seats in this exclusive front cabin, with seven seats per row for a two-three-two configuration. Each reclining seat has a 36-inch pitch and foot and leg rests. While the seat is very comfortable, it doesn't go to a fully horizontal position. We were welcomed with Champagne and served a midnight snack, a snappy hot dog on a bun, along with additional beverages. Breakfast was ready about an hour before landing, a choice of French toast or an omelet.
To economize, we flew home on a Smart fare. After such an upscale experience in Premium class, I was honestly not looking forward to the return trip, but I was pleasantly surprised with comfortable seats and attentive service. Each of the 376 main cabin seats has a 32-inch or 31-inch pitch, in a three-four-three configuration. I selected Cozy Cabin seating for an extra $35 per person, which put us in a private section near the front of the plane. Our Smart ticket price included dinner, with a main course of boneless chicken pieces cooked in a light curry sauce served on a bed of white rice. French bread, creamy cheese, a very fresh chopped salad and an apricot tart rounded out the meal. It was the best airline food I've eaten in decades.
Have It Your Way: Add-On Purchases on French bee flights
French bee is a good fit for families because it offers numerous customizable options to enhance your flight. Like our mix-and-match departure and return flight fare classes, you pick and pay for the options you want, building an in-flight experience that caters to your specific needs.
My son likened it to a hamburger: I like mine with pickles, ketchup, and onions, while he likes his with cheese, lettuce, and tomatoes. When you book your ticket on French bee's easy-to-navigate website, you select the additional amenities you desire from the pulldown menu tab labeled Services. Popular add-ons include priority boarding for $18, seats with additional leg room for $45, and Cozy Cabin seating—a private cabin just behind the Premium section—for an additional $35.
EUROPEAN VACATIONS: 10 Europe Tourist Attractions That Are Absolutely Worth Visiting
Even if you book a fare class that doesn't include a meal, or are traveling with always-hungry adolescents and need a second meal or snack, there are a range of food options available for in-flight purchase. A favorite for parents and other adults is the Instant Duo, consisting of two miniature bottles of Champagne and an assortment of delectable warm canapés, costing $40 and serving two.
Four different Wi-Fi plans allow you to stay connected while in the air, a boon if you have Instagram-attached teens like I do.
Why French bee Is a Good Fit for Family Travelers
French bee has its eye on families. With wallet-friendly transatlantic ticket prices starting at $199, it's a bona fide bargain, especially if you're buying tickets for a large family. All seats are leather and include adjustable headrests, USB and electrical ports, and headphone plugs, so you won't be roughing it even if you purchase the least expensive Basic option. Unlimited in-flight entertainment on extra-large HD touch screens includes animated movies and kid's classics like Charlie and the Chocolate Factory.
IN-FLIGHT ENTERTAINMENT: 33 Books Like Harry Potter to Binge on Your Next Vacation
The main cabin's three-four-three seat configuration is attractive, especially for families of four like my own. When my kids were younger, it was problematic when we were separated into different rows, but French bee's four-seat row allows for easy togetherness.
For all bookings made for travel through March 31, 2022, tickets are 100 percent changeable and refundable, too, so you've got plenty of flexibility.
Late Departures from Newark and Paris
The transatlantic flight to Paris departs at 10:55 p.m. This is late compared to many other airlines flying this route, yet it has distinct advantages. There's less runway traffic at Newark at this late hour, diminishing the risk of being stuck in a long queue awaiting take-off. If you're flying with kids, they should be very tired by the time the flight boards and may actually sleep, which means they'll be better rested when they arrive in Paris.
PARIS VACATIONS: Why Paris Is Even Better with Kids (Really)
The flight back to Newark departs Paris at 6:45 p.m., allowing you to spend a good chunk of the day enjoying Paris. Think of it like a bonus vacation day in the City of Light to check off any final family vacation ideas from your European trip.
Service on French bee
When I flew French bee with my family, the crew treated everyone like VIPs. This isn't an exaggeration. We were met with a can-do attitude that was unlike anything I've experienced on other budget airlines.
There were several infants on both my inbound and outbound flights. The helpful French bee crew was ready with bassinets, and happy to warm bottles in the galley throughout the flight. When I got a minor paper cut on my finger on my return flight, a crew member immediately brought me a disinfecting wipe and bandage, even though it happened in the middle of the busy dinner service.
BRINGING BABY: Complete Guide to Breastfeeding While Traveling
Parisian Chic Even Before You Land
From the moment I stepped on board, the panache of Paris was palpable on French bee. The attractive French cabin crew looked like they'd just stepped off a runway, dressed in chic navy-colored pencil skirts or dark trousers, with casual accents of denim and sky-blue bandanas. They were all perfectly bilingual, perfectly polite, and perfectly coiffed.
COVID-19 Safety Precautions
French bee appears to take passenger health and safety seriously. We were given wipes to disinfect our seats as we boarded. I was beyond pleased that the aircraft, including the restrooms, was spotless. Surgical masks are required throughout the flight.
More from FamilyVacationist: