The World's Most Magical Celebration is upon us: Walt Disney World in Orlando is celebrating 50 years of making magic for guests from all over the world. That calls for a pretty big party, and Disney is doing just that with an 18-month celebration filled with new foods, attractions, merchandise, character costumes, decor, and, of course, entertainment.
Disney World is debuting three new shows for its golden anniversary: two nighttime fireworks spectaculars and one daytime show. They all debut today, October 1, and I've got the details on all three so you can prepare for your next visit to Walt Disney World. (And great news for those who can't make it in person: You can also stream both nighttime shows on Disney's YouTube channel.)
Disney World's 50th Anniversary Nighttime Entertainment
Disney Enchantment at Magic Kingdom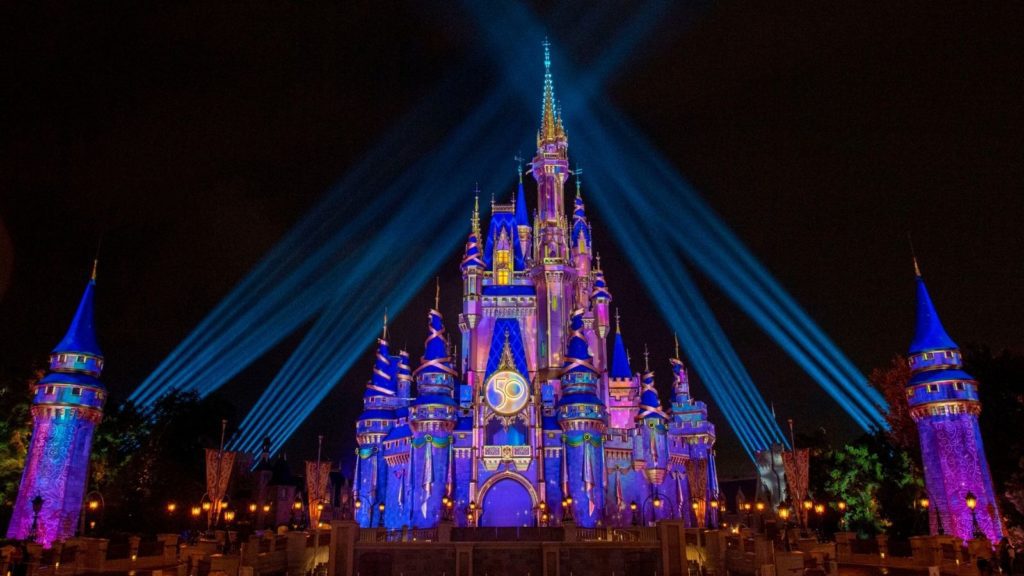 Every night beginning October 1, Disney Enchantment will transform Magic Kingdom's Cinderella Castle and Main Street, U.S.A. with fireworks, projections, light effects, and classic Disney music and imagery. In fact, this is the first time a Magic Kingdom nighttime spectacular has extended all the way down Main Street, U.S.A. This new addition means the show will differ based on your viewing spot, and you'll probably want to see the show multiple times from different vantage points.
ULTIMATE GUIDE: Everything You Need to Know About Disney Genie and Genie+
Disney turned to Grammy-winning artist Philip Lawrence to write and perform an all-new song for the Disney Enchantment fireworks show called "You Are the Magic." The song expresses the theme of the entire show, which is that we are all the heroes of our own stories and we only need to look within to find the magic (cue the tears).
In addition to this original composition, Disney Enchantment immerses you in a series of sequences from classic Disney films and newer blockbusters. You'll experience everything from Alice in Wonderland to Luca. And, as in previous nighttime shows, Tinkerbell will take flight with the help of a little pixie dust.
THRILL RIDES: 13 Best Disney World Rides for Adults, Teenagers, and Big Kids
It's a stunning show that left me feeling empowered, and each burst of fireworks made me burst with excitement to follow my dreams and take on the world. Sounds like a lofty goal for a fireworks show, but if anyone can do it, it's Disney.
Harmonious at Epcot
EPCOT's World Showcase is unlike any of Disney's other theme parks. Rather than a collection of rides, this theme park land houses a collection of "pavilions" themed to countries from around the globe. It's a celebration of our differences that also highlights the commonalities that unite us. Harmonious, the park's new nighttime spectacular, evokes that same sentiment.
Held nightly on the World Showcase Lagoon, Harmonious uses massive floating set pieces equipped with moving fountains, lasers, fireworks, and LED screens to tell classic Disney stories in a whole new way. Disney worked with more than 249 musical artists from around the world to interpret popular songs from Coco, Mulan, The Princess and the Frog, and others.
WATER WORLDS: The Ultimate Guide to Disney's Water Parks in Orlando
While the music plays, you'll see some of your favorite characters and imagery from the films projected in the sky and on fountains spraying from the floating set pieces, along with lots of surprises that'll have you saying, "How'd they do that?"
It's a joyful, celebratory show that induces nostalgia for "Disney adults," showcases kids' favorite Disney movies, and gets you dancing with the stranger next to you (well, I did anyway). More importantly, though, it's a show where everyone in the audience will feel represented. From the littlest Disney fan to lifelong fans, everyone will have a moment they connect with. Like World Showcase itself, Harmonious shows that our differences can, and should, unite us.
Disney World's 50th Anniversary Daytime Entertainment
Disney KiteTails at Animal Kingdom
When Disney made the big announcement back in June that there would be two new nighttime shows for Disney World's 50th anniversary, the park snuck in mention of a new daytime show at Animal Kingdom too. Disney KiteTails takes place multiple times daily at the Discover River Theater near DinoLand U.S.A.
The show kicks off with performers that are actually in the stands with you flying colorful character kites and wind catchers overhead. They swoop fairly close to the crowd and you really feel like you're a part of the show. The performers even hand out small turtle kites to guests in the stands and invite them to join a "turtle parade" before the big show begins.
KNOW BEFORE YOU GO: The Ultimate Guide to Star Wars: Galaxy's Edge at Disney's Hollywood Studios in Orlando
After this short pre-show is when the big kites come out. During a series of musical numbers that any Disney fan will recognize, the performers return to the stands with handheld kites while jet skis stationed around the Discovery River pull huge character kites behind them. Some are up to 30 feet long and so large they resemble parade balloons.
While a lively version of "Bare Necessities" from Disney's Jungle Book plays in the background, performers run through the crowd with jungle animal wind catchers while jet skis pull kites with extra long tails and a larger-than-life Baloo kite through the water. There are similar performances from Lion King and Dumbo during the show's roughly 10-minute run.
This show is so much fun and a wonderful addition to Animal Kingdom. I can pretty much guarantee you won't be able to help but clap along to the music. My recommendation is to grab a Mickey pretzel and a drink before you sit down to enjoy the show.
More from FamilyVacationist: