With nine locations in the U.S., AutoCamp brings amenities-forward glamping to some of the country's most beautiful nature destinations. Like its sister-properties in Yosemite, Cape Cod, and elsewhere, AutoCamp Russian River mixes Airstream trailers, tent cabins, and other simple-but-surprisingly glam accommodations options in Sonoma County. AutoCamp Russian River sits in a quiet residential neighborhood just across the road from the Russian River, a few minutes from downtown Guerneville. Autocamp's Guerneville location puts you at the crossroads of forest, coast, and wine country.
On a visit to Sonoma, I stayed at Autocamp Russian River in an Airstream suite. This was my second Autocamp experience (my first was at Autocamp Yosemite), so I knew some of what to expect—a luxury rustic vibe, a comfortable bed with great linens, and the sort of spa inspired bathroom that really puts the glam in glamping.
And while Autocamp Russian River delivers all the hallmarks of the Autocamp chain, it also does what the brand does so well: creates a really location-specific experience, which here meant the chance to gaze up into the misty redwoods in the mornings, relax on the big lawn on sunny afternoons, and cozy up next to the communal fire pit on chilly evenings (because evenings do get chilly here, even in summer).
EASY PLANNING: 10 Family Glamping Resorts for Fun and Relaxation
Things to Know about AutoCamp Russian River 
Airstream suites have private bathrooms with indulgent toiletries and large showers. Luxury tents share the (quite nice) bathroom with showers at the clubhouse.
For families with children, Airstreams are the better choice, since they sleep two adults and two children. The seasonal tents are limited to two adults.
Daily breakfast (granola, yogurt, pastries, etc.) is included in the nightly rate, and is served every morning in the clubhouse.
The location puts you close to Russian River activities, wineries, Armstrong Redwoods, and the Pacific Ocean.
The Wi-Fi is free and (adult) bikes are available to borrow.
What Families Need to Know about AutoCamp Russian River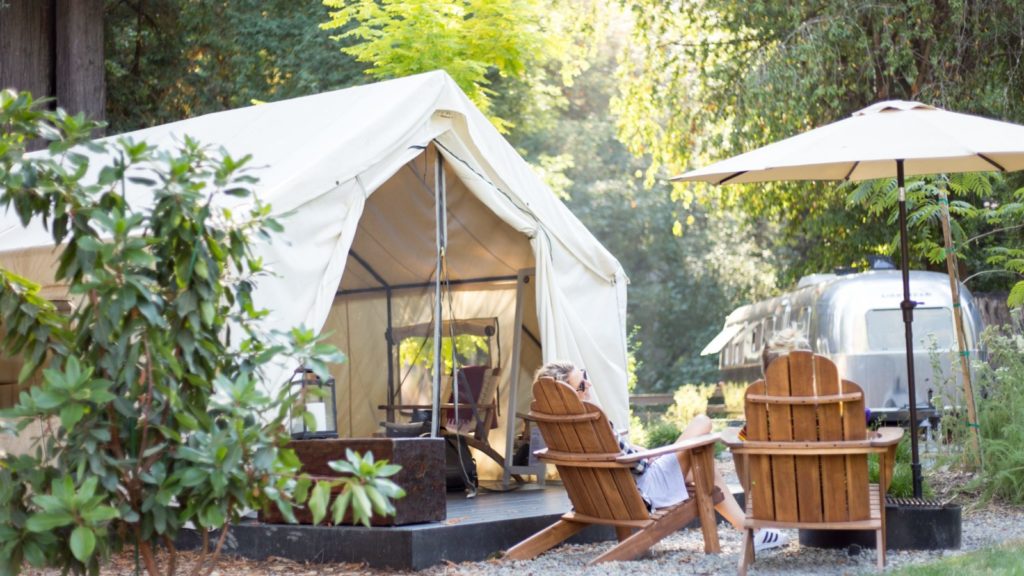 Airstream trailers at AutoCamp comfortably sleep two adults and two kids but the luxury tents sleep only two adults, so won't work for families with kids. Each Airstream comes with its own outdoor hangout area and fire pit (compressed wood is available at the clubhouse, which is at max about a three-minute walk). 
BRING THE WHOLE FAMILY: 10 Most Kid-Friendly Family Resorts in California 
Every Airstream and tent site comes with its own outdoor area that offers a little more privacy than you'd get at a typical car campground, but is still pretty close to neighboring sites–something to note for noise levels and room to run. The premium suites–sites that border the creek (and the woods)–tend to offer a little more outside space than the classic Airstream suites on the inner ring.
Quiet hours stretch from 10 pm to 8 am. On my visit, evenings felt peaceful and not too loud for sleep, even with the windows of the Airstream open.
Autocamp Russian River Reviews 
Tripadvisor gives AutoCamp Russian River 4.5/5 with about 300 reviews. Reviews are similarly positive across the board: Booking.com gives the property 9.2/10 and Expedia users rate it 4.7/5. Reviewers praise the easy check-in, clean facilities, and cool design. It also ranks highly among families and groups.
Important Details about AutoCamp Russian River 
Location
The Russian River is one of the most beautiful parts of the already beautiful Sonoma County. Dense redwood forests and the area's namesake river offer plenty in the way of outdoor fun, and the Pacific Ocean is a 20 minute drive away. AutoCamp Russian River is a 20-ish-minute walk from downtown Guerneville, though note that the walk is mostly along the two-lane highway, so it might be preferable to make the quick trip (a three-minute drive) by car.
WEST COAST ADVENTURES: 7 Kid-Friendly West Coast Vacations
Guerneville has restaurants, bars, cafes, and grocery stores, plus plenty of little boutiques. Its address is 14120 Old Cazadero Road, which sits just off Highway 116 in the town of Guerneville.
The Property
AutoCamp Russian River is tucked into a quiet, woodsy neighborhood just off Highway 116. To enter, you go through a gate (you'll need to be buzzed in or have the code) and park in a gravel lot. Little red wagons make transporting your stuff from the parking lot to your Airstream or tent easier. The clubhouse, a standard among AutoCamp locations, is a welcoming space with a front desk, open-sided walls, lounge areas and a fireplace, a breakfast bar, and a small shop with picnic provisions and other items.
CHEERS: How to Plan the Perfect Wine Tasting Trip to Napa and Sonoma
A large fire pit sits at the base of the lawn that extends out into the tent area. The Airstreams form a semi-circle around the property. Nature is everywhere, with large redwoods, a creek, and a hammock area under the trees. There are plenty of common areas to hang out, and since each site comes with its own fire pit and chairs, you can also opt to relax by your own private fire.
Rooms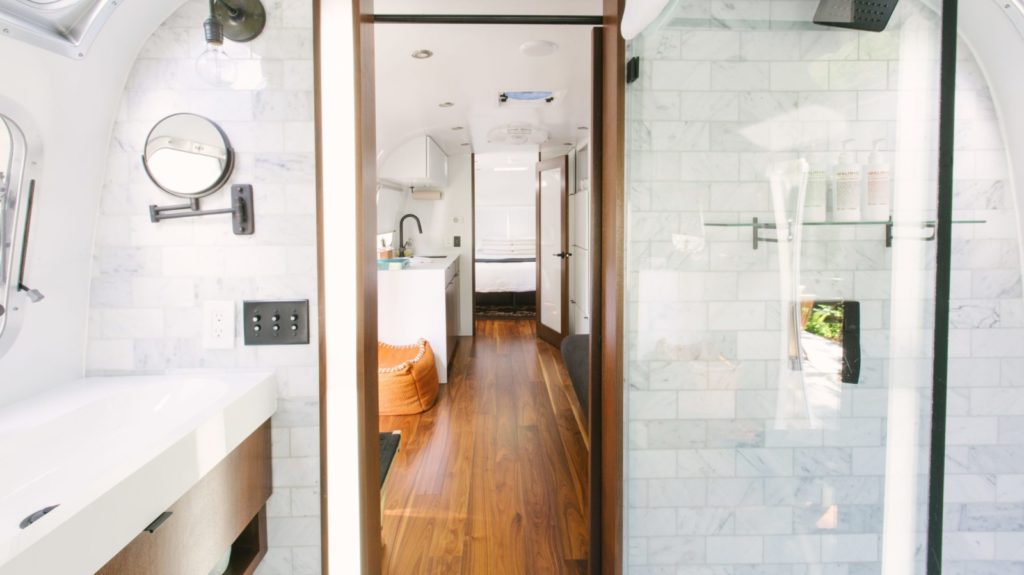 AutoCamp Russian River has 23 year-round Airstream trailer suites plus 10 seasonal (April-October) luxury tents. The Airstreams that border the creek (and tend to have a bit more outdoor space) are dubbed the premium suites, while Airstreams that border the tents are called classic suites. Two of the premium suites have outdoor wood-burning hot tubs and there are accessible suites near the parking lot.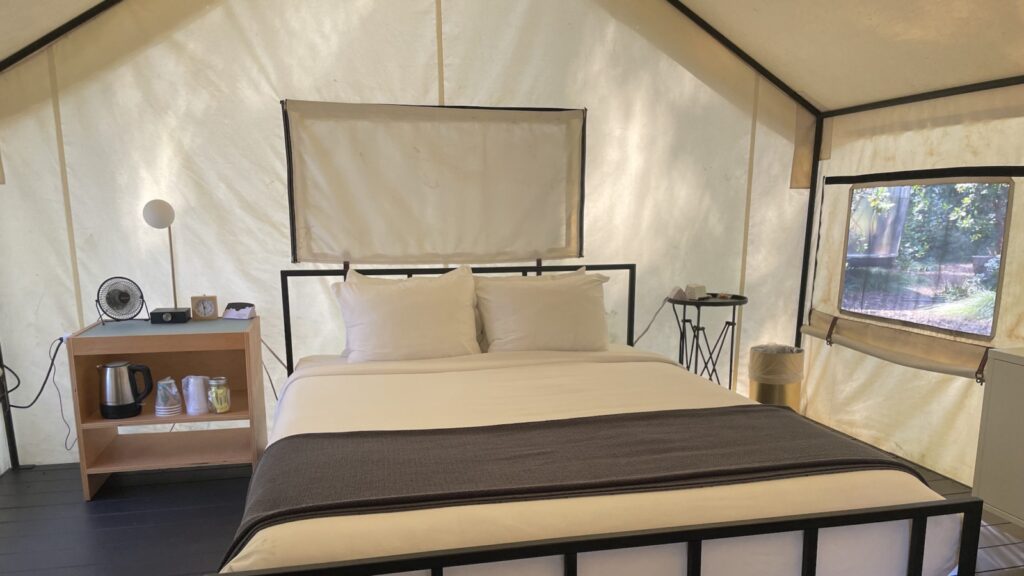 All Airstream suites have a bedroom with a queen bed decked out in high-thread-count linens, a kitchenette and sofa (that can be converted into another comfortable bed), and a roomy spa inspired bathroom with a great shower and Ursa Major toiletries. Outside each Airstream is a sitting area with a fire pit/grill. Note that burning wood is not allowed; you can buy or bring compressed wood or charcoal.
Activities
The property sometimes offers free events like live music, food and drink tastings, and yoga. There are also paid activities including birding walks and forest bathing that you can book in advance. Wine country offerings like tasting rooms are close, as are regional and state parks that get you close to the area's famed redwoods and wild ocean.
Dining
AutoCamp Russian River doesn't have a restaurant, though it does offer free breakfast in the morning in its relaxed dining area. Breakfast includes pastries, yogurt, granola, coffee, and tea. In the evenings, there are sometimes food pop-ups that offer tastings of local products and/or food for sale. The clubhouse shop offers both ready-made meal options and ingredients for grilling and campfire treats.
More from FamilyVacationist: