Traveling internationally as a family is a true privilege, but not everyone can swing a journey abroad. Flights alone can put you well over budget, especially if you need to purchase multiple seats. For parents who want to take their kids to a new, unfamiliar place without breaking the bank, there's still hope. Dotted around the country are unique U.S. family vacations that could easily transport you to another country.
7 Unique U.S. Family Vacations With International Flair
Satisfy your craving for foreign landscapes and cultures with one of these seven spots for unique family vacations in the continental U.S. (Note: Most of these destinations also offer the chance to learn about the area's Native American history, which shouldn't be missed.)
1. Chimayo, New Mexico
Feels like: Mexico's Countryside
The Sangre de Cristo Mountains hold many secrets, and one of them is the village of Chimayo. Only a roughly 30-minute drive from Santa Fe, Chimayo looks like something out of a vintage postcard from rural Mexico. Its pueblo-style architecture, weaving shops, and slower way of life make a visit here one of the most unique U.S. family vacations.
PARKITECTURE: 12 Most Iconic National Park Lodges
Chimayo's close proximity to Santa Fe means you can easily spend a few nights in town or visit as a day trip from the city. Families can relish a handful educational experiences that showcase the local history and culture at the Chimayo Museum, El Santuario de Chimayo church, and Rancho de Chimayo. There are also outdoor activities like the Santa Cruz Lake and rafting in the nearby Rio Grande Gorge.
Where to Stay: Find plenty of smaller, independently run inns and B&Bs in Chimayo, including Casa Escondida, which sits on six beautiful acres of mountain landscapes. Bonus points for the ultra-comfy beds and family rooms.
2. Solvang, California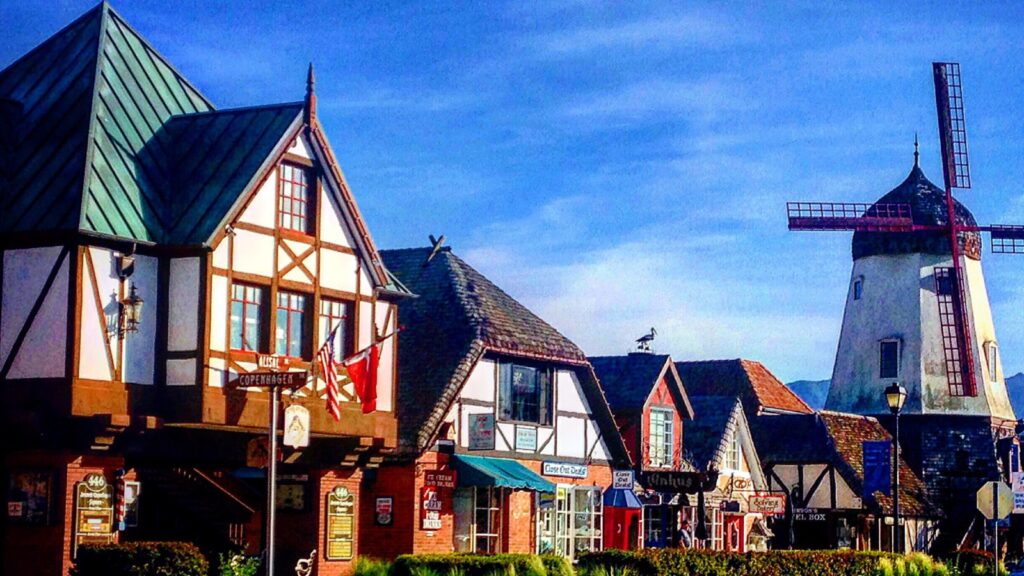 Feels like: Denmark
Your kids will feel like they've stepped into a fairytale in this colorful European-style town tucked away in California's Central Coast. Since being founded by Danish immigrants in 1911, Solvang has preserved its authentic history, architecture and culture—all of which is palpable as families meander down its festive downtown.
SADDLE UP: 11 Best U.S. (and Canada) Dude Ranches
The Solvang Trolley is a great way to get the lay of the land upon arrival. Families also will love visiting the Elverhoj Museum of History and Art, which offers daily scavenger hunts; as well as the Old Mission Santa Ines museum; Ostrich Land; Quicksilver Miniature Horse Ranch; and Nojoqui Falls Park. Don't forget to stop at the whimsical Solvang Trolley Ice Cream Parlor for a sweet treat.
Where to Stay: Solvang has a real mix of accommodations, including the luxe dude ranch Alisal Ranch and downtown's hip and boutiquey The Winston.
3. Alys Beach, Florida
Feels like: Santorini, Greece
White stucco buildings overlooking shimmering waters conjure up scenes of Santorini, Greece—only at Alys Beach, the sand is powdery white. Nestled along Florida's pristine Panhandle, this family-friendly, planned community offers the aesthetic of Greece at a fraction of what you'd likely pay to haul the entire gang to the islands.
SUNNY DAYS: 5 Best Florida Beach Towns
Family amenities include a resort-style pool, private beach access, bike rentals with baby seat mounts available if needed, a nature preserve with a boardwalk and trails, an amphitheater that hosts occasional concerts and movie nights, splash pad-style fountains, and seasonal blueberry picking along Alys Beach's Lake Marilyn. (Learn what makes the Panhandle one of the top unique Florida attractions for kids.)
Where to Stay: There are no hotels in Alys Beach (for a traditional hotel stay, look to nearby Panama City Beach), but there are plenty of vacation rentals featuring great design and local vibes.
4. Holland, Michigan
Feels like: The Netherlands
Much like what you'd see in the Netherlands, fields across Holland, Michigan, dazzle with the colors of tulips in the spring. The annual Tulip Time Festival is one of the city's greatest attractions, but there are many more reasons why this little slice of Dutch paradise makes for one of the best, unique U.S. family vacations.
OUTDOORSY: 6 Scenic Midwest Road Trips
Nelis' Dutch Village offers a glimpse of what the Netherlands was like more than 100 years ago. Must-visit sites for families include the Windmill Island Gardens, Outdoor Discovery Center and the shallow-water Ottawa Beach, which has a playground, restrooms, and general store on site.
Where to Stay: In addition to all the usual major hotel chains, you'll also find Teerman Lofts, a hotel that offers fully furnished luxury apartments instead of the usual hotel rooms.
5. 1000 Islands, New York
Feels like: Northwestern France (Cotes-d'Armor)
The northwestern coast of France isn't on many families' radars. Its small archipelago of Ile-de-Brehat, however, is a hot spot for Europeans who are drawn to its dramatic landscape of tiny, lush islands surrounded by deep-blue water. The setting shares similarities with New York's 1000 Islands, particularly Alexandria Bay, whose Boldt Castle can make anyone feel like they've teleported to Europe.
BEYOND THE BIG APPLE: 13 New York Family Vacations
A quick, 30-minute drive from Alexandria Bay to the charming town of Cape Vincent will give you a closer look at the 1000 Islands' French history, which is celebrated every year at the French Festival. Other activities like hiking, go-kart rides, drive-in movie showings, boating, and water sports all cater to families with adventurous spirits.
Where to Stay: Roadside motels, little inns, and family-run resorts rule when it comes to lodgings in Alexandria Bay. For castle views and a swimming pool, check out The Ledges Resort & Marina.
6. Helen, Georgia
Feels like: Bavaria, Germany
German traditions like Oktoberfest and the Christmas markets have become pretty ubiquitous, but few places close to home can transport you to Deutschland like Helen, Georgia. What makes this one of the top underrated U.S. cities for a pseudo-international getaway is not only its Bavarian look and feel, but also its sheer variety of activities that both parents and kids will love.
TREE SLEEPS: 10 Best Treehouse Hotels in the U.S. for Families
A candy factory, handmade wooden toy store, recreational center with Alpine-style miniature golf, and the award-winning Cabbage Patch Kids toy store will make little ones' dreams come true. Throw in authentic restaurants serving up everything from schnitzel to spaetzle, an Alpine mountain coaster and scenic nature hikes, and everyone will be a happy camper. (See why Helen is also one of the best skip-gen destinations that guarantee fun for both grandparents and grandkids.)
Where to Stay: When it comes to places to stay in Helen, you can choose from its blend of chain hotels and independent motels and inns. For everything you need with kids, the Holiday Inn Express & Suites Helen is a good bet.
7. Carmel-by-the-Sea, California
Feels like: The English Countryside
From "Chitty Chitty Bang Bang" to the "Harry Potter" series, family films have long fed the desire for many to visit England's countryside. For those not able or ready to fly across the pond, Carmel-by-the-Sea makes for a lovely and unique U.S. family vacation. Quintessential English cottages, tucked-away courtyards, and cobblestone streets look as if they've been plucked from a town like Rye or Stratford-upon-Avon.
Enjoy a more British experience with an afternoon cuppa at the local tea house and imported British treats at the candy store. And don't forget to make time to check out Carmel Beach; Point Lobos State Natural Reserve; the Carmel Mission Basilica Museum; the Forest Theater, which hosts family movie nights; and the nearby Monterey Bay Aquarium.
Where to Stay: Family-friendly lodging options in Carmel (which includes Carmel-by-the-Sea, Carmel Valley and Carmel Highlands) include Quail Lodge Golf & Club, which has big rooms and suites plus a year-round heated outdoor pool.
More from FamilyVacationist:
The article 7 Unique Family Vacations That Feel Worlds Away was originally published on HumbleBoots.com.