Welcome to Please Remain Seated, FamilyVacationist's monthly theme park news column by Tarah Chieffi. Keep reading for the latest news and tips from the world of Disney, Universal, and other popular parks.
The fact that you're reading this column right now means I survived the raptors on Universal Orlando's new Jurassic World VelociCoaster. As I mentioned last month, I attended the coaster's grand opening with my husband and oldest son and, spoiler alert, we all loved it. My son Avery even helped me write a story for other kids who are ready to join the hunt.
If you ever have a chance to ride a new attraction on opening day, I highly recommend it. Even though we had to wake up before sunrise to get to the parks bright and early, the energy of the crowd kept me wide awake. Everyone cheered as the first train of riders sped past and we were rewarded with free churros after the ride.
I don't have any ride openings to share this month, but I do have new hotels, Halloween parties, and even a drone show. Let's get to the theme park news.
Theme Park News for July 2021
Boom! Fireworks Spectaculars Nudge Theme Parks Closer to Normalcy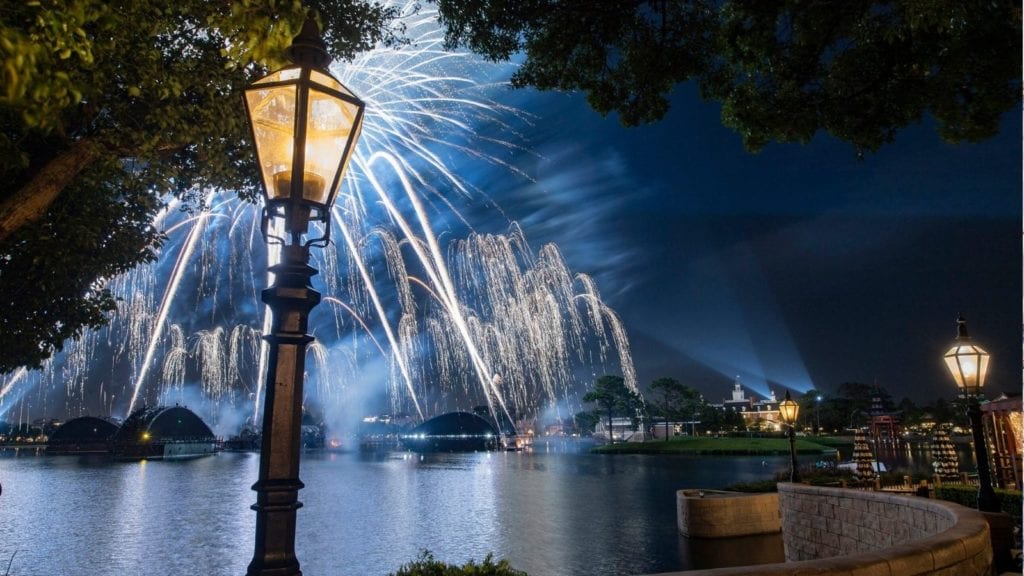 As the COVID-19 situation in the U.S. continues to improve, theme parks are slowly bringing back attractions and experiences that were suspended due to the pandemic. One experience that theme park fans have been missing the most is nighttime entertainment. Taking in a fireworks spectacular after a long day of riding and snacking is my preferred method of saying goodnight to my favorite theme parks.
I know I'm not alone in that sentiment, so you'll be happy to know that fireworks are back! Walt Disney World is bringing back two of its popular nighttime shows this month. Happily Ever After will run nightly at Magic Kingdom, along with Epcot Forever at Epcot. Both of these will be replaced by all-new shows for Walt Disney World's 50th anniversary beginning October 1 that promise to be even more impressive.
Fireworks are also back at Disneyland. On July 4, the park welcomed the return of Mickey's Mix Magic nightly fireworks show. Universal Studios Hollywood also had fireworks for its one-night-only Fourth of July celebration and you can catch bright bursts of fireworks during Universal's Cinematic Celebration that takes place on select nights at Universal Studios Florida. All three SeaWorld parks and Busch Gardens Williamsburg are also bringing back fireworks for summer too.
Some parks are even going so far as to introduce all-new fireworks shows. Dollywood's Sweet Summer Nights show runs through July 31 with fireworks and colorfully illuminated drones. After I shared the schedule for Busch Gardens Tampa Bay's new "Spark! A Nighttime Spectacular" in last month's column, the park upgraded it to a nightly run through August 8.
Halloween Tricks and Treats
I've already told you everything I know about Disney World's new After Hours Boo Bash and Universal Orlando's Halloween Horror Nights, but even more spooky soirees have crept out of their tombs since then.
Howl-O-Scream is returning to SeaWorld San Antonio September 17 to October 31, Busch Gardens Williamsburg September 12 to October 31, and Busch Gardens Tampa Bay September 10 to October 31 on select nights with haunted houses, outdoor scare zones, and more. If you couldn't guess from the name, this event is all about the scares and isn't intended for children under 13.
For the first time ever, Howl-O-Scream is also coming to SeaWorld's parks in Orlando and San Diego. The haunts will be completely different at each event, so if you're into frightening fun you could keep yourself quite busy this spooky season.
Dollywood Announces Half-Billion Dollar Transformation
In early June, The Dollywood Company announced a 10-year, half-billion dollar plan to improve and add to Dollywood in Pigeon Forge, TN. The Smoky Mountain resort is currently home to Dollywood theme park, Dollywood's Splash Country water park, Dollywood's DreamMore Resort and Spa, and Dollywood's Smoky Mountain Cabins.
First up on the project list is a brand new hotel, Dollywood's HeartSong Lodge and Resort. Set to open in 2023, the cozy 302-room property will celebrate the natural beauty of the Smokies with chalet-style and picturesque mountain views. Fingers crossed more hotel rooms means more new attractions are on the way, too!
Get Wined and Dined at the Walt Disney World Swan & Dolphin
I try to keep this column to mostly family-friendly theme park news, but I'm a mom of three boys and I know parents can have just as much fun at a theme park without kids as they can with them. With that in mind, if you're looking to get away for the weekend, might I suggest the Walt Disney World Swan and Dolphin Food and Wine Classic?
Overnight packages and event-only tickets are on sale now and the event will take place October 29 and 30. This fun outdoor food (and drink) event features live music and culinary creations from across the globe. Because it takes place in the evening, you can spend your day exploring Disney's theme parks before eating your way through this foodie-friendly event.
Tips for Your Trips
Planning Tips for Celebrating Disney World's Big 5-0
Disney World recently released additional details on its mega 18-month-long 50th anniversary celebration, set to kick off on October 1. Here's what we know so far, though I suspect there are many more surprises to come:
Remy's Ratatouille Adventure will open October 1 in Epcot's France Pavilion, along with the nearby La Crêperie de Paris.
Two new nighttime spectaculars will debut October 1, Disney Enchantment at Magic Kingdom and Harmonious at Epcot.
Animal Kingdom will premier a new daytime show called Disney KiteTails.
Fifty golden character statues will be on display across all four Disney World theme parks.
Icons at all four theme parks will transform into "Beacons of Magic" when night falls.
There will be a "Mickey's Celebration Cavalcade" at Magic Kingdom with Mickey and friends in their colorful new party outfits.
You should have no problem visiting sometime during the celebration if you want to, but if you want to be there on October 1 for the actual 50th anniversary, it's time to start planning, well, yesterday.
As of this writing, Park Pass reservations are booked up for Magic Kingdom and Epcot. That doesn't mean more won't be released if capacity increases (which is likely between now and then), but it does mean you need a backup plan just in case. Your best bet is to purchase tickets (or a hotel and ticket package) with Park Hopper tickets. Make your Park Pass reservation for any available park (currently Hollywood Studios or Animal Kingdom) and cross your fingers that Park Hopping will be allowed at either Magic Kingdom or Epcot. You can currently "hop" beginning at 2:00 p.m., so you could potentially see one of the two new nighttime shows or go for a spin on Remy's Ratatouille Adventure!
If more Park Pass reservations do open up, you can always swap yours out for Magic Kingdom or Epcot. I currently have reservations for Magic Kingdom on October 1 and Epcot on October 2 so I can be at Disney World's original park exactly 50 years from the day it opened and see everything new at Epcot the following day.
Just Desserts
There are entirely too many tasty treats at Disney to eat in one trip. Actually, for most of us, there's too much to eat in a year unless you're lucky enough to go a few times a week. The food experts at Delish recently teamed up with Disney to help you recreate your favorite Disney dishes at home with Delish Loves Disney: An Insider's Guide to the World's Most Magical Treats.
I've spent hours flipping through my copy and I've already made some tasty at-home Dole Whip with my kids. There are also recipes for other iconic treats like churros, caramel apples, cookies, mocktails, and more. Recipes are organized based on which park they're available from and there is a lot of variety. There's also fun facts sprinkled throughout, including which Disney meal is a favorite of John Stamos. If you love theme park food, I highly recommend picking up a copy.
More from FamilyVacationist: