Welcome to Please Remain Seated, FamilyVacationist's monthly theme park news column by Tarah Chieffi. Keep reading for the latest news and tips from the world of Disney, Universal, and other popular parks.
Hello, theme park fans! I'm only a week away from my next Orlando theme park visit, so excuse me if I use one too many exclamation points in this month's column. I'm headed to Universal Orlando for the grand opening of the Jurassic World VelociCoaster! My oldest son is just tall enough to ride and it's my first time attempting to get on a ride on opening day, so there's a lot to be excited for.
I've got more information on the ride's big debut below, along with fireworks, new meet-and-greets, park openings, and more. Enjoy!
Theme Park News for June 2021
The Jurassic World VelociCoaster Roars to Life June 10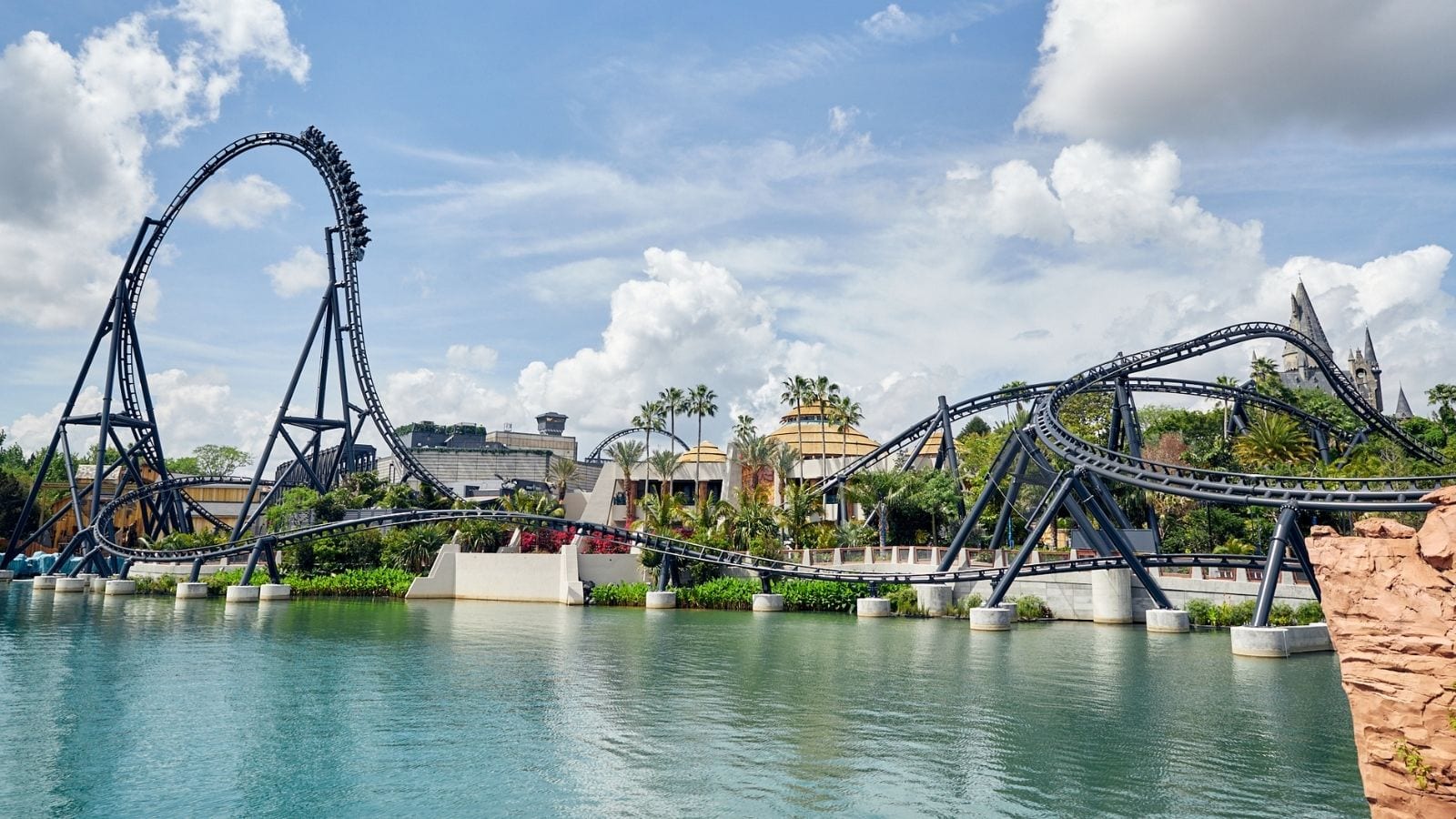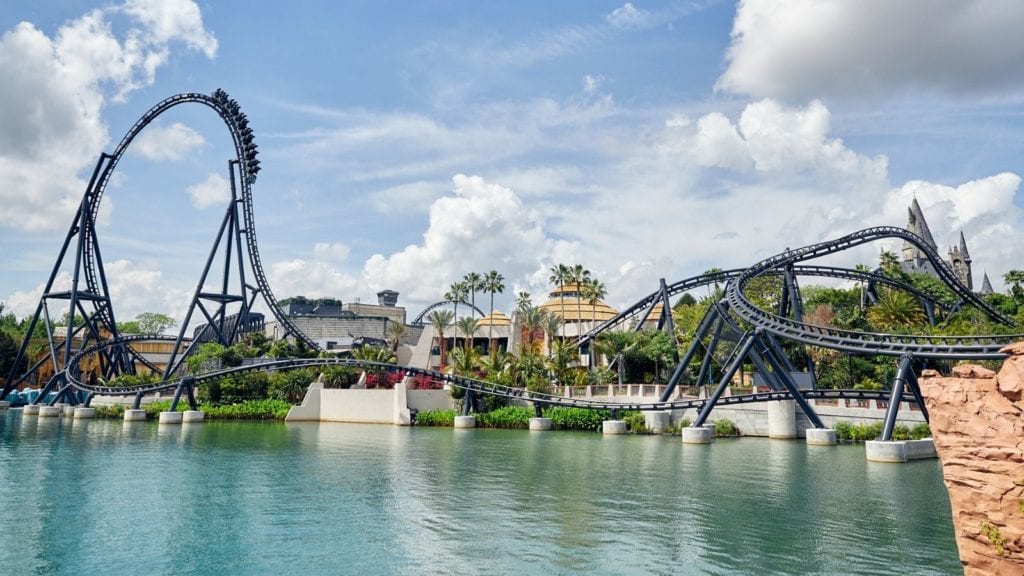 The Jurassic World VelociCoaster officially opens on June 10, but thousands of thrill-seekers have already taken Universal Orlando's newest coaster for a spin. Thanks to a few weeks of annual passholder previews and technical rehearsals, we've already got a pretty good idea of what the experience is going to be like.
What I've mostly heard is that the ride is smooth but intense, and there's a surprising amount of air time. One word of warning, riders have been known to lose glasses, hair ties, and even wigs, so do as Mr. DNA says in the queue and store any loose items in a locker.
ORLANDO VACATIONS: 12 Best Things to Do in Orlando (Besides the Theme Parks)
If you're planning a visit to check it out, Universal has lots of tasty goings-on to celebrate the grand opening. There's a Blue Churro (named for Blue the Velociraptor) and an Isla Nublar IPA available in the Jurassic Park section of Universal, entire rooms dedicated to Jurassic-themed desserts in the Jurassic World Tribute Store at Universal Studios Florida, and a Churro Stand Doughnut at Voodoo Doughnut at CityWalk.
I'll be there to check it out on opening day with my husband and oldest son and I'll have a full report on what the experience is like for a kid in the next couple weeks.
Disneyland Paris to Reopen June 17
Disneyland Paris is the only Disney park currently closed because of COVID-19, but it is scheduled to reopen June 17! Along with the opening announcement, Disney released details on two new experiences coming to the park.
Cars ROAD TRIP is a tram ride that takes guests on a Cars-themed road trip along the famed Route 66. The ride is replacing the park's behind-the-scenes attraction, Studio Tram Tour: Behind the Magic. Expect to see Lightning McQueen, Mater, and other favorite "car-acters" from the films.
EUROPEAN VACATIONS: 10 Europe Tourist Attractions That Totally Live Up to the Hype
Also in Paris, Disney's Hotel New York – The Art of Marvel is set to open June 21 and reservations are available now. This is the world's first hotel dedicated to the art of Marvel movies and comics, and in addition to the 350 pieces of artwork, guests can snap selfies with their favorite heroes, flex their artistic muscles at the Marvel Design Studio, and test their skills at the outdoor Hero Training Zone.
Boo to You! Disney World Unveils New Halloween Party
Last year, Disney World slowly eased back into Halloween with themed cavalcades and costumed characters during regular park hours in the absence of their annual Mickey's Not-So-Scary Halloween Party. This year, they're taking one more step toward normalcy with a brand-new Halloween Party called the Disney After Hours BOO BASH.
The BOO BASH will take place select nights from August 10 through October 31 after the park closes to daytime guests. There will once again be Halloween cavalcades and characters in disguise, but this year guests will also enjoy trick-or-treating, music, decor, and low wait times thanks to limited attendance. Tickets range in price from $129 to $199 and go on sale June 8 for onsite hotel guests and June 15 for the general public.
Fireworks Are Coming Back to (Some) Florida Theme Parks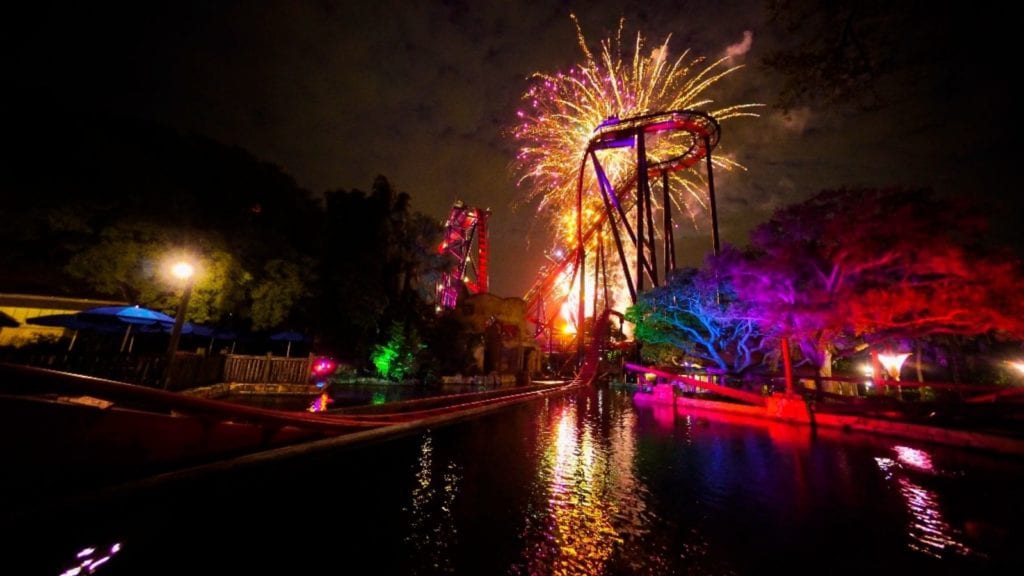 Disney World's expanded Halloween offerings are a good example of how theme parks are returning to normal as COVID cases in the U.S. continue to decline. One of the few things theme park fans are still clamoring for, though, is fireworks. If you find yourself among the clamorers, you're in luck!
Busch Gardens Tampa Bay recently debuted an all-new fireworks show called "Spark! A Nighttime Spectacular." The show runs every Friday, Saturday, and Sunday through September 6, as well as on Memorial Day, Independence Day, and Labor Day. Before the show, you can dance it out at the DJ Block Party. Both take place at the park's Festival Field.
WATER WORLDS: The Best Orlando Water Parks for Every Age Group
SeaWorld Orlando is bringing back its popular Electric Ocean event this summer on select nights through September 6. As day turns to night, the park will light up with fireworks, DJ-led dance parties, live performers, and more. Electric Ocean is included with park admission.
Over at Universal Orlando, the Cinematic Celebration show is also running on select nights. The show focuses mostly on water projections and music from popular Universal films, but there are a few pops of colorful fireworks along the way. In honor of the upcoming Tokyo Olympic Games, Universal is showing a special Celebration of the Olympics just before the Cinematic Celebration.
Hair Up! Dance With Favorite Characters at Universal Orlando
I can't think of many things I'd rather do than dance with characters from Trolls, Madagascar, and Kung Fu Panda, so I guess you could say I'm pretty excited about my next trip to Universal. At Universal's brand-new DreamWorks Destination, guests can party with these characters and more while music from their respective films plays in the background.
Characters rotate throughout the day so you can see all your favorites and snap a few pictures too. If you want to stop by and say "hey" on your next visit, you can find the DreamWorks Destination in the KidZone area of Universal Studios Florida.
Tips For Your Trips
Let's Talk About Masks, Baby
It seems like theme park rules are changing faster than I can write up a story about current mask rules. Most major theme parks in the U.S. recently lifted mask requirements in outdoor areas and some, including Universal Orlando, are no longer requiring fully vaccinated guests to wear masks at all. With things still changing so quickly, it's important for all guests to check the current rules before you go.
HEALTH AND SAFETY: The Grandparent's Guide to Safe Trips with Unvaccinated Kids This Summer
Each park's COVID safety rules are readily available on their respective websites, but you can also call, email, or Tweet at them if you still have questions. It's also worth mentioning that you should do what you are comfortable with. If you still want to wear a mask even if a park doesn't require you to, go for it! I'm more than ready to tuck my masks into a dark corner of my closet, but since my son is still required to wear one in certain places, I'll probably wear mine in solidarity.
Just Desserts
I don't know what the FDA has to say about the safety of using Pym Particles to grow and shrink food, and I don't care. The food at Disney California Adventure's Avengers Campus looks so good! The new land officially opens on June 4, but Disney gave a sneak preview of all the "super" menu items on the Disney Parks Blog.
At the Pym Test Kitchen, you can chow down on innovative menu items like a giant fried chicken sandwich or a super-sized pretzel. Next door at the Pym Tasting Lab, the over-21 crowd can sip beers and cocktails from Pym-branded beakers (I'm particularly intrigued by the marshmallow milk stout beer cocktail). You can also dine at the Shawarma Palace featured in The Avengers film and try otherworldly sweets at Terran Treats near Guardians of the Galaxy – Mission: BREAKOUT!
More from FamilyVacationist: