Located in the heart of Ketchum, Idaho, Limelight Hotel Ketchum is an ideal spot for families. With its free shuttle to the base of two ski mountains in winter (as well as to and from the airport) plus complimentary bikes in summer, Limelight helps you to maximize what Ketchum and Sun Valley have to offer all while offering you a relaxed, friendly, and beautiful home base.
Things to Know About Limelight Ketchum 
Limelight Ketchum has 99 rooms and suites and 14 residences, offering a wide variety of accommodation options.
All in-town travel, including shuttles to and from the airport, is included in your resort fee.
Ketchum/Sun Valley is home to two ski mountains that offer year-round activities for every level of outdoor enthusiast—including yogis interested in mountaintop stretching.
Limelight's lobby and amazing patio with fire pits, outdoor pingpong, regular music performances, and apres ski cocktails, is a popular spot for both visitors and locals. Kindness runs deep in Ketchum, so this is a tremendous boon to guests, and gives the hotel a home-y feel that's one-of-a-kind.
The concierge staff at Limelight is made up of knowledgeable local experts who can set you up for all sorts of local adventures and experiences.
Limelight Ketchum is in the heart of downtown, offering easy access to shops, restaurants and outfitters.
WANDER FREE: 10 Comfy Travel Shoes That Can Handle Full Days of Walking
What Families Need to Know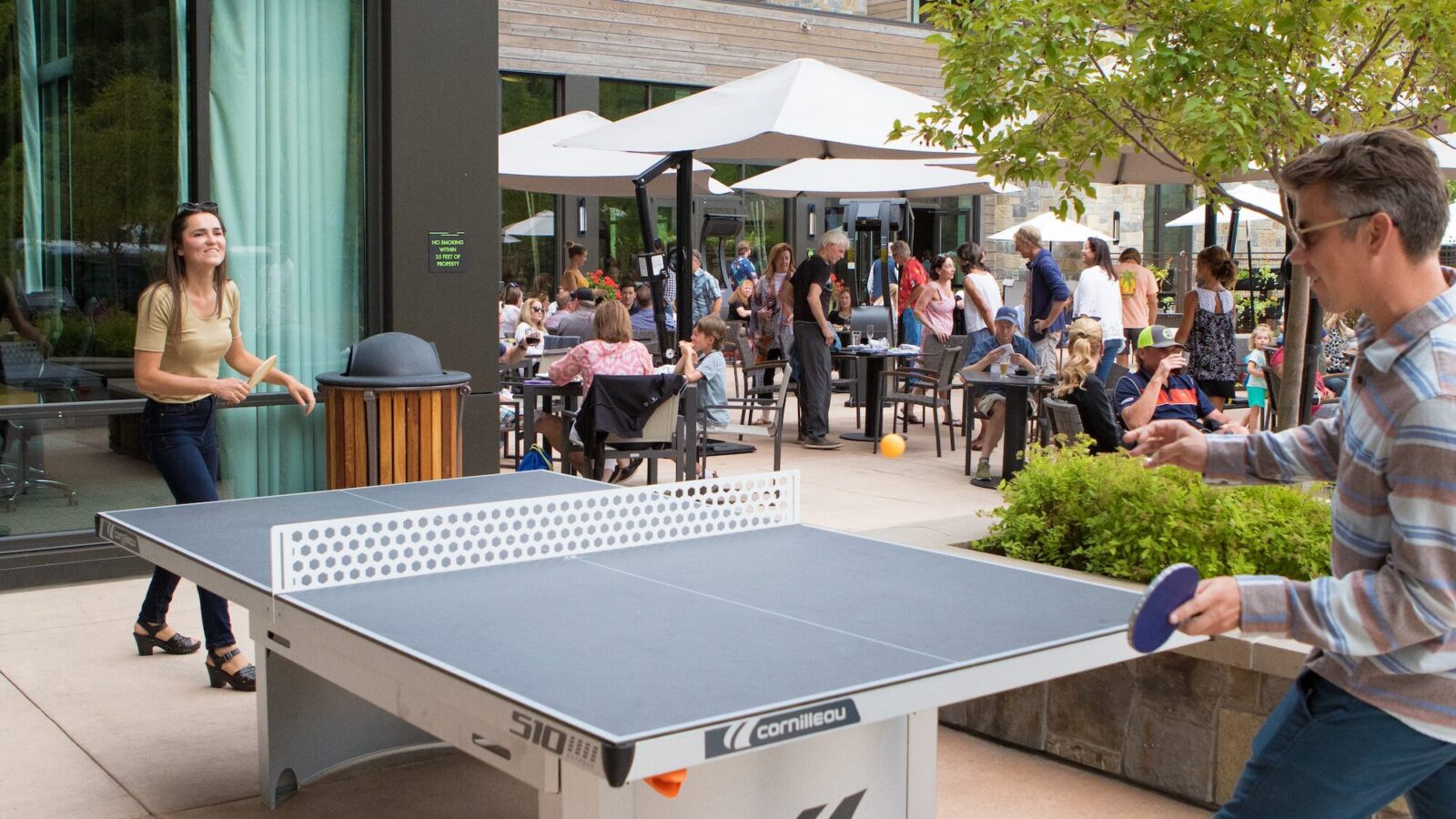 While most hotel concierges are trained to set you up for the kind of visit you want, Limelight prides itself on being in and of its location; this translates into incredibly knowledgeable concierge staff who can set you up for whatever kind of adventure you are looking for, including fly fishing in summer and "first tracks" in winter (early morning mountain access with a guide for 18+ intermediate-expert skiers/snowboarders).
Accessing adventures are easy with Limelight's transportation support, whether it be the free shuttle, easy bike rentals, or Audi Experience. The hotel's resort fee—a seemingly ubiquitous addition everywhere these days—feels worth every penny at Limelight. Your in-town travel, including to and from the airport, is included, as is one of the best breakfast spreads I've seen at a hotel and WiFi. In winter, ski valets and ski lockers are available. And the fitness center, pool, and hot tubs are open year-round. Guests can also take advantage of their Bedside Reading Program (free downloads of recent books) and pet-friendly offerings.
HOWDY PARTNERS: 11 Best U.S. Dude Ranches for Families
Even the rooms go above and beyond, with wet bars, refrigerators, Lavazza coffee makers, 55" televisions, humidifiers, and other amenities standard in all rooms. Small increments of upgrades to the deluxe category add options like a balcony, fireplace, work/dining nook, and fully stocked kitchenette. And since most rooms have some sort of mountain view and expansive windows, you'll be able to appreciate Ketchum and its surroundings no matter the weather.
Limelight Ketchum Reviews
Limelight Ketchum earns a rating of 4.5 out of 5 on TripAdvisor based on more than 300 reviews, 9.1 out of 10 on Kayak based on around 200 reviews, and 9.1 out of 10 on Booking.com based on around 120 reviews. Reviewers praise the welcoming lobby, breakfast buffet, and location convenient to hiking/biking, shopping, and dining.
Important Details About Limelight Ketchum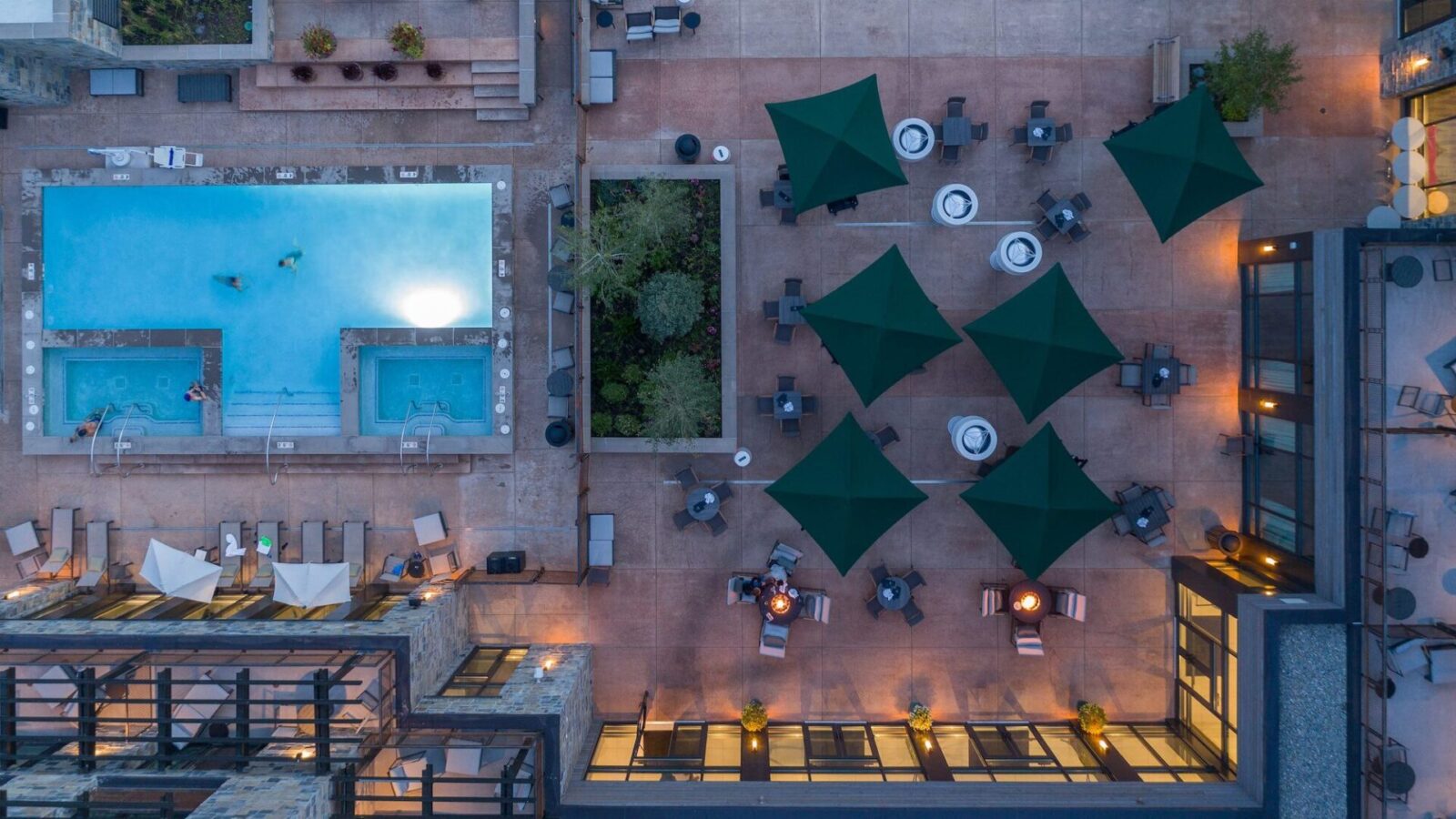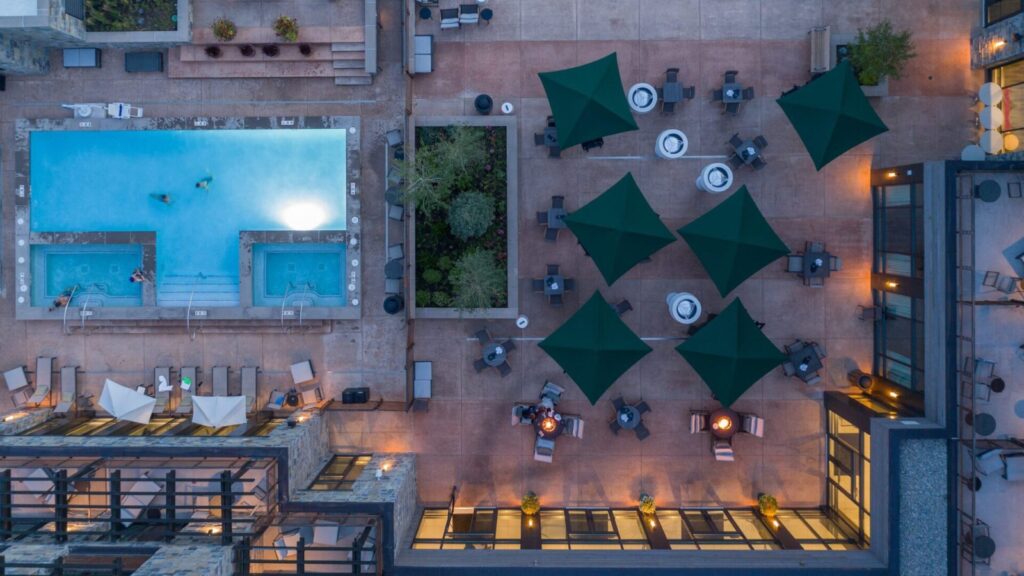 Location
Just 11 miles from the Friedman Memorial Airport in Hailey and a stone's throw from the runs at Bald Mountain, Limelight has a standout location. Right out the front door is Sturevandt's, where you can get set up with both bike and ski rentals. Ketchum has that mountain-town bustle with shops, cafes, restaurants, and galleries—all within walking distance. Limelight's shuttle will get where you need to go, or you can go exploring beyond the city limits by taking advantage of the hotel's Audi Experience, which offers two hours out and about in the hotel's Audi e-tron SUV.
The Property
Though it has over 100 rooms, suites, and residences, Limelight Ketchum is an unassuming presence downtown. Pull into the porte cochere and walk through the glass doors to the front desk, open lobby, bar, and lounge area where you can settle in or head to the equally inviting patio where you'll find Adirondack chairs, fire pits, pingpong, and a majestic view.
The two hot tubs and pool are tucked slightly out of sight near the fitness center. The concierge table sits adjacent to check in, which is ideal given the interconnectedness of this hotel and the activities that you've come for. Rooms are laid out in A and L shapes, assuring that almost every one has a view that reminds you why you're here: for the majestic trees, downhill runs, and big sky.
Rooms
With four levels of guest rooms ranging from 300 to 500 square feet, there's a space to fit most families. Incremental upgrades offer balcony, fireplace, and work/dining nook options. Opt for a suite to guarantee a balcony, 650 square feet of space, and add a sleeper sofa.
If you're coming with a large group or simply want more room to spread out, the hotel "residences" are just what you need. These two-, three-, four-, and even five-bedroom spaces offer everything you'd want in a full home rental, but with the added benefits of Limelight's incredible amenities, awesome staff, delicious breakfast, and of course, housekeeping services.
Activities
There is so much to do in the Ketchum area, and Limelight makes it easy to access much of it. The hotel is also host to several guest offerings as well. Consider Yoga on the Plaza, a bike ride or long walk to the Sawtooth Botanical Gardens, a two-hour outing in an Audi e-tron SUV, or stargazing from the patio. There's often live music in the evening on the patio as well. Make sure you get your rest though, so you can take advantage of "First Tracks on Baldy," a guided, early outing to the mountain (for intermediate – expert skiers/boarders).
ADVENTURES AWAIT: 20 Best Places to Visit with Kids
Dining
The Lounge's incredible breakfast spread is reason enough to stay at Limelight Ketchum; the offerings are vast and high quality, fueling your day with healthy and delicious options. Coffee and juice flow freely in the morning, and by 3 p.m., cocktails and apres dining draw guests and locals alike. With bar bites, a kids menu and full dining menu, there is something for everyone at The Lounge.
Spa
While there's no spa on site, touch base with the concierge to arrange time at Zenergy Health Club and Spa in Ketchum. Zenergy has indoor and outdoor pools, classes, massage, acupuncture, and beauty offerings.
More from FamilyVacationist: