I'd never been whitewater rafting before, but I wanted our visit to New River Gorge National Park and Preserve in West Virginia to be the pinnacle of our recent family vacation, so I chose a trip with Adventures on the Gorge in hopes that my 10-year-old daughter and 12-year-old son would have a great summer vacation memory to look back on when school arrived in the fall.
America's Newest National Park
Adventures on the Gorge is an outdoor outfitter with a resort on the rim of the gorge inside America's newest national park, and the resort was our base camp for a couple of nights. The plan was to challenge ourselves to a nighttime aerial obstacle course and a whitewater rafting adventure before heading home to prepare for the start of school.
RUSTIC LODGES: The 12 Most Beautiful National Park Lodges in the U.S.
Located in Southern West Virginia, New River Gorge is a great family road trip idea within driving distance of about half the U.S. population. The minimum age for most activities at Adventures on the Gorge is 10, and the people there are bubbling with joy and the desire to help you achieve your vacation goals, whether it be savoring the wilderness, reclining by the swimming hole, or (in our case) whitewater rafting with our increasingly hard-to-please tweens.
Family Rafting Adventures with Adventures on the Gorge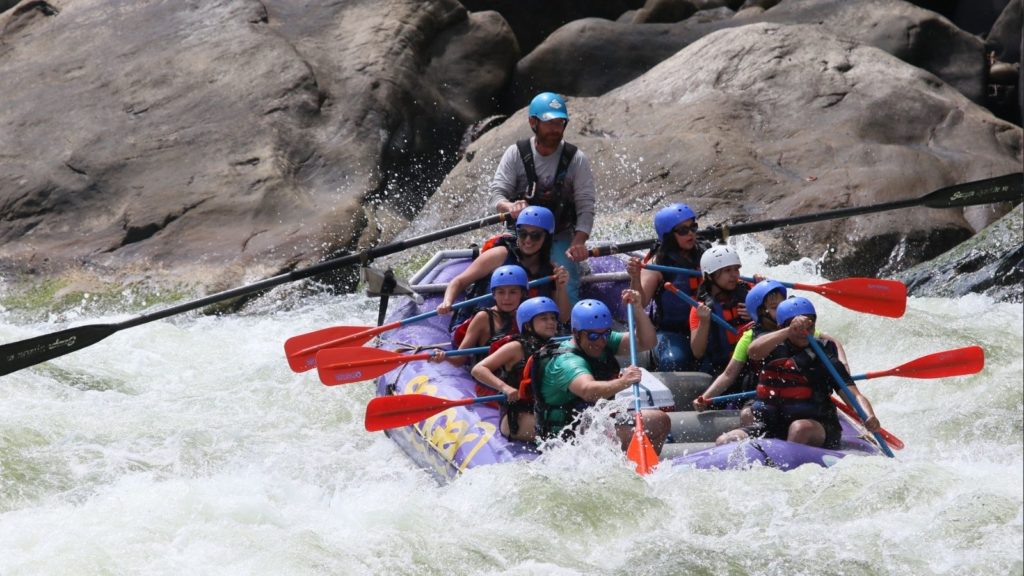 West Virginia's New River Gorge boasts some of the best whitewater rafting in the eastern United States. The New River carved a canyon 1,600 feet deep in places, leaving steep cliffs crowned by abundant forest and wild Appalachian terrain. The river flows south to north and is one of the oldest on Earth. It's sublime when awash in the sun's rays, summer's greenery, and exuberant laughter.
Numerous outfitters and trip types are available to help you pick the adventure that's best suited for your group. The Family Lower New River Gorge excursion we took with Adventures on the Gorge includes approximately 25 Class II to IV rapids on a full-day trip. It was adrenaline-fueled but also extremely relaxing as we floated in the warm water, jumped off a rock to swim, and gobbled up a picnic lunch on the beach.
LUXURY CAMPING: 10 Family Glamping Resorts Where You Can Get Away from it All
Our guide told stories and instructed how to best manage rapids with names like "Double Z" and "Scramble Like A Rat." My tummy tightened, but I focused on paddling and dug my feet in as best I could. My husband started off in the front of the raft, but by the end of the day everyone had a chance to command the face-drenching spot at the bow of our oar-mounted raft.
As we careened across rapids, our bodies occasionally bounced into the air and huge smiles slathered our faces. There were moments where my motherly instinct took over and I clutched my children's life jackets—but none of us fell into the water that day. The worst injury was when I broke a fingernail.
FALL VACATIONS: 10 Best New England Towns for Fall Foliage Getaways
Rafting season continues through October on the Upper and Lower New River as well as the Gauley River. "People come from all over the world to paddle the Gauley," says Kate Smallwood with Adventures on the Gorge. "Summerville Dam has scheduled releases where the water from Summersville Lake enters the Gauley and creates massive Class 5+ rapids."
Nighttime Aerial Course and Other Adventures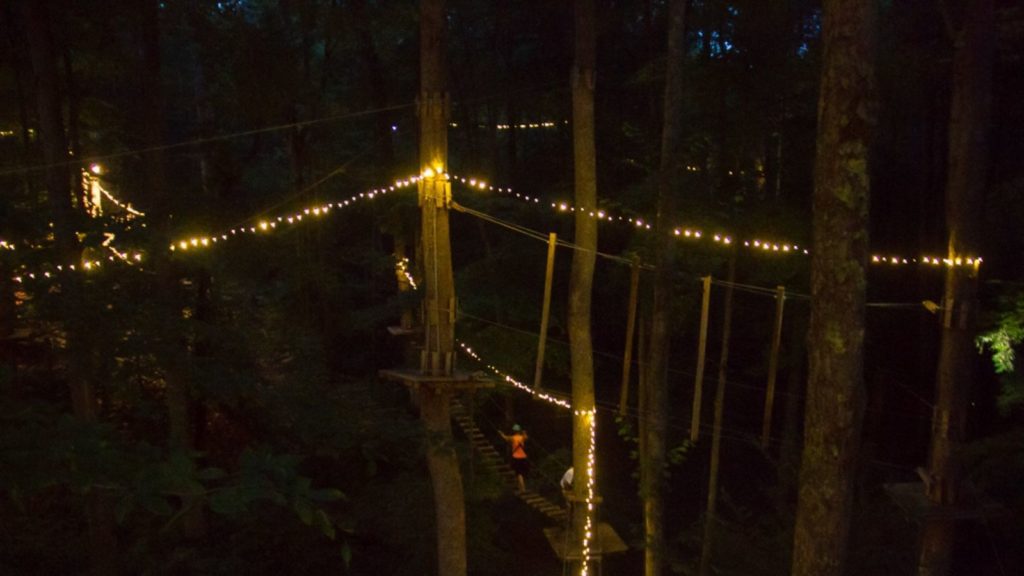 The New River Gorge National Park and Preserve is a playground for outdoor enthusiasts and perfect for families with teens or tweens who aren't as easily impressed with milder family vacation ideas.
MoonTrek, an obstacle course of bridges, nets, and platforms up in the trees at Adventures on the Gorge, is aglow in the evenings with string lights and sounds of the forest. For me, clipping and unclipping our gear and balancing our bodies on swinging challenges became such a focus that I often forgot how high up we were. The fact that it was dark helped my husband overcome his fear of heights to tackle two of the six courses with our bold 10-year-old daughter. He also earned bragging rights in her book.
DREAM BIG: 10 Bucket List Family Vacations for After the Pandemic
If your crew is super brave, take the Bridge Walk across the New River Gorge Bridge, a huge steel arch bridge and one of the most photographed destinations in West Virginia. On a Bridge Walk tour, you're secured to the bridge with a safety cable. You then walk more than 3,000 feet on a 24-inch catwalk on a three-hour guided tour as cars drive overhead.
Additional opportunities for family fun with Adventures on the Gorge include hiking, mountain biking, zip lining, paintball, laser tag, horseback riding, and hunting.
When we returned home, I ferried my daughter to Meet the Teacher day at school. Her math instructor asked what she did this summer, and my girl proudly beamed that she whitewater-rafted at the newest national park. Boom.
We will definitely return to New River Gorge. Its unfiltered beauty took hold of our souls. Next time, I'd like to raft the Gauley River and zipline the TreeTops Canopy Tour. Our kids need to eat their protein so they surpass the minimum 90 lb. limit. Boating Summerville Lake also sounds splendid as we can paddle board, rock climb, rappel, and swim along the way. I'm super excited and slightly less nervous now that I've experienced some of what America's newest national park has to offer. And it wouldn't be an adventure if I didn't venture past my comfort zone.
More from FamilyVacationist: